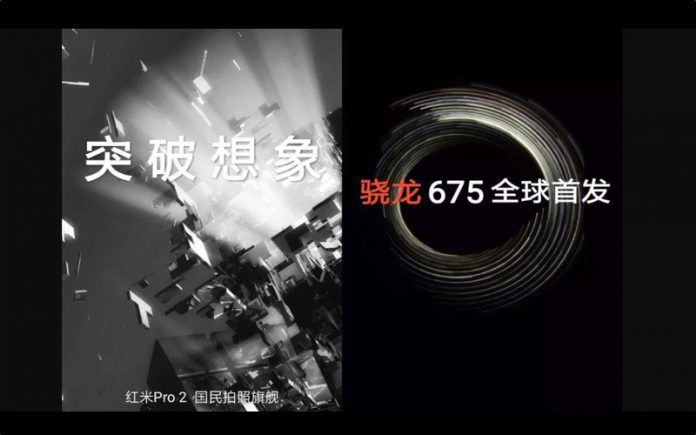 A new leak suggests that the Redmi Pro 2 could be a reality, and that it might be coming soon, powered by a Qualcomm Snapdragon 675 processor. This is exciting news because it confirms what Xiaomi claimed recently — Xiaomi will be the first company to launch a handset with the all new Snapdragon 675, which was unveiled only in October this year.
The Snapdragon 675 can support a 48MP primary camera, which makes it possible for the Redmi Pro 2 to be the same handset that Xiaomi president Lin Bin teased as Xiaomi's upcoming 48MP camera phone. Huawei has already launched the world's first mobile phone with a 48MP camera — the Huawei Nova 4 — and it would help Xiaomi's case if the company does not waste much time in launching its own competing device, if it is to compete with that phone at all.
Redmi Pro 2 To Be Unlike Redmi Pro
The Redmi Pro came in 2016, and was not exactly a stunner. It had large bezels and largely unimpressive specs, but its successor Redmi Pro 2 will be an exciting catch, if it is really in the making. A Weibo user, in two separate posts, claimed that the Redmi Pro 2 is coming soon, with a Snapdragon 675 chipset. The posts did not mention anything much else, but showed two pictures, one of which has got something resembling a large camera sensor.
The image shared by Bin show a glass back and dual rear camera, and he made it clear that the device is Xiaomi's new 48MP camera phone. While the Redmi Pro, launched in July 2016, did sport a dual rear camera, the megapixel count was a weak 13+5. The device was powered by a 20nm MediaTek chipset. Given that the Redmi Pro 2 could be powered by the powerful 11nm Snapdragon 675 and feature a 48MP camera, it is safe to conclude that the Redmi Pro 2 is essentially an entirely new phone, with only the name in common with its predecessor.
What is Snapdragon 675 SoC?
The Qualcomm Snapdragon 675 chipset is made from 11nm LPP process technology, with eight cores that are designed with a new Kyro 460 CPU. The processor is clocked at 2.0GHz and has a dedicated AI processing engine. The chipset supports QuickCharge 4+, which can charge up a device's battery from zero to 50 percent in just 15 minutes. Up to 8GB of RAM is supported, and memory is LPDDR4x type. As mentioned above, the Snapdragon 675 can support 48MP snapshots, in addition to slow-motion HD video recording at 480 fps. It can also connect up to six different cameras in a variety of configurations. There is also support for 4K video recording as well as playback. The maximum download speed of the chipset is 600Mbps, and the modem is a new X12 LTE, with support for Voice over WiFi and simultaneous LTE calling.
Briefly put, what all this means is that a device manufacturer can use the Snapdragon 675 to deliver a high-performance, feature-packed smartphone in the mid-range budget, without having to shell out big bucks to buy a flagship-grade processor.
Redmi Pro 2 Launch
The Qualcomm Snapdragon 675 was introduced with a promise of making 2019 smartphones better. There is no word on when the Redmi Pro 2 is coming, but a launch in the first quarter of 2019 would not be too much to expect, given that the Xiaomi's top executive himself has teased the arrival of the 48MP camera phone. Keep an eye on MySmartPrice Gear for updates on the Redmi Pro 2.
Thanks for reading till the end of this article. For more such informative and exclusive tech content, like our Facebook page