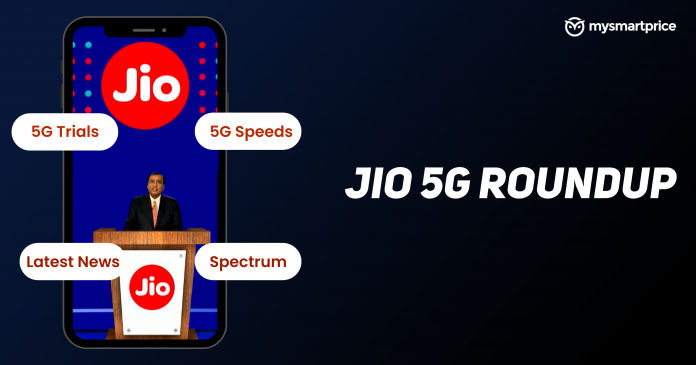 Reliance Jio is one of the first telecom operators that announced its ambitious plans to roll out 5G services in India. The company has been actively working on making its network 5G proof and has partnered with various companies to strengthen its proposition for its 5G networks in India. The telecom operator made a slew of announcements during its Annual General Meeting (AGM) 2021, where it talked in length about the Jio 5G network. The company has also revealed that it has developed indigenous technologies for its upcoming 5G services. That said, one might be curious to know the nitty-gritty details about Jio's 5G network. So, in order to make things easier for you, we have compiled a detailed article that will talk in length about Jio 5G expected India launch, where the company has conducted 5G trials, what 5G spectrum the brand might use, and more. Here's what you need to know!
Reliance Jio 5G Expected Launch in India
Reliance Jio is yet to make an official announcement regarding the rollout of the 5G services in India. However, the company during its Reliance AGM 2021, revealed that it will be the first player in the country to roll out a 5G network. Mukesh Ambani, Chairman and Managing Director – Reliance Industries Limited, has already confirmed that Reliance Jio networks are 5G future-proof and the operator can seamlessly upgrade from 4G to 5G networks. That said, the 5G auction is yet to take place, we might have to wait for the auction to go live and only then one can estimate the timeline for Jio 5G network rollout.
Interestingly, the Department of Telecommunications (DoT) has revealed that the 5G services will be rolled out in 13 Indian cities in 2022. The list includes Delhi, Gurugram, Bengaluru, Kolkata, Chandigarh, Jamnagar, Ahmedabad, Chennai, Hyderabad, Lucknow, Pune, and Gandhi Nagar. This means that Reliance Jio might launch its 5G network in these cities first and later on, one could expect a pan-India rollout of the service. The company has also recently revealed that it has completed its 5G network coverage planning for the top 1,000 cities in the country. "5G coverage planning has been completed for 1,000 top cities across the country. Jio has been doing trials on advanced use cases across healthcare and industrial automation on its 5G network," Jio said in a statement.
Reliance Jio 5G Internet Speed
Reliance Jio conducted early 5G trials that suggest that the company is able to reach the 1Gbps internet speed mark. A report by 91mobiles revealed the potential download and upload speed at Jio 5G network. As per the report, Jio 5G internet speed during the pilot testing was 8x faster than Jio 4G speed. The report highlights that the Jio 5G network achieved a download speed of 420Mbps and an upload speed of 412Mbps during pilot testing. Moreover, the network had a latency of 11ms and 9ms jitters. For your comparison, the Jio 4G download speed is around 46.82 Mbps and the upload speed is around 25.31 Mbps. This simply means that the Jio 5G download speed is 8x faster and the upload speed is 15X faster as compared to Jio's 4G network.
Reliance Jio 5G Trials
The company confirmed during the AGM meeting that it has installed the 5G standalone network at its data centres across the country. Moreover, the company has put up 5G trial sites in Navi Mumbai. The company says that all the 5G networks are 100 per cent homegrown and use indigenous technologies to support its network.
The company last year conducted its connected drones trials on its indigenous 5G networks. The 5G trials were done on connected drones and involved precision command and control of drones over 5G networks of Jio. These include image recognition, track-and-trace, delivery, and more. The company also confirmed that it commenced field testing for its 5G networks in four circles. The company tested out trials in Mumbai, Pune, Delhi, and Gujarat. The company revealed that the trials in Mumbai were done using its own technology. For Delhi, Pune, and Gujarat, Jio partnered with Ericsson, Nokia, and Samsung respectively.
In February 2022, Jio also partnered with smartphone-maker OPPO to conduct 5G trials on smartphones in India. The company successfully conducted the trials using OPPO Reno 7 series smartphones. The company claims that the phones were able to deliver lag-free 4K video streaming along with super-fast upload and download speeds.
Reliance Jio 5G Spectrum
The government of India is yet to allocate a 5G spectrum to the telecom operators in India. The government will auction these spectrums and only then operators like Jio, Airtel, and Vodafone Idea will be able to procure them. However, it seems that Reliance Jio will be using both mid and mmWave bands for the 5G network rollout in the country. That said, the company is yet to reveal its plan about which 5G spectrum the brand will go to roll out its 5G services in the country. The government has currently given various bands to telecom operators for experiments, including mid-band (3.2 GHz to 3.67 GHz), millimetre wave band (24.25 GHz to 28.5 GHz) and in Sub-GHz band (700GHz) to conduct 5G trials in India. So, one could expect the upcoming Jio 5G spectrum to support these bands.
Reliance Jio 5G Latest News
Reliance Jio is in Advanced Talks with Samsung for 5G Equiments in India (March 29, 2022)
Reliance Jio is reportedly in advanced talks with South Korean major Samsung to procure 5G equipment for its 5G networks in the country, as per a report by Business Insider. Samsung is also planning to partner with Airtel to provide the latter with the latest 5G equipment for the 5G service rollout in the country. Reliance Jio has developed its own indigenous technology for its standalone 5G services.
Thanks for reading till the end of this article. For more such informative and exclusive tech content, like our Facebook page