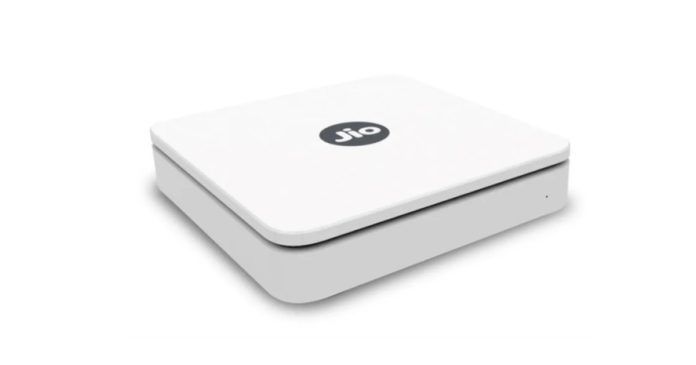 Now that Reliance Jio has captured the telecom industry in the Indian market, the company is now eyeing to disrupt the home broadband industry. The company recently announced Jio Fiber plans, starting from as low as Rs 699 to as high as Rs 8,499 per month.
Apart from fiber-to-the-home internet services, Jio is offering various other features, including free pan-India voice calling, TV video calling, low-latency gaming, VR content, a router and a set-top box. However, the most unique feature that Reliance Jio is offering with Jio Fiber is the ability to watch first-day first-movies and other content.
If you are a movie buff, like me, you would want to know which Jio Fiber plans are offering the first-day first show movie feature. Here's a list of Reliance Jio Fiber plans that offer users first-day, first show movies.
Also Read: Top 5 Jio Plans for Your JioFi WiFi 4G Hotspot Router in 2019, Which One Should You Recharge?
Reliance Jio Fiber Plans With 'First Day First Show' Movies Feature
Diamond – Rs 2,499 per month
Platinum – Rs 3,999 per month
Titanium – Rs 8,499 per month
Reliance Jio Fiber Rs 2,499 Diamond Monthly Plan
The Rs 2,499 monthly plan from Reliance Jio Fiber is the cheapest plan using which you can watch first-day first-show movies. It offers up to 500Mbps download and upload speeds. The company is offering 1,250GB (1.25TB) of download and upload data. In addition, the company is offering 250GB of additional data. If you manage to consume this data, the download and upload speeds drop to just 1Mbps.
The company is also offering free voice calls, TV video calling, zero-latency gaming, and content sharing within the home as well as outside of the home. This Jio Fiber plan also comes with Norton device security for five devices. There's access to Jio's VR entertainment platform via a VR headset. A home gateway device and set-top box are offered with the plan. Users will also get access to Jio's apps like Jio Cinema, JioSaavn, JioNews and more.
Reliance Jio Fiber Rs 3,999 Platinum Monthly Plan
The Rs 3,999 plan from Jio Fiber is kind of a sweet spot for those who want high-speed data transfer speeds as well as enough download and upload limit. It comes with a whopping 2,500GB (2.5TB) of download + upload cumulative limit. There is access to free voice calls, video calling via TVs, fast multiplayer gaming without any noticeable latency, and content sharing.
Reliance Jio is also offering Norton's device security for up to five devices (which costs Rs 999 per year) as well as access to the company's VR platform (VR headset not provided). Of course, users of this plan get access to first-day, first-show movies and other video content. Even if you stream a lot of 4K HDR content, this plan will be more than adequate. Access to JioSaavn, JioCinema, and other Jio ecosystem services would be provided as well.
Also Read: 5 Best Mobile Phones Under Rs 15000 with 5000mAh Battery in India 2019
Reliance Jio Fiber Rs 8,499 Titanium Monthly Plan
The highest-end plan from Reliance Jio for its home broadband service costs Rs 8,499 monthly. Although it offers the same speed (1Gbps) as that of the Rs 3,999 plan, it allows a whopping 5000GB (5TB) of download and upload data. Post FUP consumption, the speed drops down to a crawling 1Mbps. Similar to other plans from the company, the Rs 8,499 plan offers free voice calls anywhere in India, video calling services, low-ping connectivity for low-latency gaming, and content sharing with others in the home.
This plan also gives access to Norton's device security program for up to five devices. It also offers VR content and access to premium content via Jio's ecosystem apps. Obviously, it also gives access to first-day, first-show movies and other premium video content. Even if you have a big family and everyone is hooked to watching 4K content (from Netflix, Prime Video, YouTube, and other services) or downloading big games on PC or gaming consoles, 5TB of data will be enough for comfortable usage.
Also Read: Top 5 Jio Plans that Offer More 4G Data and Validity Benefits, Which One Should You Recharge
Jio Fiber 'First Day First Show' Movies Plans: Data Benefits
| | |
| --- | --- |
| Name of the Jio Fiber Plan | Data Benefits |
| Rs 2,499 Diamond Plan | 1,250GB (1.25TB) Data |
| Rs 3,999 Platinum Plan | 2,500GB (2.5TB) Data |
| Rs 8,499 Titanium Plan | 5000GB (5TB) Data |
Thanks for reading till the end of this article. For more such informative and exclusive tech content, head over to our Facebook page