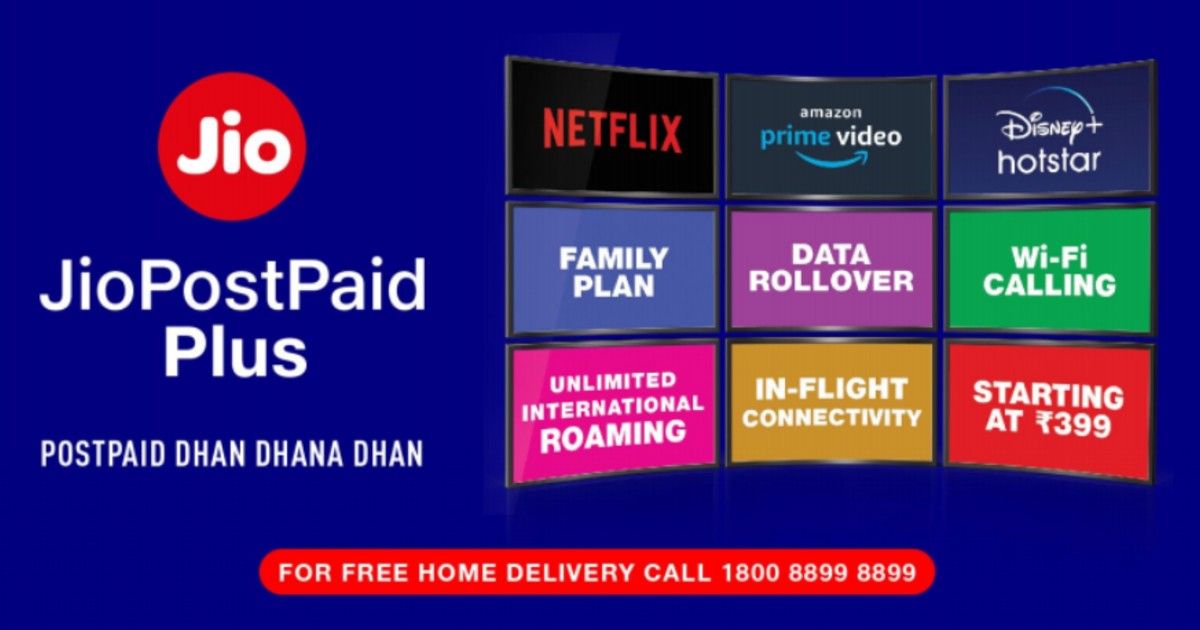 In pursuit of transforming the postpaid services segment, Jio is introducing JioPostpaid Plus for postpaid users in India. The main objective of the newly launched JioPostpaid Plus service is to provide superior services across connectivity, entertainment and experience. Here's a closer look at the newly launched services.
Jio Postpaid Plus Features
Entertainment Plus
The Entertainment Plus subscription will give you access to Netflix, amazon prime, and disney+ Hotstar. Besides it also comes with 650+ live tv channels, video content, 5 cr songs, 300+ newspapers on Jio apps
Features Plus
This one is a family plan for your entire family at Rs 250 per connection. The Features Plus plan offers data rollover up to 500 GB, local national, and international WiFi-calling.
International Plus
The International Plus service is the first-ever in-flight connectivity for Indian travellers travelling abroad, which means now you need not have to get bored in flight. You can browse the internet and watch any content only directly without offline downloads. This service will also provide free international roaming to international travellers who are travelling to the United States and UAE. According to the company, the plan will charge you Rs 1 for India calling with WiFi calling on international roaming. International calling will cost your 50 paise per minute.
Experience Plus
The newly launched Experience plus will include the following benefits:
Continue existing credit limit on Jio
Same number, no downtime (mnp)
Free home delivery and activation
Premium call center service
Rs 399 Tariff Plan
Jio has introduced the Rs 399 plan with total data usage of 75 GB with 200 GB data rollover feature. The tariff plan also comes with unlimited voice calls and SMS. Alongside, users will also get a free subscription for Netflix, amazon prime, and disney+ Hotstar VIP.
Rs 599 Tariff Plan
The Rs 599 comes with 100 GB of data with 200 GB of data rollover benefit. This one also comes with unlimited voice and SMS feature along with free subscription for Netflix, amazon prime, and disney+ Hotstar VIP. This plan comes with one additional SIM card with a Family plan.
Rs 799 Tariff Plan
The Rs 799 plan comes with two additional SIM cards with Family plan. Besides it offers 150 GB data and 200 GB rollover data with unlimited voice calling and SMS. The subscription for Netflix, amazon prime, and Disney+ Hotstar VIP is applicable for all the plans.
Rs 999 and Rs 1,499 Tariff Plans
The Rs 999 feature three additional SIM cards with Family plan with 200 GB data, unlimited calling and SMS, and subscription for OTT platforms. The Rs 1,499, on the other hand, offers unlimited data and voice calling in the USA and UAE. It offers 300GB data with 500GB of rollover.
How to Get JioPostpaid Plus
Step 1: Continue your existing operator's credit limit – simply continue your credit limit by sending 'hi' to 88-501-88-501 on Whatsapp
Step 2: Get your JioPostpaid plus SIM home delivered for you & your family members (visit Jio.com/postpaid or call 1800 88 99 88 99) or visit your nearby jio store / reliance digital store http://jio.com/store-locator
Step 3: link your friends & family members to your JioPostpaid plus family plan on myjio app
If you're a prepaid user and want to shift to JioPostpaid Plus then you can follow these simple steps.
Step 1: get your JioPostpaid plus SIM home delivered for you & your family members (visit Jio.com/postpaid or call 1800 88 99 88 99) or visit your nearby Jio store/reliance digital store Http://jio.com/store-locator
Step 2: Unlock your credit limit with a 100% refundable deposit (if applicable)
STEP 3: Link your friends and family members to your JioPostpaid plus family plan on MyJio app
Important Information
JioPostpaid Plus will be available starting 24th September in Jio Stores and through home delivery
Please visit www.jio.com/postpaid for more details on JioPostpaid Plus