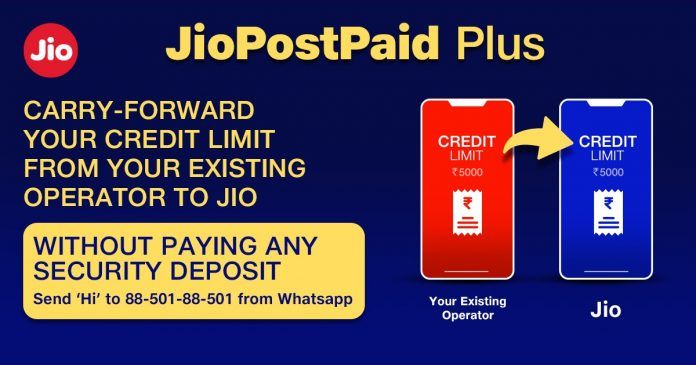 Reliance Jio has revealed a new feature through which existing postpaid customers from different operators can transfer their credit limit. This will allow customers to get existing credit limits on the new Reliance Jio PostPaid Plus postpaid plans. This comes after it was reported that users need to pay a security deposit in order to opt for Jio Postpaid plans. The telecom operator introduced its new Jio Postpaid plans in late September starting at INR 399 and goes up to INR 1,499. Here's what you need to know about the latest carry forward limit feature.
Existing Postpaid customers can carry forward credit limit to Reliance Jio
Customers can carry forward their existing credit limit from their current operator to Reliance Jio. This existing postpaid customers of Airtel and Vi can transfer their limit if they want to opt for the new Jio Postpaid Plans. In order to do so, customers need to follow these steps:
Send 'Hi' to 88501-88501 on WhatsApp using your existing postpaid number.
Upload the copy of the bill of the existing operator to confirm the existing credit limit.
After 24 hours, customers can go to the nearest Jio store or call for home delivery of the new Jio Postpaid Plus SIM.
However, it is important to note that this facility is only available for postpaid customers having existing credit limits. Users who are switching from a prepaid connection, need to pay the security deposit. This will be similar to those customers who are applying for a fresh postpaid connection.
How much is the security deposit of Reliance Jio PostPaid Plus plans?
As per a recent TRAI filing, it was revealed that customers need to pay a security deposit in order to avail Jio PostPaid Plus plans. The security deposit ranges from INR 500 to INR 1800. Customers who want to get INR 399 postpaid plan have to shed INR 500 as a security deposit. Similarly, for INR 599 plan, customers need to pay INR 750 deposit. FOr INR 799 and INR 999 postpaid plans, users have to pay INR 1,000 and INR 1,200 security deposit. Finally, for INR 1,499 postpaid plans, customers will have to pay INR 1,800 as a security deposit.
Thanks for reading till the end of this article. For more such informative and exclusive tech content, like our Facebook page