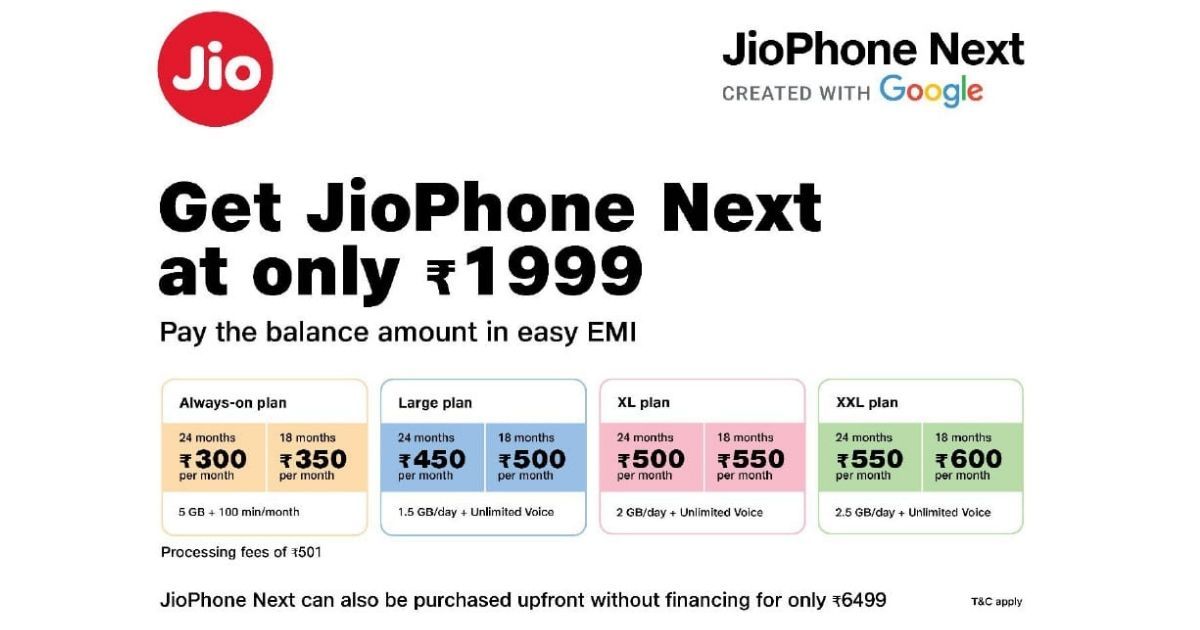 Just an hour ago, we shared the detailed specifications of Jio Phone Next, after the phones retail packaging leaked on the web. Right now, we have got another big update for those who are quite pumped up to grab a Jio Phone Next or want to buy one for someone around them. You will be able to purchase a Jio Phone Next by paying just Rs 1,999, though the upfront price of the phone is Rs 6,499. That means those who want to buy the phone but can't spend a big chunk of money at once have the option to pay a nominal amount and get the phone and then they can pay the rest Rs 4500 in the form of EMIs.
It looks like Jio is offering quite a few different kinds of EMI plans for Jio Phone Next. The first plan is called the Always-on Plan. Users opting for the plan will have to pay Rs 350 for 18 months or Rs 300 for 24 months. With this, they can get 5GB of data per month along with 100 minutes of free calling. Customers going for the Large Plan can choose to pay either Rs 500 for 18 months or Rs 450 for 24 months and in return, they will get 1.5GB data per day alongside unlimited calling.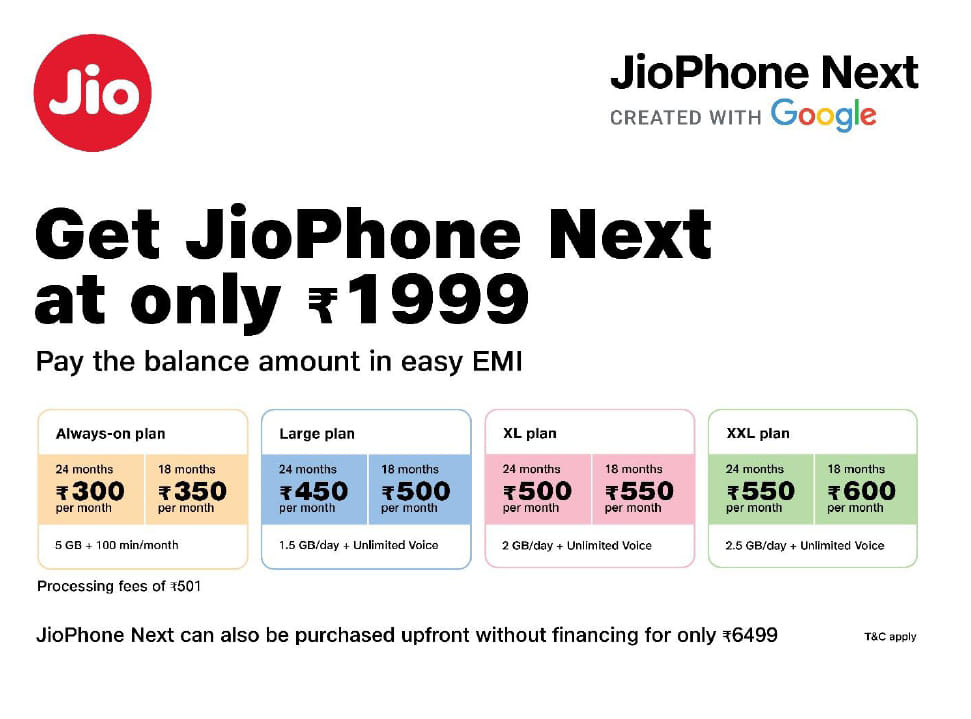 Under the XL Plan, users will pay Rs 550 for 18 months or Rs 500 for 24 months and this plan offers 2GB data per day along with unlimited calling. There is an XXL Plan as well, offering 2.5GB of data per day with unlimited voice. However, users who opt for this plan will have to shell out Rs 600 for 18 months or Rs 500 for 24 months.
The plans have been announced, along with the phone, and we finally have a confirmation about everything, from specifications to pricing to launch date. Jio Phone Next runs Pragati OS, an optimized version of Android made for the JioPhone Next, and as Google and Jio have worked closely to create this OS, there are some localized features and some subtle touches of Google here and there.
Google fine-tuned the camera app on the Jio Phone Next. The phone can take photos with HDR and capture clear shots under low light using Night Mode and even portrait shots with bokeh without using a secondary lens on the back.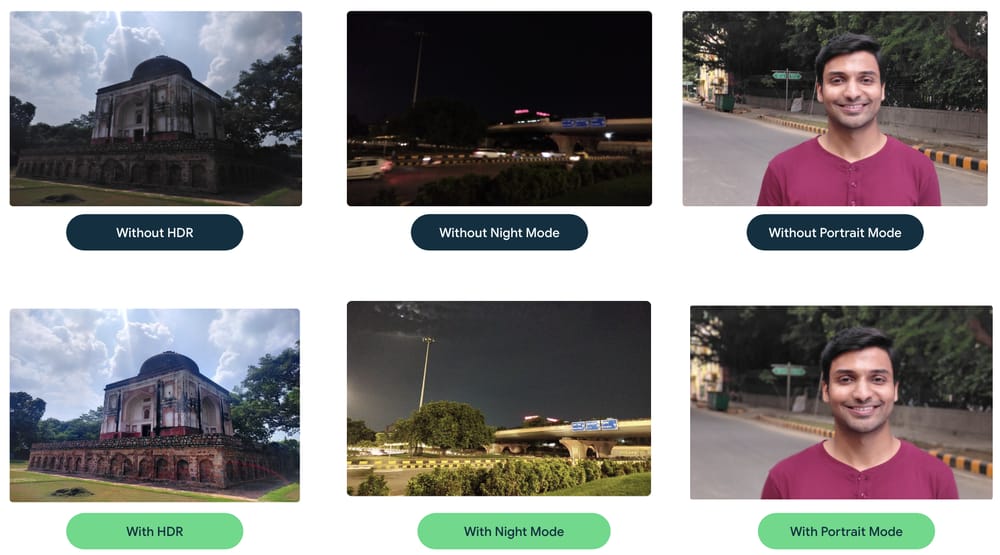 Google and Jio have announced new feature drops, customizations, and security updates that will keep the phone safe and offer unique experiences to users. Using Nearby Share, users can transfer anything among one another wirelessly and in a fast manner.

To purchase a Jio Phone Next you will have to visit the nearest Jio Mart Digital or this webpage. Once you register and receive a confirmation you can collect it from Jio Mart Digital.
Just in case you're unable to recall, Jio Phone Next comes with a 5.45-inch HD+ display. The phone packs a 3,500 mAh battery. The phone is powered by Snapdragon 215 SoC, coupled with 2GB of RAM and 32GB of internal storage. However, the storage can be expanded up to 512GB via a microSD card slot. In terms of camera, the phone sports a 13-megapixel primary camera at the back. There is an 8-megapixel front-facing camera. The phone will come with all Jio and Google apps pre-installed. These include JioSaavn, MyJio, JioTV, JioCinema, Google Play Store, YouTube, etc.