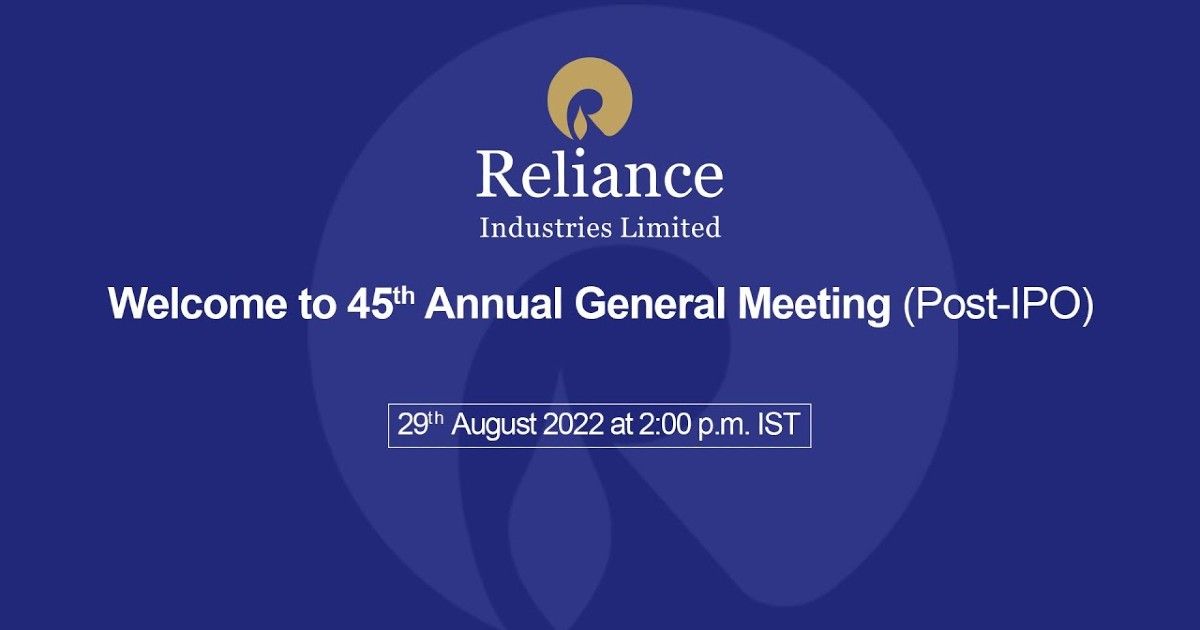 Reliance Industries Ltd (RIL) is gearing up to host its latest edition of the Annual General Meeting (AGM) on Monday, 29 August. Over the years, the AGM has become the platform for the conglomerate to showcase new products, and also share its future plans in front of the shareholders and the public.
Jio introduced its 4G service at an AGM a few years back, we also got the JioPhone, JioPhone Next and other products at the AGM in recent years.
Also Read: Jio 5G: Expected Launch in India, 5G Speed Test, Trials, Spectrum, and More
The AGM hosted by Chairman Mukesh Ambani will be once again the platform where the company walks us through its wide set of plans for Jio. This year's AGM is expected to be about Jio 5G, the latest connectivity service from India's largest telecom operator. We could also have some new products and probably a JioPhone 5G device as well. So, if you are interested in watching the AGM live stream, here are all the details about the RIL AGM 2022, when it starts, how you can watch and more.
RIL AGM 2022: How to watch online
RIL AGM 2022 will kickstart on August 29th at 2 PM, and one can watch it via JioMeet, Reliance' company's video conferencing solution. If you want to stream the live event through JioMeet, you can send a WhatsApp message with 'Hi' to the number +91-7977111111 to get the AGM JioMeet link. The chatbot will help users with information about how to watch and register for the AGM. Additionally, the AGM will be available on Reliance YouTube channel called FlameofTruth, you can also stay updated with the event through the FlameofTruth Twitter handle, and the official Reliance Jio Twitter handle as well.
RIL AGM 2022: Jio 5G services announcement expected
The RIL AGM 2022 is likely to be the platform where the telco announces its Jio 5G service in India. The company is one of the three telcos to have participated in the recently concluded 5G spectrum auctions.
Reliance Jio was adjudged the top bidder, spending around Rs 88,078 crore to acquire a total of 24.7 GHz of spectrum in the 700 MHz, 800 MHz, 1800 MHz, 3300 MHz, and 26 GHz frequency bands. Jio is the only telco to have bought a large portion of the 700MHz frequency, which is claimed to offer a good service network indoors and cater to a denser user base.
Our 45th AGM (Post-IPO) is on 29th Aug through Video Conferencing ('VC')/OAVM from 2 pm IST

Pls WhatsApp 'Hi' to +91-7977111111 or click https://t.co/0O5WFNtjqd & interact with our @haptik chatbot

Notice & embedded link to our Integrated Annual Report: https://t.co/MAYOPZJkU2 pic.twitter.com/eA3vVliaH7

— Flame of Truth (@flameoftruth) August 24, 2022
Reliance Jio 5G is likely to start its service in 13 cities initially, which includes Delhi, Bengaluru, Chandigarh, Gandhinagar, Ahmedabad, Gurugram, Mumbai, Pune, Hyderabad, Chennai, Jamnagar, Kolkata, and Lucknow. Jio 5G data prices could also be revealed during the RIL AGM 2022, so stay tuned for all the updates from the event on Monday.
RIL AGM 2022: JioPhone 5G expected to be showcased
Apart from the Jio 5G service announcement, Reliance could use the AGM to showcase its latest affordable smartphone called the JioPhone 5G. Jio and Google announced their partnership last year and brought the JioPhone Next device. This year, with the launch of 5G imminent, Jio could bring its 5G version to the market, also powered by the customised Android version called PragatiOS.
Also Read: Airtel 5G: Expected Launch in India, 5G Speed Test, Trials, Spectrum, and More
As per multiple reports, the JioPhone 5G could get a 6.5-inch display supporting HD+ resolution. JioPhone 5G is likely to be powered by the Snapdragon 480 chipset, paired with 4GB of RAM and 32GB of internal storage. The device should have a microSD card slot to support further storage expansion. The phone is also expected to feature a dual camera setup at the back, and backed up by a 5000mAh battery.
Also Read: Vodafone Idea (Vi) 5G: Expected Launch in India, 5G Speed Test, Trials, Spectrum, and More
Thanks to the stock Android support, the JioPhone 5G could also let you use features like Google Assistant, read-aloud text feature, instant translation through Google Lens and Google Translate. We don't know much about the pricing of the JioPhone 5G but going by the company's promise of an affordable device, expect it to be priced under Rs 10,000.