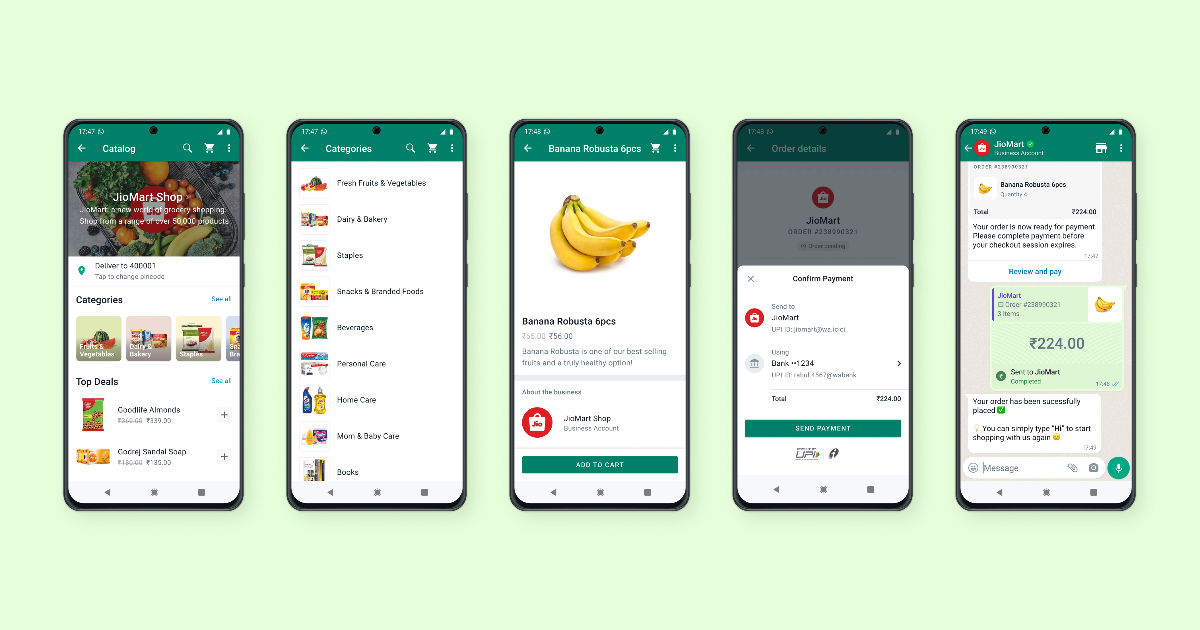 Reliance Industries Limited (RIL), at its 45th Annual General Meeting (AGM), made several announcements about the company's performance over the past year while revealing the future pipeline of plans. The company revealed that it will roll out Jio True 5G services in India during Diwali. Reliance Jio also announced Jio AIRFIBER as its wireless, plug-and-play device for ultra-high-speed Internet at homes and offices. Alongside these services, Reliance also announced that it is partnering with Meta to launch JioMart on WhatsApp.
The company said that JioMart will provide an end-to-end shopping experience on WhatsApp, which is a first worldwide.
How to Use JioMart on WhatsApp
Reliance Jio announced its partnership with Meta to introduce JioMart on WhatsApp. Customers can shop from JioMart right within WhatsApp. JioMart on WhatsApp will enable users in India, including those who have never shopped online before, to seamlessly browse through JioMart's entire grocery catalogue, add items to the cart, and make the payment to complete the purchase. All these steps can be done without leaving WhatsApp.
Consumers who wish to order groceries and other items on JioMart via WhatsApp need to send a "Hi" message on the official number, which is 917977079770. Once the message is sent, the bot will show users the options to add items and proceed further.
Meta CEO Mark Zuckerberg said that this is the company's first-ever end-to-end shopping experience on WhatsApp. "The JioMart on WhatsApp experience furthers our commitment to enabling a simple and convenient way of online shopping to millions of Indians." RIL Chairman and Managing Director Mukesh Ambani said.
The company also announced that it will roll out 5G services in India during Diwali. Metro cities like Delhi, Mumbai, Chennai, and Kolkata will get 5G connectivity by Diwali 2022, which is towards the end of October. By the end of December 2023, Jio says, every taluk, village, and cites in India with fiber quality 5G connection.