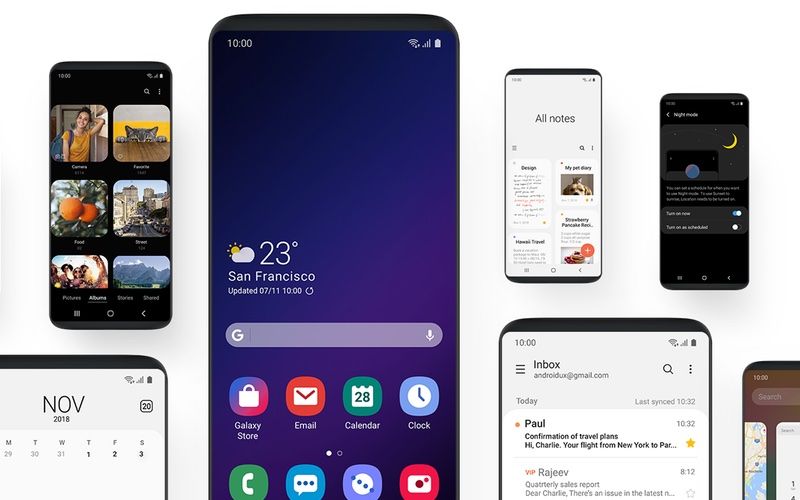 Apart from unveiling its first flexible phone, Samsung also unveiled its new smartphone user interface that is based on Android 9 Pie. It ditches the good old 'Samsung Experience UI' tag. The new software is called Samsung One UI, and it incorporates all the improvements Google made with Android Pie but goes a bit further to offer even better ease of use.
The Samsung One UI will be seen in Samsung handsets (and tablets, probably) starting in early 2019, and the South Korean brand has invited Samsung mobile users from a few countries for beta testing. Samsung One UI is available for beta testing in Galaxy S9, Galaxy S9 Plus (Review), and Galaxy Note 9 (Review) devices, and India is among the nine countries where the program starts this week.
Samsung One UI: What's New?
The final version of Samsung One UI will be rolled out to compatible phones in January 2019, as confirmed by Samsung on its global website. The new user interface has been optimized for a cleaner look and better handling of phones with larger screens and thinner bezels. You will notice that the tabs in many of the stock apps which used to be at the top (and hence, harder to reach in one-handed usage) are now at the bottom, making one-handed usage a lot easier.
Samsung software has been generally well received in the recent past, and this one perhaps will be the most liked. You can see here in the pictures that the fullscreen experience for taller display handsets has been given the full treatment, and that the icons for apps and options are easier to identify and reach.
Samsung says the One UI is made to focus on what really matters. This is made possible thanks to a de-cluttered screen showing only relevant information until you reach out for more. The Night Mode feature, introduced in Android 9 Pie, is also retained in the One UI software, and you can see a black background for apps, with warm tones and soft colors for the icons and text on the screen when you are in the night mode.
How To Join Samsung One UI Beta Program?
The Samsung One UI Beta testing program is available for Samsung users in nine countries: China, France, Germany, India, Poland, South Korea, Spain, the UK, and the USA. As is always the case with beta testing, users may face some bugs while using the software because it is not the final version. Also, the final version of the software may look and feel a bit different from what you get in the beta testing program.
The beta testing program is for smartphone enthusiasts who wish to try out a new software before it is officially rolled out and can take a hit on device and software stability, so it is not a recommended experience for those who like consistent and safe software.
To become a tester, you need the Samsung Members app. You can download it from Google Play Store or Galaxy Apps store, and register in the app. Then, go to 'Notices' and click on 'One UI Beta Program Registration'. After submitting your application, you can go to the 'Update Software' section in the phone's Settings menu, and select 'Download Updates Manually'. The software will then update and run the One UI Beta version.