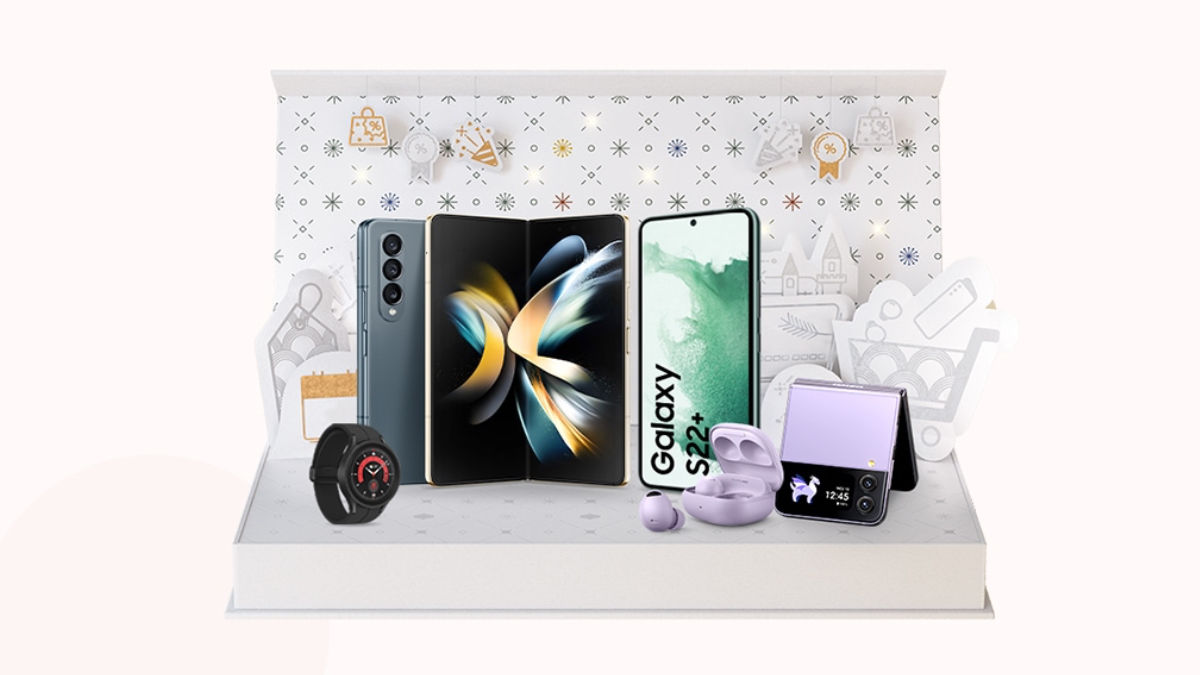 Samsung has announced its new Black Friday sale for customers in India. The company revealed that it will host the Black Friday Sale starting November 24 in India. Customers will be able to grab deals, discounts and offers on various Samsung products. The list of items eligible for discount includes smartphones, laptops, smart TVs, monitors, refrigerators and a host of other Samsung products.
Samsung has started teasing some of the best Black Friday Sale offers before it goes live. The sale will offer discounts on Samsung's latest premium smartphones, the Galaxy Z Fold 4, Galaxy Z Flip 4 and the Galaxy S22 series. Let's take a look at the Samsung Black Friday Sale offers, deals and other discount details teased so far.
Samsung Black Friday Sale Offers
Samsung Black Friday Sale will start on November 24 and go on till November 28. The company has confirmed that the Galaxy S22 series will be available for purchase at a starting price of under Rs 60,000 in India. The Galaxy Z Fold 4, which is Samsung's most premium smartphone in India with a foldable display, is also likely to get a discount. The company revealed that those who buy Samsung's most premium foldable offering during the sale can get the Galaxy Watch 4 for Rs 2,999.
The Galaxy Z Flip 4, which is a clamshell foldable phone, will also get some discount on top of the Rs 89,999 launch price. Samsung's 2021 Flip phone, the Galaxy Z Flip 3, will be available for under Rs 60,000 during the sale.
The Samsung Galaxy S21 FE, which was launched earlier this year, will be available for under Rs 40,000 during the sale. Samsung revealed that buyers will get benefits worth over Rs 20,000 on the purchase of the Galaxy S21 FE 5G.
The company will also offer discounts on its latest wearables. The teasers on the sale microsite reveal that the Galaxy Watch 5 and the Galaxy Watch 5 Pro will get some offers or discounts as part of the Black Friday sale. Samsung's latest premium TWS, the Galaxy Buds 2 Pro, can also be bought for a discounted price during the sale.
In addition to the above offers, customers can choose to avail offers on Samsung's A-series and M-series phones. The Black Friday sale offers will also be extended to laptops, monitors, accessories, TVs, sound bars, washing machines, refrigerators, tablets, air conditioners and kitchen appliances. Customers who buy two or more products during the sale will get an additional 5 per cent off on the purchase. Planning to buy some new Samsung products during the upcoming sale? Let us know in the comments below.