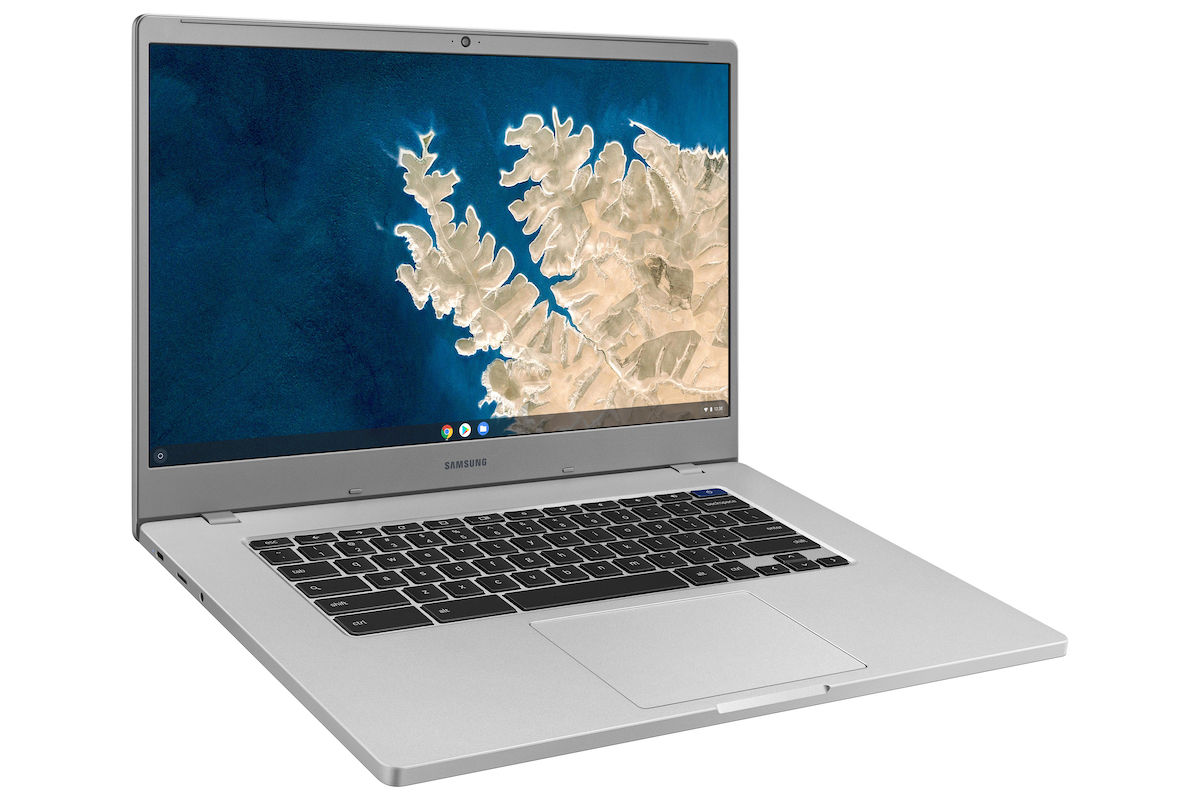 Samsung Electronics recently announced the launch of the Chromebook 4 and the Chromebook 4+ in the US. These two products come as an upgrade to the Chromebook 3 from last year and now feature support for Google Assistant. Announcing the launch in a press release, Samsung claims that both the new Chromebook models are designed for people who are on the lookout for a compact, reliable and affordable computing device.
The Samsung Chromebook 4 and the Chromebook 4+ boast of a sleek, slim design – somewhat reminiscent of older MacBooks. These machines look like they have been carved out of a single block of aluminum and the lack of any visible screws only adds to that feeling. The Chromebook 4 gets an 11.6-inch display while the Chromebook 4+ – as you might have guessed – is the larger of the two thanks to its 15.6-inch display. Both the machines remain extremely thin and the larger Chromebook 4 weighs just 3.75 pounds (1.7kg). Samsung also adds that both the machines have been tested for durability and are quite capable of resisting the travails of daily life.
Let us now delve into the hardware specifications of both these devices
Samsung Chromebook 4, Chromebook 4+ Specifications
The Samsung Chromebook 4 and the Chromebook 4+ both use the Intel Celeron N4000 dual-core processor. Announced back in 2017, the Celeron N4000 is designed for use in affordable notebooks and is based on Intel's Gemini Lake platform. This chip is based on a 14nm manufacturing process. The Chromebook 4 series uses Intel UHD Graphics 600 for, well, the graphics and comes in two RA options – 6GB and 4GB. Both the machines also offer 32GB or 64GB of onboard storage. As for the display, the smaller Chromebook 4 gets by with a resolution on 1366 x 768 pixels on its 11.6-inch panel while the larger Chromebook 4+ gets a Full HD panel. Both the displays also get an anti-reflective coating.
Both the Chromebook 4 models feature stereo speakers and boast of 720p front-facing camera for video calls. Being the larger of the two, the Chromebook 4+ gets an additional USB-C port as opposed to the single USB-C port on the Chromebook 4. Both the machines get one USB 3.0 ports each as well as a headphone jack. The larger size of the Chromebook 4+ doesn't seem to have aided in getting a larger battery since both the machines feature a 39Wh battery. This battery can be charged using a 30W USB-C charger.
Samsung Chromebook 4, Chromebook 4+ price
In the US, both the Samsung Chromebook 4 series models went on sale starting October 7. The prices for the Chromebook 4 start at $229 while the larger Chromebook 4+ models start at $299. As the case has been for the past several years, there is little chance that these Chromebooks would ever officially make it to India