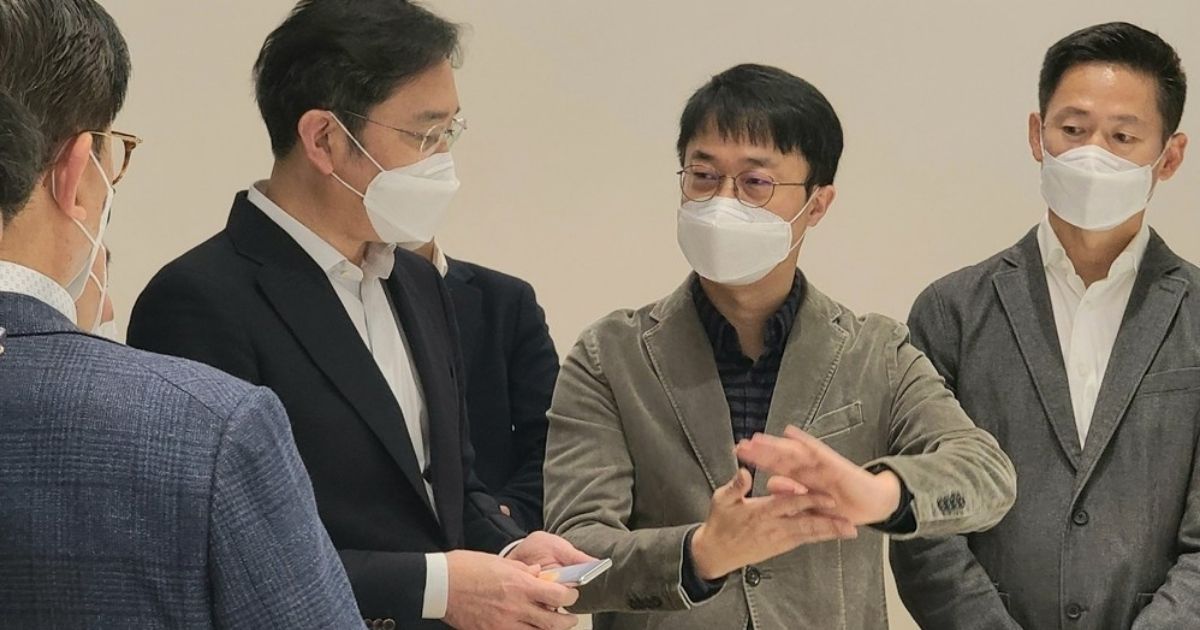 For the past decade, the form factor of Android smartphones has remained mostly the same. Samsung broke the monotony with the Galaxy Fold last year. Last month, LG launched the LG Wing, which offered a new swivel form factor. Earlier this month, a piece of news surfaced on the web claiming that LG is working on a new rollable smartphone under the Explorer project. Seems like Samsung doesn't want to remain behind in the news as a new leak suggests that the Korean tech giant might be working on a Samsung rollable smartphone. One of the top executives of the company was recently spotted with a never-seen-before Samsung smartphone.
There are speculations that Lee Jae-Yong will be the next vice chairman of the company. To those unaware, Samsung Electronics Chairman, Lee Kun-hee died recently. Lee Jae-Yong met the top executives of the company recently at Samsung R&D center in Seoul. Samsung confirmed the same on its Newsroom portal, and also posted a few pictures from the event.
Samsung Rollable Smartphone Could be in works!
In one of the photos, the company vice-president can be seen holding a smartphone. This seems like a never-seen-before smartphone, and so it could be a prototype of an upcoming device. In the past, some media reports in South Korean claimed that the company is working on a smartphone with an expandable display. The device seen in the images doesn't look like a foldable Galaxy Fold series device, as it is not that thick. Also, the thickness of the device in the image seems to have more thickness compared to other smartphones, so the possibility of it being an S series or a Note series device is also ruled out. So, it could be a prototype for a device that can stretch and offer a larger screen, if needed. Though, Samsung, officially, has not mentioned anything regarding this device.
Earlier this year, a few reports surfaced on the web claiming that Samsung organized private demos for its clients where it showed off the prototypes of the expandable smartphone. So, we can assume that the company has plans to launch rollable smartphones in the future. What do you think about a rollable smartphone? What do you think about the adoption of the new form factors of smartphones? Also, which factor will you pick out of Fold, Swivel, and Rollable smartphones. Do let us know in the comments below.