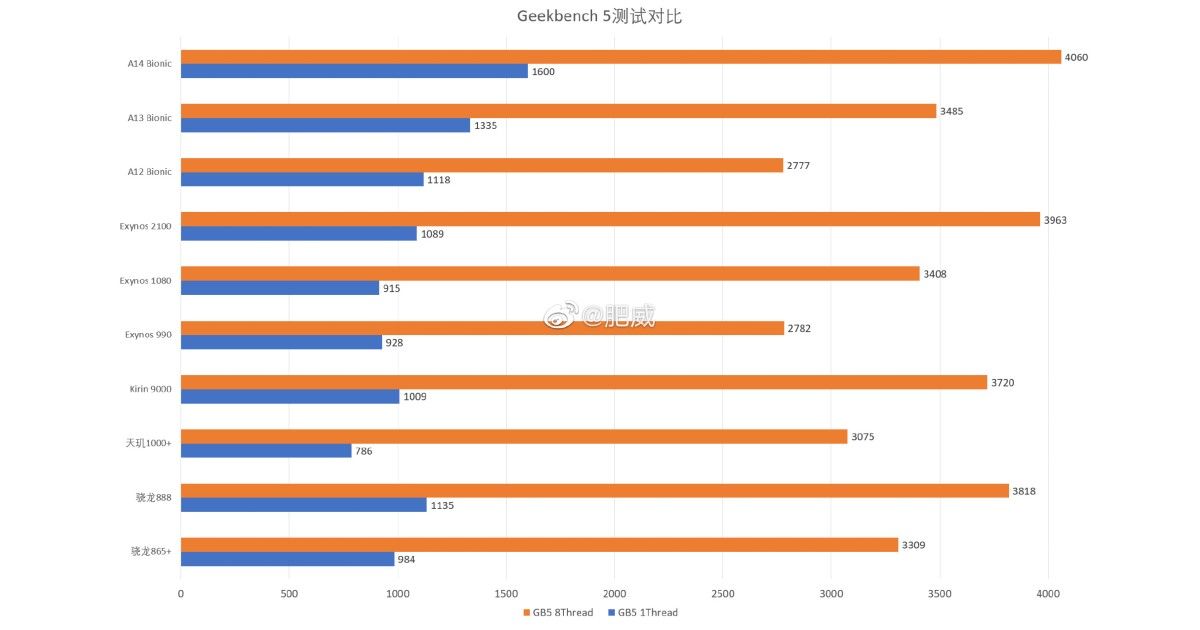 The Samsung Exynos 2100 SoC is slated to power the next generation of flagship Samsung phones. The new chipset will likely make the switch to 5nm architecture, with an established multi-cluster layout to handle peak performance, average tasks and background processes. While the exact make and configuration of the SoC is yet to be revealed, the Exynos 2100 has been making appearances in numerous benchmark entries, along with the Qualcomm Snapdragon 888. Now, leaked benchmark reports about the Samsung Exynos 2100 suggest that the flagship Samsung chipset may have finally caught up with Qualcomm, or even surpassed it in performance.
A leaked benchmark sheet from Chinese Internet forums suggest that the Samsung Exynos 2100 may be just about powerful enough to surpass the Qualcomm Snapdragon 888 on average performance. The margins, though, appear wafer thin. In the screenshot, the Geekbench 5 benchmark results suggest that the Samsung Exynos 2100 registers a single-core score of 1,089 points, and multi-core score of 3,963 points. In comparison, the Qualcomm Snapdragon 888 SoC registers a slightly higher single-core score of 1,135 points and slightly lower multi-core score of 3,818 points. The two SoCs appear to be largely behind the Apple A14 Bionic, which has posted an average single-core score of 1,600 points and multi-core score of 4,060 points.
The results align squarely with what other reports around the internet have stated. The Xiaomi Mi 11 is confirmed to be one of the first smartphones in the world to run on the Snapdragon 888. Leaked benchmark scores of the said smartphone have so far showed scores that are in the ballpark range of what the leaked benchmark tabulation sheet shows. Leaked Galaxy S21 screenshots running on the Exynos 2100 SoC also reflect the same. However, there are a couple of key things to note here. While many on the internet have claimed that Samsung may have finally surpassed Qualcomm in overall performance, the disparity in scores between the two chipsets is minimal.
Furthermore, most devices on either SoCs are likely running on pre-launch software builds, and the overall performance for each may eventually differ slightly. On this note, it is best to conclude that the performance from both the chipsets will likely be quite similar. Nevertheless, given that the launch dates of phones with either chipsets are not too far away, it will be interesting to see how they actually perform in the real world, and which manages to outperform the other.