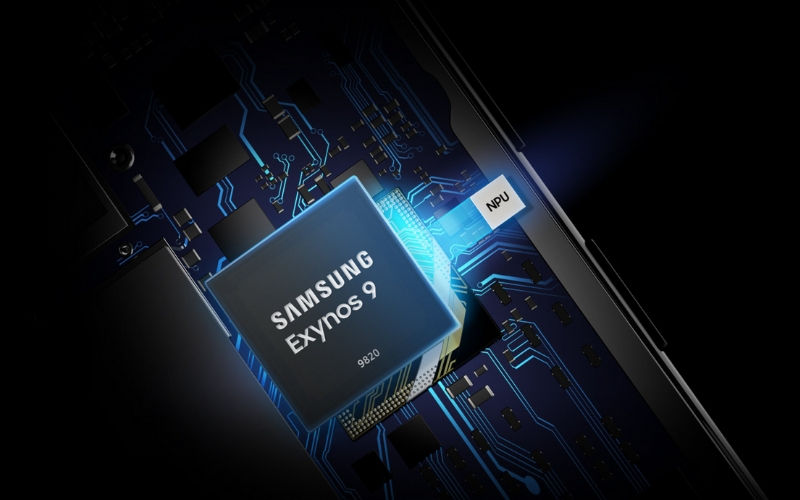 Leading up to the launch of the Galaxy S10 series sometime in February 2019, Samsung has just unveiled the processing chipset that will be used in its next flagship smartphones. The Exynos 9820 is Samsung's first in-house chipset with 8nm process, tri-cluster CPU and a dedicated NPU (Neural Processing Unit). The processor has two fourth-generation custom CPU cores, a result of Samsung's in-house development, along with two Cortex-A75 CPU cores and four Cortex-A55 CPU cores. It is built on Samsung's 8nm LPP FinFET process.
Although there were rumors pointing towards the Exynos 9820 being Samsung's first chipset with an in-house developed GPU, it didn't pan out. There's an integrated 4G LTE-Advanced Pro modem that's capable of handling up to 2Gbps download speeds. Keep reading to know more about this advanced Samsung chipset that will rival Huawei's Kirin 980 and Qualcomm Snapdragon 855.
Samsung Exynos 9820 Uses Two Custom CPU Cores, Dedicated NPU For AI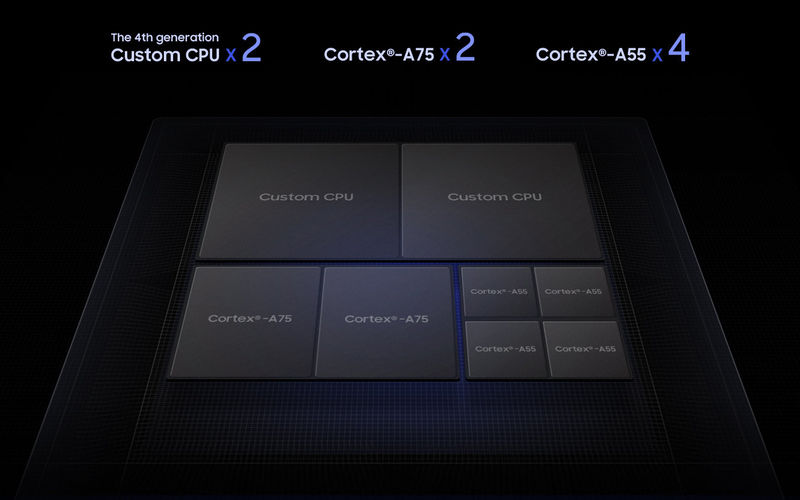 The Exynos 9820 chipset's tri-cluster CPU configuration features two custom-designed CPU cores that Samsung developed internally. The company is just calling it the 'Custom CPU' core, but it could be codenamed Mongoose M4. The other two clusters are two ARM Cortex-A75 CPU cores and four ARM Cortex-A55 CPU cores. Samsung is claiming that its new flagship smartphone chipset can perform up to 20% faster in single-core and 15% faster multi-core performance. The CPU can be up to 40% more power-efficient when necessary.
The ARM Mali-G76MP12 GPU works in conjunction with the CPU and takes care of all the graphics related tasks. Samsung claims that the new 12-core GPU delivers up to 40% performance boost compared to the GPU used inside last year's chipset: Exynos 9810. It supports up to 4K screen resolution. The GPU can offer 35% power savings when necessary, making graphics intensive games as well as AR and VR applications easier on the battery. The chipset supports LPDDR4X RAM and UFS 3.0 as well as UFS 2.1 storage chips.
The Exynos 9820 is also Samsung's first mobile chipset with a dedicated NPU for accelerated AI (Artificial Intelligence) and ML (Machine Learning) tasks. A dedicated hardware AI accelerator (NPU) offers faster AI processing and it can carry out AI and ML processing without a need to connect to the server over the internet. This also means that the user's data is secured privately on the device. A few applications of this on-device AI capability are faster scene recognition and instant camera settings adjustments in the camera app. Samsung claims that the Exynos 9820 is seven times faster than Exynos 9810 in performing AI-related tasks.
Although the Exynos 9820 doesn't come with an integrated 5G modem, there's an integrated 4G LTE Advanced Pro modem that's capable of up to Cat.20 8CA (8 Carrier Aggregation) 2Gbps downloads and up to Cat.20 3CA 316Mbps uploads. With network connectivity features like 4×4 MIMO (Multiple-Input, Multiple-Output), 256-QAM (Quadrature Amplitude Modulation) and eLAA (enhanced Licensed-Assisted Access), Exynos 9820-equipped devices can offer faster network speeds and more stable performance.
Samsung Exynos 9820 Can Capture Up To 8K Videos
The Exynos 9820's new ISP (Image Signal Processor) and MFC (Multi-Function Codec) make the chipset capable of supporting up to five camera sensors (22MP Front and Rear or 16MP+16MP Dual-Camera), including an IR sensor. It is also capable of capturing up to 8K 10-bit HEVC videos at 30fps or up to 4K 10-bit HEVC videos at a whopping 150fps. This doesn't mean the Galaxy S10 will feature these video recording modes, though, since the company has to match its capabilities with the next-generation Snapdragon processor, which may or may not be capable of such high frame rate or high-resolution video capture.
When Will The First Phone With Exynos 9820 Come Out?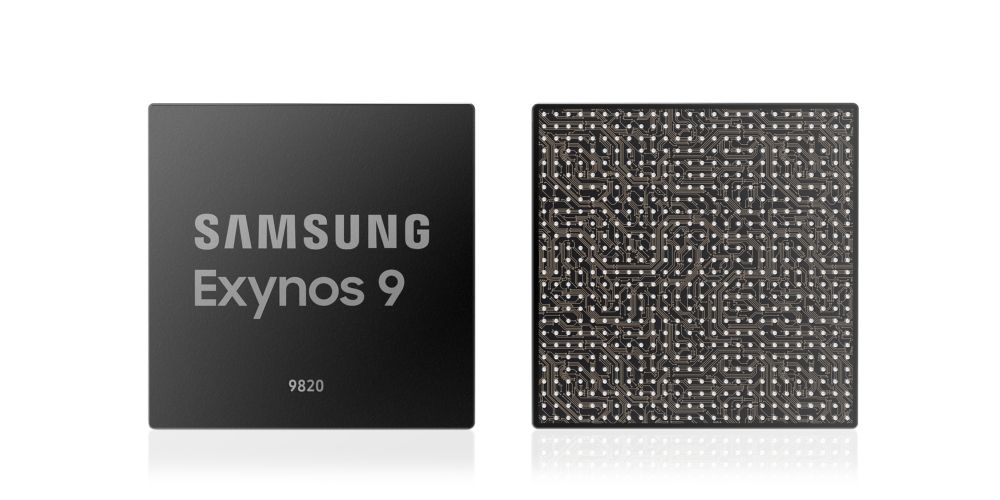 The first smartphones with the Exynos 9820 chipset will most probably be the Samsung Galaxy S10 series, and we may see their release sometime in Q1 2019 (probably in March 2019 after Galaxy S10 launch event in February 2019). Samsung says that the Exynos 9820 chipset is expected to be in mass production by the end of this year, which pans nicely with the Galaxy S10 series announcement and launch timeframes.
Ben Hur, Vice President of System LSI's Marketing at Samsung Electronics, said, "As AI-related services expand and their utilization diversify in mobile devices, their processors require higher computational capabilities and efficiency. The AI capabilities in the Exynos 9 Series 9820 will provide a new dimension of performance in smart devices through an integrated NPU, high-performance fourth-generation custom CPU core, 2.0Gbps LTE modem and improved multimedia performance."