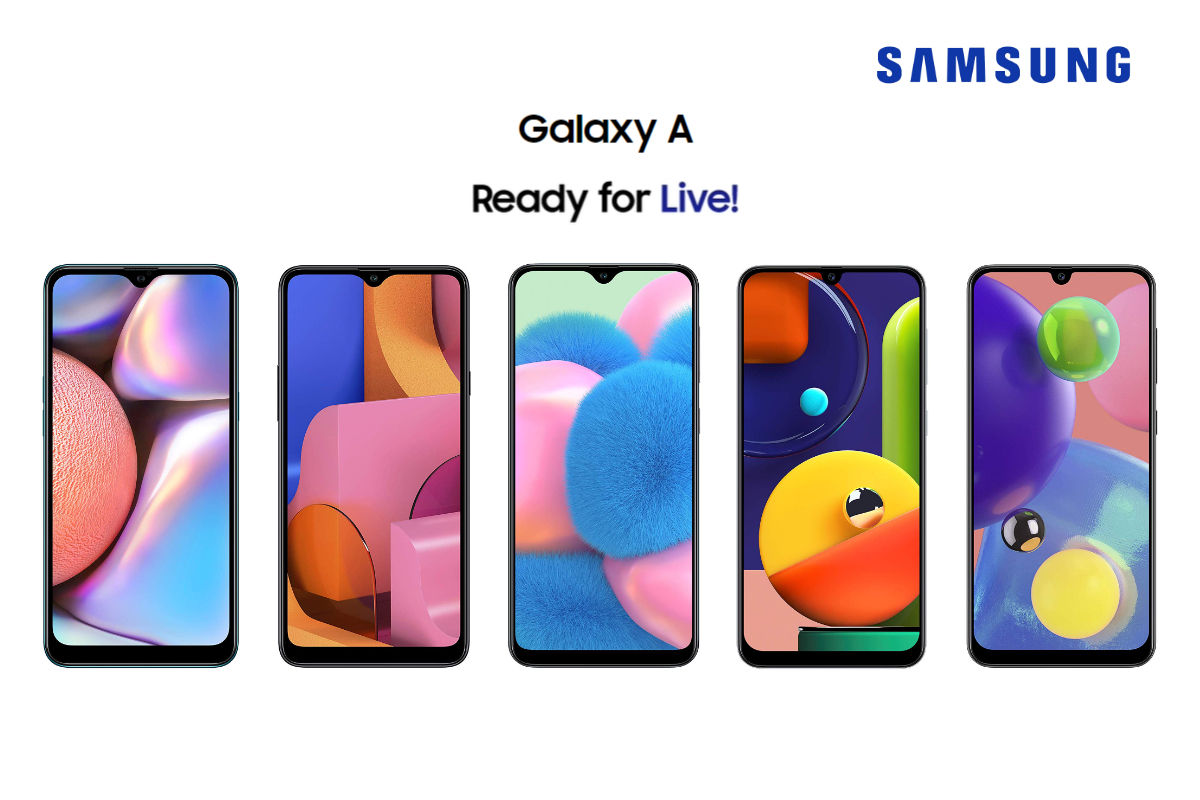 Samsung has dropped the price of five of its A-series smartphones in India – the Galaxy A10s, Galaxy A20s, Galaxy A30s, Galaxy A50s, and the Galaxy A70s. The news for the price drop of the Galaxy A10s, Galaxy A30s, and the Galaxy A50s comes from a Tweet from Mahesh Telecom, which is a well-known smartphone retailer in Mumbai. The news regarding the price drop of the Galaxy A20s and the Galaxy A70s is being reported by many tech publications online. However, Samsung is yet to announce the price drop officially.
The price drop reported by Mahesh Telecom in the Tweet seems to be related to the offline market. The retailer hasn't mentioned the old offline prices of the three devices in its Tweet; it only reveals the new prices. According to the Tweet, the 2GB + 32GB variant of the Galaxy A10s now costs INR 8,499, while the 3GB + 32GB variant of the device now costs INR 9,499. The Galaxy A30s, which comes in only 4GB + 64GB variant, is now said to come with a price tag of INR 15,999. As for the Galaxy A50s, its new price tag is said to be INR 19,999 for the 4GB + 128GB variant, and INR 21,99 for the 6GB + 128GB variant.
#Samsung #PriceDrop#SamsungA10s (2/32) ₹8999#SamsungA10s (3/32) ₹9999#A50s 4/128 ₹19999#A50s 6/128 ₹21999#A30s 4/64 ₹15999. pic.twitter.com/fnl3QoiiRe

— Mahesh Telecom (@MAHESHTELECOM) November 27, 2019
Coming to the Galaxy A20s, various reports online suggest that it is now being sold in offline stores at INR 11,999 for the 3GB + 32GB variant as opposed to its earlier price tag of INR 12,900. We don't have any information if there has been a drop in the price of Galaxy A20's 4GB + 64GB variant, for the offline market. As for the Galaxy A70s, reports suggest that the new offline price for the 6GB + 128GB variant of the device is INR 28,999, instead of its older price tag of INR 31,000. The 8GB + 128GB variant of the smartphone is now said to be available at INR 30,999 in offline as well as online stores.
However, according to the information we've gathered from online stores and local retailers, only the Galaxy A10s has received the price cut. The price of all the other A-series smartphones remains the same. That being said, the prices of these devices might be different for various markets. Anyway, here are the updated online and offline prices of all the A-series devices, according to research we've conducted.
Updated Online Prices of All Samsung A-series Devices
| | Old online price | New online price | Price cut amount |
| --- | --- | --- | --- |
| Samsung Galaxy A2 Core | INR 5,290 | INR 5,290 | — |
| Samsung Galaxy A10s (2GB + 32GB) | INR 9,499 | INR 8,499 | INR 1,501 |
| Samsung Galaxy A10s (3GB + 32GB) | INR 10,499 | INR 9,499 | INR 1,000 |
| Samsung Galaxy A20s (3GB + 32GB) | INR 11,999 | INR 11,999 | — |
| Samsung Galaxy A20s (4GB + 64GB) | INR 13,999 | INR 13,999 | — |
| Samsung Galaxy A30s (4GB + 64GB) | INR 15,999 | INR 15,999 | — |
| Samsung Galaxy A50 (6GB + 64GB) | INR 21,490 | INR 21,490 | — |
| Samsung Galaxy A50s (4GB + 128GB) | INR 19,999 | INR 19,999 | — |
| Samsung Galaxy A50s (6GB + 128GB) | INR 21,999 | INR 21,999 | — |
| Samsung Galaxy A70 (6GB + 128GB) | INR 26,990 | INR 26,990 | — |
| Samsung Galaxy A70s (6GB + 128GB) | INR 28,999 | INR 28,999 | — |
| Samsung Galaxy A70s (8GB + 128GB) | INR 30,999 | INR 30,999 | — |
| Samsung Galaxy A8+ (6GB + 64GB) | INR 30,990 | INR 30,990 | — |
Updated Offline Prices of All Samsung A-series Devices
| | Old online price | New online price | Price cut amount |
| --- | --- | --- | --- |
| Samsung Galaxy A2 Core | INR 5,290 | INR 5,290 | — |
| Samsung Galaxy A10s (2GB + 32GB) | INR 9,499 | INR 8,499 | INR 1,501 |
| Samsung Galaxy A10s (3GB + 32GB) | INR 10,499 | INR 9,499 | INR 1,000 |
| Samsung Galaxy A20s (3GB + 32GB) | INR 11,999 | INR 11,999 | — |
| Samsung Galaxy A20s (4GB + 64GB) | INR 13,999 | INR 13,999 | — |
| Samsung Galaxy A30s (4GB + 64GB) | INR 15,999 | INR 15,999 | — |
| Samsung Galaxy A50 (6GB + 64GB) | INR 21,490 | INR 21,490 | — |
| Samsung Galaxy A50s (4GB + 128GB) | INR 19,999 | INR 19,999 | — |
| Samsung Galaxy A50s (6GB + 128GB) | INR 21,999 | INR 21,999 | — |
| Samsung Galaxy A70 (6GB + 128GB) | INR 26,990 | INR 26,990 | — |
| Samsung Galaxy A70s (6GB + 128GB) | INR 28,999 | INR 28,999 | — |
| Samsung Galaxy A70s (8GB + 128GB) | INR 30,999 | INR 30,999 | — |
| Samsung Galaxy A8+ (6GB + 64GB) | INR 30,990 | INR 30,990 | — |