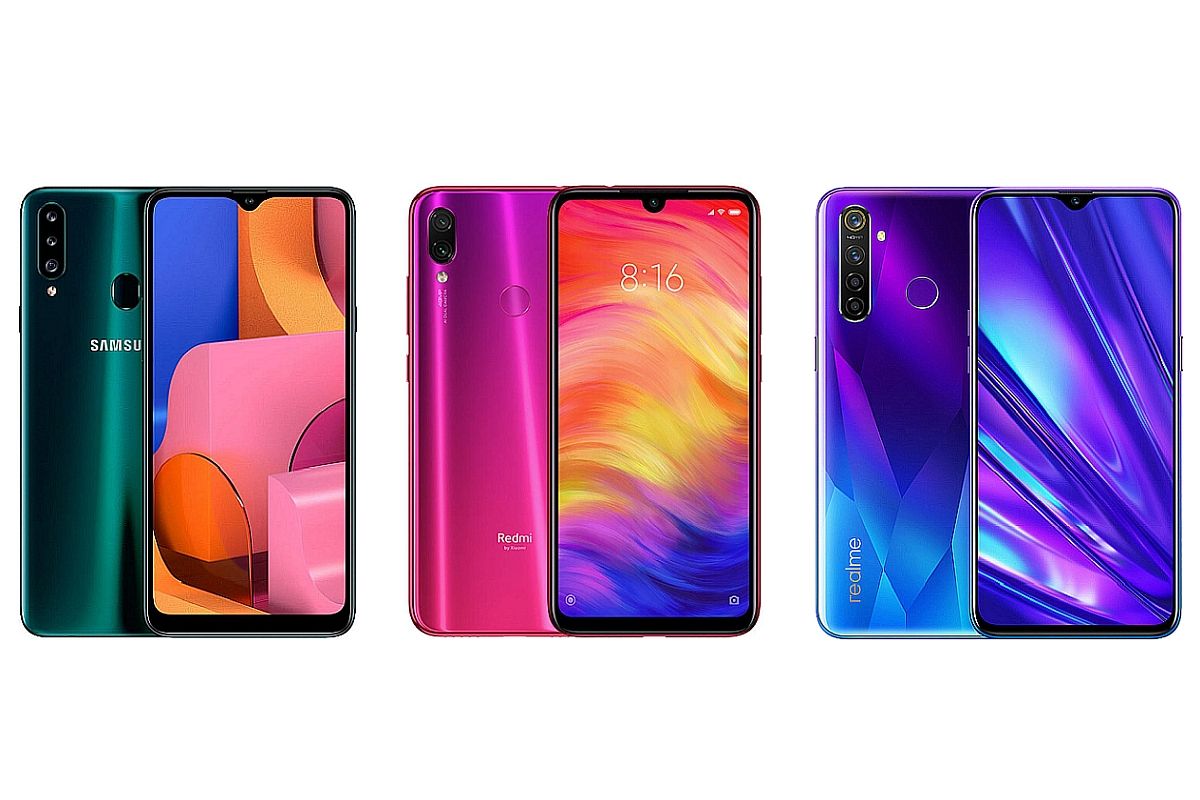 The Galaxy A20s is the latest entry in Samsung's budget A-series lineup to have made its way tot he Indian market. It is a successor to the Galaxy A20 and is an upgrade in most regards except its display. Our focus today, however, is on comparing the Galaxy A20s with similarly priced competitors from other brands. As such, we shall pit Samsung's new handset against the Redmi Note 7 Pro (review) and Realme 5 Pro.
Samsung Galaxy A20s vs Redmi Note 7 Pro vs Realme 5 Pro: Price in India
The Samsung Galaxy A20s is available for purchase in India at a starting price of INR 11,999 for its 3GB RAM + 32GB storage base configuration. There is also the 4GB RAM + 64GB storage model that costs INR 13,999.
The Redmi Note 7 Pro also retails for INR 11,999 for its base model, where you get 4GB of RAM with 64GB of storage. An upgrade to 6GB of RAM will set you back by INR 13,999, while the phone's 6GB RAM + 128GB model demands an INR 14,999 premium.
The Realme 5 Pro's base model also offers 4GB RAM and 64GB storage like the Redmi handset, but its price is the same as that of the equivalent Galaxy A20s' at INR 13,999. The 6GB RAM + 64GB storage model of this handset is priced at INR 14,999, with the top-end 8GB RAM + 128GB storage model coming in with a price tag of INR 16,999.
Samsung Galaxy A20s vs Redmi Note 7 Pro vs Realme 5 Pro: Design
While the Galaxy A20s does get a design upgrade over its predecessor with a reflective/glossy rear panel, it still doesn't look as good and feel as premium as its competitors. The Realme 5 Pro has a significantly higher screen-to-body ratio, and while its rear panel is also made with plastic, it looks much better thanks to its gradient colors and diamond-cut patterns and offers Gorilla Glass 3+ protection over its display. Then we have the Redmi Note 7 Pro that makes use of Gorilla Glass 5 at both its front an back for improved scratch and shatter resistance. There is also a bit of water resistance here thanks to its P2i coating.
Samsung Galaxy A20s vs Redmi Note 7 Pro vs Realme 5 Pro: Display
It is unclear why Samsung decided to move over from an AMOLED panel to an LCD one on the Galaxy A20s while still retaining an HD+ resolution. This is a deplorable downgrade, especially when most of the competition, including the Redmi Note 7 Pro and Realme 5 Pro, offers Full HD+ resolution LCD screens.
Samsung Galaxy A20s vs Redmi Note 7 Pro vs Realme 5 Pro: Performance, Software
Performance is another aspect where the Galaxy A20s struggles to keep up with its Snapdragon 450 chipset. We are also unsure about how well Samsung's heavy One UI would perform on such a slow chipset. The Realme 5 Pro is the leader in this segment with its Snapdragon 712 chipset, while the Redmi Note 7 and it's Snapdragon 675 comes in a close second. Another drawback of the Galaxy A20s over the other two is its lack of support for 5GHz Wi-Fi networks.
Samsung Galaxy A20s vs Redmi Note 7 Pro vs Realme 5 Pro: Camera
The Realme 5 Pro is again the champion when it comes to smartphone photography with its 48MP + 8MP (ultrawide) + 2MP (macro) + 2MP (depth) quad rear camera setup that is assisted by a 16MP selfie camera. Then we have the Note 7 Pro that offers a 48MP + 5MP dual rear camera setup and a 13MP selfie camera. Even though the Galaxy A20s offer a triple rear camera setup with an 8MP wide-angle sensor that the Redmi handset lacks, it is only using a measly 13MP primary rear camera with a 5MP depth shooter. Furthermore, the selfie camera is just an 8MP sensor, and the rear cameras can only record videos at up to 1080p resolution while the other two phones are capable of 4K.
Samsung Galaxy A20s vs Redmi Note 7 Pro vs Realme 5 Pro: Battery Life
The Galaxy A20s fails to impress in the battery life showdown as well with its 4000mAh battery that – despite charging over USB Type-C – only supports 15W charging. In contrast, the Redmi Note7 Pro's 4000mAh cell supports 18W Quick Charge 4, while the Realme 5 Pros 4035 mAh battery gets 25W VOOC 3.0 support.
Samsung Galaxy A20s vs Redmi Note 7 Pro vs Realme 5 Pro: Verdict
If we were only to consider the base pricing of each phone, then the Redmi Note 7 Pro is the clear winner with its best bang-for-your-buck proposition. Those with a higher budget and desire to pick up a larger storage model shouldn't think twice before grabbing the Realme 5 Pro as it is undoubtedly the best overall smartphone out of the three.
Unfortunately for Samsung, it has failed to deliver a compelling package with the Galaxy A20s. On top of a weak chipset and unimpressive cameras, the phone maker has the audacity to offer a low-resolution LCD screen on this phone. The brand needs to up its game in the budget segment if it wants to remain competitive.