In my review of the Samsung Galaxy A50, I noted how still imaging was one of the strong points of this phone. It looks like the folks over at DxOMark agree. They put the phone to the test and gave it a respectable score that is actually better than some older flagships. The Galaxy A50 receives a total score of 83 in imaging, which might not be as high as flagships in 2019 but is surprisingly close to older smartphones such as the LG G7 ThinQ, Apple iPhone 7 (review), and Nokia 8 Sirocco (review). Also, this score is only three points behind last year's Galaxy A9 (review) and is on par with Samsung's older flagship, the Galaxy S6 Edge.
The DxO team found the Galaxy A50 to perform well in still imaging with bright ambient lighting conditions. The camera setup on this smartphone is comprised of three sensors, where we have a 25MP primary shooter, an 8MP wide-angle camera, and a 5MP depth sensor. This setup is said to capture photos with decent exposure, good color rendering, and generally accurate white balancing. Even in challenging high contrast conditions, the phone manages to capture a wide dynamic range. The accuracy of the depth-sensing camera in portrait shots also impressed the DxO team. While the blur effect is not perfect, edge detection is fairly accurate even with complex subjects such as spectacles.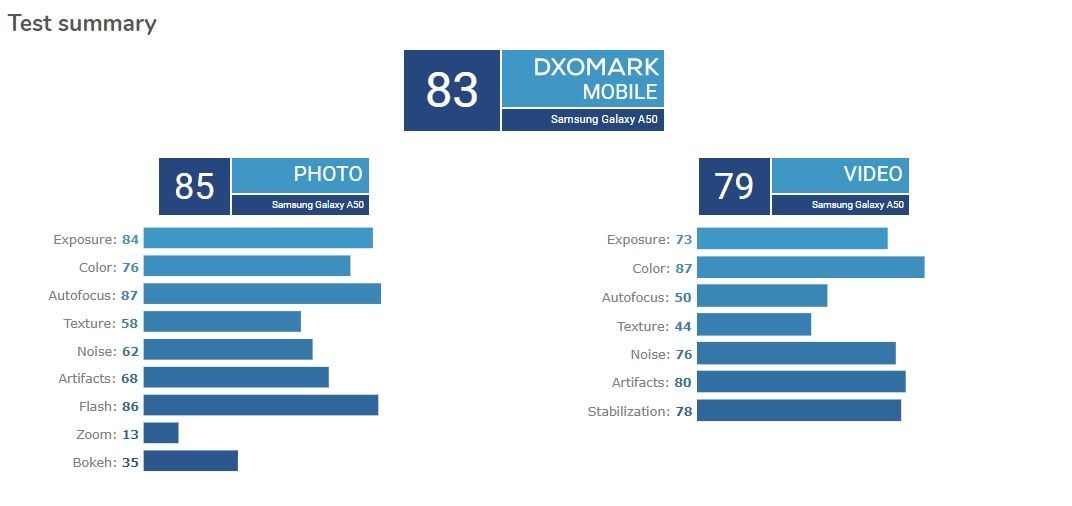 Still imaging presents issues when it comes to zooming in. The DxO team noticed many problems such as significant detail loss, ringing and denoising artifacts, and poor color rendering. There were also some issues with ghosting even with light movement of the subject. In my personal time with the phone, I have also found low-light performance to be lacking on this handset.
Video performance fared worse than photography with a final score of 79 points. The problems here are mainly around inconsistencies with autofocus and a general lack of detail. Dynamic range is also quite limited. Despite these problems, the Galaxy A50's cameras capture fairly stabilized videos with appealing colors and relatively low noise levels.
Is Galaxy A50 The Budget Photography Phone You've Been Looking For?
On paper, the Galaxy A50 has a lot going for it. Samsung managed to equip the phone with a Full HD+ resolution AMOLED screen that boasts an in-display fingerprint scanner. It gets the same One UI software you find on Samsung's flagship phones. You also get an impressive 4000mAh battery that gets 15W fast charge support over USB Type-C.
As I mentioned in my review, however, the phone has some underlying issues that make it difficult to recommend as a daily driver. First up is the inconsistency with performance. While you can certainly game at respectable settings on this phone, One UI is just a bit too heavy for this chipset to handle and you are bound to notice considerable lag and stuttering in aspects such as navigation and launching apps. And perhaps the most unforgivable offense here is the underwhelming fingerprint scanner performance. The constant false negatives and generally slow unlock times make this a difficult smartphone to use on a daily basis.