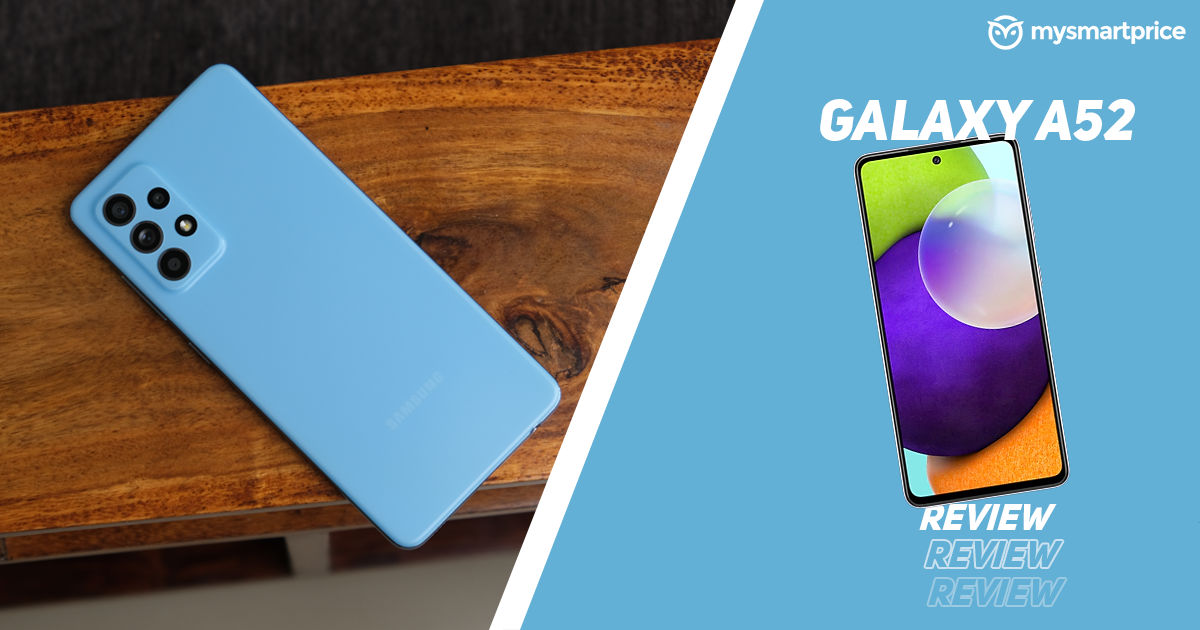 I'll cut to the chase, The Galaxy A52 is the best mid-ranger Samsung has launched in quite a while. The cheapest Samsung phone with Stereo Speakers, a high refresh rate AMOLED *and* OIS to date, was the Galaxy S20 FE which launched at 49,999. So, Samsung bringing all of these features to a phone under 30K is as big a deal as a single ship blocking out supply chains all across the globe. Ok yeah, I am exaggerating but you get the point. Galaxy A52 is Samsung's answer to the Nords of the world, but I think all this feature overload might still not be enough to make it my default recommendation under 30K. I've been using the Samsung Galaxy A52 for about 10 days now, and what better way to review the A52 than A 52-point checklist to tell you everything you need to know.
Galaxy A52 Review: Battery & Charging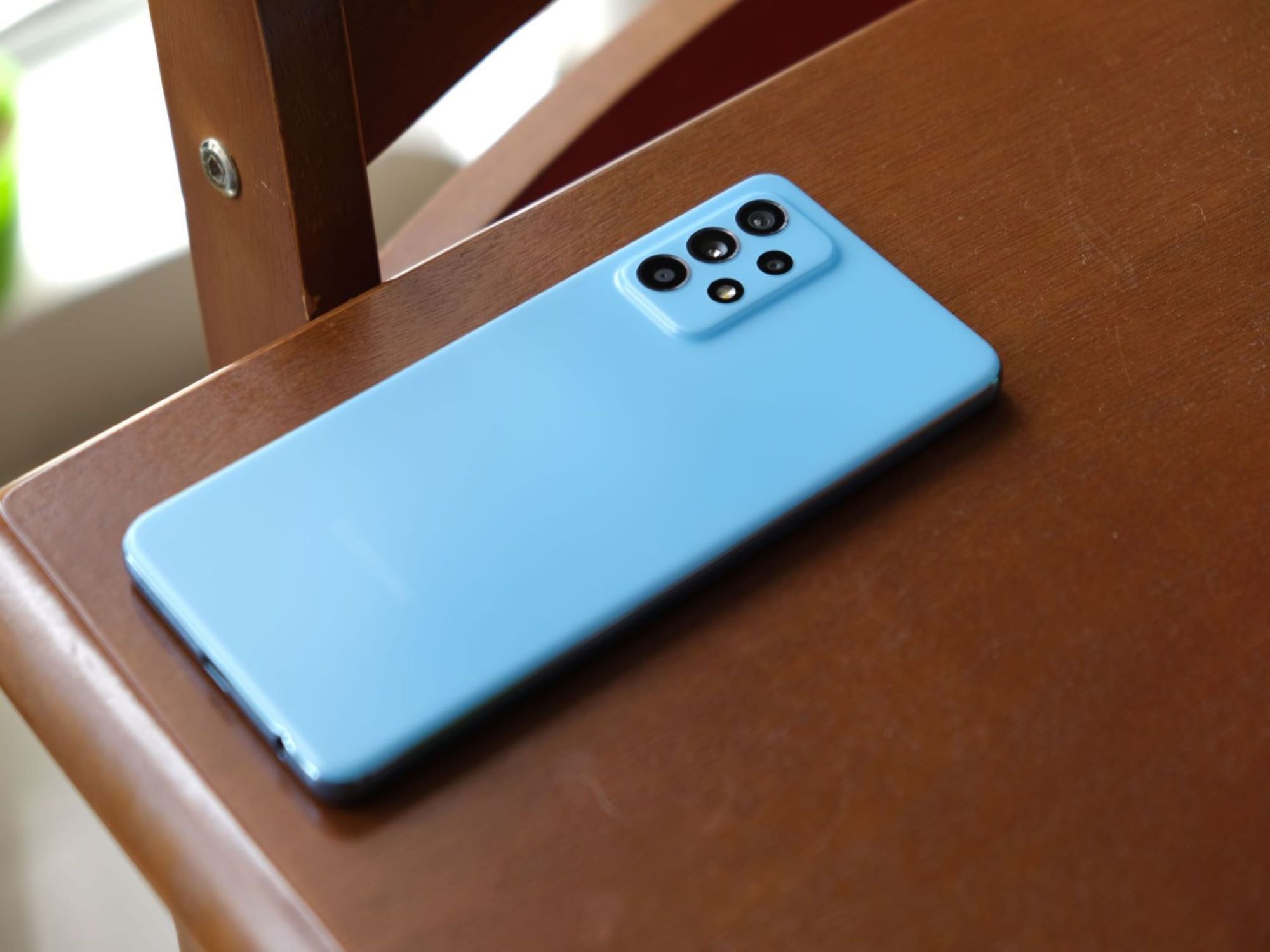 1) If you didn't take a second to appreciate that brilliant pun I made upstairs, you are probably someone who wants to get things done quickly. If that's the case, this phone's charging speed is surely going to let you down. Although it supports 25W charging, Samsung has done the most Samsung thing by bundling in a 15W charger here. When more and more 20K phones are getting charged in an hour or less, this one takes almost 2 hours to touch 100% and this is one thing I just can't live with.
2) Luckily, the phone's 4500mAh battery, although not sounding huge on paper, works really well here. I could easily get around 7 Hours of S.o.T here and this phone will last more than a day for the majority of users, so you will have to deal with the slow charging only once every 2 days.
Galaxy A52 Review: Design & Build
3) Now that we are talking about the charger, let's get all the in-box stuff out of the way. Samsung doesn't bundle any protective case with the phone either, and also there are no earphones of any sort present here.
4) What is present here though, is IP67 rating. In case you're wondering, IP68 rating just means that the phone can be submerged 1.5m deep into the water for 30 minutes, while with IP67, this claim is restricted to 1m depth. Jargon aside, it basically means that this phone is legit waterproof and you can take it near a pool with you.
5) The design itself has undergone a huge refresh. I'm really glad phone makers have stopped trying to make glossy plastic backs just to make them look like glass. This one's more like "I'm Plastic and I Know it" and IMO, it's way better looking. You get a matte finish so there's no smudging, plus the pastel colours and the minimal camera bump just give it a nice, classy aesthetic.
6) One downside to this new design is that the phone isn't as light (184 grams) or thin (8.4mm) as the earlier A series models. It might feel clunky to hold at first, but the boxy form factor just grew on me eventually.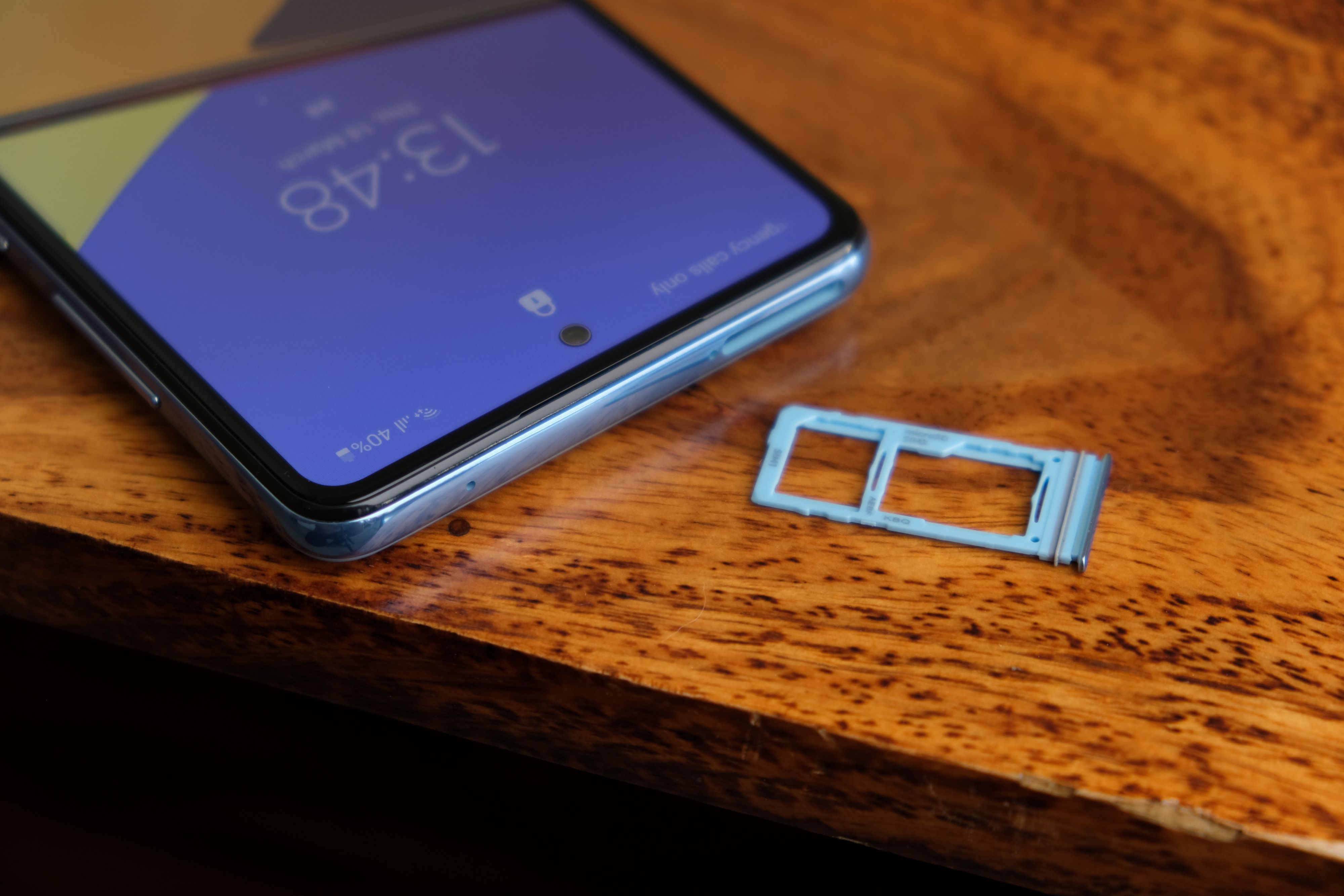 7) Finally the ports and buttons. There's a Hybrid SIM card tray so you'll have to choose between Dual SIMs or expandable storage. The Power and Volume buttons on the right side are clicky enough. The bottom edge is where you'll find the 3.5mm jack, a type-C port and a speaker grille.
8) The only nitpick about the design is the glossy plastic frame. It's OK for now, but I'm worried it'll start showing scratches soon enough.
Galaxy A52 Review: Display & Multimedia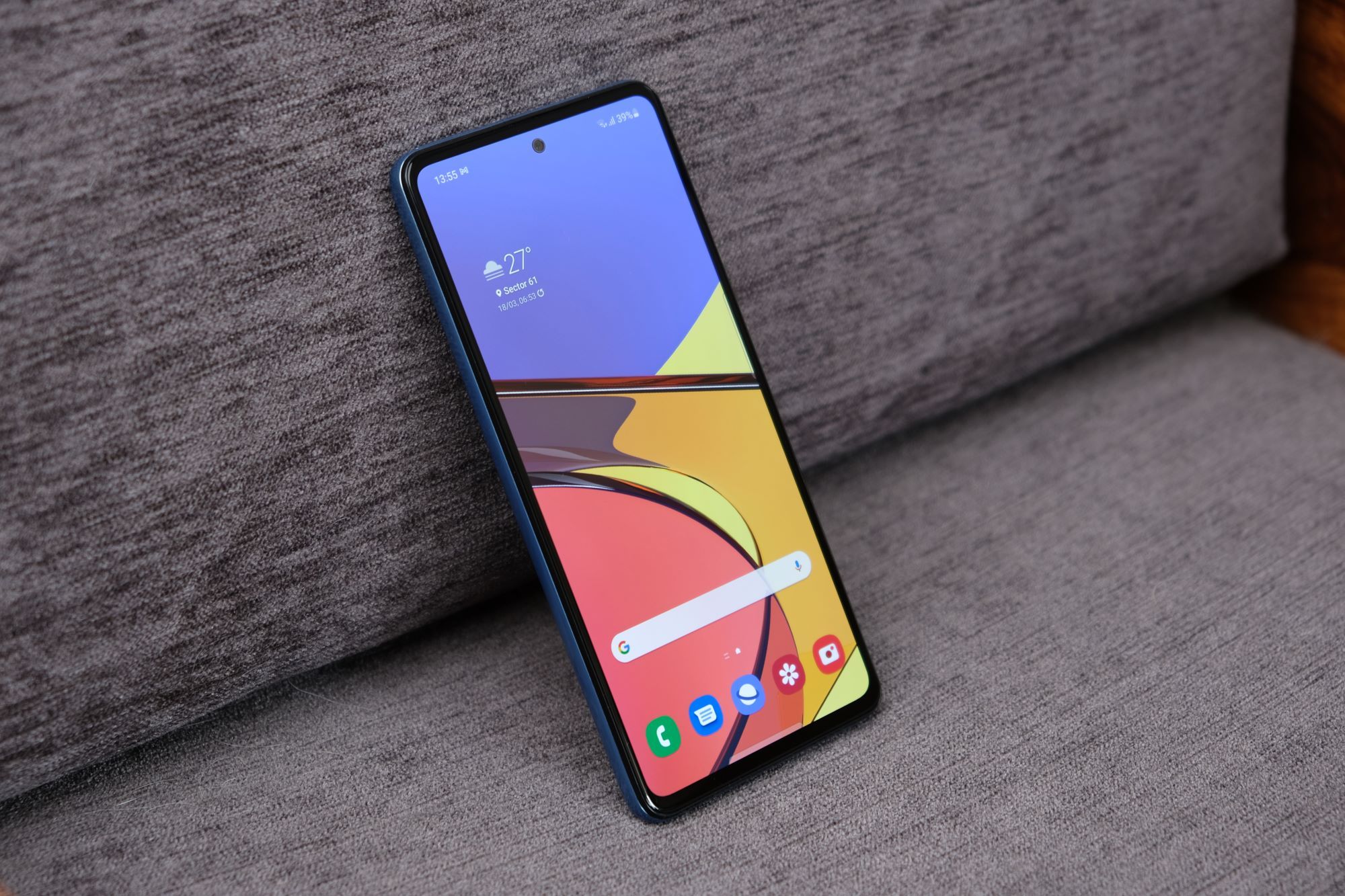 9) The Galaxy A52 seems to have slightly thicker bezels all around the screen than we've come to expect from smartphones these days. There's also Gorilla Glass 5 protection at the front.
10) The display itself is a 6.5 inch Super AMOLED panel with FHD+ resolution and support for Widevine L1. As expected, the colours here are punchy, the brightness levels are great even outdoors. But..
11) Gone are the days when we could just pronounce a Samsung phone to have the best-in-class Display. The A52's screen lacks HDR certification as it can touch only a max of 800nits brightness, which although enough, still falls short of Oneplus Nord's and Redmi Note 10 Pro Max's 1000+ nits HDR10 certified screens.
12) Another first for Samsung though is the inclusion of Stereo speakers in this segment. The speaker output here is definitely the best so far on a Samsung mid-ranger, with decent loudness and ample fullness in the sound. Sound via the 3.5mm jack is as expected too.
Galaxy A52 Review: Performance & Gaming
13) Before moving further let's get the specs out of the way. The A52 comes with 6 or 8gigs of LPDDR4x RAM, coupled with 128GB of UFS 2.1 storage.
14) The processor here is Snapdragon 720G, which is an efficient mid-range chip based on an 8nm fabrication process. Here are the benchmark scores if you're that kind of a person:
15) What got me really interested in the phone was the 90Hz Refresh rate this comes with. There's no official word on the touch sampling rate though, but I have a feeling it will be closer to the standard 120Hz than anything else.
16) The High Refresh Rate screen does make everything feel a bit more smoother, with things like Social Media scrolling and app animations just gliding across the screen. But?
17) There are quite a few frame drops and stutters I faced during my time with the phone. Apps take a second or two to load, a hiccup or two while switching between apps and just a general feeling of sluggishness here and there.
18) This sluggishness could be partly due to the UFS 2.1 storage being used here. Also, the 720G can only do so much trying to run a feature-heavy OneUI skin.
19) That being said, this still feels faster and smoother than the likes of the A51, M51 etc. And I'm pretty sure the casual users would find it perfectly capable for their needs. Plus, the RAM management is pretty great even on 6GB RAM model.
20) Casual gamers can enjoy 60fps gameplay on games like PUBG and COD Mobile, however, don't expect heavy gaming sessions and/or 90fps gaming with this phone. You'll get much better options at this price for that. To its credit, the phone hardly heats up even after an hour of non-stop gaming.
Galaxy A52 Review: Software & Network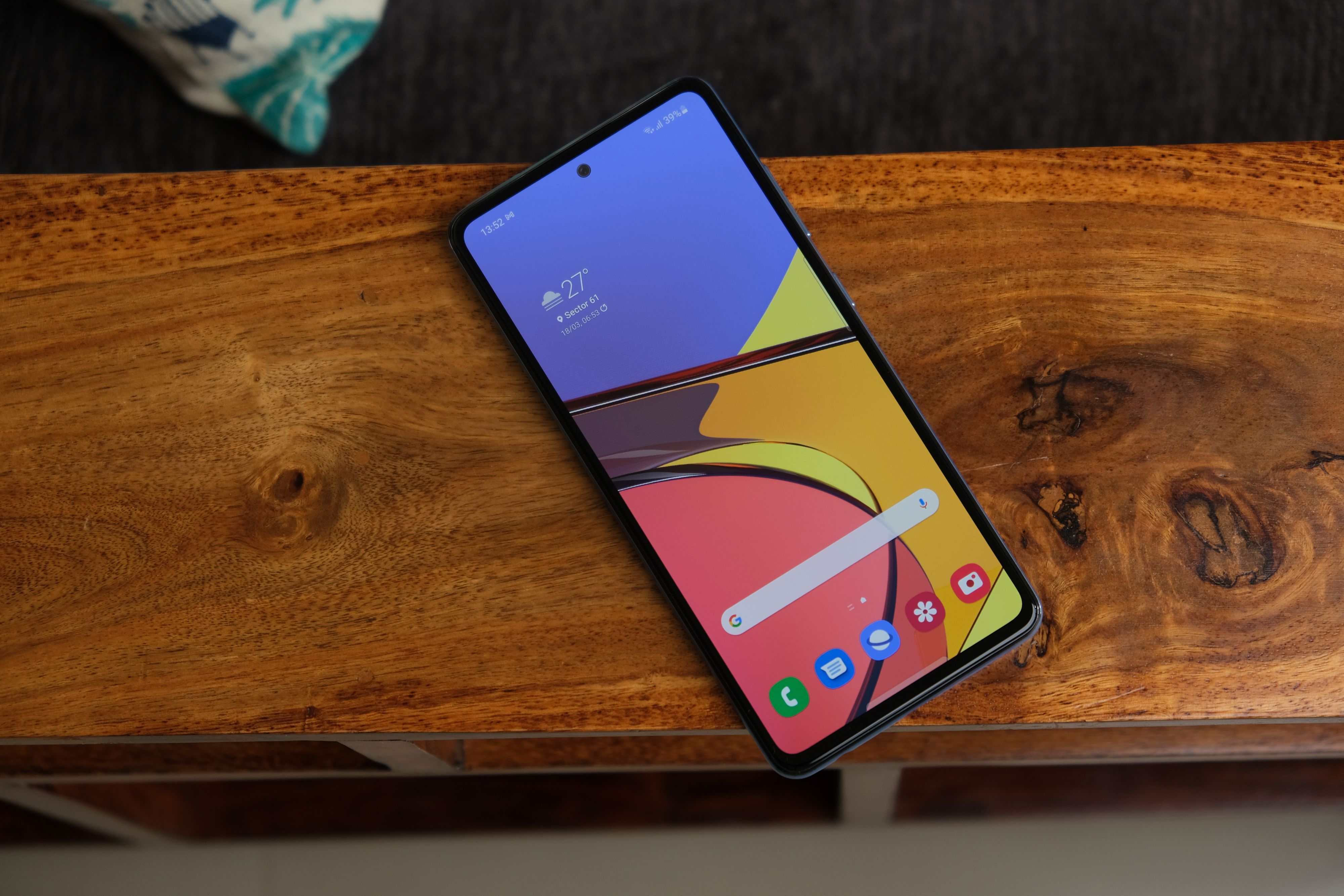 21) Samsung has probably made the biggest jump in terms of its software support. This phone too launches with Android 11 out of the box, with Samsung's latest OneUI 3.1 on top.
22) This isn't the core OneUI experience that you get on M series devices. You get the full suite of features here. Secure Folder, Knox Security, Samsung Pay (i.e. with NFC) and the likes.
23) OneUI is probably one of the most mature Android skins out there. You get a ton of customization options, Always On Display, Multi-tasking windows and more.
24) Talking about the bloatware situation, well it's still there. You get pre-installed junk like Dailyhunt, MX Takatak, Moj etc. Also, the Galaxy store will try its best to spam your notifications with unnecessary crap. Luckily, you can uninstall most of the third-party junk, and disable the rest.
25) As I mentioned earlier, the overall UI experience is a mixed bag. It runs smoothly for most of the time, but then it lags or stutters for a second and you realize you're using a mid-range phone.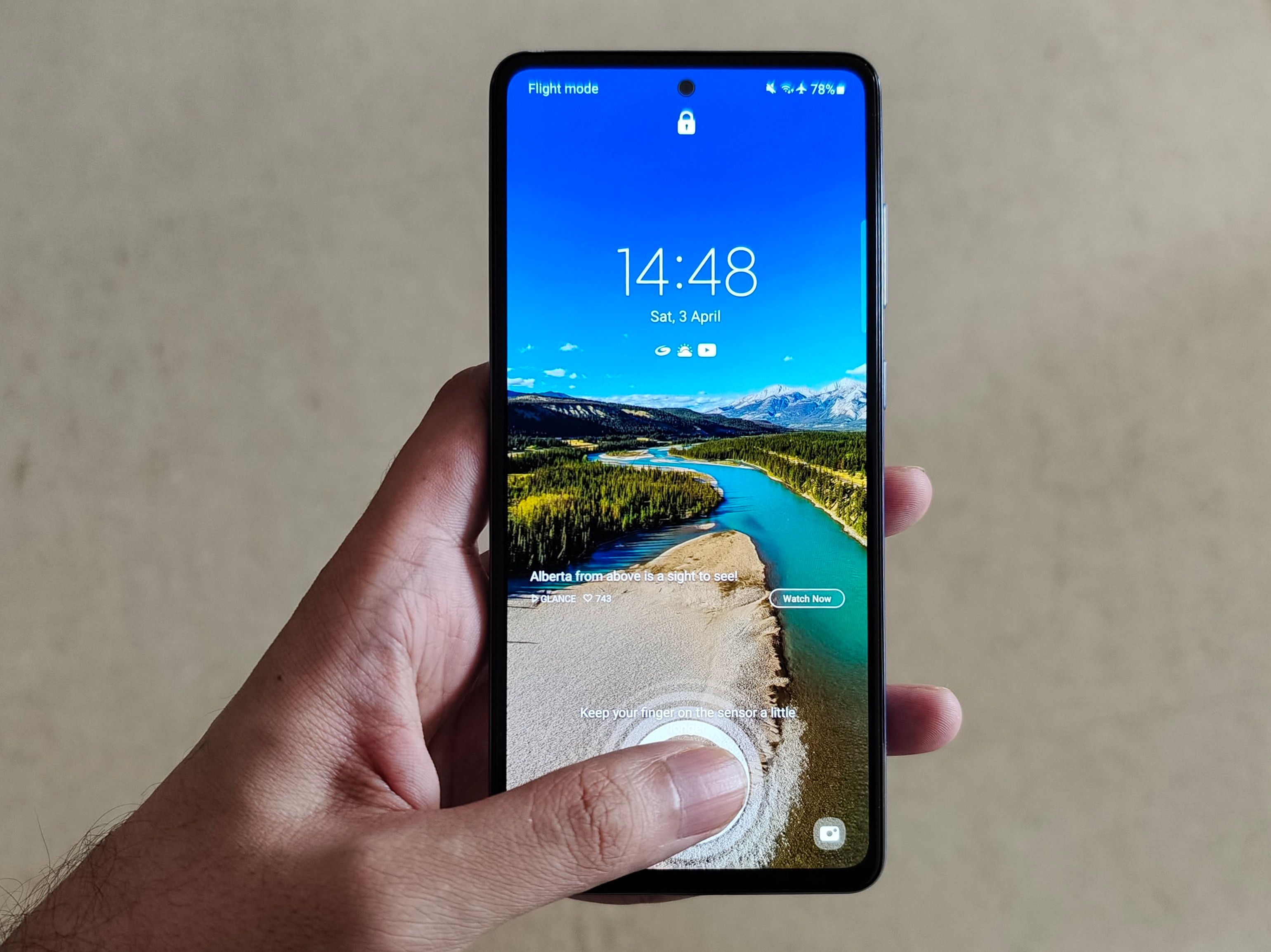 26) For unlocking you get an in-display fingerprint scanner here, which works just about OK. I would have preferred a side-mounted physical scanner which would definitely have been faster and more reliable. The Face Unlock here is very inconsistent too, much like most Samsung phones.
27) What has slightly improved though, is the haptic feedback. The vibration motor used here doesn't make the whole phone rattle, although it's still nowhere close to the tight haptic motors we have started getting on phones like the Nord and Redmi Note 10 Pro series.
28) As far as network performance goes, there is support for Dual Band Wi-Fi and Dual 4G SIMs with VoLTE and VoWifi. My experience with the Airtel SIM I used was as good as it gets, and even the Wi-Fi performance was super stable.
29) Yeah yeah, it's not a 5G phone but unless you're reading this in 2023, it doesn't matter. Oh yes, there is also support for Carrier Aggregation here, although for some reason my Airtel SIM doesn't seem to do much of it anyway.
Galaxy A52 Review: Cameras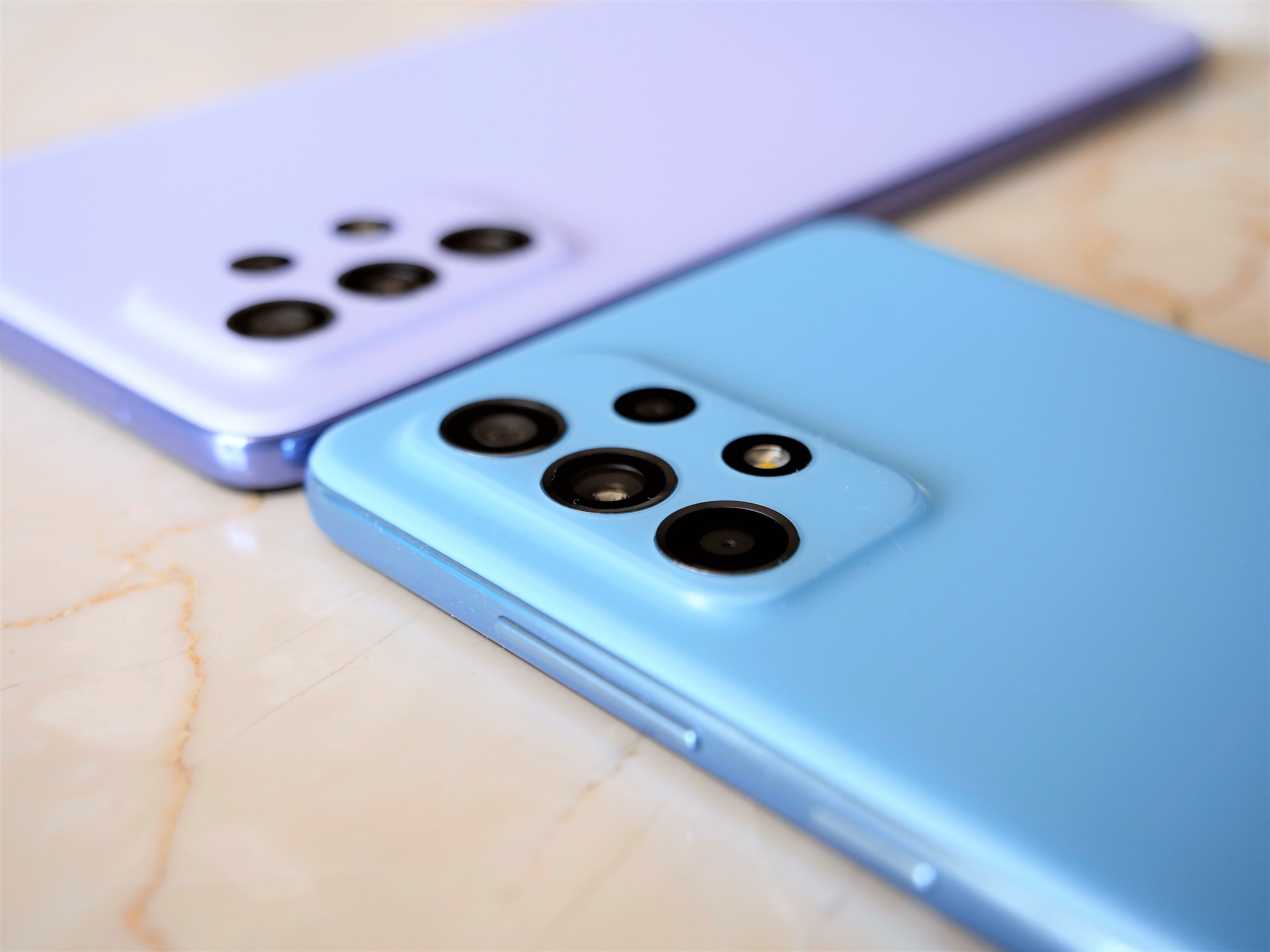 30) Before jumping into the camera samples, here's a quick rundown of the camera specs. You get a 64MP Primary camera with an f/1.7 aperture lens. I couldn't find any written word about this being a Sony sensor or otherwise.
31) The 12MP Ultrawide, 5MP Macro and Depth Sensors complete the Quad Cam system which is identical to the Galaxy M51. The same goes for the Selfie Camera as we still get a 32MP shooter here.
32) The Primary camera takes 16MP pixel binned shots by default and they are crisp in detail with punchy colours and commendable dynamic range. Samsung's image processing might not churn out the most accurate colours but I doubt anyone will dislike the final output you get here.
33) The 12MP Ultrawide is softer than the main cam, although still a lot better than all the other 8MP ultrawide shooters out there. The dynamic range performance is especially impressive for a secondary cam. Plus you get one of the widest frames spanning 123 degrees.
34) The 5MP Macro is as useless here as on the first phone Samsung introduced it a year ago. It's still fixed focus and more often than not you'll end up with a blurry, out-of-focus shot.
35) Portraits from the main camera are good too. Although the details tend to get softened a bit, especially in indoor lighting. The edge detection works great though.
36) Selfies from the 32MP shooter have decent details and great dynamic range again. Skin tones might not always be the most accurate though.
37) Low Light Selfies are pretty average, although the performance improves drastically with the screen flash on. You can use Night mode for Selfies too but it works poorly here.
38) Low-light performance otherwise is superb actually. The OIS helps the phone to have longer shutter times, thus capturing a lot more light even without night mode. Night Mode still crops into the frame, but the final output is good for this segment. Ultrawide Night mode again performs slightly worse but is still among the best in class.
39) Video Recording from all 3 cameras is limited to 4K at 30fps. You do get the benefit of Optical Image stabilization across all resolutions from the main cam. The 4K Ultrawide footage misses out on stabilization though. The same goes for the 4K selfie video. The video performance otherwise is pretty great. The dynamic range is impressive, the colours look good and the sound recording sounds clean too. Check out all the video samples in the video linked below.
40) There's a super stable mode which produces a lot more stable footage but the actual quality and details of it are ruined. To wrap up the camera section, there's no dedicated night video mode here and low-light videos here are nothing to write home about.
Galaxy A52 Review: Verdict & Alternatives
41) Samsung has done well to price the Galaxy A52 at Rs. 26,499 for the 6/128 model, while the 8/128GB model costs Rs. 27,999.
42) At this price, its direct competition is against phones like the OnePlus Nord, OPPO F19 Pro+ and Vivo V20 Pro. Not to mention Samsung's own Galaxy M51, A51 and F62.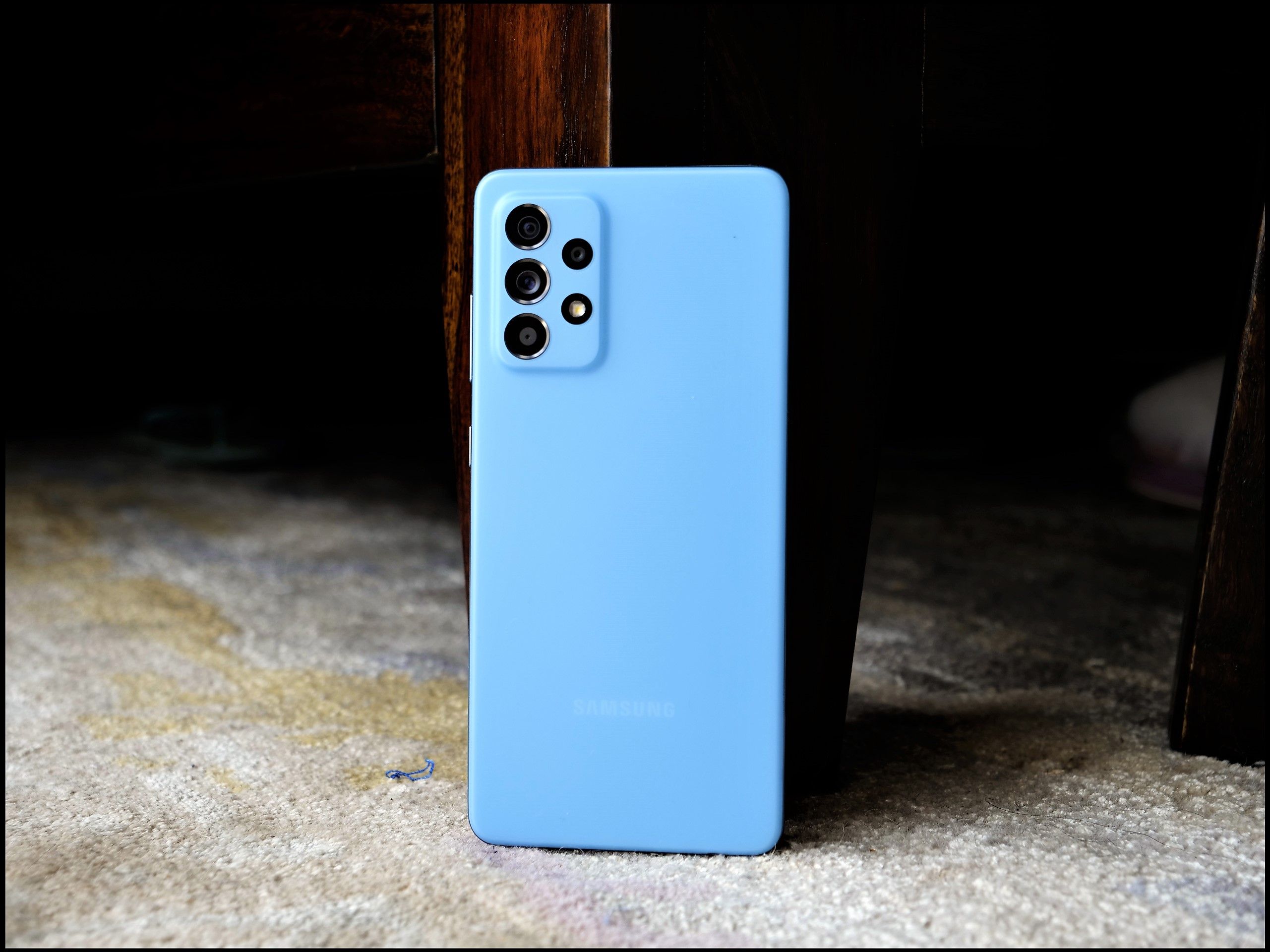 43) First things first, I can instantly recommend this phone over the Galaxy M51, A51 or even the F62. Just the fact that this has a smooth 90Hz screen, stereo speakers and this brand-new clean design is enough for me to recommend it over all other Samsung phones in this range. The M51 and F62 (review) both had cheap-feeling glossy plastic backs, plus the stronger chipset on the F62 is undone by its 60Hz screen and poor thermal management.
44) Add to it, the improved low-light performance, thanks to OIS and IP67 rating, and this phone is definitely a no-brainer choice for anyone looking for the best Samsung phone in this price range. Furthermore, for anyone looking for a good all-round package in this segment, and not necessarily needing the absolute best performance, this phone can be a good choice too.
45) The only real shortcomings I could find in this phone are: the useless fixed-focus macro camera, the inclusion of a super-slow 15W charger in the box and the performance deficit that you feel with the Snapdragon 720G onboard.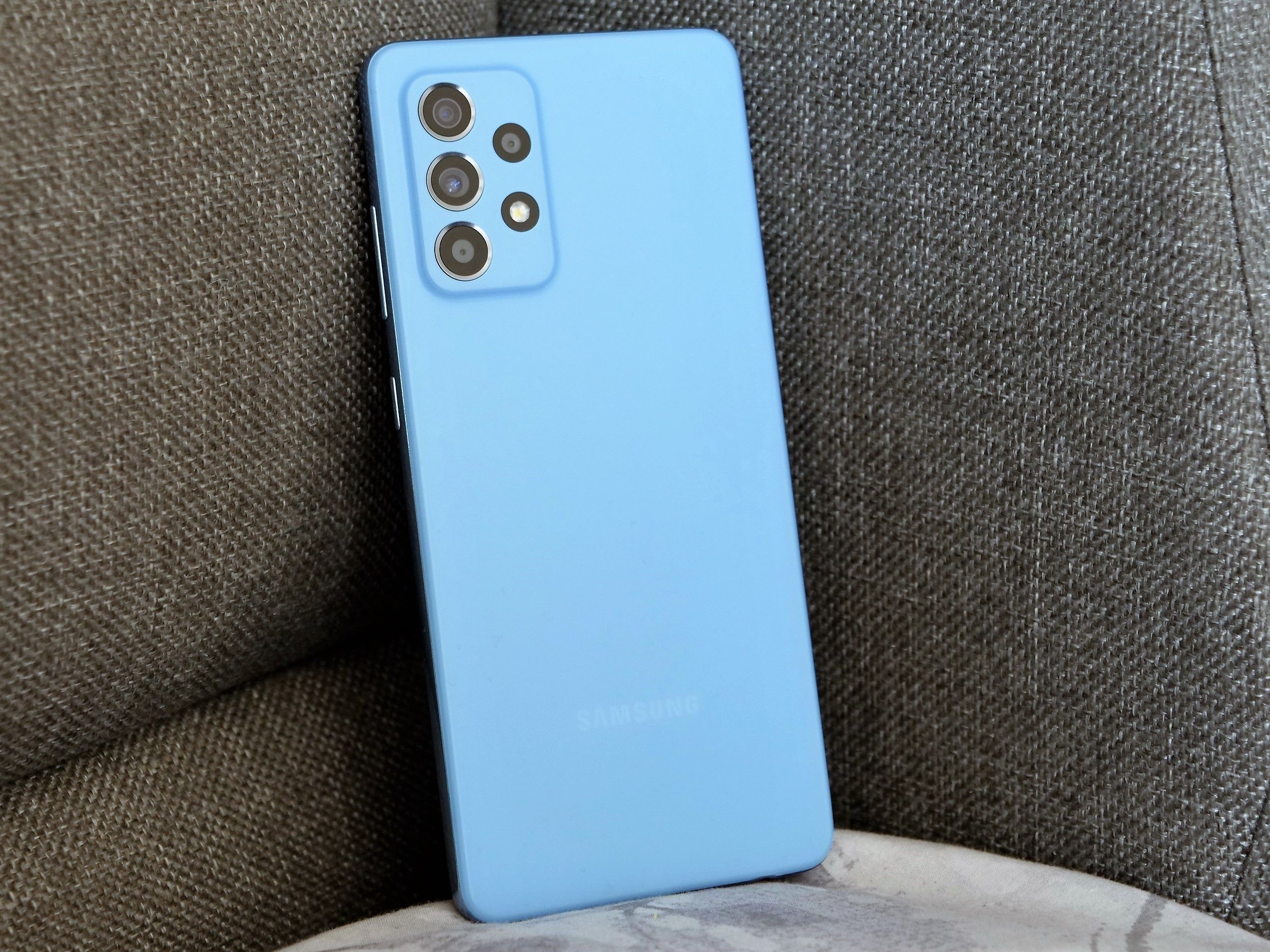 46)The best real alternative I can think of for the A52 is the Oneplus Nord. You get much faster performance, smoother UI and faster charging speeds. However, it lacks waterproofing and stereo speakers and falls behind in the camera department too.
46) Alternatively, Vivo V20 Pro and OPPO F19 Pro+ both offer stronger performance albeit with only 60Hz screens. All of these alternatives also have the advantage of being 5G ready, although I'm not sure if that's a positive given that 5G is still far away in our country.
47) Then there is the Realme X7 Pro, which boasts of a flagship-grade Dimensity 1000+ chipset, beating everything else in terms of sheer power. The overall experience is much smoother too, and it's quite competent in cameras as well.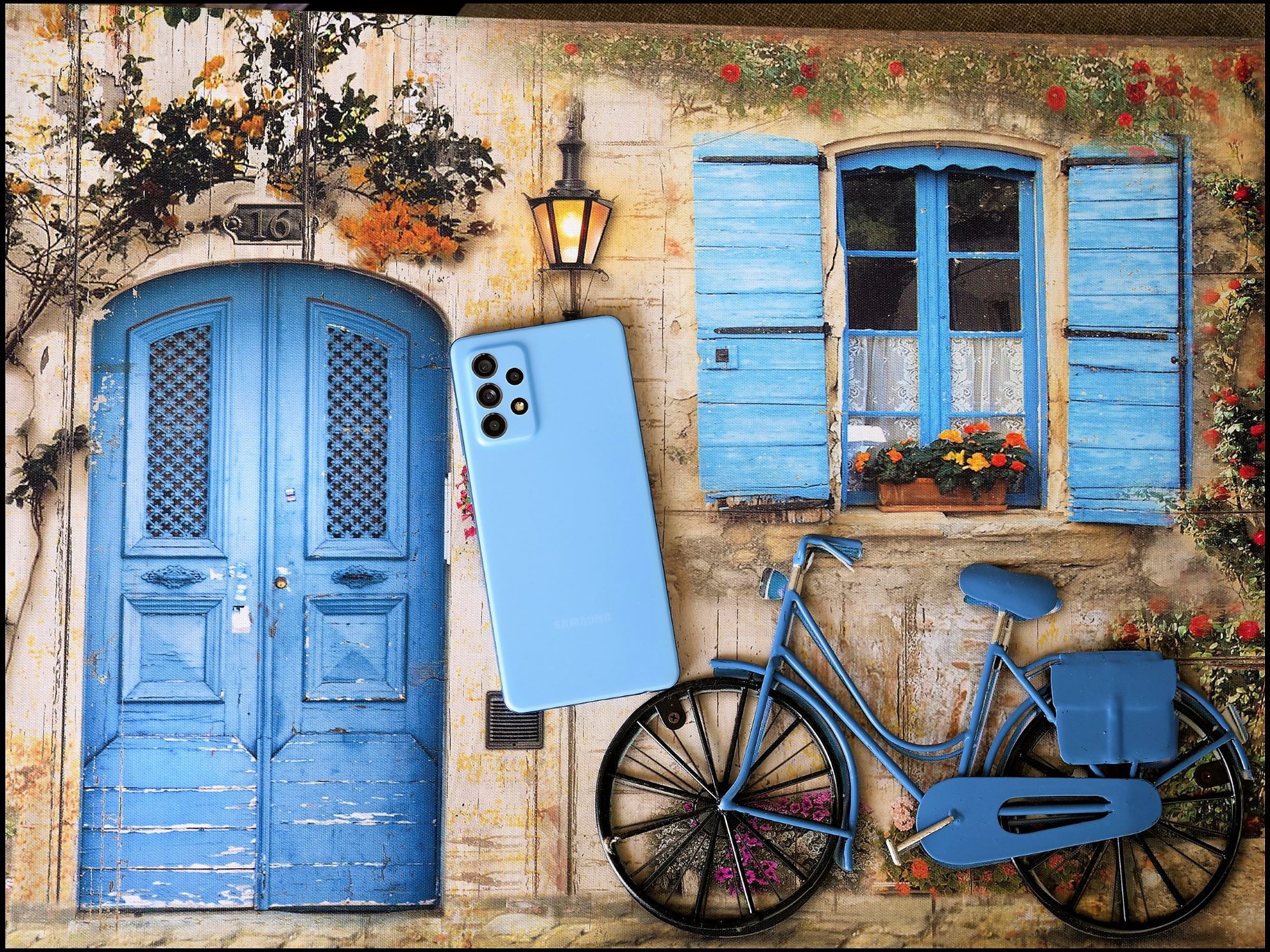 48) Overall, it all boils down to how much you value features like the headphone jack, IP Rating and OIS; and/or how convinced are you about buying a Samsung phone only.
49) If you're confused between the A52 and A72, I have a detailed comparison video between the two here, but the TL; DR is it doesn't make sense to buy the A72 for 35K unless you really can't live without a telephoto lens. SD720G on a 35K phone is just blasphemous, period.
50) Overall, I would call the Galaxy A52 the best A-series phone from Samsung yet, and I'm glad Samsung took these much-needed steps of upping their mid-range game.
51) It's a good phone for anyone who isn't a performance geek; probably the only Samsung mid-ranger I can recommend without a huge asterisk, and I'm sure it's only going to add to the A51's immense success.
52) That's it for my full review of the Galaxy A52. I hope you liked this new format that I tried. If you did, let me know. If you didn't, let me know ASAP on my Twitter! (Twitter ID: @Tackytechie)
Fin.