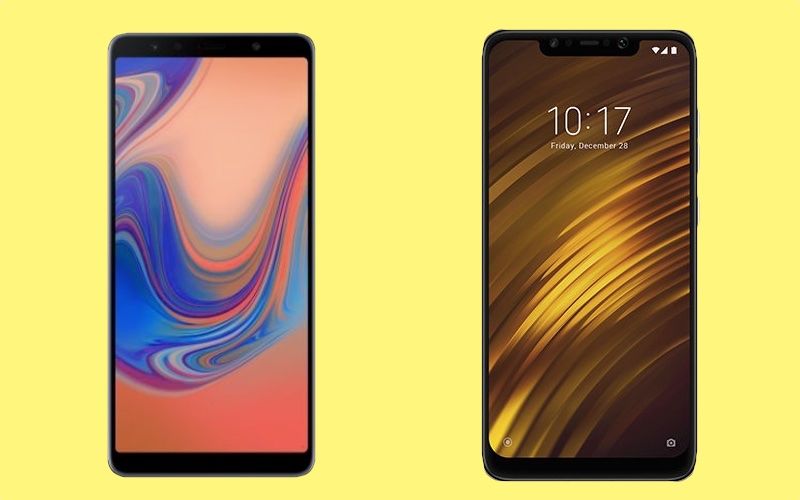 Samsung's all new Galaxy A7 is now available for purchase in India. This is a mid-range smartphone, which includes a first for the South Korean company. Yes, the Galaxy A7 2018 comes with a feature that is not even available on the flagship Galaxy S devices.
The Samsung Galaxy A7 is the first Samsung smartphone to feature a triple camera setup at the back. It joins the short list of phones that have a triple-camera phones, the Huawei P20 Pro and the Oppo R17 Pro.
In this post, we will be comparing the new Galaxy A7 smartphone, with the Poco F1 from Xiaomi. If you are looking for a performance oriented smartphone, that is also affordable, then you should just go for the Poco F1. It features a Snapdragon 845 processor, Liquid cooling, up to 8GB of RAM, and 256GB of internal storage.
However, if you are not that bothered about performance, then you should continue reading. Below, are 5 reasons why you should consider the Samsung Galaxy A7 over the Poco F1.
Samsung Galaxy A7 vs Xiaomi Poco F1: Design
Good design is important for customers. The Poco F1 comes with a plastic body, and a notch at the front. It doesn't look or feel premium in any way, even though the plastic body is pretty strong.
On the other hand, the Galaxy A7 uses a modern design, and features a glass body. The phone also gets an aluminium frame, and a display with slim bezels. There's no notch at the front, and there's no fingerprint sensor at the back either. Samsung has brought flagship design to the mid-range smartphones, with the Galaxy A7 2018.
Also Read: POCO F1 Review: Killing The Flagship Killer
Samsung Galaxy A7 vs Xiaomi Poco F1: Display
With the Galaxy A7, Samsung plans on bringing flagship features to the mid-range devices. Apart from giving the phone a premium design, the company has also included a Super AMOLED 6-inch display on the new phone. AMOLED displays have better color reproduction, viewing angles, and better blacks.
Compared to that, the Xiaomi Poco F1 comes with an IPS LCD panel, which isn't as good as the Samsung panel. Also, a lot of users have been facing display bleed issues with this phone, which isn't nice.
Samsung Galaxy A7 vs Xiaomi Poco F1: Cameras
Another great feature about the Galaxy A7, is its triple-rear camera setup. It is superior to the Poco F1, and will result in better photos. The phone features a 24MP primary RGB sensor, an 8MP ultra wide-angle sensor, and a 5MP depth sensor. It can record 4K videos at 30fps, and basically provide better photos. On the front, there's a 24MP selfie camera.
The Poco F1 comes with a regular dual-camera setup, with a primary 12MP sensor, and a secondary 5MP sensor. Images from this phone are quite decent in daylight, but is bad in low-light. A 20MP camera is available for selfies.
Also Read: Samsung Galaxy A7 With Triple Rear Cameras, Infinity Display Launched in India: Price, Sale Date, Features
Samsung Galaxy A7 vs Xiaomi Poco F1: 960 FPS Slow Motion Video
The Samsung Galaxy A7 will also let you shoot super slow motion videos at 960 FPS. This is a feature that has been present only on the high-end Galaxy S flagship phones. If you are into slow motion video capture, then this phone is definitely a better choice. The Xiaomi phone doesn't have such a feature.
Samsung Galaxy A7 vs Xiaomi Poco F1: Fingerprint scanner
The fingerprint scanner on the Galaxy A7 is on the side of the phone. It is placed below the Power button, which makes it easier to unlock the phone. It is also an active fingerprint scanner, which means that you don't have to press the power button to activate it. The Poco F1 has a traditional scanner placed at the back of the device.