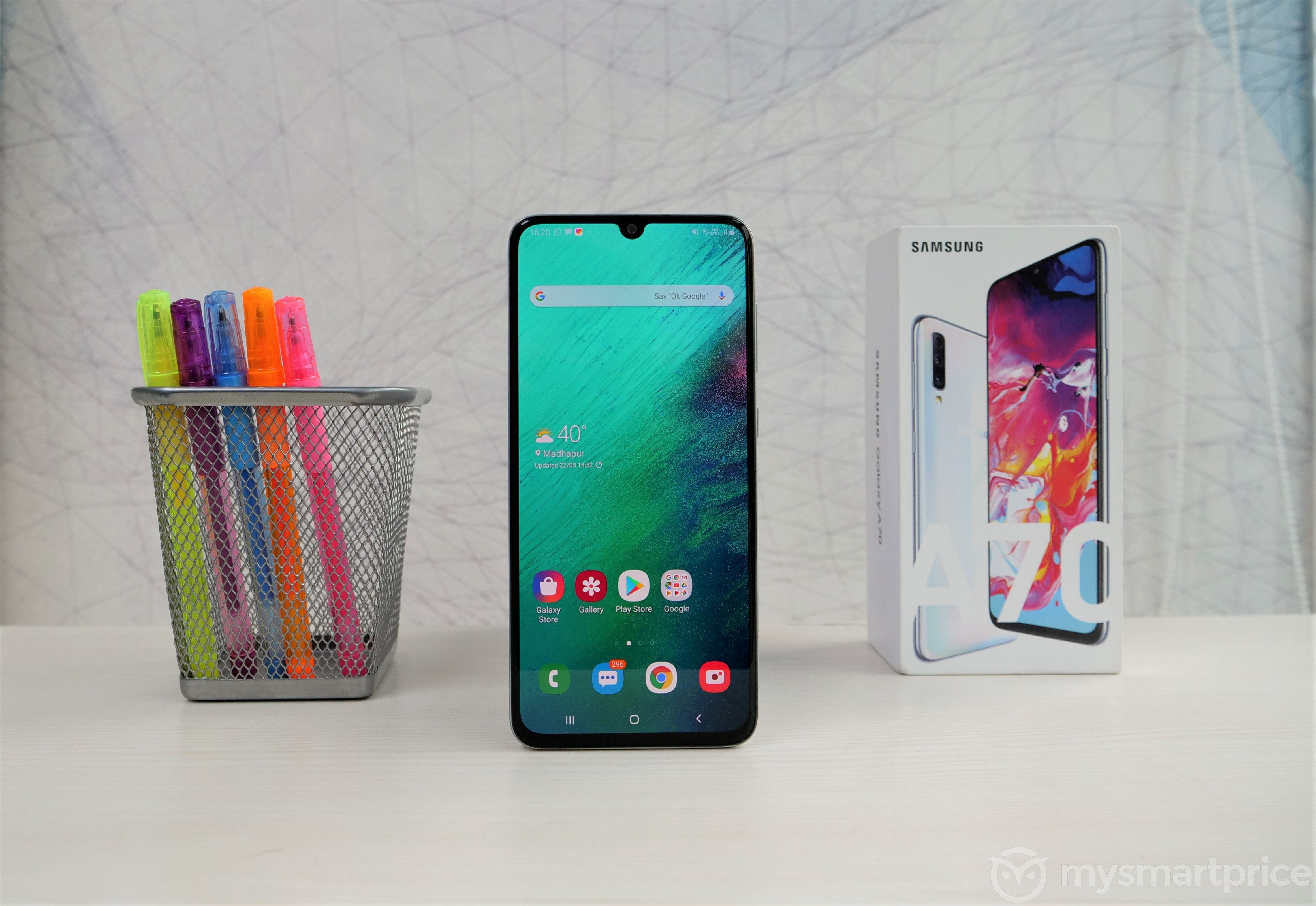 Samsung ignored the entry and mid-range smartphone market for far too long and it let its Chinese competitors eat into its market share. With Xiaomi and OnePlus making Samsung's life tougher, the Korean brand can no longer sit comfortably at the throne. In its bid to reiterate its position as a leader, the company is fighting back with the budget Galaxy M and mid-range Galaxy A series of phones. We had reviewed the Galaxy M30 (Review) in the past and found it to be a good alternative to market leaders like the Xiaomi Redmi Note 7 (Review).
The latest entrant, Samsung Galaxy A70, comes with the promise of premium features at a competitive price. It has a big and bezel-less AMOLED screen, a triple-camera on the rear with a 32MP main sensor, a 32MP selfie camera, a Snapdragon 675 processor, loads of RAM and storage, and a 4500mAh battery with 25W fast charging. Does it deliver on its promises? Let's find out.
Samsung Galaxy A70
₹28,990
Design and Build Quality
8.0/10
Software & features
7.0/10
What Is Good?
Excellent build quality and fancy reflective back
Stunning OLED screen
Good 32MP selfie camera
OneUI looks neat
Samsung Pay is great addition
Excellent battery life
What Is Bad?
Slow in-display fingerprint sensor
Face unlock causes photo-bleaching
Camera lacks a dedicated Night Mode; OIS and EIS are missing
Too much barrel distortion in wide-angle shots
Finder Search is sluggish, MyGalaxy app is filled with ads
Samsung Galaxy A70 Design And Build Quality
The Galaxy A70 has an understated design. It isn't striking but grows on you soon enough. Instead of following the current trend of gradient hues, Samsung has gone with more subtle blue, black, and white colors. However, it reveals its snazzy colorful side as the light falls on to it. Under the light, the A70's back showcases a pearly effect. It is a nice touch of excitement to a well-designed phone.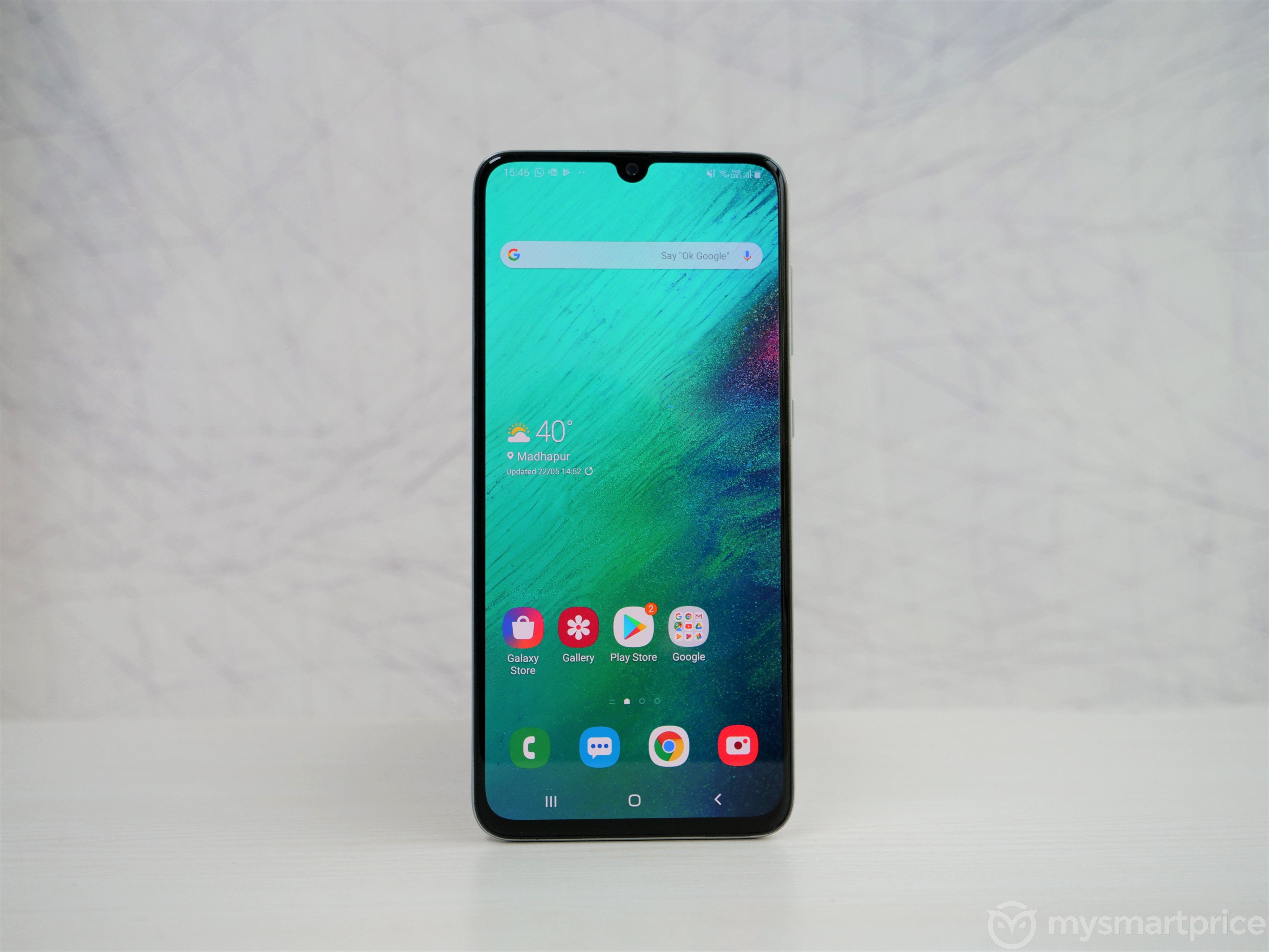 Due to its reflective and transmissive properties, you may think the phone has a glass back. But, in reality, it is plastic or "glasstic," as Samsung likes to refer to it. Since it looks exactly like the glass and is more sturdy, I'm not going to crib about it. The back attracts a lot of smudges, but that's not really a significant issue. What concerns me is the number of micro scratches on our review unit developed within a couple of weeks.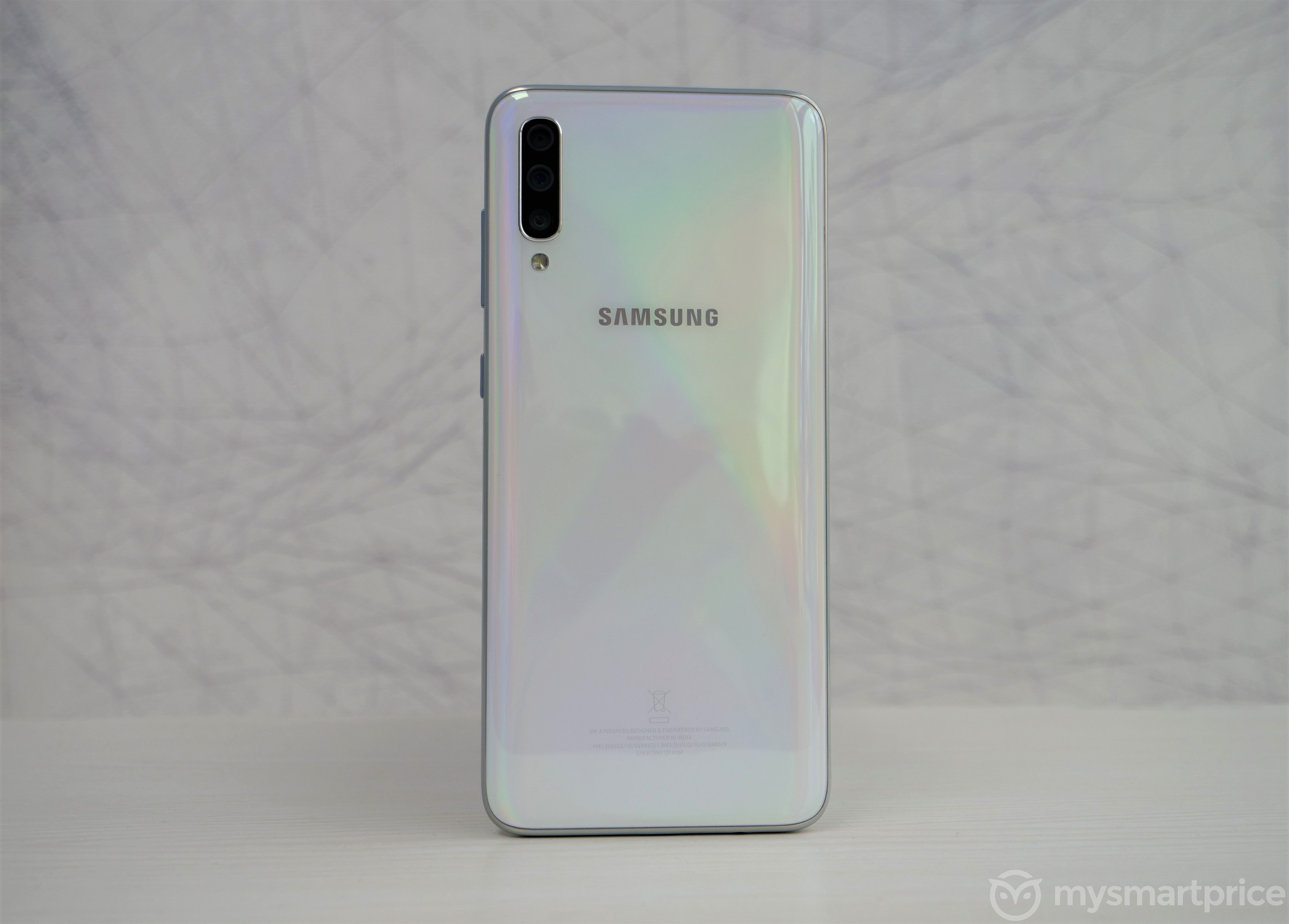 The phone has no flex in its build. It gets structural rigidity owing to its metal frame. Samsung has worked on fine detailing too. For instance, the slightly curved metal frame seamlessly connect to the plastic body. The tapered edges on the back make the phone feel thinner than it actually is. Moving onto the front, the phone has impressively thin bezels including the chin.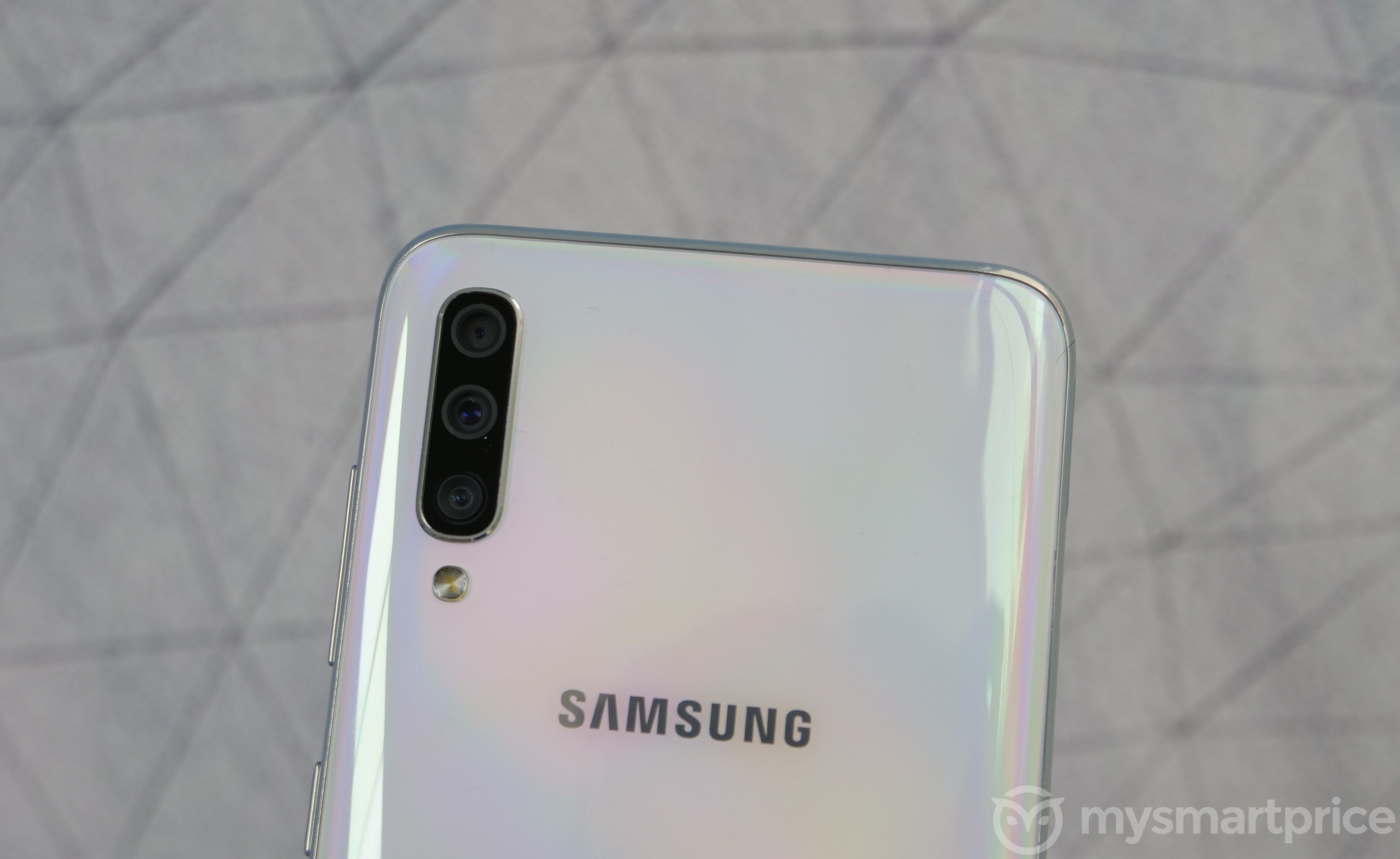 Samsung Galaxy A70 Display
The Galaxy A70's screen is big and beautiful. The phone sports a 6.7″ Super AMOLED screen, which is bigger than what you get on the Galaxy S10+ (Review). With the resolution of 2400×1080 pixels, you get the pixel density of around 390ppi. That's more than enough to deliver sharp visuals. More importantly, the OLED panel offers vibrant colors and deep blacks. That's because unlike LCDs, the OLED panels are self-illuminating and don't require any backlighting. The A70's screen is quite bright too. Even under direct sunlight, the display maintains its legibility.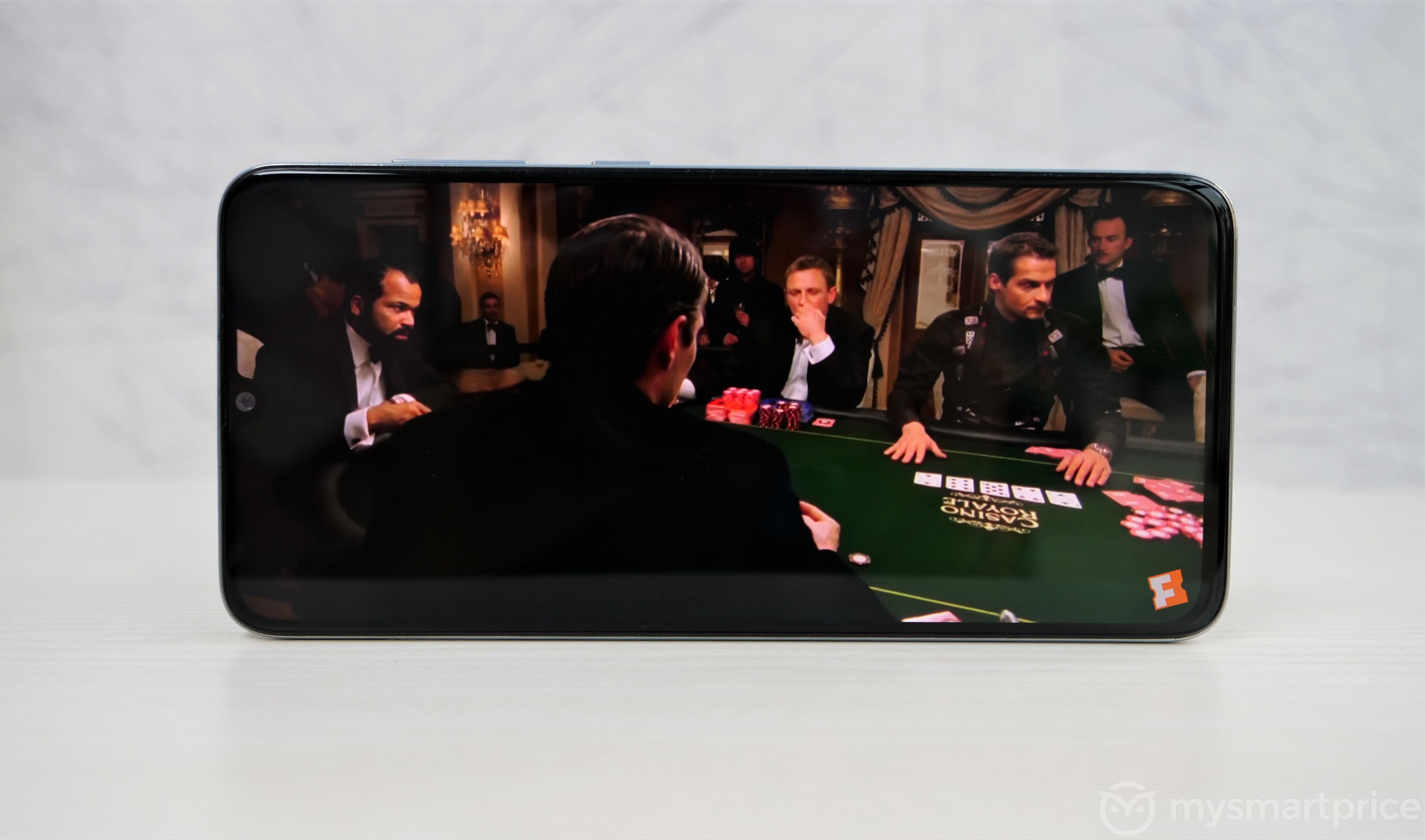 We like how the screen runs along the phone's rounded corner. Thankfully, Samsung doesn't call it something silly like the liquid retina display. I spoke too soon as Samsung has named its waterdrop notch as Infinity-U display. The large screen is brilliant for media consumption. On the flipside though, it is not ideal for one-handed use. You simply can't reach some UI elements without using both hands.
Samsung Galaxy A70 Software And Performance
The Galaxy A70 runs Android 9.0 Pie with Samsung's One UI on top. The Korean company's latest customization has come a long way from the clunky TouchWiz of the past. The OneUI has a cleaner look with cohesive color schemes. However, on default settings, the icons look huge like iBall's Aasaan phone. Fortunately, you can dial down the size by opting for 5×6 icon grid instead of 4×5. Samsung, however, hasn't thought this feature though. As you modify the grid pattern, the size of the widgets remain the same and there's no option to resize them manually either.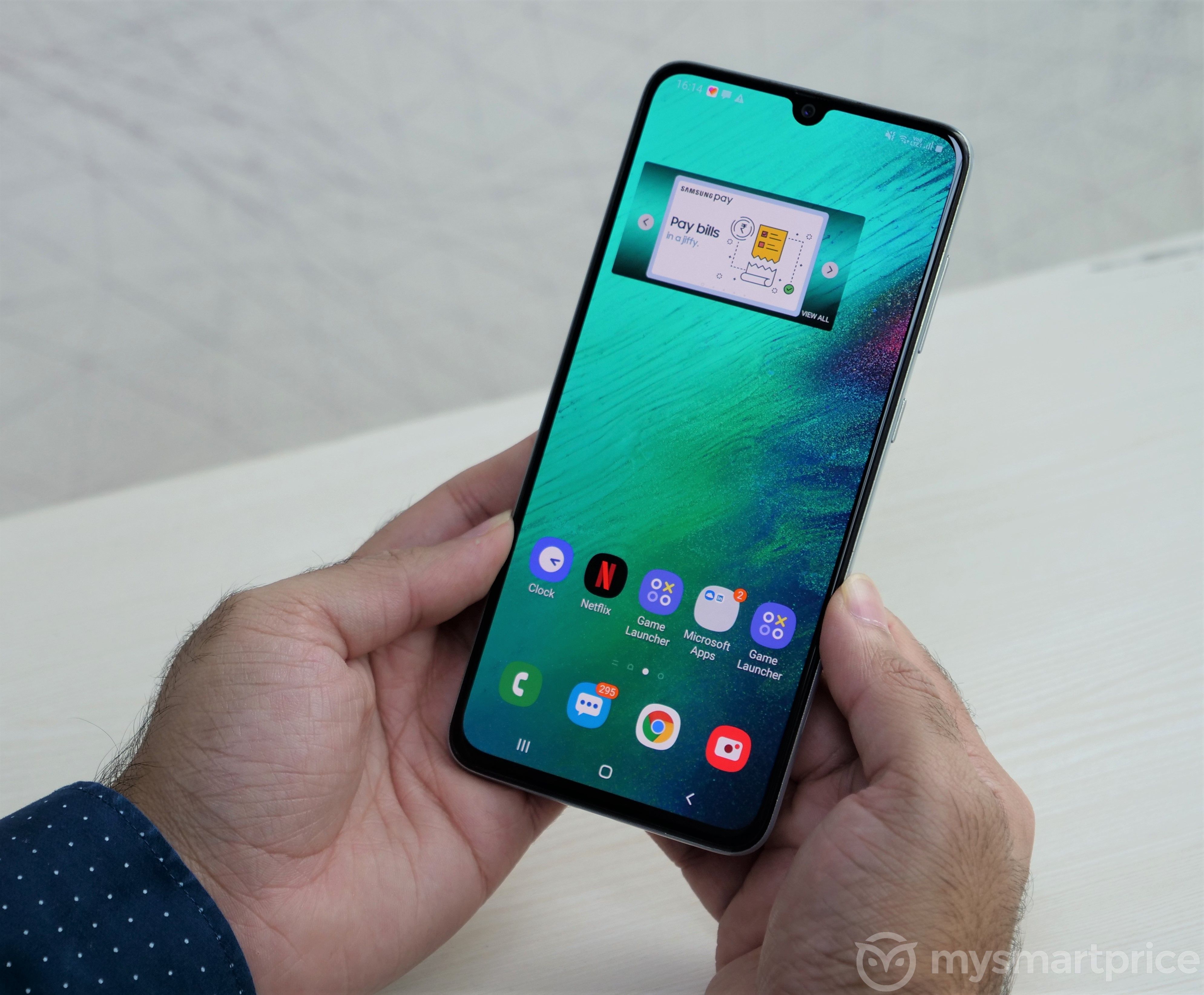 Using the Galaxy A70 as my daily driver, I can tell that swiping through the home screens is quite smooth. Transition effects play out effortlessly too. However, Samsung's search feature is unusually slow. When searching for apps already installed on your phone, the A70 takes at least a couple of seconds to fetch the list. This gets annoying if you prefer to start the apps from the search bar. Besides, you won't be pleased to see your INR 30K phone struggle with such simple tasks.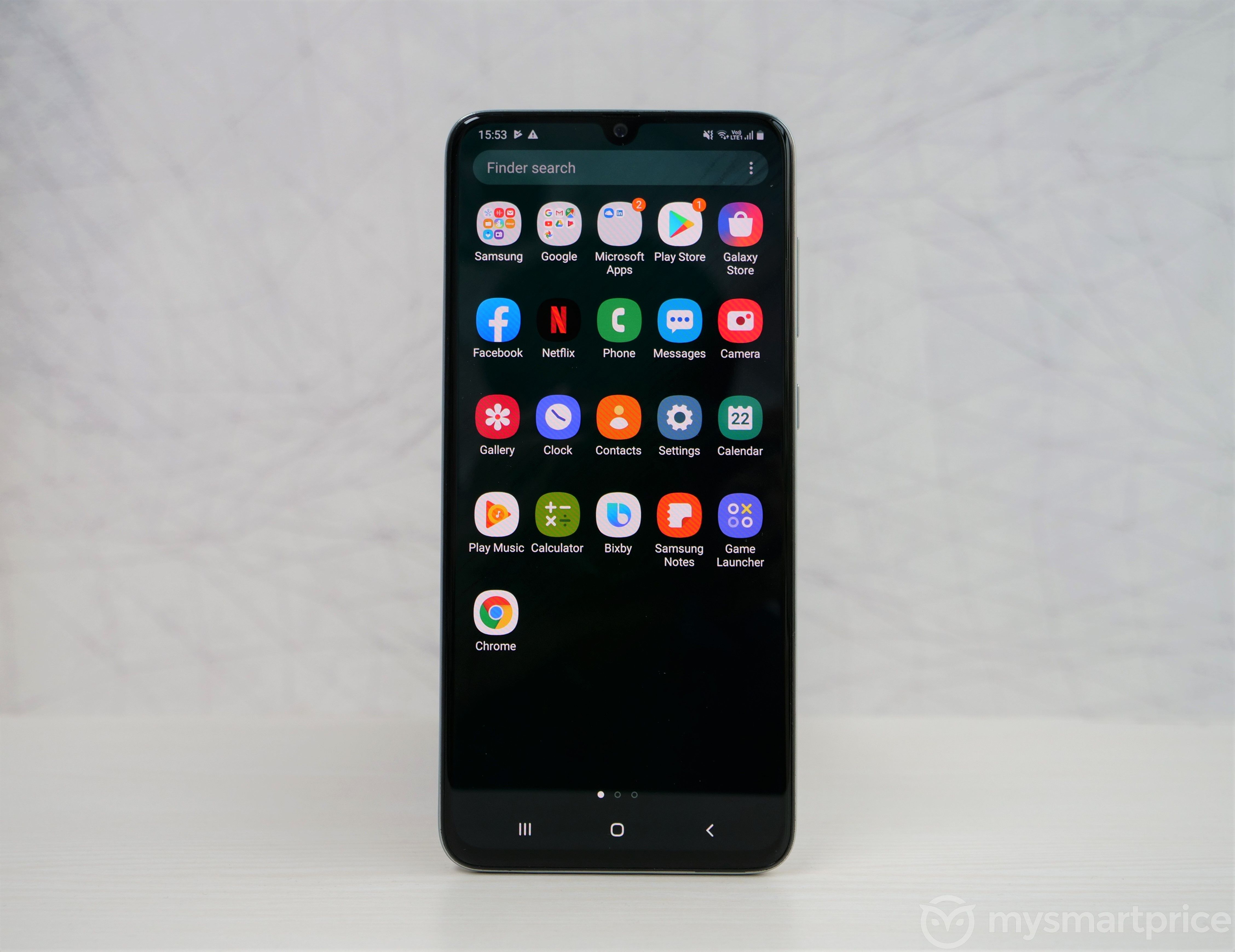 Samsung has gone out of the way to make a few things sluggish. For instance, the company has turned the straightforward wallpaper setting into a painfully slow marketplace. Then, there's the MyGalaxy app that offers music, movies, and games for Samsung users. Looking at the poor content selection, Samsung is clearly using it as an excuse to push ads. If that wasn't bad enough, the lock screen greets you with TV serials and B-town gossip like "why Sara can't eat pizzas" and similar brain dead stuff. Many brands push news and social media updates on the lock screen, but none has default stream selection as horrible as that of Samsung.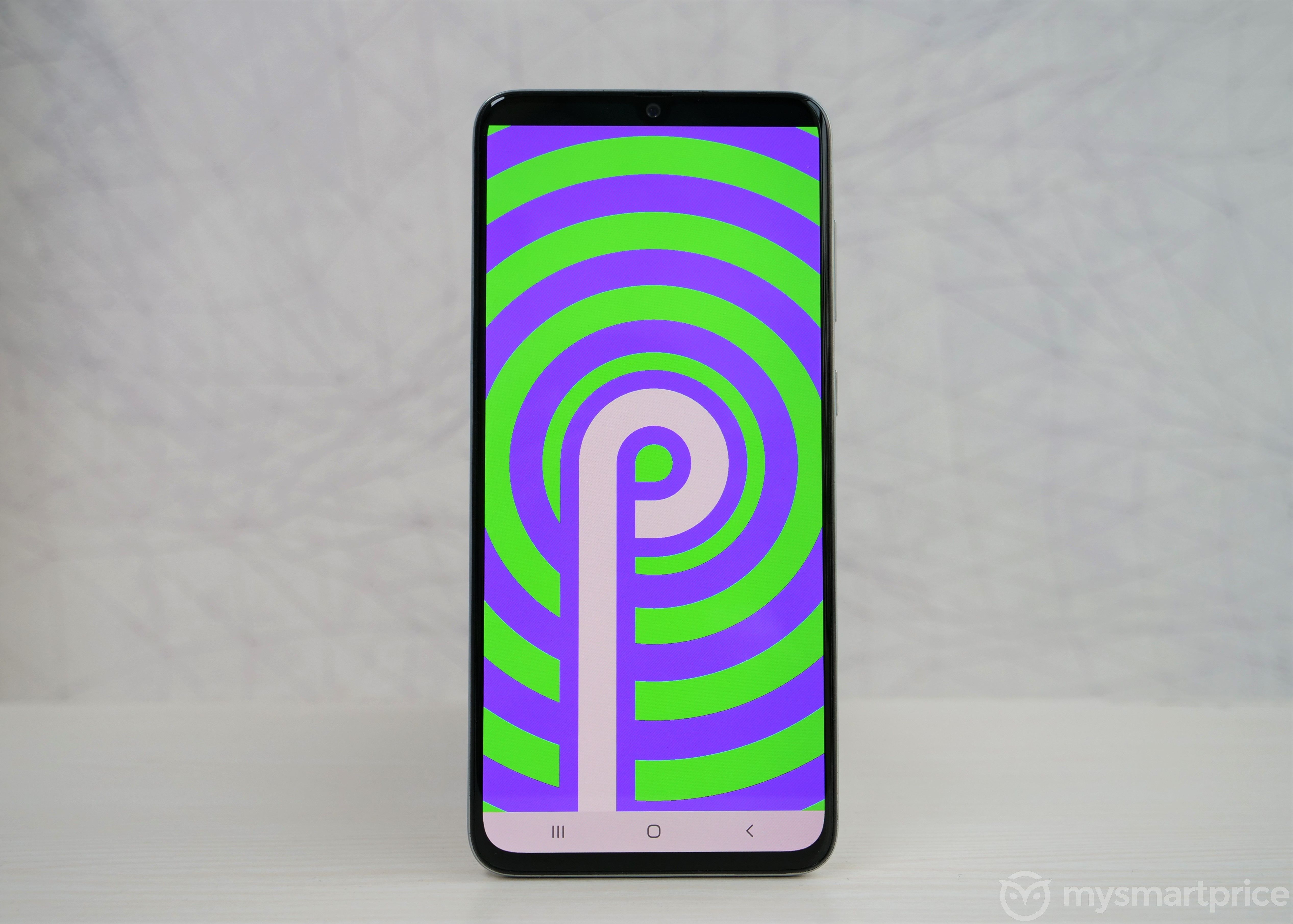 The Galaxy A70 is powered by Qualcomm's Snapdragon 675 chipset. This 11 nm chip comprises of two Kryo 460 Gold CPU cores and six power-efficient Kryo 460 Silver CPU cores. For gaming, it relies on the Adreno 612 GPU. The SoC (System on Chip) has adequate power to handle games such as PUBG Mobile at high settings.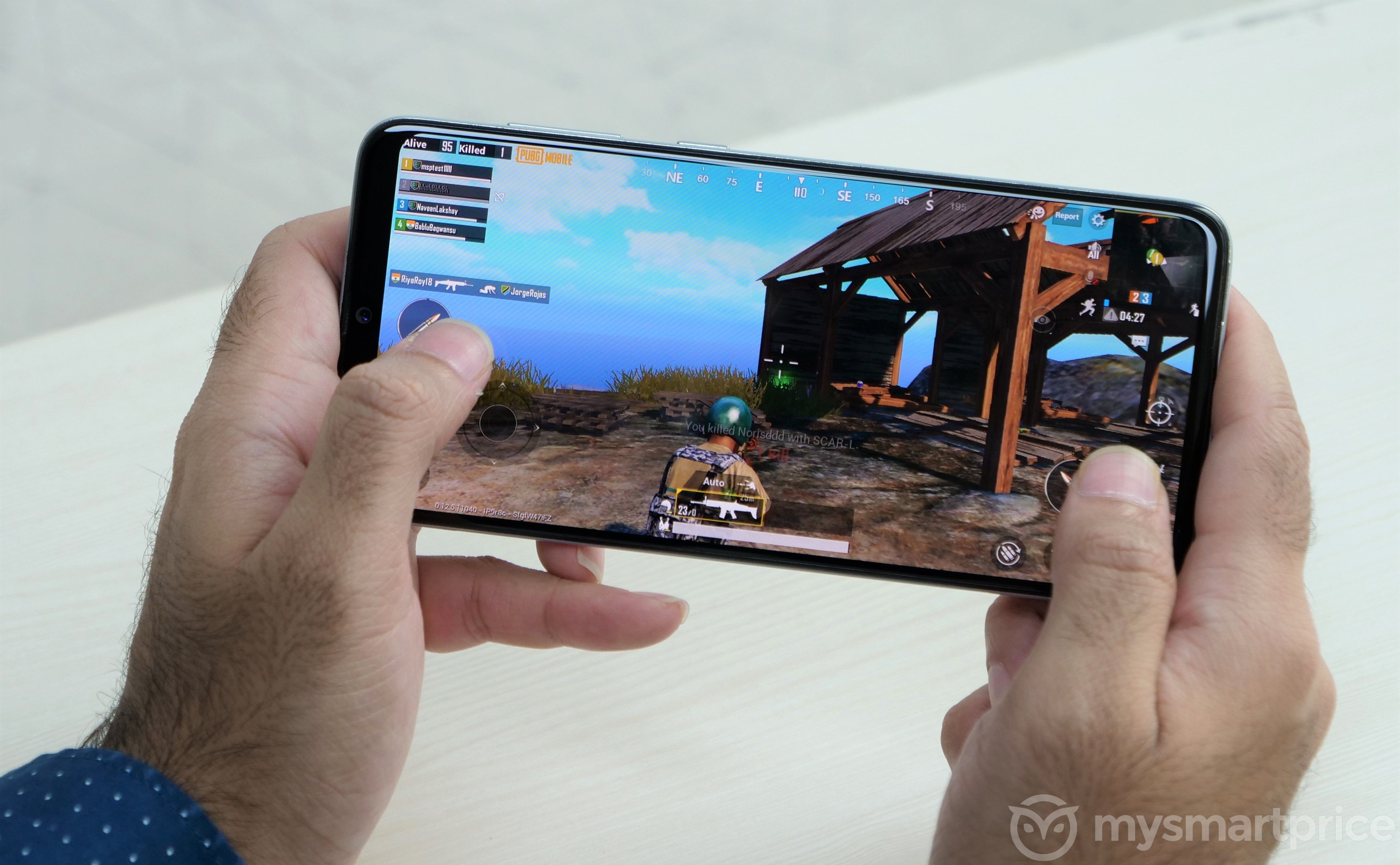 The phone has a single loudspeaker, which is surprisingly loud. Samsung has also thrown in a pair of earphones. Unfortunately, it sounds abysmal. The earphones produce shallow and teeny sound. If you want to enjoy music, we recommend you purchase either Sennheiser's CX 180 or the Sony MDR-EX150AP that cost under a grand.
Samsung Galaxy A70 Biometric And Miscellaneous
The Galaxy A70 comes with the futuristic in-display fingerprint sensor. Many a time, the sensor simply fails to recognize the fingerprint. And even when it works, it takes its own sweet time. After putting up with it for a good three or four days, I gave up on the fingerprint sensor and switched to the face unlock feature. That went well for a while until I tried using it in the dark. In bad lighting conditions, the Galaxy A70 like most phones uses the display to throw light on your face. However, the light-throw is so abrupt that it causes blotches in the vision. To save my eyes from photo-bleaching, finally, I settled for the good old password method.
The Galaxy A70 is fully compatible with Samsung Pay. The device is equipped with NFC and MST (Magnetic Secure Transmission) hardware. For those not in the know, the Galaxy A70 can send the magnetic signal to card swipe machines for bill payment. It is more widely accepted than the NFC based payment options such as Apple Pay and Google Pay.
Samsung Galaxy A70 Camera
The Galaxy A70 comes with a triple camera assembly. It has a 32MP main sensor, 8MP wide lens, and a 5MP depth sensor. The camera offers a wide-angle shot, panorama, live focus, slow motion, and hyperlapse modes. You also get the pro mode that offers fine control over ISO, white balance, and shutter speed. The main camera produces decent quality images in the daylight. However, the post-processing jacks up the exposure. And the colors look a bit washed out. Switching to the wide lens lets you capture more area but misses out on the detail. But the bigger issue is the barrel distortion, which is too prominent to ignore in the wide shots.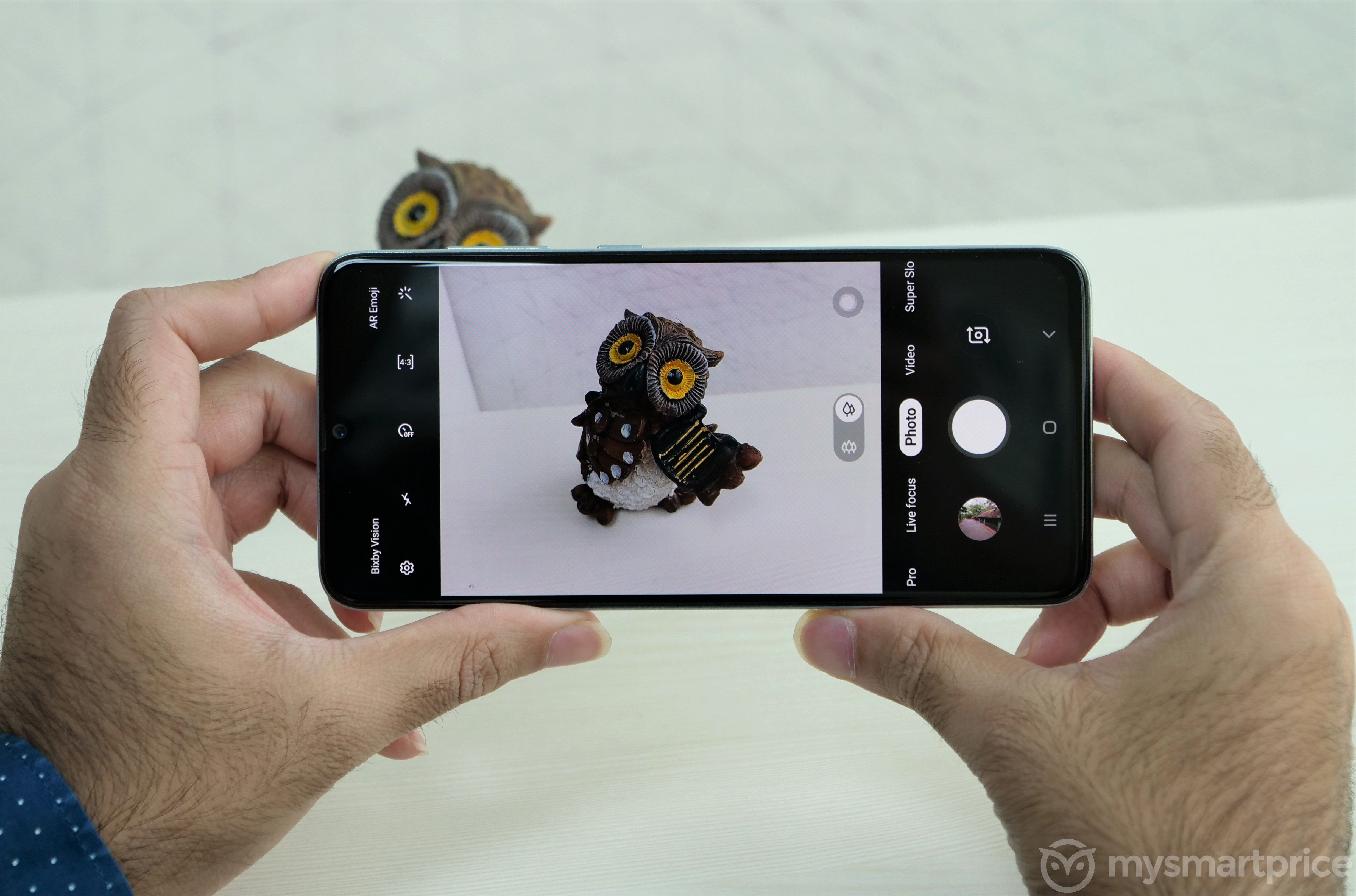 The handset lacks a dedicated night mode. As a result, the wide lens falls flat in the low-light conditions. The regular lens fares a bit better, but there's nothing to write home about. To put things in perspective, the Redmi Note 7 Pro (Review) that costs half the price of Samsung's Galaxy A70 performs way better in low-light conditions.
The Galaxy A70 records 4K videos at 30fps. The clips turn out to be quite good as long as details are concerned. But due to the lack of OIS (Optical Image Stabilization) and EIS (Electronic Image Stabilization), the videos look jittery. For the wide-angle camera, video recording is capped at Full HD. Much like still photography, the videos shot by the wide lens are marred by the fisheye effect.
Samsung Galaxy A70 Camera Samples
The 32MP front camera is one of the bright spots of the Galaxy A70. For a selfie camera, it captures an impressive amount of detail. The colors look good too. It has an effective beauty mode that can even make me look good. Moreover, there are a bunch of Instagram-esque filters. Samsung also offers a wide selfie option, which works well. Then, there's a Live Focus option that lets you achieve a shallow depth-of-field (DoF) in portraits. The edge detection is mostly spot on save for the hair.
Samsung Galaxy A70 Battery Life
The phone draws power from a 4,500 mAh battery. For me, it easily lasts for a day and a half on a single charge. My usage includes checking Twitter and WhatsApp like an addict. Moreover, I play music on a Bluetooth speaker for at least 5 to 6 hours a day. Additionally, a game or two of PUBG mobile. The handset supports fast charging technology and Samsung has been generous enough to bundle the 25W charger. The phone takes around 1 hour and 50 minutes to charge from zero to 100 percent.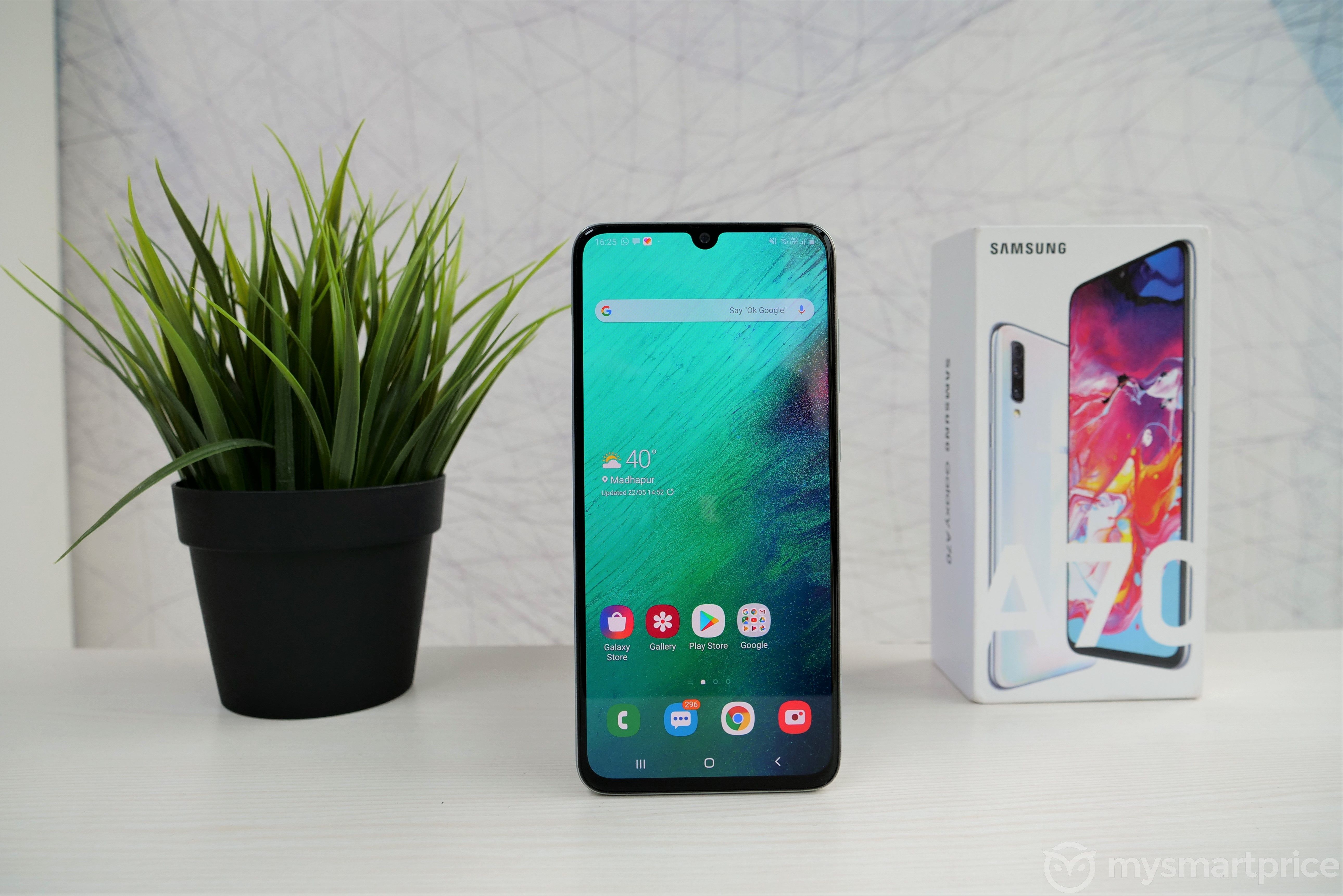 Verdict
The Samsung Galaxy A70 is a neat-looking phone with excellent build quality. OneUI software has good aesthetics and design as well. What I liked the most is the phone's stunning OLED screen, which is ideal for content consumption. The selfie camera is good and so is the battery life. However, it has its own share of issues. The fingerprint sensor implementation is poor. The rear cameras lack night mode and any kind of video stabilization. The wide-angle shots don't come out well due to the excessive barrel distortion.
All things considered, Vivo's V15 Pro (Review) is a more balanced choice. It comes with a more stylish design, a full-screen OLED screen, and much better cameras. However, it comes with its own share of fault in the form of an iOS-copycat version of Android skin: Funtouch OS.
Samsung Galaxy A70
₹28,990
Design and Build Quality
8.0/10
Software & features
7.0/10
What Is Good?
Excellent build quality and fancy reflective back
Stunning OLED screen
Good 32MP selfie camera
OneUI looks neat
Samsung Pay is great addition
Excellent battery life
What Is Bad?
Slow in-display fingerprint sensor
Face unlock causes photo-bleaching
Camera lacks a dedicated Night Mode; OIS and EIS are missing
Too much barrel distortion in wide-angle shots
Finder Search is sluggish, MyGalaxy app is filled with ads