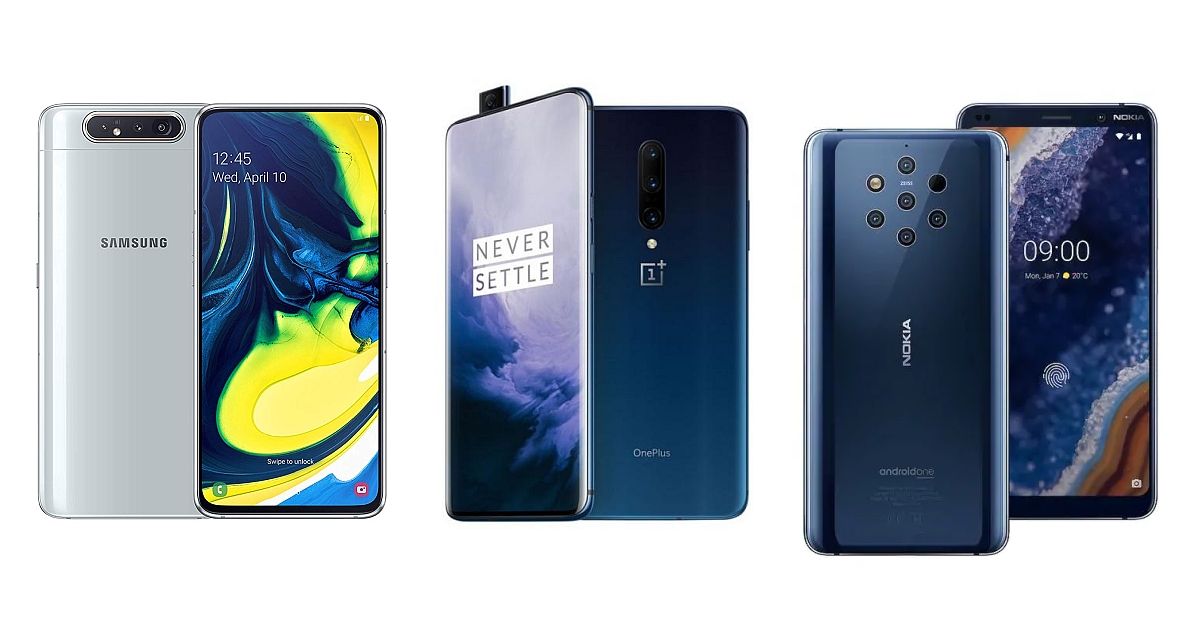 With the Samsung Galaxy A80 on pre-order, and Nokia 9 PureView finally available for purchase in India, consumers now have two new premium smartphone options to choose from. Based on how much they cost, both of them have to compete with the likes of the OnePlus 7 Pro (review) that already has a considerable hold over the market. Have Samsung and Nokia done enough to get our attention, or does the OnePlus 7 Pro still hold dominance over its rivals? Let's find out.
Samsung Galaxy A80 vs OnePlus 7 Pro vs Nokia 9 PureView: Price in India
The Galaxy A80 costs INR 47,990 and offers 8GB of RAM with 128GB of storage. The Nokia 9 PureView costs INR 49,999 and offers 6GB of RAM with 128GB of storage. The base model of the OnePlus 7 Pro offers the same storage configuration as the Nokia handset, but it costs INR 28,999.
Samsung Galaxy A80 vs OnePlus 7 Pro vs Nokia 9 PureView: Design, Display
All three phone makers have taken creative liberty when designing the camera placements of each of their respective offerings. The Galaxy A80 is perhaps the first smartphone to feature a triple camera setup that automatically rotates. Then we have the OnePlus 7 Pro that features a more conventional pop-up selfie camera mechanism. The 9 PureView, on the other hand, opts for a last-gen design with a sizeable chin and top bezel, but it does bear the title of being the first phone to offer five rear cameras.
While each of these design choices can be considered gimmicky, a more practical comparison worth making is the display quality where the OnePlus smartphone manages to beat its competition. The OnePlus 7 Pro's 6.67-inch AMOLED panel offers the highest screen-to-body ratio along with a 1440 x 3120p resolution, HDR10+ support, and a 90Hz refresh rate that contributes to a buttery smooth user experience. Then comes with Nokia 9 PureView with its P-OLED panel that managed to offer a 1440 x 2880p resolution with HDR10 support. While the Galaxy A80's 6.7-inch screen has a better screen-to-body ratio than the 9 PureView, it only offers a 1080 x 2400p resolution and lacks HDR10 support.
When it comes to similarities, all three phones offer a glass-metal sandwich design with Gorilla Glass protection, and neither provides a headphone jack. All three handsets also feature in-display fingerprint scanners, although, it is worth mentioning that the Nokia's fingerprint sensor is known to be noticeably slower than the other two. Then again, the Nokia handset is the only one that offers an official IP67 water resistance rating, so that's a plus.
Samsung Galaxy A80 vs OnePlus 7 Pro vs Nokia 9 PureView: Performance
It was obvious from the get-go that the OnePlus 7 Pro would win the performance showdown with its latest flagship Snapdragon 855 chipset. UFS 3.0 storage on this phone also means you get faster load times and improved overall responsiveness. And while neither of these phones offers microSD card expansion, at least the OnePlus 7 Pro has higher storage variants available for purchase in India.
The Nokia 9 PureView takes the second place with its last-gen flagship Snapdragon 845 which is still more powerful than the mid-range Snapdragon 730 found on the Galaxy A80.
Samsung Galaxy A80 vs OnePlus 7 Pro vs Nokia 9 PureView: Camera
If you want the absolute best selfie quality, then the Samsung Galaxy A80 offers you a large 48MP shooter assisted by an 8MP ultrawide camera. Thanks to its pop-up/swivel implementation, you can use the same camera sensor for both rear and selfie shots. But if you want more versatility with rear photography and do not require such a high-resolution camera for your selfies, then the OnePlus 7 Pro is a more practical option with its 48MP + 16MP (ultrawide) + 8MP (telephoto) rear cameras that are accompanied by a 16MP selfie shooter. The 7 Pro is also the only phone here to support 4K 60fps video recording.
Even though the Nokia 9 PureView offers a higher resolution 20MP selfie camera, and five 12MP rear cameras assisted by a ToF 3D sensor, the overall image processing times are considerably slower. Also, images captured by the rear camera usually require some post-processing before they are useable.
Samsung Galaxy A80 vs OnePlus 7 Pro vs Nokia 9 PureView: Battery
The OnePlus 7 Pro has the largest battery here at 4000mAh along with fastest charging support at 30W. The Galaxy A80 is next with its 3700mAh battery that supports 25W fast charging. The Nokia 9 PureView's battery is the smallest at 3320, and it only supports 18W fast charging. However, it is the only phone here to support wireless charging.
Samsung Galaxy A80 vs OnePlus 7 Pro vs Nokia 9 PureView: Verdict
Unsurprisingly, the OnePlus 7 Pro manages to retain its crown. It is the best overall option that offers amazing performance with a buttery smooth interface over a 90hz display, admirable imaging quality, and exceptionally large battery capacity.
The Nokia 9 PureView, on the other hand, was intended to be a device for photography enthusiasts, but there are quite a few underlying issues that prevent it from becoming one. Then there is also the use of a last gen flagship processor that leaves us wanting for more. There are redeeming features though, such as a premium build with an IP67 rating, QHD HDR10 OLED screen, 24-bit/192kHz audio, and wireless charging.
Lastly, we have the Samsung Galaxy A80 that feels more like a one-trick pony. Other than the swivel camera mechanism, there is hardly anything else that is special about this phone considering its price.