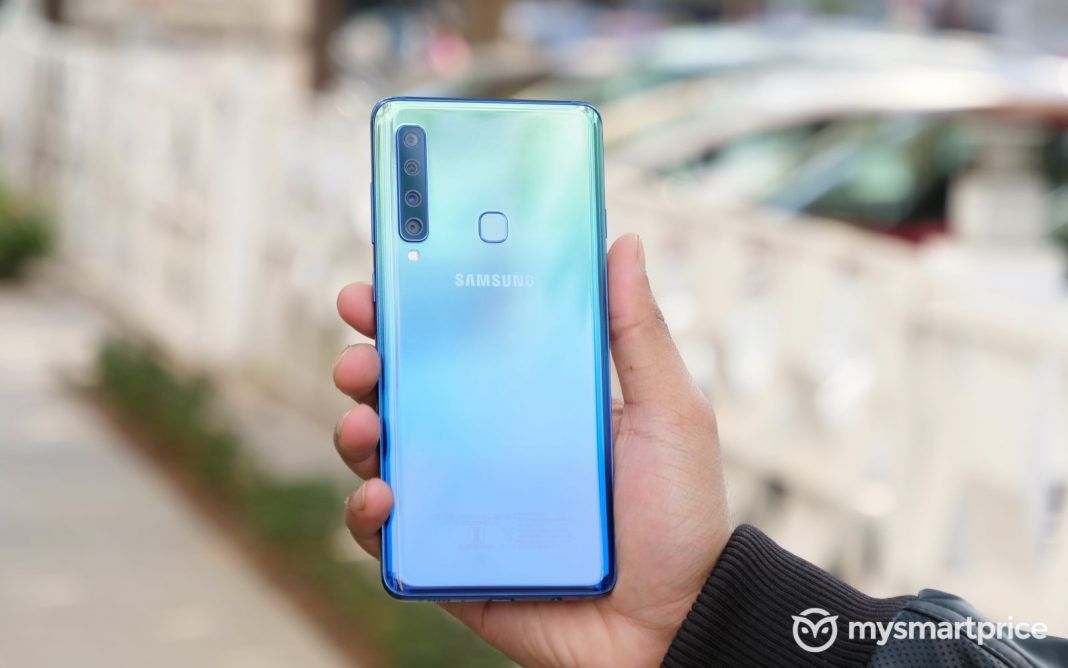 The smartphone scene is becoming more competitive with each passing year. Brands are not only making their offerings more affordable but also implementing newer technologies into their smartphones. Meanwhile, the top dogs have largely remained quiet with steady smartphone rollouts with incremental upgrades. Samsung has made some bold claims in the past regarding new screen notch designs, but we are yet to see tangible results. However, the South Korean brand has beaten everyone in the race to bring the first smartphone with a quad-camera setup at the rear: Samsung Galaxy A9 (2018).
The Samsung Galaxy A9 (2018) promises exceptional photography in a package priced about the same as the recently released OnePlus 6T. The phone is also more affordable than Samsung's Galaxy S and Galaxy Note series devices but also suggest that some compromises must have been made to bring down the price tag value. For a starting price of INR 36,999, are the quad-camera bragging rights worth the investment? Let's find out in our full review of the Galaxy A9 (2018).
[P_REVIEW post_id=140407 visual='full']
Samsung Galaxy A9 (2018): Design & Display
The Samsung Galaxy A9 (2018) is undoubtedly a big phone and it feels like a slimmer but flatter Galaxy Note 9. The screen doesn't really curve towards the edges and there are marginally thicker bezels. There is no notch in the screen, so you still get a rectangularly shaped display. The back of the phone is covered with glass, and the frame of the device is metal. Other than the quad-camera setup, there is also a fingerprint scanner at the rear. The right side of the phone has volume rockers, while the left houses a Bixby button. The bottom of the Galaxy A9 (2018) where you find a USB Type-C port for charging and data transfer. There are a headphone jack and a loudspeaker on either side of the phone. And then there is a dual-SIM + microSD card tray that pops out of the top of the device.
The phone comes in three color options: Bubblegum Pink, Caviar Black, and Lemonade Blue. Lemonade Blue and Bubblegum Pink color variants of the Galaxy A9 (2018) offer rear panels with gradient finishes. Those who find these variants too extravagant can go with the Caviar Black option. I used the blue version and found the fingerprint smudge situation to be out of control. Samsung does provide a transparent case with the phone, but for some reason, the phone looked worse with it put on.
The Galaxy A9 (2018)'s glass-and-metal body feels reasonably sturdy to hold, but I did notice a rattling sound near its quad-camera assembly and it concerned me. The lack of any sort of water resistance rating is also worrying. At least the loudspeaker quality is quite decent, even though it is just a bottom firing unit. Also, there is a moisture detection sensor somewhere inside the charging port which sent up a notification after I accidentally got the device a bit wet.
The display is an aspect where Samsung doesn't leave a lot to be desired. Its 6.3-inch AMOLED screen is excellent at reproducing vibrant colors, with deep blacks. Daylight visibility very good. This is a Full HD+ (2220×1080 pixels) resolution screen that bears an aspect ratio of 18.5:9. You get a few display modes to play around, including Adaptive, Basic, Cinema, and Photo. A built-in blue light filter setting is also provided to reduce eye strain at night.
Samsung Galaxy A9 (2018): Cameras
Getting on to the most advertised and important aspect of the Galaxy A9 (2018), its quad-camera setup. First, let's get hardware specifications out of the way. The primary lens on the rear has is a 24MP sensor with f/1.7 aperture. There is a 5MP depth sensor with f/2.2 aperture. There is a 10MP telephoto sensor with f/2.4 aperture and 2× optical zoom. Finally, there is an 8MP camera with f/2.4 aperture and 120-degree wide angle lens.
If someone asks me to describe the Galaxy A9 (2018)'s quad-camera setup in one word, it would be 'disappointing'. The cameras just do not live up to the marketing hype. The primary camera sensor can capture some decent images with good color reproduction but only if the lighting condition is incredibly ideal. Most of the time, you end up with softer images that lack enough details. In low-light conditions, the results are even worse. The 2× zoom capability can come in handy sometimes, but there are issues with the image quality in low-light conditions. The wide-angle lens fares a bit better as it does succeed in fitting more things within the frame.
It is hard to miss how inconsistent the outcome is when taking pictures using the three camera sensors. Each sensor's tuning is different so exposure, colors, and contrast vary, too. The fourth lens for hardware-level bokeh is a hit-or-miss affair. Edge detection isn't good and bokeh images lack sharpness. Getting the camera to focus on the right subject is also a challenge sometimes.
Samsung Galaxy A9 2018 Rear Camera Samples
Lack of OIS (optical image stabilization) does feel prominent in video recordings. While you can switch between the standard and 2× zoom when recording a video, the wide-angle lens cannot be accessed. On the other hand, when recording with the wide-angle camera, you cannot move to the other lenses. Unlike high-end or flagship smartphones, the Galaxy A9 (2018)'s cameras can't be switched while recording videos.
The 24MP selfie camera's performance is similar to that of the primary rear-facing camera. It is possible to take selfies with accurate colors and good details but only in bright conditions. Move indoors, and you will see softer images with poor details. Have a look at some of the selfie samples in the image gallery embedded below.
Samsung Galaxy A9 2018 Selfie Samples
Samsung Galaxy A9 (2018): Software & Performance
The Galaxy A9 (2018) is powered by the Qualcomm Snapdragon 660 chipset. Samsung's decision to use this chipset baffles me. Considering how the market is evolving right now, I would have expected Samsung to at least equip this phone with the Qualcomm Snapdragon 710 chipset. Unfortunately, you are stuck with a mid-range processor on the new A9 with all the expected caveats. This isn't a bad processor by any means, but it is simply incapable of providing a wholesome experience at this price-point. Phones as cheap as INR 14,000 are using the same Snapdragon 660 processor these days. Navigation isn't as snappy as I would have liked, and graphically demanding games don't run that well.
One great aspect of the phone is with its storage options. The review unit I received from Samsung had 6GB of RAM. There is an 8GB RAM variant as well, but I don't think you will feel much of difference in performance. It is worth noting that both variants of the Galaxy A9 (2018) offer 128GB of internal storage and there's a dedicated microSD card slot for storage expansion. Running out of space is certainly not going to be an issue here.
For security, there are two main options here. The first is with the rear-mounted fingerprint sensor which works just as well as you'd expect from a 2018 smartphone. Then there's facial recognition using the front-facing camera. However, this is meant to be just a secondary feature which has probably been provided just for the sake of it.
This phone runs Android 8.0 Oreo by default, with no official word as to when we can expect an update to Android 9 Pie. As is typical with Samsung smartphones, you have Samsung Experience UI running on top of the operating system. New users might take some time getting used to it, but as far as custom UIs go, this is one of the good ones. Samsung's iteration of gesture navigation is quite decent, and I also like the overall refinement. It's a shame how the weak chipset makes the experience feels bogged down.
Samsung Galaxy A9 (2018) Software
Samsung Galaxy A9 (2018): Battery
The Samsung Galaxy A9 (2018)'s one saving grace is its long battery life. The phone comes with a 3,800mAh battery that lasts quite long. With lighter use, I was able to get 7 hours of screen-on-time on a single charge, with standby time close to 40 hours. With a heavier workload, the phone lasted around 26 hours with 6 hours of screen-on-time.
In short, it will be possible to use the phone for almost two days with light use and with power saving features turned on. Power users can expect the phone to survive throughout a full day. I usually saw an average workday end with around 30% of battery level left. Charging is handled with the provided USB Type-C port. Samsung includes a 12W adaptive fast charger in the box. This helps the phone top-up from 0 to 100 in about 2 hours.
Samsung Galaxy A9 (2018): Verdict
The Samsung Galaxy A9 (2018) shows great potential with its premium build and wonderful AMOLED screen. Its battery life is also impressive. However, the one aspect this device was supposed to excel in was its camera. Unfortunately, Samsung was just not able to deliver on its promise. In the end, you end up with an imaging system filled with features that are rendered useless half the time.
If this camera was as good as what it was intended to be, I could have overlooked the phone's underpowered Snapdragon 660 chipset. Most of what the Galaxy A9 (2018) can do, phones like the OnePlus 6T and Asus Zenfone 5Z (review) can do better. The additional wide-angle and optical zoom lenses aren't worth the money considering the sacrifice made with the phone's performance.
Samsung Galaxy A9 (2018)
₹36,990
Design and Build Quality
8.5/10
Front-Facing Camera
7.0/10
What Is Good?
Great looks with decent build quality.
Superb AMOLED screen.
Admirable battery life.
What Is Bad?
Quad camera does not live up to the hype.
Selfie camera doesn't perform that well either.
Considerably underpowered for its price.
Thanks for reading till the end of this article. For more such informative and exclusive tech content, like our Facebook page