Samsung has been focusing a lot lately on its mid-range smartphone market. This is because it excels with its flagship phones but sometimes falls short when it comes to low-budget devices. Not much is known about the Samsung Galaxy A9 (2018) apart from a few rumored and speculated hardware specifications. However, courtesy to the entry in cross-platform CPU benchmark, Geekbench, the chipset powering the smartphone has been revealed. The benchmark entry which surfaced online has also revealed a few other things about the upcoming device.
Samsung Galaxy A9 (2018) Geekbench Score
Geekbench reveals a single threaded CPU score of 1,609 points and a multithreaded score of 5,844 points for the Samsung Galaxy A9 (2018). These scores are actually pretty decent and are in line with what a Snapdragon 660 SoC would score. It's pretty clear that the Galaxy A9 (2018) will feature a Snapdragon 660 chipset. The Snapdragon 660 SoC runs by default up to a maximum frequency of 2.2GHz and is an octa-core CPU. Coupled with this is the Adreno 512 GPU.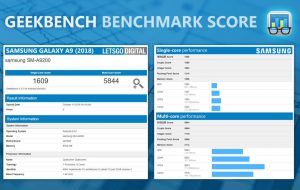 To give you a better perspective on how well the Galaxy A9 (2018) is actually performing, here are the scores which the Galaxy A7 (2018) managed to achieve. The Galaxy A7 (2018) scored 1,526 points in the single threaded score and 4,256 points in the multithreaded one. This means that the Galaxy A9 (2018) will be a little more powerful and perhaps, even better optimized. A quick glimpse at the Geekbench screenshot reveals that the Galaxy A9 (2018) smartphone will run on 6GB of RAM and will run on Android Oreo 8.0 out of the box.
Samsung Galaxy A9 (2018) What To Expect
Samsung has made its plans known for a press event on October 11. It is believed that during this press conference, the Galaxy A9N (2018) smartphone will be announced. Rumour points that the smartphone may even feature a quadruple camera setup. This means it would have four rear-facing cameras of 24MP+8MP+10MP+5MP. In all likelihood, the smartphone will have a decently large size screen of around 6.3-inches or so.
Unfortunately, Samsung hasn't jumped on the in-display fingerprint sensor wagon as of now and will probably reserve that for something like its upcoming Galaxy S10 next year. So, the Galaxy A9 (2018) will have a fingerprint sensor on its back. Rumours suggest that the device will be juiced by a 3720mAh battery and will support Qualcomm Quick Charge 2.0.
However, most of this should be taken with a pinch of salt until official confirmation comes from the company in the form of its announcement or launch.
Stay tuned to learn more on the upcoming Samsung Galaxy A9 (2018) smartphone! And meanwhile, checkout the video below.