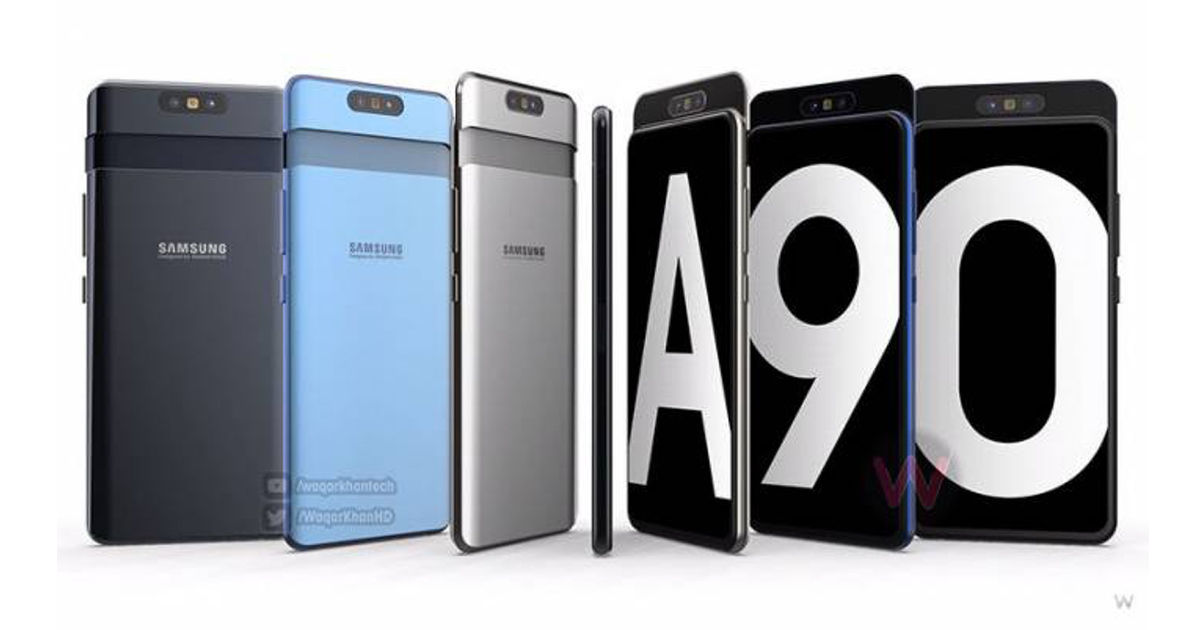 Samsung has been rumored to release the Galaxy A90 for some time now, with reports suggesting that the phone might even get a 5G variant. Now, new details regarding the specifications of the phone seem to have emerged, with the most compelling of these being the use of the flagship-grade Snapdragon 855 SoCs. Samsung is said to launch two variants, with one of them supporting 5G. In an interesting turn of events, the very source that recently claimed the phone would launch under an entirely different naming scheme has retracted their statement.
About a week ago, it was reported that the elusive Galaxy A90 would be released under the R-series branding instead. Apparently, the sources who had come forth with this information were mistaken. Infamous leakster OnLeaks apologized on Twitter for this mix-up, stating that their sources had confused internal and commercial naming schemes for the smartphone in question. Following this clarification, OnLeaks also went ahead and disclosed some of the specifications for two upcoming variants on the Galaxy A90.
Samsung Galaxy A90 To Get Triple Rear Cameras With Tilt OIS
In order to somehow make amends, I bring you the key specs of these devices ?

– SM-A908: SD855, 6.7-inch screen with in-display FPS, 48+8+5 rear camera, 5G support.
– SM-A905: SD855, 6.7-inch screen with in-display FPS, 48+12+5 rear camera with exclusive Tilt OIS tech!

Cheers! pic.twitter.com/uqfFTnfoIQ

— Steve H.McFly (@OnLeaks) June 25, 2019
First up is the smartphone that carries the model number 'SM-A908' which is said to feature a flagship-grade Snapdragon 855 SoC that will drive a 6.7-inch display. The fact that this screen will feature an in-display fingerprint scanner reaffirms that this will be an AMOLED panel. For imaging, the phone will allegedly be comprised of a 48MP + 8MP + 5MP triple rear camera setup. This will also be the model which gets 5G network support.
Then we have the Galaxy A90 variant that carries the 'SM-A905' designation. This variant will also feature a Snapdragon 855 chipset along with a 6.7-inch screen that houses an in-display fingerprint sensor. The camera setup is a little different here with a 48MP + 12MP + 5MP. This model is also said to feature some exclusive new feature called "Tilt OIS."
We are not exactly sure how Tilt OIS is different from your standard optical image stabilization (OIS) technology. Either way, we expect the feature to certainly benefit both still photography and video capture. It is also not clear which 48MP camera sensor Samsung is using on these phones; whether Samsung's own GM1 sensor or Sony's IMC 586 sensor. The other two sensors might very well be wide-angle and depth-sensing cameras.
Like the Note10 Pro, the A90 5G version also supports 45w ultra-fast charging.

— Ice universe (@UniverseIce) June 21, 2019
Without any concrete evidence to support these claims, we would advise you to take this report with a pinch of salt. In a separate leak a few days ago, it was reported that the Galaxy A90 5G model would offer support for 45W fast charging, making this yet another premium features to trickle its way down to Samsung's A-series smartphones. Furthermore, it would not be a surprise if the phone runs Android 9 Pie out-of-the-box, and offer a USB type-C port for charging. We also expect the device to get a premium metal and glass construction.