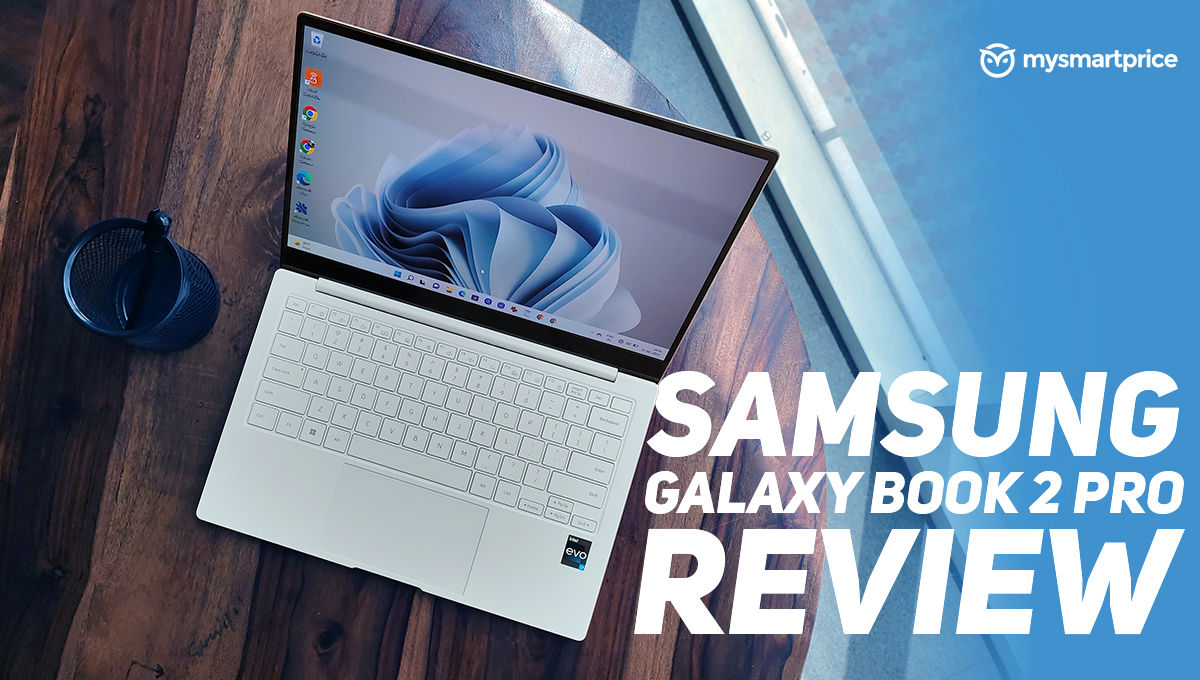 The Galaxy Book 2 series is the perfect example of how to make a comeback, and it is by none other than the South Korean giant Samsung. While not many people may remember, Samsung was into laptops or, more specifically, the notebook category back in 2013. The company then had multiple ultrabooks and notebooks in the country and had a decent 10% market share. I was among the few lucky ones who got a chance to review Samsung notebooks back then, and they were capable machines for the price segment.
Samsung Galaxy Book 2 Pro
114,990
KEYBOARD AND TRACKPAD
8.0/10
What Is Good?
Lightweight and ultra-portable design
Decent everyday performance
Bundled Office 365 lifetime licence
HDMI port and microSD card reader
What Is Bad?
Average battery life
No touchscreen support
However, after a few years, Samsung focused on its Galaxy line of phones, giving its notebook portfolio a long break. Cut to 2022, the brand is now more focused than ever and has some products under its all-new Galaxy Book 2 series that can take on the best in the laptop segment.
We have been using the Samsung Galaxy Book 2 for over a month as our primary machine, and it hasn't let us down. But, the bigger question here for consumers is whether to go with Samsung laptops or not. Well, the doubt is understandable. Post pandemic, there has been a boom in the laptop category, which has spoiled users with too many options.
In this crowd, the all-new Galaxy Book 2 Pro offers robust hardware and a design that should be loved by people who love to be on the go. We liked plenty of things about the all-new Galaxy Book 2 Pro, and in this review, we will try to deep dive into why you can buy this new Samsung laptop.
Samsung Galaxy Book 2 Pro review: Biggest USP is design
The first thing that strikes you is the thin form factor. Samsung says that the Galaxy Book 2 Pro is among its thinnest laptops yet, and you have to see it to believe it. At just 870 grams, the Samsung Galaxy Book 2 Pro can fit into some of the smallest backpacks and even a side bag. It is 11.2mm thin and feels solid in the hands. In addition, the laptop feels premium from every corner.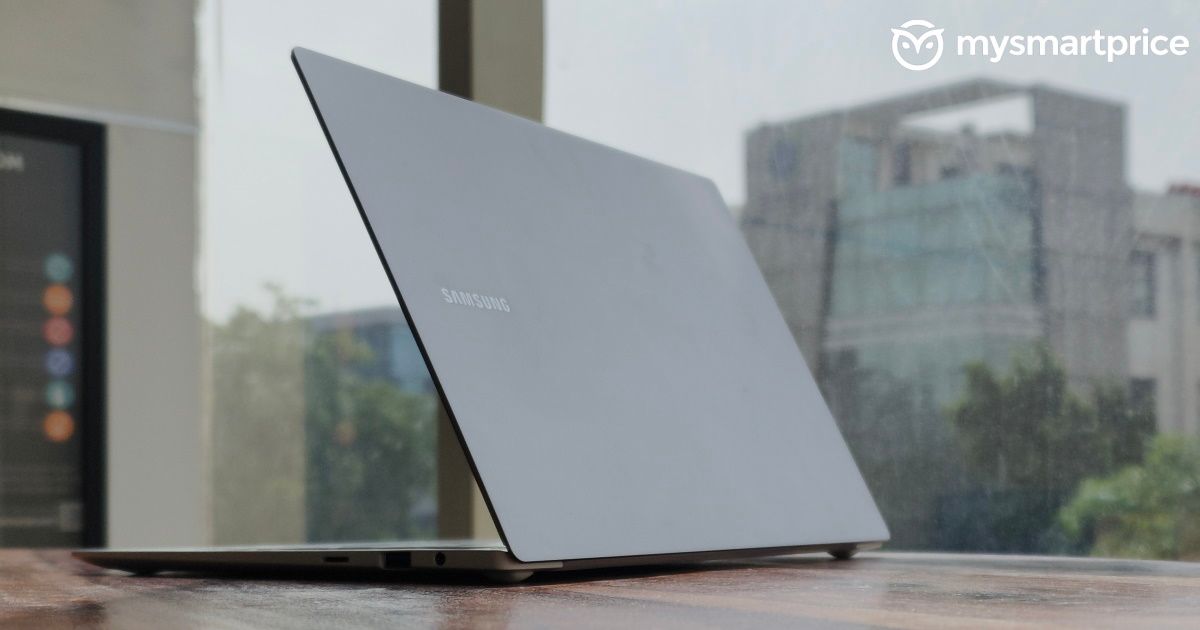 The Samsung Galaxy Book 2 Pro has been launched in just one colour option – Silver. However, you may get confused about whether it's White or Silver. The keyboard area is white and fits a full-size keyboard. There are shortcut keys while the fingerprint scanner is integrated into the power button in the top right corner. The fingerprint scanner is quick, and among the fastest, in terms of unlocking we have experienced in laptops. The touchpad area is big enough to make it easier for anyone to do precise work. The fan placement is around the hinge of the laptop, and it's apt.
Unfortunately, the Galaxy Book 2 Pro doesn't support a 360-degree hinge, but that's not a deal-breaker in any way. Instead, the two laptops are targeted at two different categories.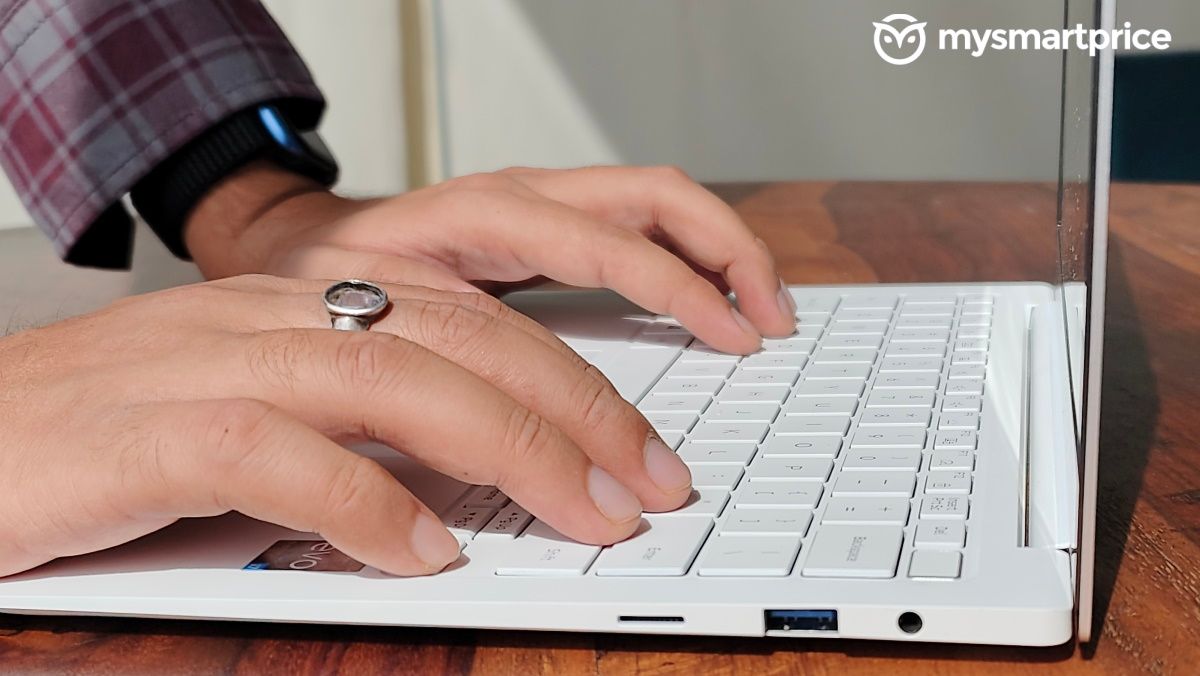 While the overall design impresses, the display bezels are something that looks dated on the Samsung Galaxy Book 2 Pro. It feels like the Samsung team built the laptop from scratch to make it ultralight but used an old display panel. The use of thin bezels around the display would have helped enhance the immersive multimedia experience.
Apart from the lightweight design, the next thing we liked was the keyboard. The Samsung Galaxy Book 2 Pro ships with a backlit keyboard that's tactile and offers a superb typing experience. In our opinion, the Galaxy Book 2 Pro should appeal to professionals who use the keyboard daily, for example, writers, MNC employees, and developers, to name a few.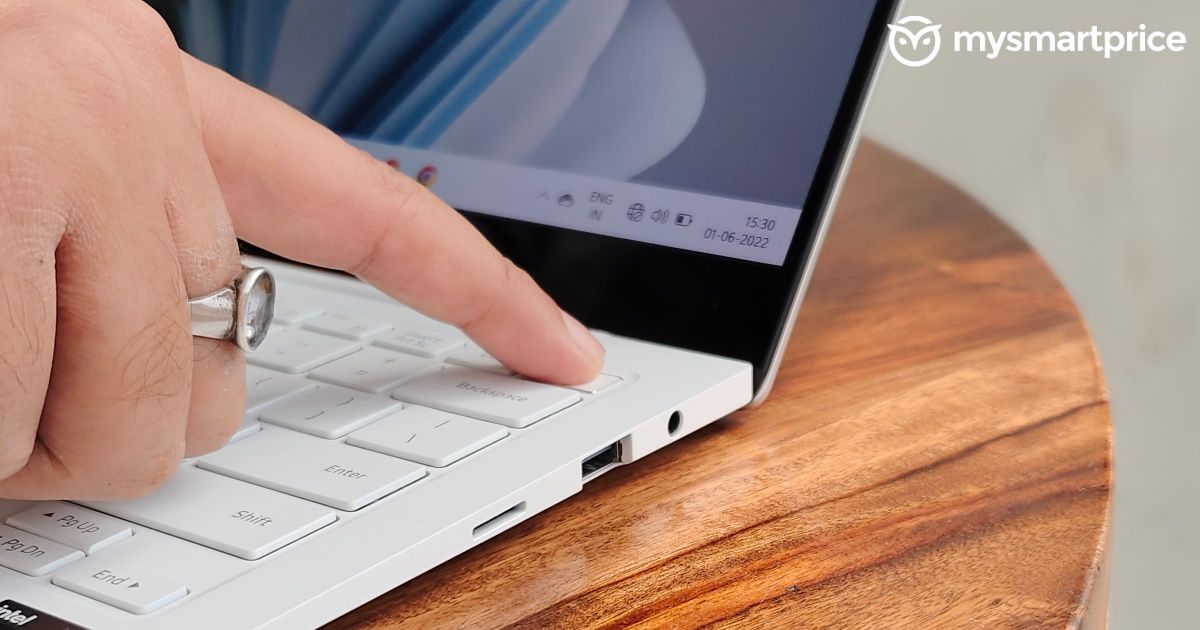 One of the compromises we have seen over the years is when you get a sleek laptop, the number of ports is reduced drastically. Well, at least that's not the case with the Samsung Galaxy Book 2 Pro. Instead, you get an HDMI, Thunderbolt 4, 1 x USB Type-C, 1 x USB 3.2, a microSD card reader, and a headphone out/mic-in combo. The variety of ports on the Samsung Galaxy Book 2 Pro will help it score above its rivals like MacBook Air M1 in this price category.
Samsung Galaxy Book 2 Pro review: Excellent display, but speakers may let you down
The Samsung Galaxy Book 2 Pro features a 13.3-inch Full-HD AMOLED display with a screen resolution of 1920×1080 pixels. It's an excellent panel from Samsung and one that will give you a decent multimedia experience.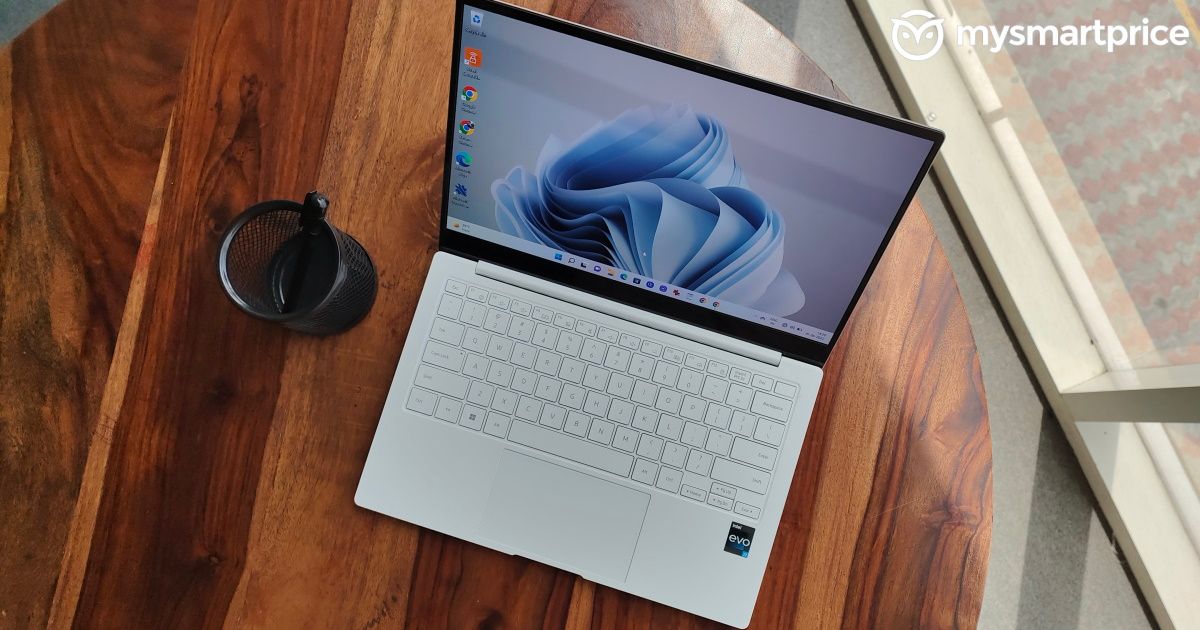 The panel is bright, crisp and offers sharp text. Colours on the Galaxy Book 2 Pro doesn't pop out but are well saturated and rich. While the screen doesn't support extreme tilt angles for users who like to use laptops in different modes, it offers a good mix of brightness, contrast, and viewing angles. Unfortunately, what could have been an advantage for the Galaxy Book 2 Pro is a touch-enabled display.
Compared to some of the rivals in this price segment, the Galaxy Book 2 Pro display panel is a tough match with a 1080p display. Nevertheless, we had no issues using the display comfortably outdoors, though we didn't test it under direct sunlight. Some of the Rs 1 lakh and above laptops offer up to 4K resolution display, but that also cranks up the budget.
Overall, the Galaxy Book 2 Pro's display offers a decent viewing experience, with the biggest downside being no touch support.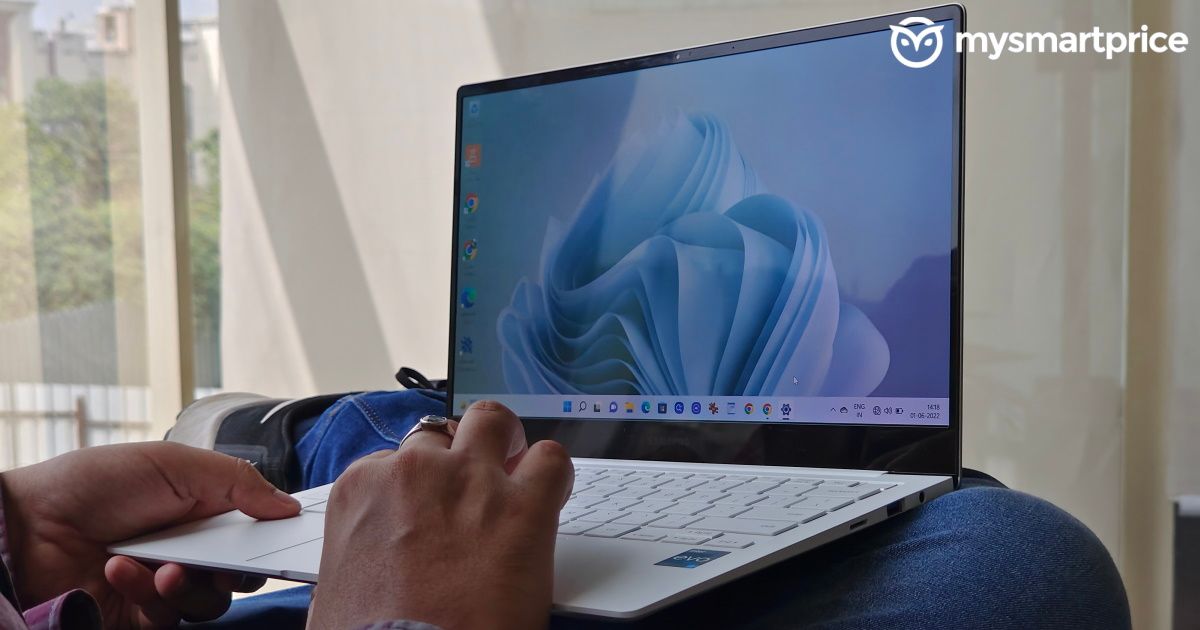 The laptop ships with AKG tuned stereo speakers that deliver up to 4 watts of output. The speakers are well-tuned for video calls and offer a balanced output on calls. However, when using the laptop for the multimedia experience, we did feel that the speakers were not loud enough, so you may have to switch to headphones for calls or even for watching movies or shows.
Samsung Galaxy Book 2 Pro review: Built for working professionals
Powered by Intel's 12th Gen processor and packing Evo certification, the Galaxy Book 2 Pro is a beast for day-to-day tasks. It comes with Intel's Iris Xe graphics and 16GB of LPDDR5 RAM alongside 512GB SSD storage. Talking about real-world everyday computing performance, the Galaxy Book 2 Pro offers a first-rate experience.
Right from handling multiple Chrome tabs open in the background to launching new apps, the Galaxy Book 2 Pro is an excellent operator. In addition, the laptop boots up in less than 10 seconds which is impressive.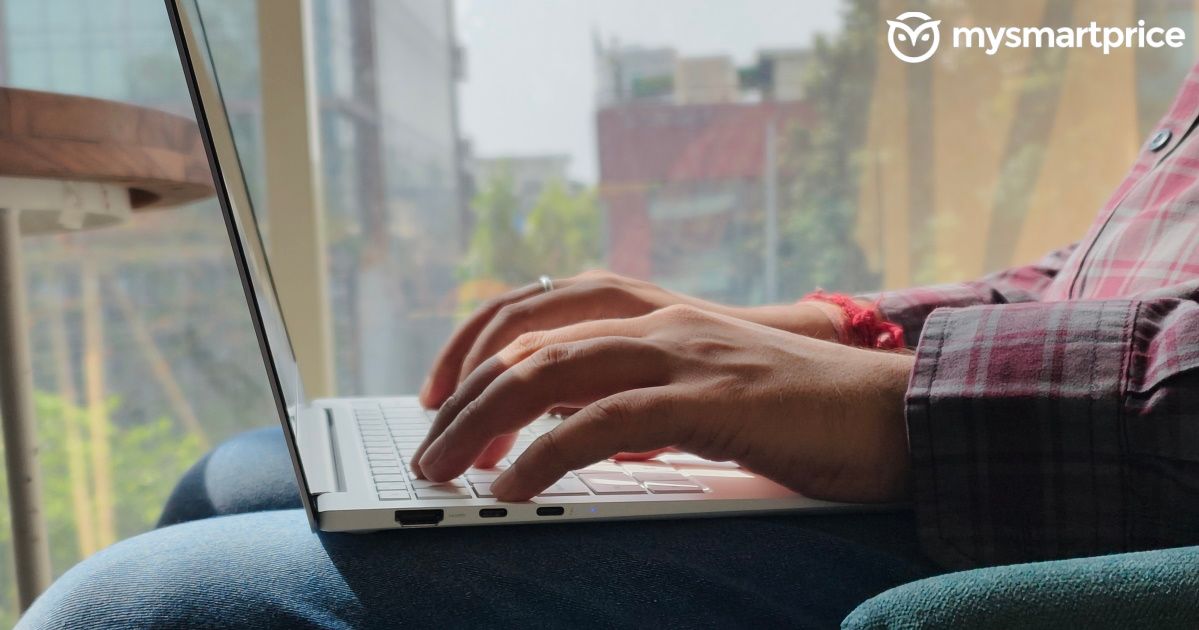 To test out complex operations, we did Photoshop edits on a few images putting filters and effects on top and Galaxy Book 2 Pro proved its mettle. We also transcoded a 4K video clip, and the laptop didn't stutter. However, the one department where we feel it isn't Galaxy Book 2 Pro's domain has to be gaming. Apart from casual gaming, the laptop isn't that powerful to handle AAA titles, and it will start struggling with frame drops.
Testing the laptop with some of our performance suite of apps, the Galaxy Book 2 Pro scored an impressive 4689 on PCMark 10, while the laptop scored 4879 on PCMark 8. The Galaxy Book 2 Pro scored above some of its rivals from Asus and Dell. The Galaxy Book 2 Pro runs Windows 11 Home out of the box.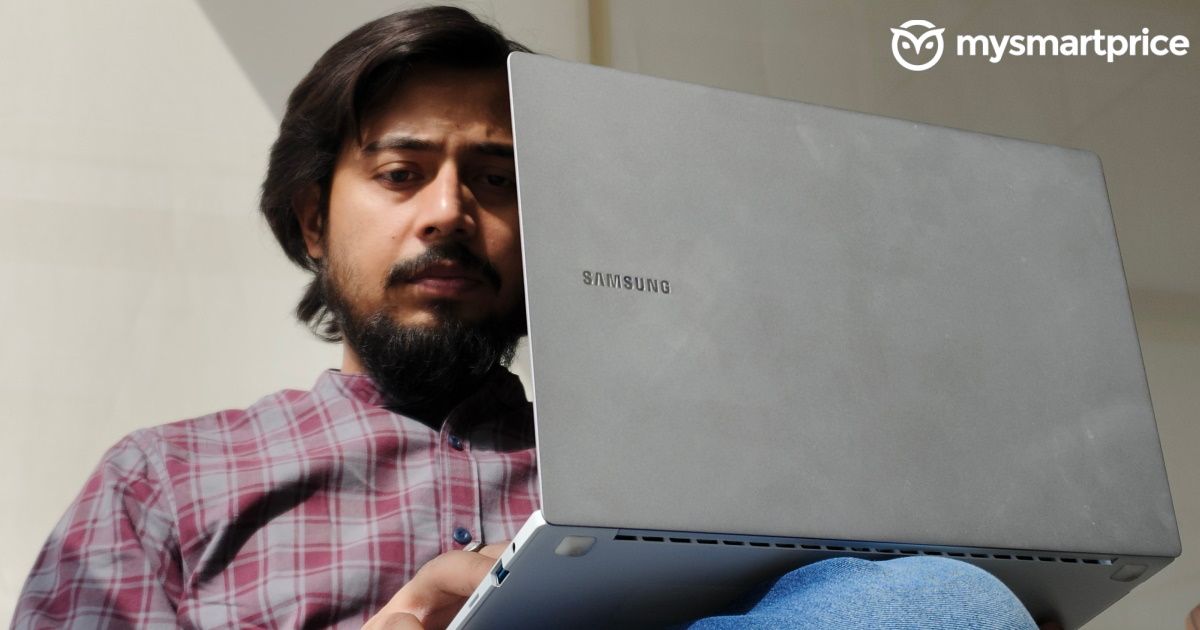 The Galaxy Book 2 Pro gets a 1080p Full-HD webcam that stands out in quality against the competition. It offers a sharp image and better skin tones than what you get on the MacBook Air M1 and other Windows rivals in this price segment. What enhances the video call experience on the laptop is the internal dual array digital mic that offers clarity.
The lightweight laptop offers Wi-Fi 6E 802.11 ax 2×2 and Bluetooth 5.1 wireless connectivity that's good for stable net connection and accessory use.
If you're already a Samsung premium phone consumer, you will enjoy the inter-device features built on the laptop. Thanks to Samsung's refinement, whatever is on your phone can now be on your laptop. The Quick Share feature was our favourite and can help wirelessly send files across Samsung Galaxy devices.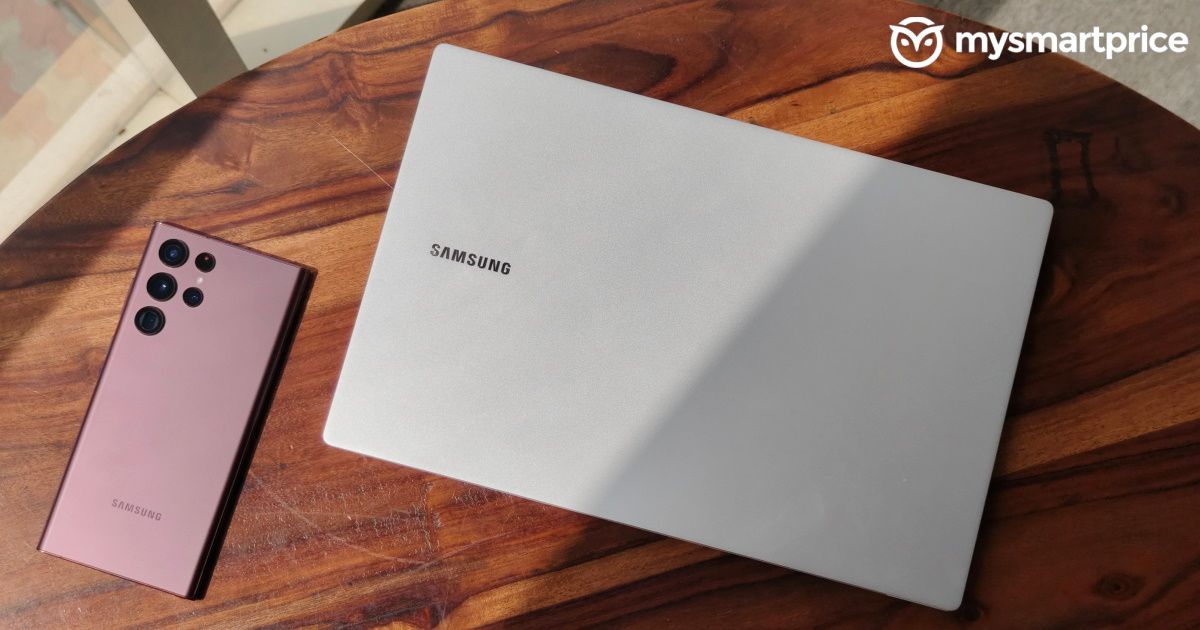 The Galaxy Book 2 Pro blows away the competition by offering Microsoft's Office 365 suite licence. Unlike some laptops that offer free one month, the Galaxy Book 2 Pro provides a lifetime licence to use Office apps on the laptop. Samsung's a great move to tap into working professionals who need Office apps every day.
Samsung Galaxy Book 2 Pro review: Average battery life
The laptop ships with a 63Wh battery and supports a 65W fast charging via a USB Type-C adapter. It can be charged up to 40% in flat 30 minutes and fully charges in around 100 minutes. The best part about the laptop is the power adapter is small in size and looks almost like a phone charger.
In our video loop test, the Samsung Galaxy Book 2 Pro lasted for roughly 12 hours which is decent enough. However, the real-world performance isn't that ideal.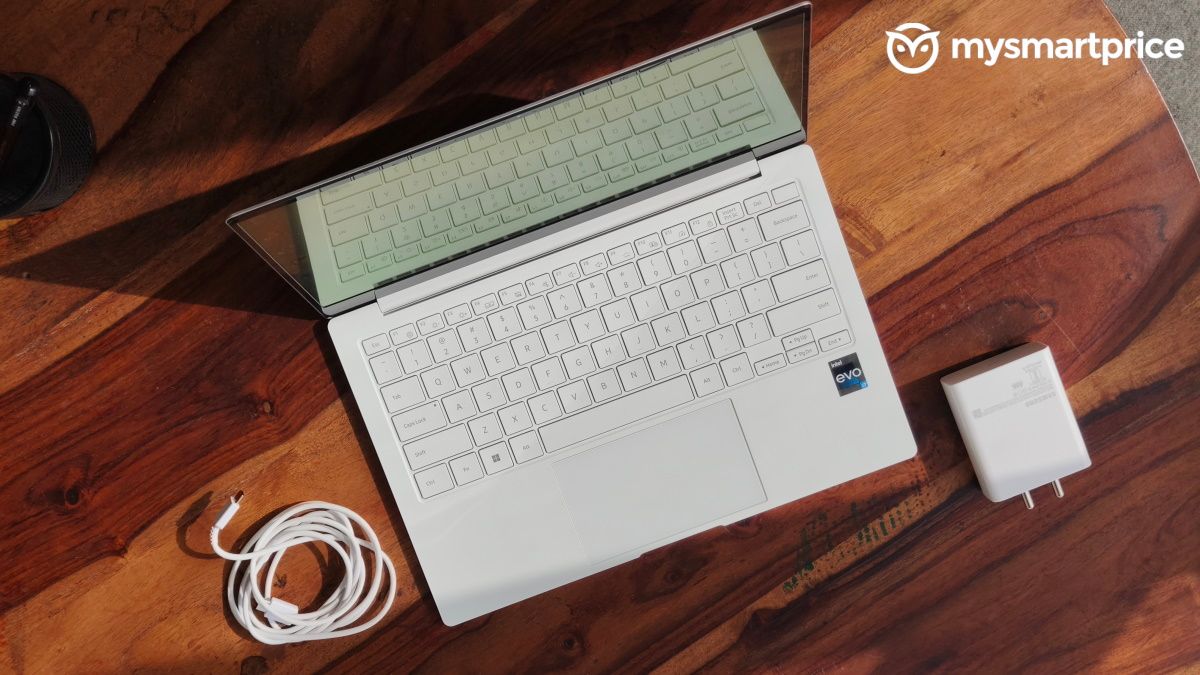 During the review, the Samsung Galaxy Book 2 Pro gave around 6 hours of battery life, after which we had to look for the charging adapter. If you have to run for physical meetings at different locations, then the Galaxy Book 2 Pro becomes an ideal companion up to a point.
Samsung Galaxy Book 2 Pro review: Verdict
The Galaxy Book 2 Pro is an excellent lightweight laptop whose key strengths are its design, performance, and availability of multiple ports. The premium build is another add-on to the overall package, while the lifetime licence to use Office 365 apps on the laptop is a masterstroke. In our opinion, the Samsung Galaxy Book 2 Pro can easily be a better choice than the MacBook Air M1 for most people considering the Air is now a two-year-old machine.
Of course, if you're an avid gamer, there's no need to look towards the Galaxy Book 2 Pro, and you should look at dedicated gaming machines priced around Rs 1 lakh mark. But, if you need a capable Windows machine for everyday work, then the Samsung Galaxy Book 2 Pro, at Rs 114,990, is a great option that ticks all the right boxes.