It seems Samsung Galaxy Buds Pro is effective for people with hearing loss and helping them with a better listening experience. Samsung revealed that the findings of a new study published in Clinical and Experimental Otorhinolaryngology, a renowned scientific journal claims this. According to the study, the Galaxy Buds Pro's Ambient Sound feature is helping people with mild to moderate hearing loss with better hearing experience. Let's have a closer look at the new study published by Clinical and Experimental Otorhinolaryngology.
According to the company the research was conducted in collaboration with Samsung Medical Center. The South Korean tech giant has been working with the Medical Center for more than 10 years. "This latest research marks an important next step in Samsung's ongoing commitment to collaborating on pioneering innovations that benefit people in their everyday lives," reads the official statement.
The study evaluates the effectiveness of the hearing aid feature provided by the Galaxy Buds Pro. So far there is no study conducted for the evaluation of true wireless earbuds when it comes to hearing aid. This is the first time the potential of the TWS for individuals with mild to moderate hearing impairments. The report also claims that 1.5 billion people are globally suffering from some kind of hearing loss issue.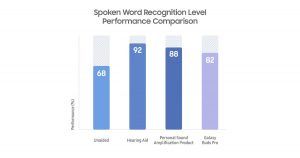 The study claims that the Galaxy Buds Pro, the hearing aid, and the personal sound amplification product underwent three key tests including electroacoustic assessment, sound amplification evaluation, and a clinical performance evaluation.
In the electroacoustic assessment test, the electroacoustic characteristics of each device were tested to see if they met the performance criteria for hearing aids or not. The test includes output sound pressure level, frequency range, equivalent input noise, and total harmonic distortion. According to the result, the Galaxy Buds Pro met all four criteria.
Further, the study suggests that the clinical performance evaluation resulted in individuals with hearing loss issues can recognize words and sentences with the help of the Galaxy Buds Pro. "Statistical significance was observed at 1,000Hz, 2,000Hz and 6,000Hz, meaning Galaxy Buds Pro sufficiently amplified sound at the three frequencies of speech pitches. Furthermore, in total, over 57 percent of the participants reported that Galaxy Buds Pro was able to help them communicate in a quiet environment." reads the study.
Thanks for reading till the end of this article. For more such informative and exclusive tech content, like our Facebook page