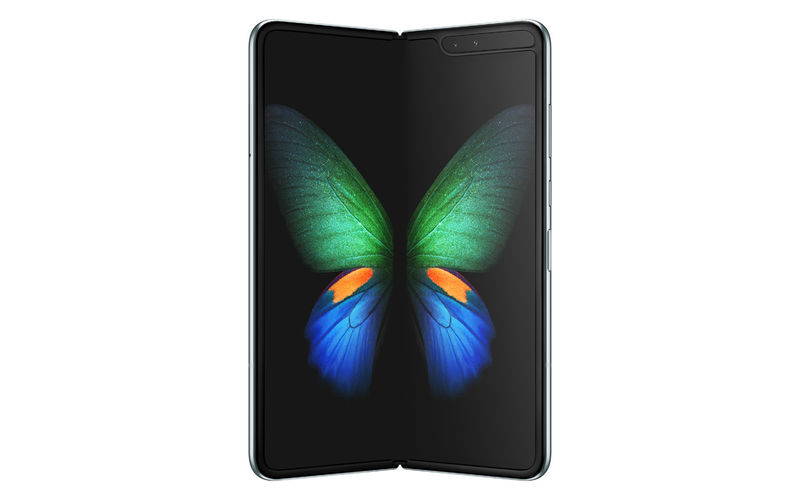 Apart from unveiling four Galaxy S10 series smartphones, Samsung also unfolded the long-running mystery and a well-kept secret earlier today: its first foldable screen smartphone. The 'Galaxy Fold' was unveiled at the UNPACKED 2019 event in San Fransisco. The Galaxy Fold is nothing short of an engineering marvel, but it also comes with a jaw-dropping price tag to match its amazing features. The South Korean brand is marketing the device has a luxurious phone for the elite.
Think of the Galaxy Fold like a Galaxy S10 5G, but with two screens, one 4.6-inch at the front and one 7.3-inch foldable screen on the inside. The phone feels very much like a first-generation product due to its smaller than expected outer screen and a weird corner-cutting notch on the inner screen. The Galaxy Fold will be sold in 4G LTE as well as 5G variants. Let us have a look at all its features and pricing.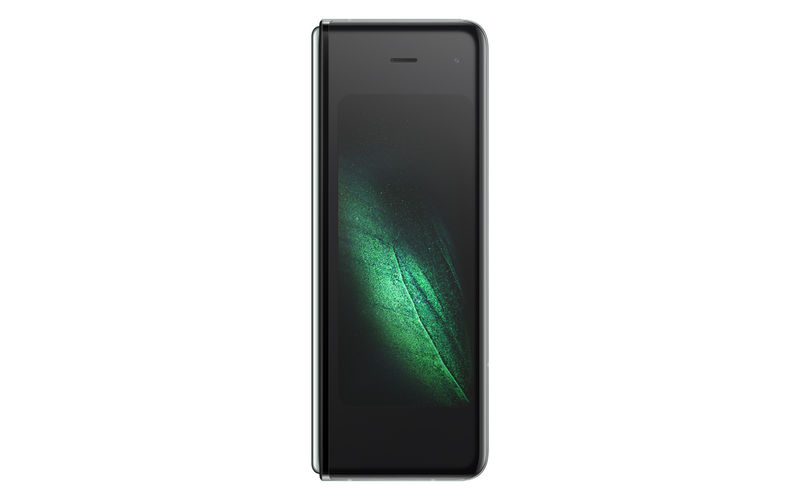 Samsung Galaxy Fold Pricing, Launch Date
The Galaxy Fold's price starts at a whopping USD 1,980 (around INR 1,39,763) for the 4G LTE variant. The 5G variant of the phone should cost even more but Samsung hasn't announced its pricing yet.
The Galaxy Fold will be available sometime in Q2 2019, April 26, 2019, to be exact. So, it's not coming to store shelves for at least two months from now. Moreover, the phone will be launched in limited markets around the world, so don't be too surprised if it doesn't reach India shores.
Samsung Galaxy Fold Features & Specifications
The Galaxy Fold uses two aluminum chassis that are connected to each other using a well-engineered hinge mechanism that is similar to Microsoft's Surface Book, featuring interlocking gears. Samsung claims that it had to design the phone from the ground up and that it had to invent a completely new production system as well as components to make this phone turn from a concept to a commercial product. The phone will be available in four colors: Black, Blue, Green, and Silver.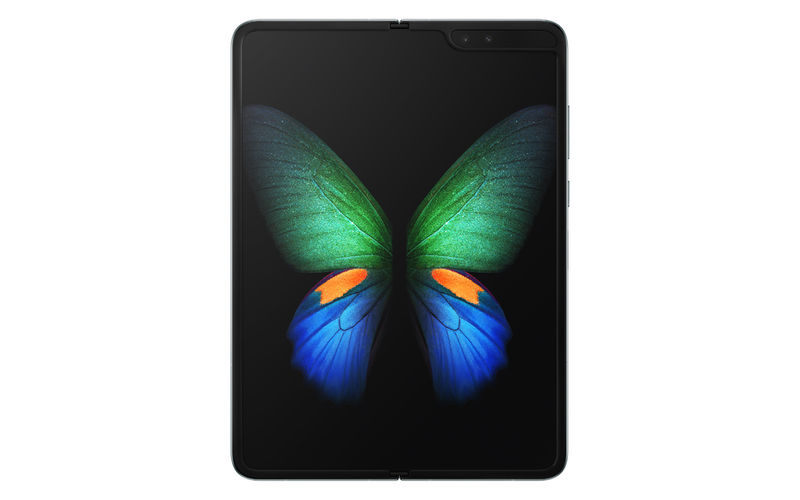 At the front, there's a 4.6-inch Super AMOLED screen with HD+ resolution (1960×840 pixels) and 21:9 aspect ratio. There are huge bezels at the top and bottom of the screen, making it look less than ideal, but impressive nonetheless when you consider what Samsung managed to do on the inside. There is a 7.3-inch Super AMOLED Infinity Flex Display with QXGA+ resolution (1536×2152 pixels) and 4.2:3 aspect ratio. This screen is foldable inwards and when the phone is unfolded, it turns into a tablet to watch videos in an immersive way.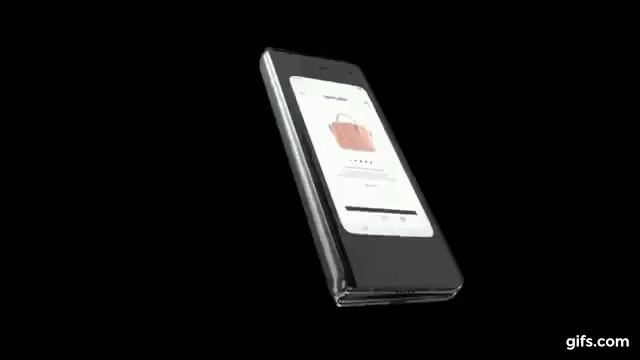 The phone runs Samsung One UI software that is based on Android 9 Pie. The company has also worked with Google and a few other big-name app developers to bring App Continuity. This feature is necessary to shift app instances from the smaller screen to the bigger screen (and vice versa) without losing its state. On the larger screen, the Galaxy Fold can run three apps at once. Samsung showcased how apps like Google Maps, Netflix, and YouTube can seamlessly from the smaller, outer screen to the larger screen on the inside. During the on-stage hands-on session, phone appeared quite fast, be it opening apps or switching between outer and inner displays.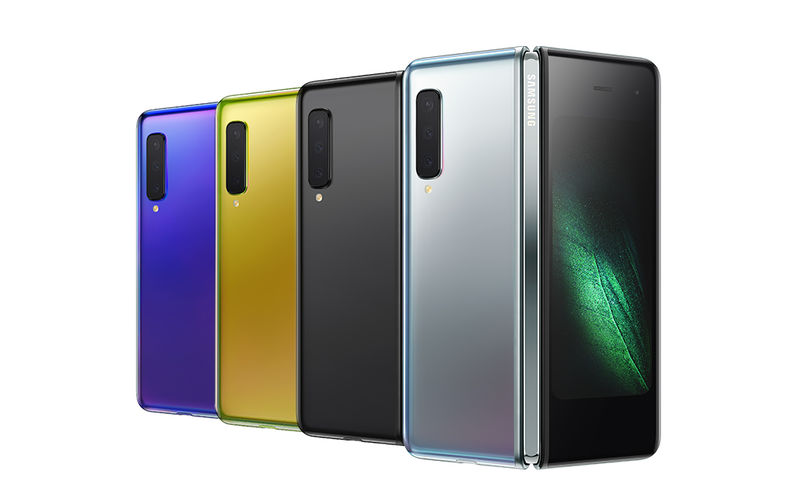 The Galaxy Fold has not one, two or three, but a total of six cameras. At the front, above the outer screen, there's a 10MP selfie camera with F2.2 aperture and 4K video recording. On the rear, there's a triple-camera system, featuring a 12MP wide-angle camera with Dual-Pixel PDAF, OIS, and F1.5-F2.4 dual-aperture. There's a 12MP telephoto camera with 2x optical zoom, PDAF, OIS, and F2.4 aperture. The third camera sensor has 16MP resolution and F2.2 aperture. All three cameras can record 4K 60fps videos with HDR10+. On the inside, lying inside a corner notch, there is a 10MP selfie camera with 4K video recording and F2.2 aperture. There's also an 8MP RGB camera with F1.9 aperture that is used for measuring depth.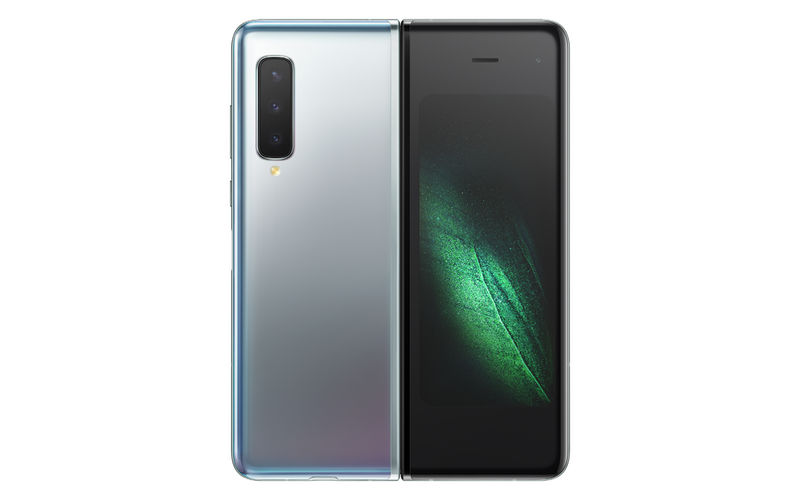 Samsung hasn't specified the name of the processor that is used inside the Galaxy Fold but mentioned that it is a 7nm 64-bit octa-core chipset. We suspect that it will be a 7nm version of Exynos 9820. There is 12GB LP-DDR4X of RAM and 512GB UFS 3.0 storage. There's no microSD card slot, so you can't expand storage space. There's no 3.5mm headphone jack on this phone, but it does feature 4G LTE (5G in the high-end variant), dual-band Wi-Fi ax/ac/b/g/n, Wi-Fi Direct, Bluetooth 5.0, NFC, and a USB Type-C port. The Galaxy Fold is powered by two batteries, with a combined capacity of 4380mAh. The power source can be fast charged using Quick Charge 2.0, Adaptive Fast Charge, or fast Qi wireless chargers.