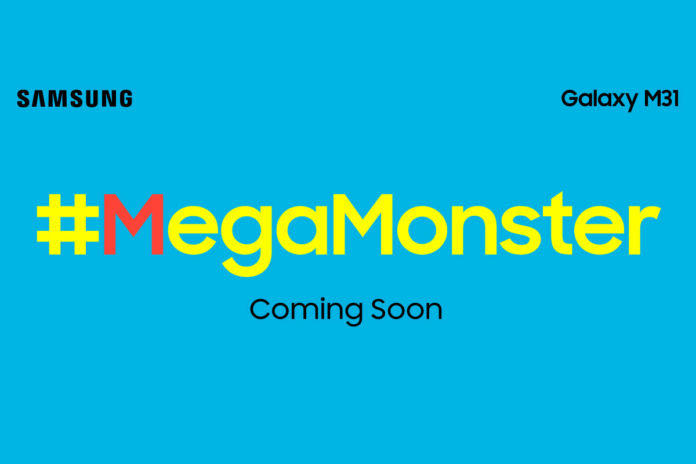 We recently came to know that Samsung is working on a new smartphone – the Galaxy M31 – as it was spotted on Bluetooth and Wi-Fi certification websites. The listing of the device on those platforms revealed that it will have Android 10 OS, dual-band Wi-Fi ac, and Bluetooth v5.0. However, the other details of the handset, such as its processor, camera, display, and battery were unknown. That, however, changes today.
Samsung, through two of the popular personalities in the tech industry, Ranjit Kumar (Goes by GeekyRanjit) and Gaurav Chaudhary (Goes by TechnicalGuruji), has teased the upcoming smartphone from the brand — Galaxy M31. Before talking about the teasers, I should tell you that there is no official information that Samsung has collaborated with Ranjit and Gaurav to release the teaser images of the Galaxy M31. It is possible that they have gained these teaser images on their own.
Anyway, Gaurav Chaudhary has posted a teaser image of the Galaxy M31 on Twitter, which says 'MegaMonster', suggesting that the Galaxy M31 will have a large, 6000mAh battery pack, just like its predecessor, the Galaxy M30s. Ranjit Kumar, on the other hand, has posted a teaser image of the device, which has '64' written in it, suggesting that the Galaxy M31 will have a 64MP camera. There is another hint in the teaser image which everyone seems to have missed — circles with four different colors in the 64 number, suggesting that the Galaxy M31 will have a quad-camera setup.
Unfortunately, those are the only three details Samsung has revealed as of now. We are yet to know the processor and display specifications, among other things. And I think Samsung will be slowing revealing those details through multiple influencers as the launch of the device nears. Speaking of, since the brand has started teasing the Galaxy M31, its launch seems to be imminent. In my opinion, it could launch by the end of February, or in early March.
As Samsung has approached popular influencers to tease the Galaxy M31, it looks like the brand is betting big on the device. And it suggests, that the Galaxy M31 could have impressive features and value for money factor, and could be a true competitor to the class-leading upper mid-range devices in the market – the Redmi Note 8/8 Pro and the Realme 5 Pro. What do you think about the Galaxy M31? Do let us know in the comments section below.