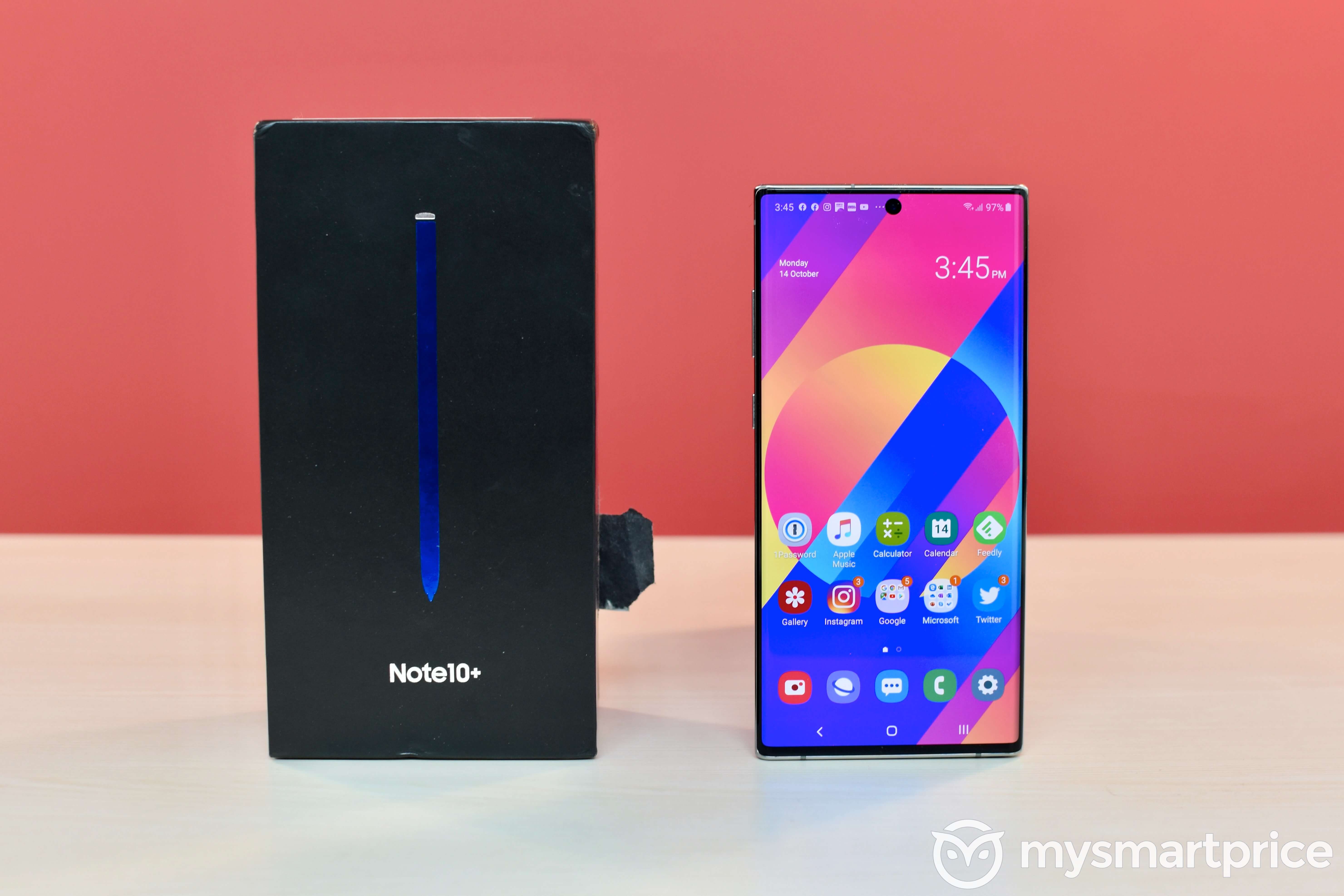 It would not be wrong to say that Samsung set the stage for modern-day smartphones with huge screens. It was the first Galaxy Note that put forth the idea that a bigger screen is better. Now, almost every smartphone in the industry has a big screen. After the Galaxy Note 7 debacle, Samsung trod carefully with the Galaxy Note 8 and the Galaxy Note 9, not bringing any major changes to the design or the feature set. With the Galaxy Note 10 series, though, the South Korean smartphone giant took a more radical approach.
Samsung Galaxy Note 10+
₹79,999
Front-Facing Camera
9.0/10
Rear-Facing Camera
9.5/10
What Is Good?
Top-notch build quality, attractive design, and IP68 certification.
The best display on any smartphone right now.
Stereo speakers and Dolby Atmos audio.
Excellent cameras, be it for still images or videos.
Smooth performance overall.
Jam-packed with dozens of UI customizations and software features.
Ultra-fast battery charging.
Samsung Pay is a godsend feature.
What Is Bad?
No 90Hz refresh rate screen at this price.
Palm touch rejection issues still persist.
The power button is on the wrong side.
No 3.5mm headphone jack.
Battery life could've been better.
Expensive.
There are two Galaxy Note variants in the same year: Galaxy Note 10 and the Galaxy Note 10+. Samsung also did the inevitable with this year's Note lineup—it removed the 3.5mm headphone jack—something Galaxy Note fans loved to brag about. Plus, the company used a punch-hole display, used a mid-cycle refresh processor, increased the battery capacity by quite a bit, and made huge improvements to battery charging speeds. Are all these steps enough to bring it back into the limelight? Let's find out in our review of the Galaxy Note 10+.
[P_REVIEW post_id=167017 visual='full']
Design
Samsung Galaxy Note 10+ Design
As I mentioned earlier, the Galaxy Note 10+'s design radically different from the Galaxy Note 8 and the Galaxy Note 9. It now features a completely bezel-less screen that's larger, too, at a whopping 6.8 inches diagonally. There's a small punch hole in the top-center part of the screen to accommodate the 10MP selfie camera. The phone uses a metal frame and it is sandwiched between two Gorilla Glass 6 panels. The sides of the Note 10+ are curved which means it is easier to hold the device in spite of its huge size. As soon as I picked up the device, I felt that it weighed less than what its size suggested. The power button and the volume rocker are both on the left side of the device, which left me puzzled as to how engineers at Samsung couldn't figure out that it's an ergonomic nightmare. The volume rocker is too high for comfortable usage.
The bottom of the phone has a USB 3.1 Type-C port, the primary microphone, a loudspeaker, and a slot to store the S Pen. The top of the phone has a hybrid dual-SIM card slot, a secondary microphone, and a hole for the stereo speaker. The rear of the phone has a triple camera setup that protrudes slightly from the rest of the body, but the phone doesn't wobble when it's on the table. There's no 3.5mm headphone jack which means that you'll either have to switch to Bluetooth earphones or use a USB Type-C to 3.5mm headphone adapter (which doesn't come bundled with the phone, a cheap business trick that Apple does, too). Or you can use the bundled AKG-tuned USB Type-C in-ear earphones. More on the quality of these earphones later.
Overall, the phone feels easy to handle in spite of its huge size. However, I would advise you to use a high-quality case with 360-degree protection to save it from an inevitable drop that can shatter the phone's glass panels.
Display & Audio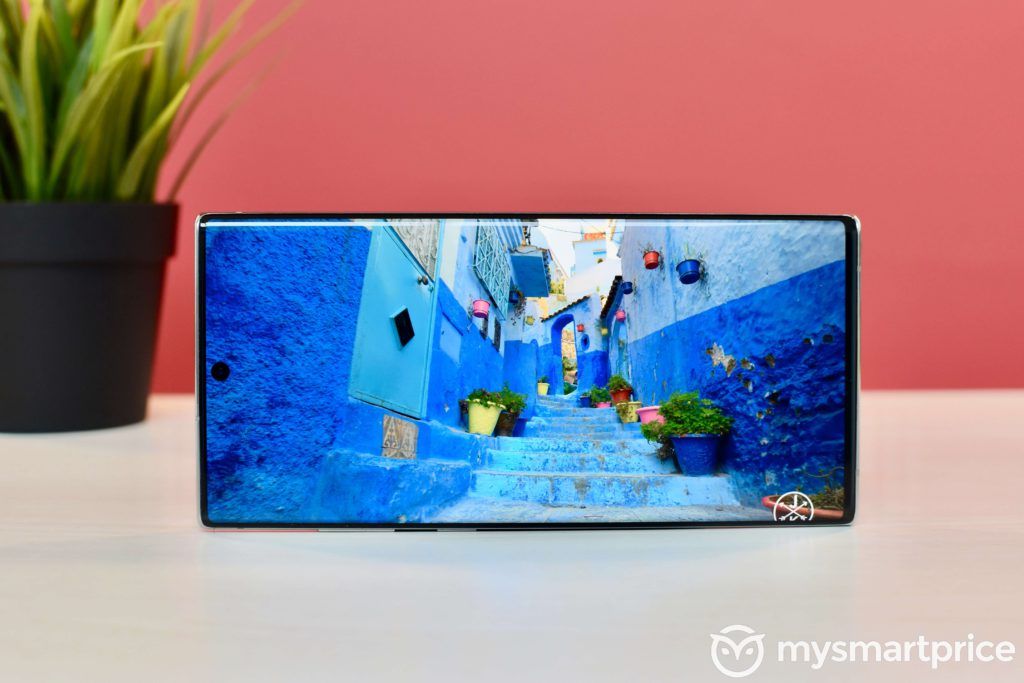 It still features WQHD+ resolution (3040×1440 pixels), but the aspect ratio is now even taller and the screen is brighter in comparison. The 19:9 screen can go really bright, as high as 800 nits, as claimed by the company. While I don't have a brightness meter, I noticed that the screen appeared slightly brighter than the Galaxy Note 9 under similarly bright outdoor conditions. The phone also supports HDR10+ video playback. The only place where you can currently find HDR10+ content is Amazon Prime Video, and even there content is quite limited.
The screen is bright, vivid, and color-accurate (in the Natural screen mode). If you're someone who likes saturated colors, use the Vivid screen mode. While there is an accidental touch protection feature, it doesn't work very well. I frequently noticed palm rejection issues on the phone while using it without a case, another reason to use a case with the Note 10+. Always-On Display comes in handy but it can drain some battery and if you're battery conscious like me, you should turn it off. Instead, you can activate the double-tap to turn on the screen feature. Alternatively, you can also activate the Lift To Wake feature in the Motions and Gestures section.
The stereo speaker setup on the phone sounds excellent. Volume levels are high and for a smartphone speaker, depth and clarity are impressive. Activating the Dolby Atmos feature adds a sense of depth to audio, be it while using loudspeakers or headphones. I really enjoyed using my 1More Triple Driver earphones (via HIDIZS Sonata USB Type-C to 3.5mm audio port) with the Note 10+. Bundled earphones sound well (for bundled earphones ), too, but you can get even better-sounding earphones in the market. They were lacking in reproducing high-end frequencies.
Cameras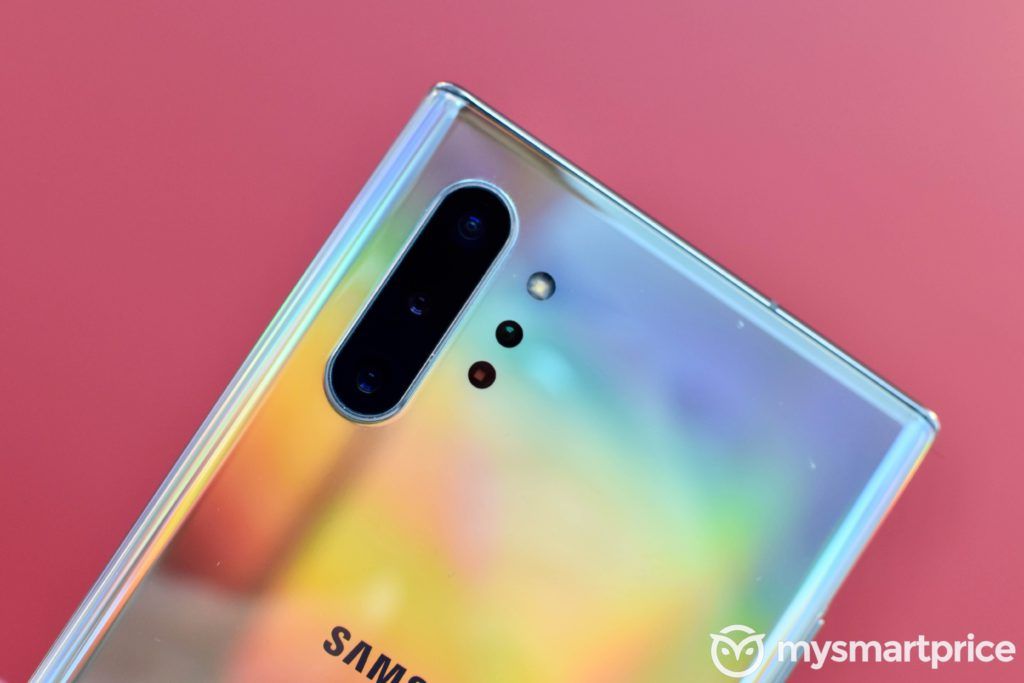 Samsung has been making one of the best camera phones in the high-end segment for a few years now. It even took a lead before Huawei came up with its excellent Night Mode. Now, Samsung has cooked its own long-exposure computational photography trickery. There are three rear-facing cameras on the Note 10+:
12MP wide-angle camera (1/2.55-inch sensor, 26mm lens, f/1.5-2.4, OIS, Dual-Pixel PDAF)
12MP telephoto camera (1/3.6-inch sensor, 2x optical zoom equivalent 52mm lens, f/2.1, OIS, PDAF)
16MP ultra-wide-angle camera (12mm lens, f/2.2, fixed-focus)
All three cameras can record 4K HDR10+ videos at 30fps but only the main camera can record 4K 60fps videos.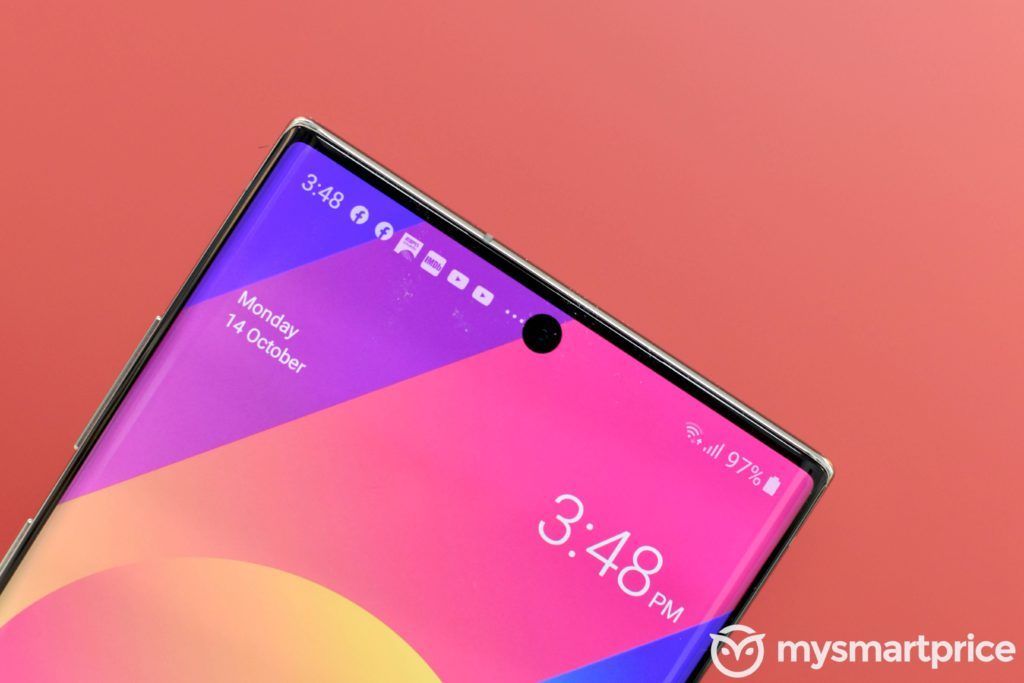 The front-facing 10MP camera has F2.2 aperture, dual-pixel PDAF, and a 26mm wide-angle lens. It clicks 8MP images in the default mode but hitting the wide-angle button allows capturing full 10MP shots. The selfie camera can also record 4K 30fps videos.
The camera app is straight-forward. Swipe left or right to switch between various modes and swipe up or down to switch between the front-facing and the rear-facing camera. You can edit camera modes, their order, and download new ones. All camera-related settings are placed in a neat section which can be accessed from every mode. Night Mode can be used with all four cameras on the phone, yes, even with the front-facing camera. Background blur effect can be used with both telephoto and wide-angle cameras, even the front-facing camera supports background blur.
Samsung Galaxy Note 10+ Camera Daylight Images
In daylight conditions, every single camera on the phone captures excellent images. Dynamic range is impressively wide, there's close to no noise, and colors look attractive (even if they're not too accurate most people like it that way).
Even when the light drops, the Note 10+'s rear-facing camera can hold its own. Using the Night Mode improves still images.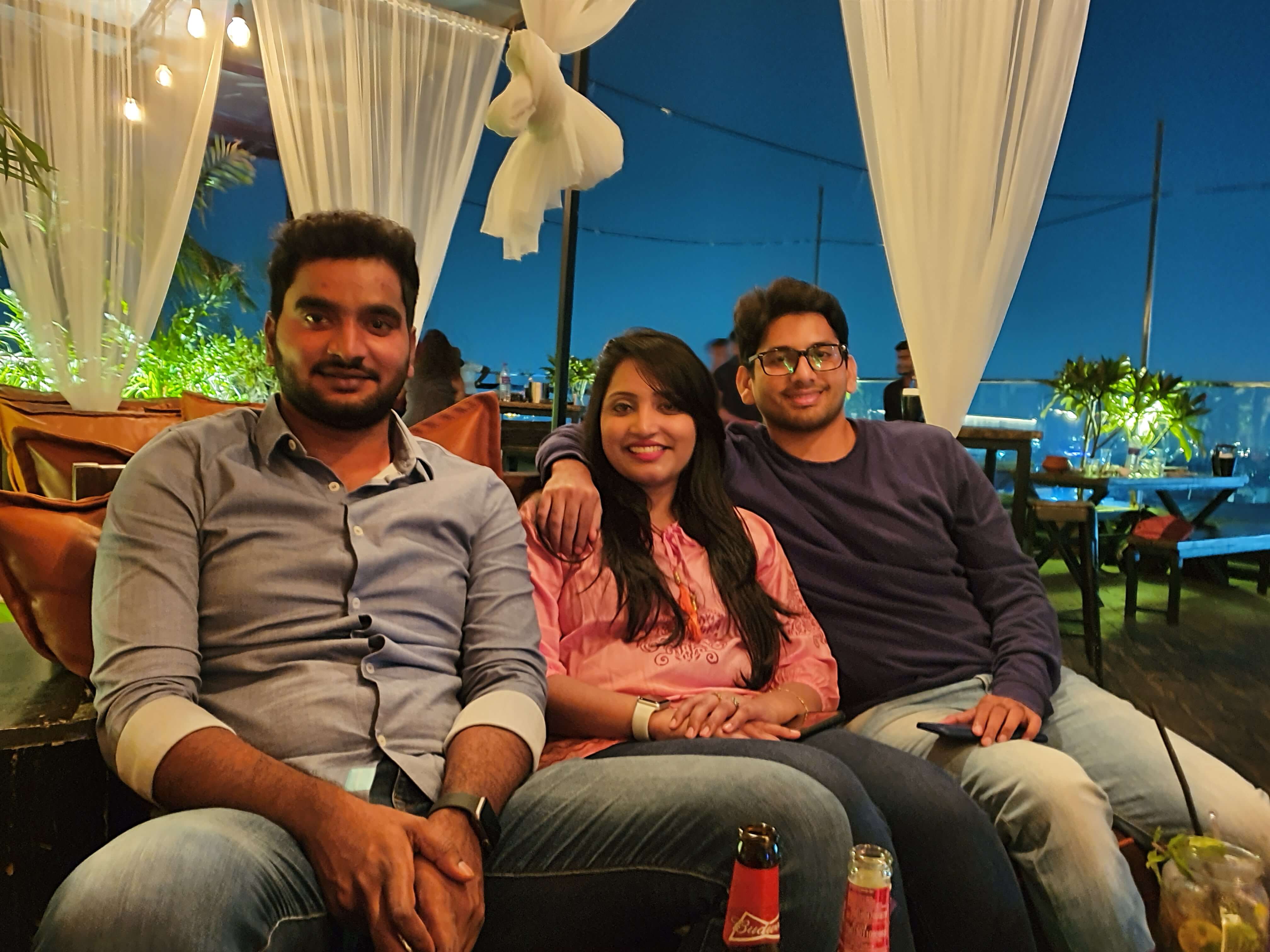 Images shot in the Night Mode are brighter, have more details, and bring out clipped highlights and light sources that would have been overexposed otherwise. The Night Mode doesn't work that well when using the front-facing camera, though. Selfies shot in low-light conditions bury the details on the face and make it look like the beauty mode has been cranked up to 11.
The Galaxy Note 10+ can now match phones like the Pixel 3 and the Mate 20 series in low-light photography. However, Huawei's P30 Pro and the Mate 30 Pro can capture images with more brightness and much lower noise in low-light conditions. However, those images don't represent real-life situations as they turn night scenes into something that appears like evening or even daytime.
Samsung makes the best smartphone video cameras in the Android world. It is the only company that can take on Apple's best when it comes to videography but misses out by a slight margin. Apple's latest iPhones still manage to capture smoother videos with lower noise. However, the Galaxy Note 10+'s videos showcase a smooth transfer between various levels of exposure, something iPhones still can't manage properly.
The newer iPhones can record 4K 60fps videos even with the selfie camera but the Note 10+ can't. That doesn't mean the Galaxy Note 10+ is bad by any means. It is still the best video camera phone running Android. I just wish that the phone's selfie camera could capture better selfies in low-light conditions.
Performance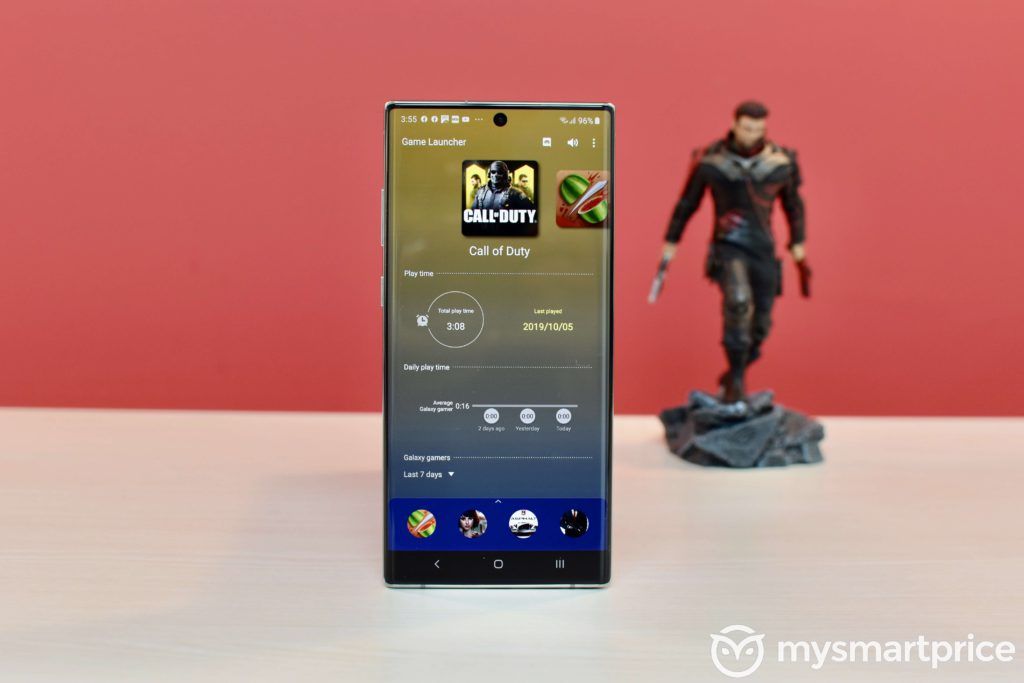 Unlike previous years, the Galaxy Note 10+ felt smooth and fast from day one. Yes, it still doesn't feel as fast as the OnePlus 7 Pro, but unless they're being compared side-by-side, the difference won't be noticeable. The phone uses the Exynos 9825 chipset which is made using Samsung's 7nm EUV process and sips less power than the Exynos 9820 in the Galaxy S10 series. The review unit that I used had 12 gigs of RAM and a whopping 256GB storage. On top of that, a microSD card (up to 1TB) can be used but I doubt if most people would do that. Even when playing high-end games like PUBG Mobile, the Note 10+ performed smoothly but it did get warm during extended gaming sessions.
Thanks to a generous amount of RAM, most apps stayed open, but I noticed that Samsung sends some apps to sleep or at least doesn't let them fetch notifications more frequently. There were times when I received notifications for a bunch of emails (through the Gmail app) at once even though they were sent minutes apart. Samsung has really upped its game when it comes to general performance and day-to-day UI smoothness. No more jitters or micro stutters. However, the Galaxy Note 10+ units sold in China and the US use the Snapdragon 855 processor and they seem to perform even better, offering relatively smoother performance and longer battery life. Will Samsung ever take its Exynos processor to the level of comparable Snapdragon chipsets? We may never know!
I did not notice any signal reception related issue. If you're someone who spends a lot of time on voice calls, you would be pleased to know that the phone offers exceptional audio quality through the earpiece. The person on the other side can be heard loud and clear, and the audio sounds natural. Coming to the ultrasonic fingerprint reader under the screen, the Note 10+ isn't as reliable as the optical fingerprint reader on the OnePlus 7 Pro or the OPPO Reno 10x Zoom, but it is not by any stretch of the imagination. Yes, the fingerprint reader's active area could've been larger and the animation could've been faster, but that's about it. I've found people complaining a lot about the S10 series' and Galaxy Note 10 series' fingerprint reader, but I did not have any serious issue with its speed or accuracy. It worked well almost all the time.
Software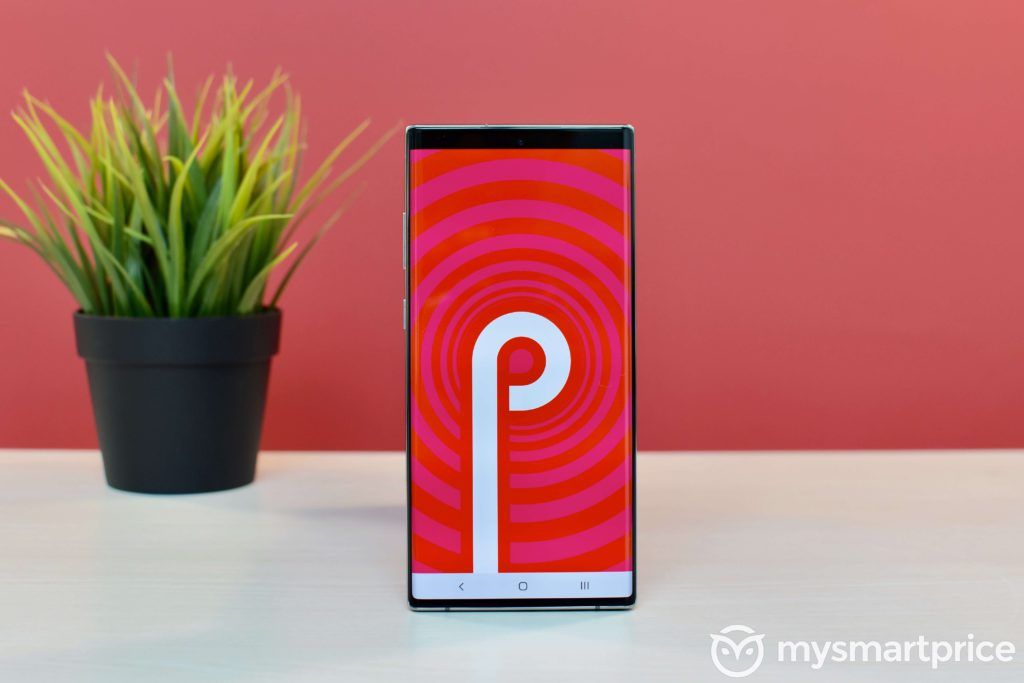 Samsung's Galaxy Note lineup has always been one of the most feature-rich smartphones in the world. No other brand offers as many features as Samsung does, and the Galaxy Note lineup takes it even further, complemented by S Pen features. The Note 10+ runs Android 9 Pie with Samsung One UI 1.2. It is one of the most intuitive UIs among all Android smartphone UIs. Everything is well-designed and within reach of your fingertips. One UI was designed with one-handed operation in mind and swiping down from the top in almost all stock apps will result in the list drop down, making it easier to click software elements. I wish Google did something like this Android-wide with Android 10, but it didn't.
Samsung Galaxy Note 10+ One UI 1.2 Software
Features like DeX, Dual Messenger, Game Launcher, Kids Mode, Secure Folder, Samsung Flow, and Samsung Pay make life easier. There are a lot of UI customization features, including wallpapers, video wallpapers, group wallpapers, Always-On Display styles, icon packs, and themes. However, I was irritated to see that Samsung has conked the option to turn off app icon frames. Why, Samsung? Can't you just let good things be? And then there's Bixby, which can do a lot of things, but just isn't as reliable or understanding as Alexa or Google Assistant. The power button long-press action activates Bixby Voice by default, but the first thing I did after setting up the phone was changing it to show the power menu instead, and I never regretted that decision.
DeX now lets you use your phone in desktop mode on a PC or a Mac, with the new DeX desktop app. It was quite useful at times, especially when I didn't want to touch the phone and was busy working on my laptop. As usual, you can use DeX when the phone is connected to an external display (monitor or TV), mouse and keyboard.
Multiple instances of an app (or a game) can be created using the Dual Messenger feature. I used it to create two instances of Twitter and WhatsApp, one for work and the other for personal use.
Game Launcher lets you customize the performance of the phone and turn off notifications while playing games. It also shows your play-time history over the last seven days, daily play time average, ranking for new games, and popular game videos from YouTube. However, it was disappointing to see Samsung show unwanted game ads inside Game Launcher, something you can't disable.
Kids Mode turned out to be pretty useful for me, especially when my one-year-old son didn't let me work on my articles. I would just give him the Note 10+ with Kids Mode activated and fun-to-learn games installed. It requires an authorized fingerprint to disable Kids Mode. Neat!
Secure Folder is where sensitive images, videos, documents, files, and apps can be kept hidden. Even the Secure Folder icon can be hidden so that snooping friends can't even know if the feature is present on the phone.
Samsung Flow one-ups Microsoft's Your Phone Companion app, offering features like easy and fast file transfer, mirroring notifications, and even the phone's screen.
Samsung Pay is a godsend feature. I could add all my debit and credit cards. There's even an option to integrate mobile money wallets such as FreeCharge, MobiKwik, and Paytm, and BHIM UPI. The app also allows purchasing gift cards, apply for personal loans and credit cards, and checking the credit score. Mobile recharge and utility bill payments can also be done using Samsung Pay. It's a one-stop-shop for all money-related things.
S Pen Features
The S Pen, which is the biggest differentiating factor of the Galaxy Note lineup, features a built-in battery and a gyro. It can be used as a magic remote (similar to LG's smart TVs). The phone can be controlled from a distance, capture images or videos using the S Pen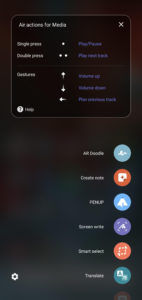 The stylus can also be used to write on the screen, jot down notes, draw, sketch, use handwriting instead of typing, or hovering over certain things to reveal more information without touching the screen. It works really well, be it in terms of accuracy or smoothness, especially if you know uses for it. Here are some of the important S Pen features:
Air Actions: Gestures using the S Pen while the S Pen button is pressed and held. Some stock apps like AR Emoji, AR Doodle, Camera, Clock, Gallery, Samsung Notes, Samsung Internet, and Voice Recorder are compatible with this feature. You can do things like switch between front and rear cameras, take a picture, start and stop video recording, switch between camera modes, zoom in and out in the camera app. Various other Air Actions can be configured for other supported apps. Some third-party apps like Google Chrome and Microsoft PowerPoint also support Air Gestures.
AR Doodle: Draw AR doodles in the camera and see them move in 3D space inside the phone's viewfinder. It's a gimmick that most probably won't be used more than once.
Bixby Vision: Find more information from the web that matches content on the screen.
Coloring: Digital coloring book. It's fun.
Create Note
Glance: Any app can be turned into a mini window which you can refer to while using other apps by hovering over it.
Live Messages: Live doodles.
Magnify: Magnifying on-screen elements like text.
PENUP: Drawing and going through art from other S Pen owners. If you're an artist, you'll love the Live Drawing feature, which essentially shows the complete drawing process from other people in fast forward mode.
Screen Write: Take a screenshot and write on it.
Smart Select: Any content on the screen can be selected (circular, lasso, or rectangular in shape) to doodle on it, share it as an image, extract text from it, save the image, or pin it to the screen. It can also be used to create GIFs
Translate: Select text on the screen or from images and live-translate it to and from other languages.
Write On Calendar: Write or doodle on the stock calendar app and you can see it every time the calendar is opened. I found no use for it, though.
Battery Life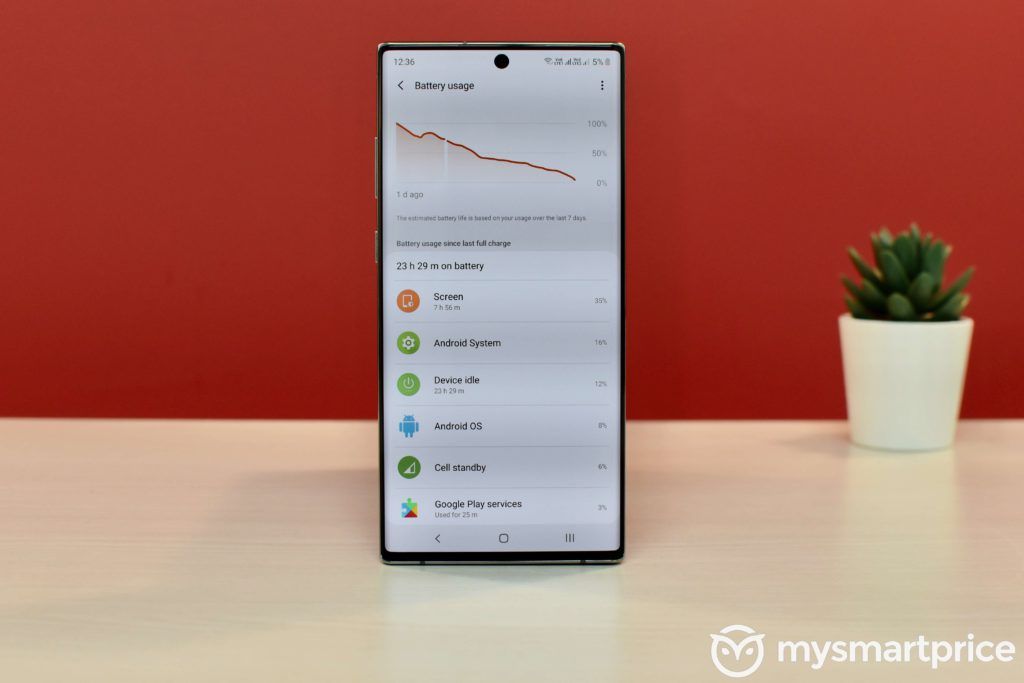 This is the first Galaxy Note in years that offered me a good battery life, thanks to a 4300mAh battery. Plus, thanks to ultra-fast 25W charging, I did not feel much of battery anxiety. The phone supports 15W, 25W, and 45W fast charging over USB Power Delivery protocol. The bundled 25W charger that's supplied with the phone charges the phone from zero to 100 percent in 65 minutes. If you can shell out some extra dough, you can achieve even faster charging with the 45W charger. It's not available in India yet so I couldn't check its performance, but going by various YouTube videos, it should be able to fully charge the Note 10+'s empty battery in a mere 45 minutes. You can buy a third-party charger that supports a maximum power output of 45 watts, but you'll have to make sure that it supports USB PD 3.0 and PPS protocols. The phone also supports up to 15W wireless charging and up to 9W reverse wireless charging.
The phone lasted one whole day on most days, with an average of 5-6 hours of screen-on time. However, when I was traveling, I noticed that the device ran through its battery charge by evening and I had to charge it again. Thankfully, I always carry the charger with me, so a charging top-up of 20 minutes or so was good enough to get through the rest of the day. I use all my phones in the dual-SIM mode, with dual-4G and dual-VoLTE activated. I install dozens of apps, have four email accounts synced with the phone, and continuously browse the web, check my Feedly feeds, reply to Slack messages, and maintain two WhatsApp accounts. I am also an avid Twitter user. Even after such heavy usage pattern, I was surprised to see a Samsung high-end phone last through to the end of the day on most days. However, that doesn't mean that battery life can't be any longer. Phones like the Redmi K20 Pro, OnePlus 7 Pro (on 60Hz refresh rate mode), iPhone XS Max, Huawei P30 Pro, and the ROG Phone II last longer.
Verdict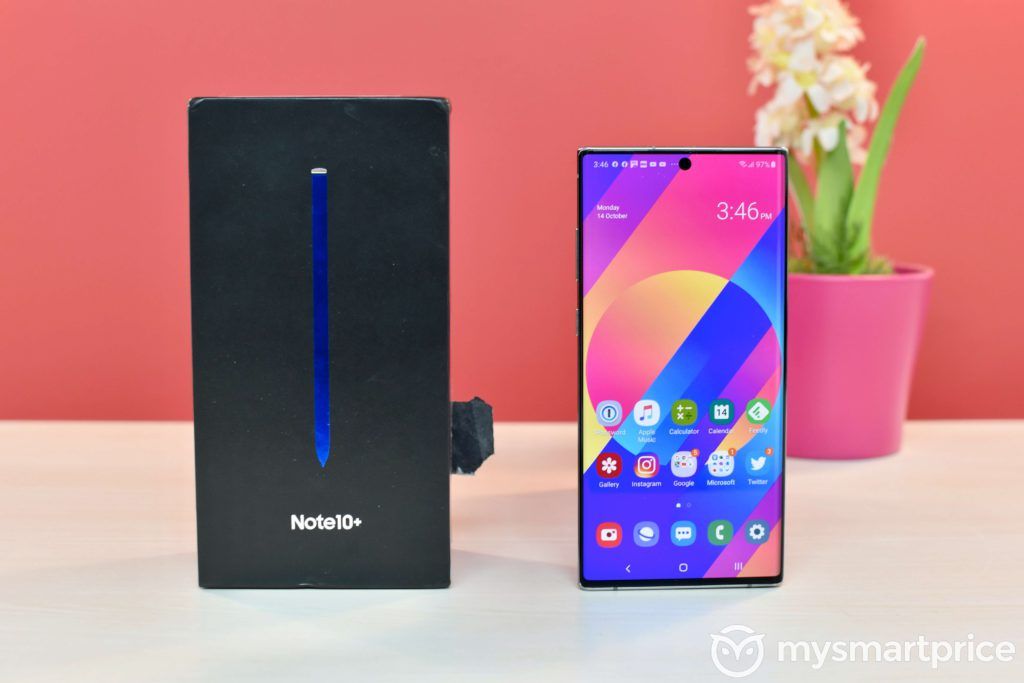 The Galaxy Note 10+ is not only the best Galaxy Note smartphone till now, but it is also 2019's best smartphone overall. It's not perfect, but it comes really close to being one. It looks awesome, is dust and water-resistant, has a class-leading display, a great (and versatile) set of cameras, fast performance, feature-packed software, and ultra-fast charging. Features like Samsung Pay and Secure Folder make the whole experience rich.
Even if you're not an S Pen aficionado, chances are that you'll thoroughly enjoy the Galaxy Note 10+. The only area where the smartphone could've been better is battery life. It's not bad, but it could've made the Galaxy Note 10+ the best smartphone of 2019. It's also expensive and very few people might be able to buy it. At this price, it could very well have had a 90Hz refresh rate screen. At least it is not as insanely pricey as the iPhone 11 Pro series.