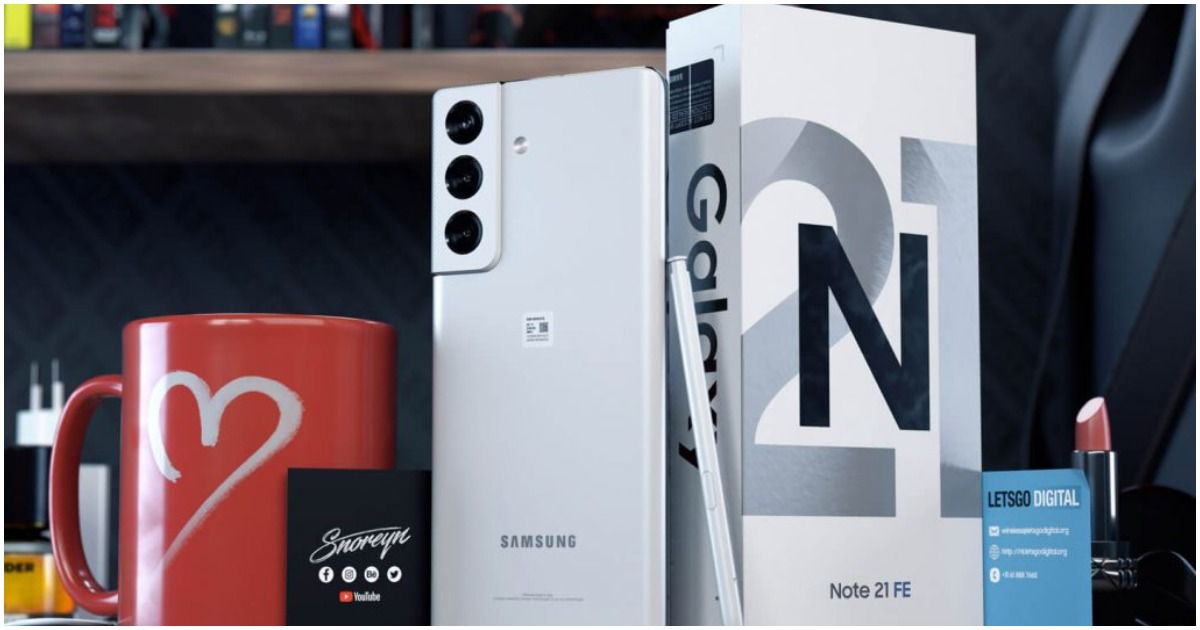 Samsung has been making its flagship Galaxy Note series devices for the last 10 years. These phones do not offer much differences, except the use of Stylus and bigger screen when compared to Samsung's Galaxy S lineup handsets. Due to this, over the past few months, there have been speculations floating out that Samsung will be discontinuing its Galaxy Note series, and it will be replaced by Galaxy Fold lineup. However, these details are yet to be officially confirmed by Samsung itself. Nevertheless these speculations, we now have a first look at the possible Samsung Galaxy Note 21 FE.
Samsung Galaxy Note 21 FE Renders
If we have a recap of the earlier news, the Korean smartphone behemoth Samsung had explicitly denied the reports that the Galaxy Note series has been discontinued. Additionally, the company even confirmed to the Korean News Agency Yonhap that "We are preparing for a Galaxy Note series release for next year." This does one way confirm that we can expect the Galaxy Note lineup to be introduced later this year. LetsGoDigital has now published detailed renders of how a Galaxy Note 21 FE could look like. The publication has combined the design aspect of the Galaxy S21 with the additional design language of the Galaxy Note series and has prepared the possible Galaxy Note 21 FE renders.
If we have a look at these images, we can see that the smartphone might offer three rear-facing cameras at the back and an Infinity-O display design. The retail package also has a reduced size than that of the last year, considering that Samsung might not bundle in a charger and earphones this time. Do take note that these are just mere speculations, and the final design of the phone may vary. Samsung had introduced the Galaxy Note FE back in 2017. Since then, we have not seen a Galaxy Note FE or a lite variant in the Galaxy Note series. Last year in November, Samsung had mentioned the 'Galaxy Note 20 FE' on its Brazilian Samsung site. However, it is was a typing error, as the listing was of the 'Galaxy S20 FE'. Nevertheless, display analyst Ross Young had reported last month that Samsung might launch the Galaxy Note 21 FE.
This does give rise to the hope that customers can expect the launch of the Galaxy Note 21 FE this year. Samsung might choose to implement a flat display with a Full HD + resolution, similar to the Galaxy Note 20 and S21, instead of a curved screen. It is also believed that Samsung might opt for a plastic back this time for the Galaxy Note 21 FE. We can even expect Samsung to bundle in Exynos 2100 5G chipset for the Galaxy Note 21 FE if it has any plans for the launch. In markets like China and the US, we might probably see Samsung making use of a Snapdragon 888 chipset, considering the past launches.