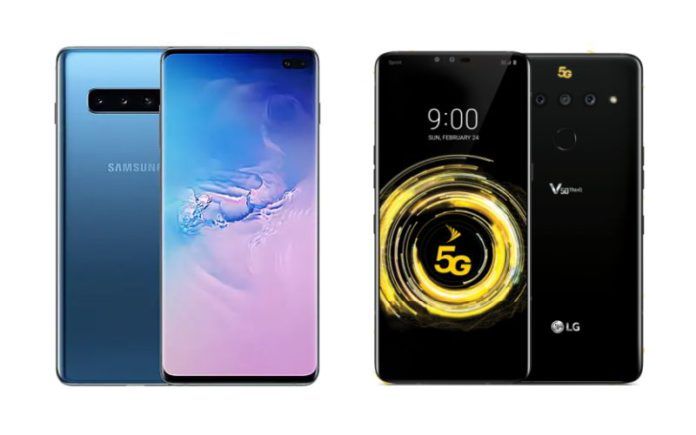 The Galaxy S10 5G from Samsung and the V50 ThinQ 5G from LG will be among the first smartphones to arrive with 5G support built-in. Both phones are slated to debut in Korea in the coming days, leading consumers to wonder which phone is better worth their hard-earned cash. To help make the decision easier, here is a full comparison of both smartphones.
Samsung Galaxy S10 5G vs LG V50 ThinQ 5G: Price in India
Based on its Korean pricing, the Galaxy S10 5G's price should start off around INR 85,000 – INR 90,000. The LG V50 ThinQ 5G, on the other hand, is priced closer to INR 75,000, making it relatively more affordable.
Samsung Galaxy S10 5G vs LG V50 ThinQ 5G: Design, Build
Both the smartphones in this comparison offer glass front and rear panel design that sandwich a metallic frame. Both devices also get an IP68 water and dust resistance rating. They even bear USB Type-C charging ports, 3.5mm headphone jacks, and stereo speaker setups.
As for their differences, we have the Galaxy S10 5G that bears a holepunch dual selfie camera design while the V50 ThinQ 5G adopts a more traditional notch design. Also, the Samsung phone uses Gorilla Glass 6 while the LG device makes use of Gorilla Glass 5. The former even gets an in-display fingerprint sensor, with the latter making use of a rear-mounted one.
With all that said, the LG smartphone gets a MIL-STD-810G rating that ensures the phone can survive a lot more abuse compared to Samsung's offering.
Samsung Galaxy S10 5G vs LG V50 ThinQ 5G: Display
Both Samsung and LG have made use of OLED panels with QHD resolutions on their respective flagships. The difference is with their sizes, where the former's gets a 6.7-inch display while the latter's gets a 6.4-inch screen. With that said, the Galaxy S10 5G gets an edge over its competitor as it offers support for HDR10+ as opposed to the V50 ThinQ 5G's HDR10 support.
While HDR10 uses static metadata that can restrict the range of colors a video can output, HDR10+ uses dynamic metadata which changes on a frame-by-frame basis. This helps tackle the flaw mentioned above and produce a better range of colors.
Samsung Galaxy S10 5G vs LG V50 ThinQ 5G: Performance
The international release of the Galaxy S10 5G will see the same Snapdragon 855 SoC under its hood as the V50 ThinQ 5G. However, some markets (including India) will get the Galaxy device powered by an Exynos 9820 which has proven to be just a bit less capable than its Snapdragon counterpart.
As for storage, the LG phone gets 6GB of RAM, 128 GB of storage, and support for microSD card expansion up to 512GB. The Galaxy phone, on the other hand, gets 8GB of RAM, and the option between 256GB or 512GB of storage. However, this device does not offer further storage expandability.
The Samsung phone also supports Wi-Fi ax connectivity while the LG handset does not. Even though the network hasn't yet been widely adopted, Samsung has future-proofed its S10 Lineup.
Samsung Galaxy S10 5G vs LG V50 ThinQ 5G: Camera
The Galaxy S10 5G comes with a quad rear camera setup comprised of a 12MP (wide) + 12MP (telephoto) + 16MP (ultra-wide) + TOF sensors. On the front, the phone gets a 10MP primary shooter paired with another TOF sensor. Meanwhile, the V50 ThinQ 5G comes with a triple 12MP (standard) + 12MP (telephoto) + 16MP (ultra-wide) rear camera setup, along with an 8MP (standard) + 5MP (wide) dual front camera setup. Both phones offer OIS support on the rear sensor along with the ability to record 4K videos at 60FPS. Since both these flagship devices offer comparable imaging setups, it is difficult to declare a clear winner without a more in-depth analysis.
Samsung Galaxy S10 5G vs LG V50 ThinQ 5G: Battery Life
In the battery department, the Samsung phone takes the clear lead thanks to its 4500mAh battery that gets 25W fast charging over cable and 15W wireless charging, along with reverse wireless charging support. The LG phone is only capable of 18W wired charging and 10W wireless charging for its 4000mAh battery.
Samsung Galaxy S10 5G vs LG V50 ThinQ 5G: Which Is Better?
Overall, the Galaxy S10 5G is a fully-loaded smartphone that has been crammed with all possible features. While some aspects of the two phones are similar, the Samsung handset has a significantly better battery and a superior display. As such, its higher price tag is justified. Then again, if all those features are something you don't need, the LG V50 ThinQ 5G is the next best alternative. From what we gather, the LG phone is also more rugged, making it a better option for those who are likely to expose their phone to harsher conditions.
Thanks for reading till the end of this article. For more such informative and exclusive tech content, like our Facebook page