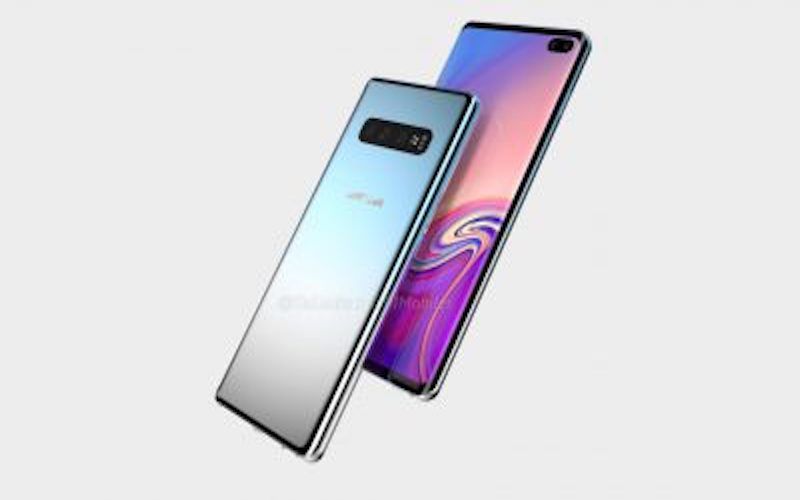 Samsung has filed for three trademarks with the KIPO (Korean Intellectual Property Office) on its home soil. These new trademarks speak of new features that seem to be related to the camera and are called Dynamic Vision, Private Vision and Detect Vision. Each of these monikers alludes to a separate feature that will be coming soon in the near future possibly in Samsung's flagship Galaxy S10 series next year.
The news comes after it was reported yesterday that Samsung had patented a new series/brand name called Rize with three potential devices – Rize10, Rize20, and Rize30.
Samsung 'Vision' Trademarks Seem to be Related to the Camera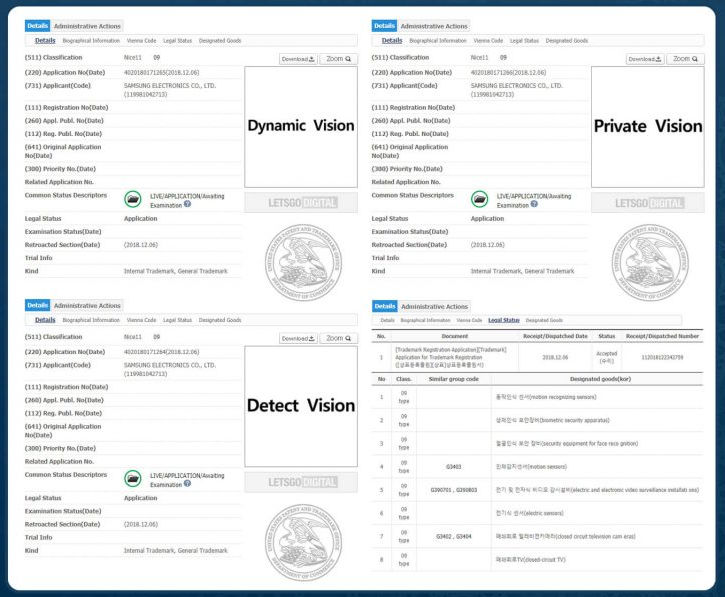 Coming back to the three trademarks—Dynamic Vision, Private Vision, and Detect Vision—from Samsung, the first one seems to be related to video recording at 2000fps, suggests LetsGoDigital. Such blazing fast speeds could potentially help in the 3D mapping of a user's face and hence result in a more secure and fast face unlock method. The Dynamic Vision sensor has already been talked about in 2016 but hasn't appeared anywhere on a device yet. With Samsung's Galaxy S10 largely rumored to feature a 3D face scanner, the Dynamic Vision sensor could be used once and for all.
Private Vision, as the name itself suggests, could have something to do with securing folders or apps or even documents with the user's face. It could be similar to the Secure Folder feature that's already present in existing Samsung smartphones. Again, there's not much detail on the actual applications of the trademark, so take this with a pinch of salt.
Lastly, the Detect Vision feature might be able to detect objects or individuals from the camera, similar to Google Lens. However, Bixby already has a half-baked feature similar to this and it's called Bixby Vision. While all these three have been patented separately, they all seem to be related to the camera and Samsung could just coin a single phrase for these three new features when it announces them.
The Galaxy S10 is also strongly rumored to be rocking the ultra-sonic fingerprint reader that Qualcomm debuted with the Snapdragon 855 SoC a few days ago. The new tech is expected to be much better and accurate compared to the optical sensors that are in use right now. Samsung is expected to go all out with the Galaxy S10 line next year and it could flaunt both these security features in its race to one-up Apple.
Samsung Galaxy S10 Rumored Design, Specifications
Samsung is expected to raise the curtain off its newest Galaxy S series phones at MWC 2019 in February. A recently leaked CAD-based render of the Galaxy S10+ was making rounds everywhere. According to CAD renders, the Galaxy S10+ design won't be much different than the Galaxy A8s that went official yesterday. However, instead of one camera cutout, there is a rounded rectangular cutout for dual-cameras at the front. There have been doubts over the design, but it's the closest we can get to a true design right now. The phone has four cameras at the rear, making it a total of six cameras. Also, there is no visible fingerprint reader which suggests there will be either an in-display fingerprint reader or 3D face unlock or even both, simultaneously.
As for specifications, the Galaxy S10 is speculated to have three variants: a low-end Galaxy S10 Lite model with a 5.8-inch flat display, the Galaxy S10 with a 6.1-inch curved display, and the Galaxy S10+ with a 6.44-inch curved display. All models also differ slightly in their camera setups while a flagship Snapdragon 855/Exynos 9820 chipset will reportedly grace all three models.
Meanwhile, check out the unboxing of the first quad-camera device from Samsung by Mysmartprice right here.