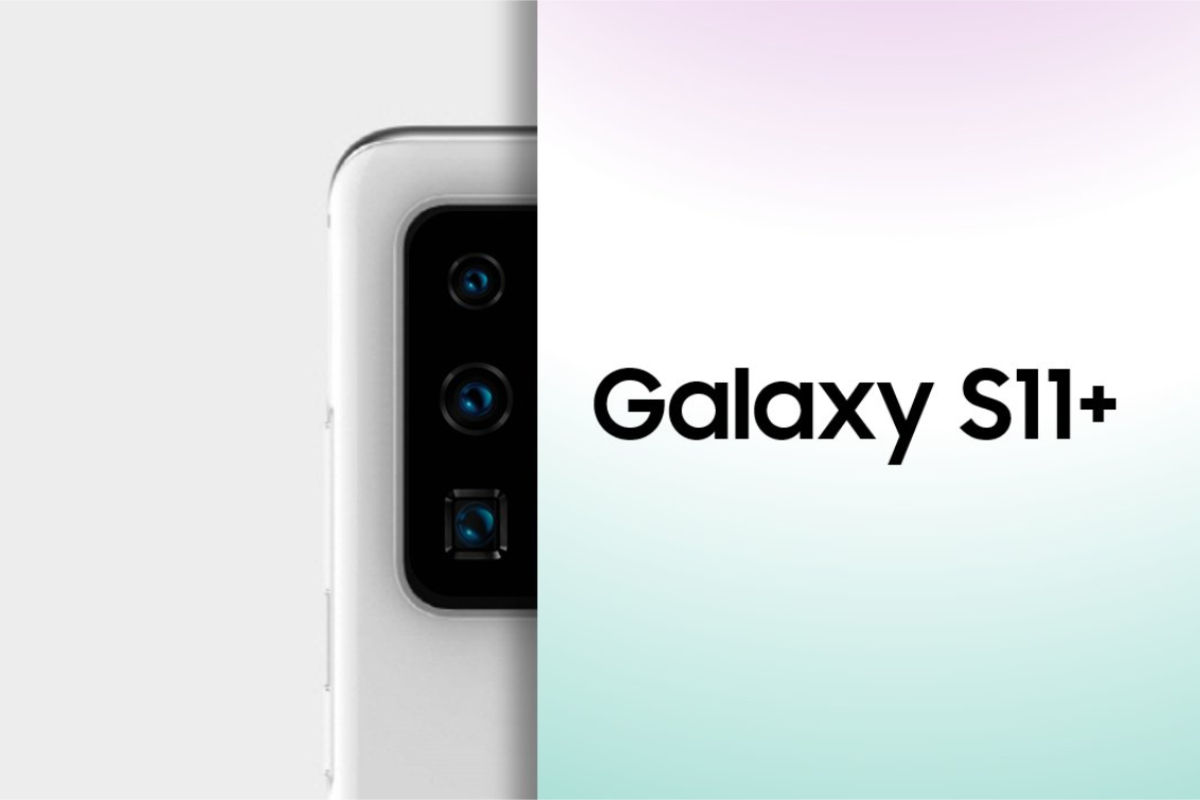 The allegedly upcoming Galaxy S11 smartphones from Samsung are rumored to feature a periscope camera for telephoto imaging. While the S11 handsets have been leaked multiple times so far, none of the leaks has shown the device's periscope sensor. Well, thanks to a popular Twitter account that goes by IceUniverse, we now have an alleged image of the rear camera setup of the Galaxy S11+, which shows its periscope camera module.
The leaked picture reveals that the rear camera setup of the S11+ includes three cameras. While the two cameras have a traditional, circular lens cover, the last camera sensor has a rectangular-shaped lens cover. If you take a look at the periscope camera of the Oppo Reno 10X Zoom and the Huawei Mate 30, the sensors have a rectangular-shaped lens cover. So, the rectangular-shaped camera module in the S11+ is most probably a periscope camera.
Currently, there is no reliable info regarding the zooming capabilities of the periscope camera of the Galaxy S11+. However, recent leaks and rumors suggest that it will have a 5x optical zoom. That is the same amount of zoom that phones like Oppo Reno 10X Zoom, Huawei Mate 30, and Mi Note 10 offer. Currently, no smartphone offers more than 5x optical zoom. So, the upcoming Galaxy S11+ will be in the top charts when it comes to zooming capabilities.
According to IceUniverse, among the other two camera sensors, one is a primary camera and the other is an ultrawide camera. It is worth mentioning that the image does not reveal the camera setup completely. Apart from the three camera sensors that you see in the leaked image, the rear camera setup of the Galaxy S11+ is said to have one more camera unit, and it is expected to be a ToF sensor. However, the specifications of the ToF sensor are unknown at the moment.
The primary camera of the Galaxy S11+ is said to be a 108MP Samsung sensor. If you recall, even the Mi Note 10 from Xiaomi features a 108MP camera from Samsung. However, the 108MP module that will be in the Galaxy S11 is said to be a more advanced unit compared to that in the Mi Note 10. The resolution of the Ultrawide camera is currently unknown. That being said, you can expect the ultrawide sensor to be the same unit that is in the S10 lineup.
A recent leak suggests that the Galaxy S11 line up will make its debut on February 18, 2020. The smartphone series is expected to feature three handsets– the Galaxy S11 Lite, Galaxy S11, and the Galaxy S11+. All three devices are said to offer 5G connectivity to keep in line with other flagship smartphones. Expect the S11 series to feature the Qualcomm Snapdragon 865 SoC. However, in regions like India, the brand might offer devices with Exynos 990 chipset.