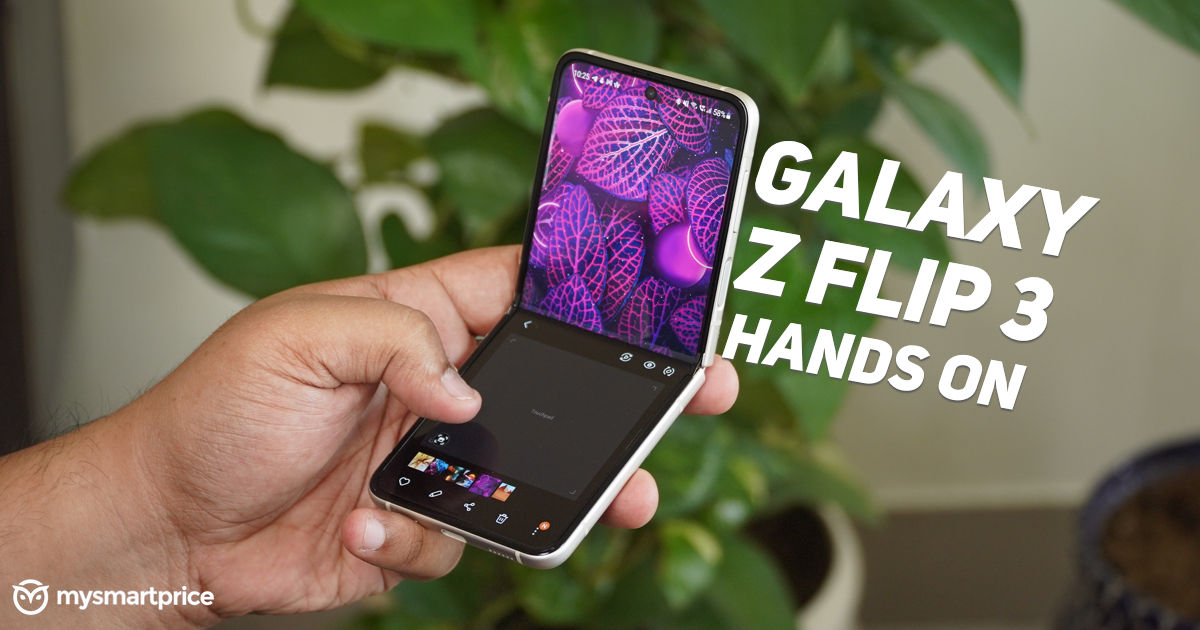 The Samsung Galaxy Z Flip 3, the company's trump card in its mission to put more foldable smartphones inside consumers' pockets.
Instead of doing a first impressions the very next day after receiving the phone, I decided to spend some more time with the Galaxy Z Flip 3. Here I am, five days later. This is not a full review but an ongoing one. One where I wanted to dig into my deeply personal experience of using the phone. Because, the foldable form factor is still a novelty despite the fact that could soon change. I will save the detailed benchmark numbers and comparisons for the full review.
Flip Me Baby One More Time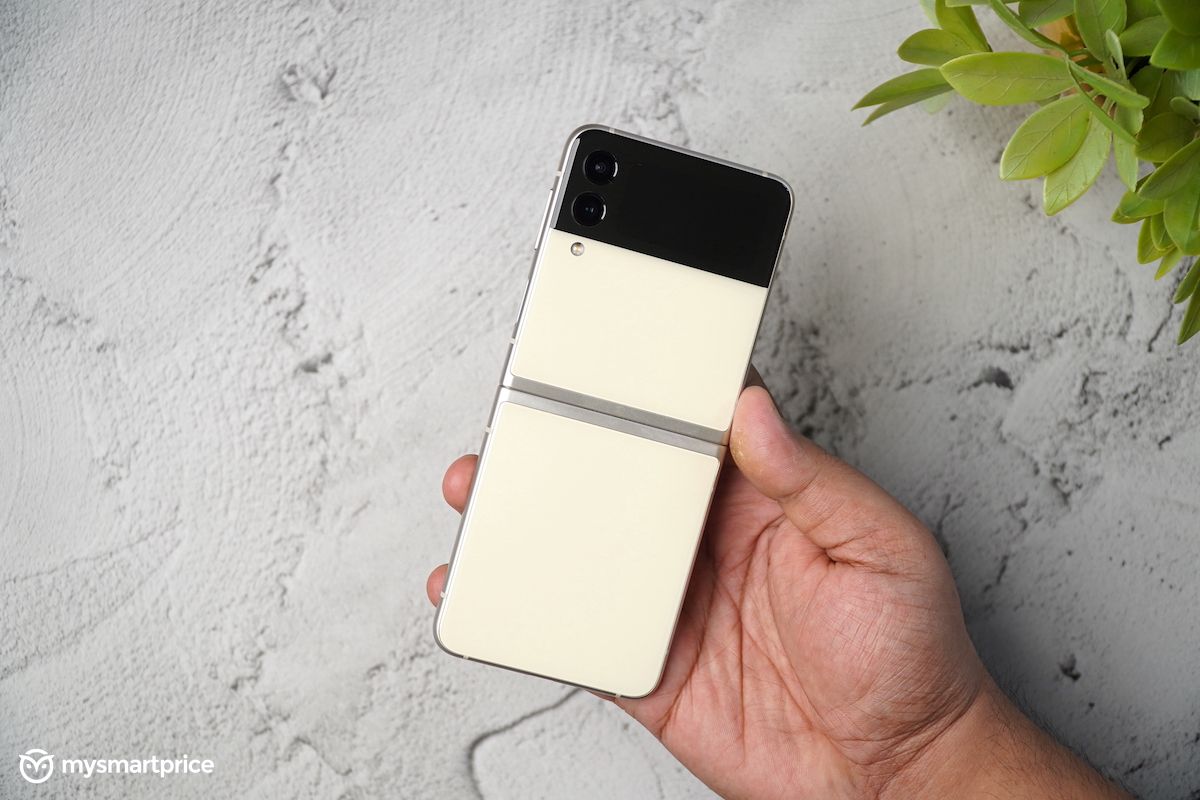 As expected, what you get inside the box is just the phone and a charging cable. You will have to buy a Type-C charging adapter separately. Coming to the phone's design, just like the Fold 3, Samsung has added IPX8 rating for the Flip 3 as well. Now, I can take a folding phone to the bathroom and scroll through reels while sitting on the pot. Oh, don't act so coy. I know you do it too.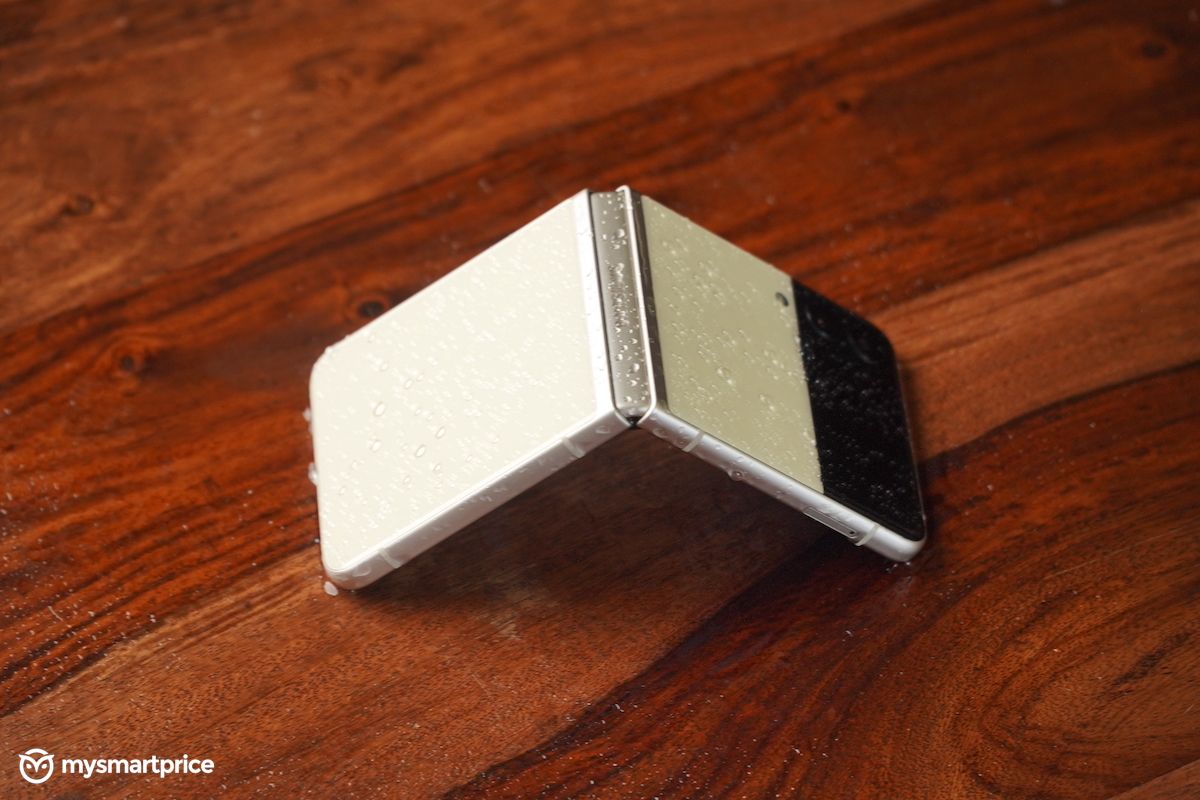 Moving on from that sad attempt at humour, the Z Flip 3 is narrower and thinner compared to the first generation Z Flip. I could immediately sense that it felt far more natural and convenient to hold. Plus, the combination of the sturdy matte aluminum frame and Corning's Gorilla Glass Victus, inspires a lot of confidence in its build quality. I was less worried about the two pieces snapping apart while flipping the phone open with one hand, compared to when I'd used to do that with the original Galaxy Z Flip. That said, there is still some resistance while trying to flip it open with one swift motion.
Anyway, you know what I love about this flip form factor, and something that never gets old, is cutting the call by slamming the phone shut. By the way, by default, the unfold to pick up a call option is switched off. I'd suggest you switch it on. Because, that is pretty convenient too. Also, another thing I did is switch on face unlock on an Android phone after ages. I did this just so the phone unlocks the moment I flip it open. And, it works like a charm! But, so does the side-mounted fingerprint scanner.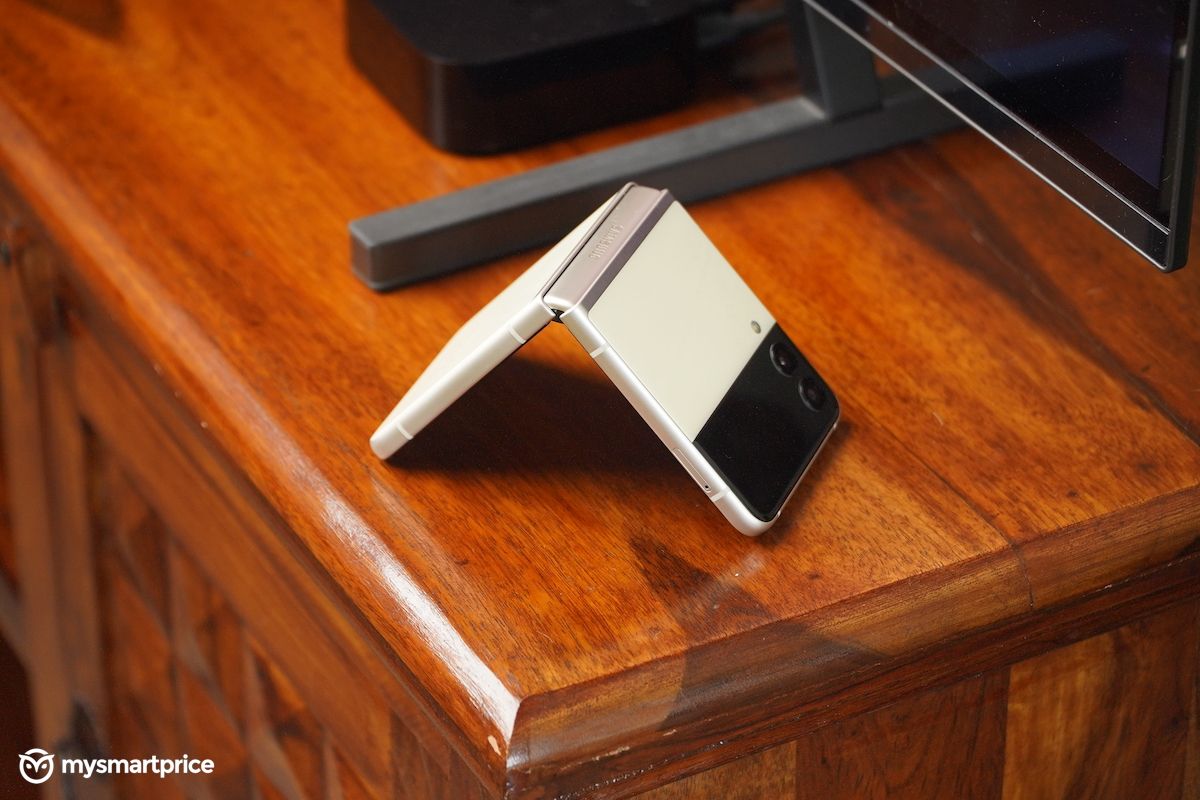 I know there are compromises that you have to live with if you want to use the Z Flip 3, and I will come to those in a bit, but boy is this phone fun to use or what. The flip form factor is to the world of smartphones, what Sehwag was to the game of cricket: entertaining from start to finish.
big.LITTLE Display
The tiny cover display from the Galaxy Z Flip now makes way for a much larger real estate up front. As a result, you can do a lot more with it. The first screen you'll be greeted to is the homescreen with the clock. Swipe right and you will see all the notifications. While you can read the notification on this small display, you cannot really reply from here. You will have to open the phone. In that regard, it is only a passive mode. But, if you are using one of the widgets — by swiping left from the homescreen — you can actually Play/Pause music on your streaming app of choice, record voice, or set a timer. What I did notice was the widgets list was extremely limited and I hope Samsung is opening it up to third party apps soon.
You can also use this cover display to show a preview of the viewfinder to the subject. Or, you know, take a selfie of yourself using some hand gymnastics to grip the phone. Enough about the cover display, what's new on the front panel? Well, it now comes with 120Hz adaptive refresh rate support. Yes, it is obviously cool but there's a downside to it and I will come to that in a bit. By the way the crease is still visible but, honestly, and previous Galaxy Z Flip owners will attest, you won't give a damn about it after a few hours of using it. Also, don't forget that it is still a very tall display. Here's what that means for daily usage:
The vertical height is absolutely godsend for scrolling through Twitter, reading long articles, and the likes. Plus, you have access to a One-handed mode in case you want to make it easier to access the top portion of the display. The only issue I noticed is Instagram stories are strangely showcased in a boxed mode.
But, when you are using the phone horizontally, most video content doesn't scale to the super wide aspect ratio of the Z Flip 3 and you are left with vertical black bars. However, when you are playing a game like COD, the extra real estate is super duper helpful. Ask gamers, they'll tell you why a wide screen gaming experience is super immersive. I had a blast playing on the Galaxy Z Flip 3. By the way, Samsung has now added a stereo speaker setup as well, and the stereo separation feels more pronounced thanks to the increased distance between the left and right speakers.
As for the software tweaks in One UI, you have the option to use split screen or pop-out windows, which can now be forced on any app from the Labs setting. By the way, you can also drag the apps from the Edge panel to open up in pop up or split mode as per your requirement. Then, there's your flex mode for apps. For example, it is rather intuitive to use the touchpad on the bottom to swipe between images in the gallery app. How cool is that?
Camera Setup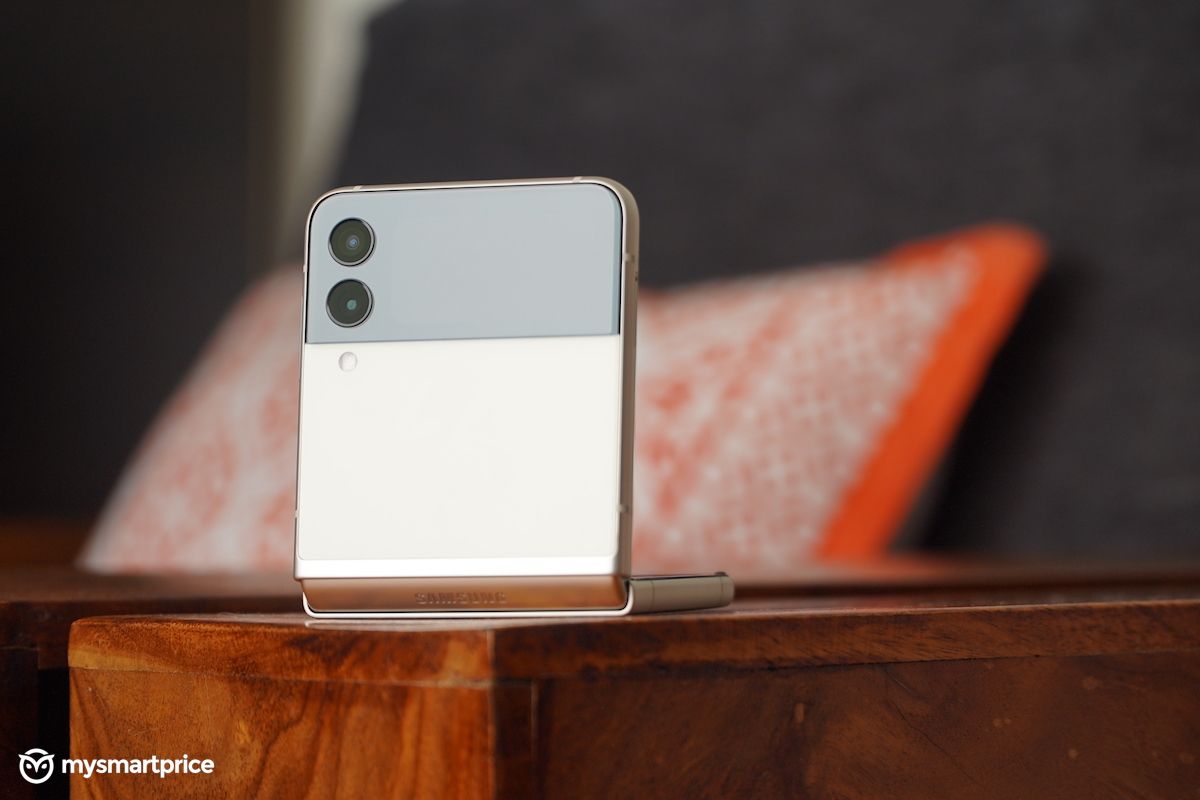 The camera setup is virtually unchanged from the Samsung Galaxy Z Flip. You get the same 12MP primary+12MP ultrawide setup on the rear, with a 10MP selfie camera on the front. Obviously, some form of upgrade would've been nice, but this is what we get. I mean, it is not a bad camera or anything, but you can get better for the same price. I did manage to get some great shots with the phone, though. Just that low light shots look slightly soft. Otherwise, it is still a very capable camera setup.
Galaxy Z Flip 3 Camera Samples
Let's Talk Limitations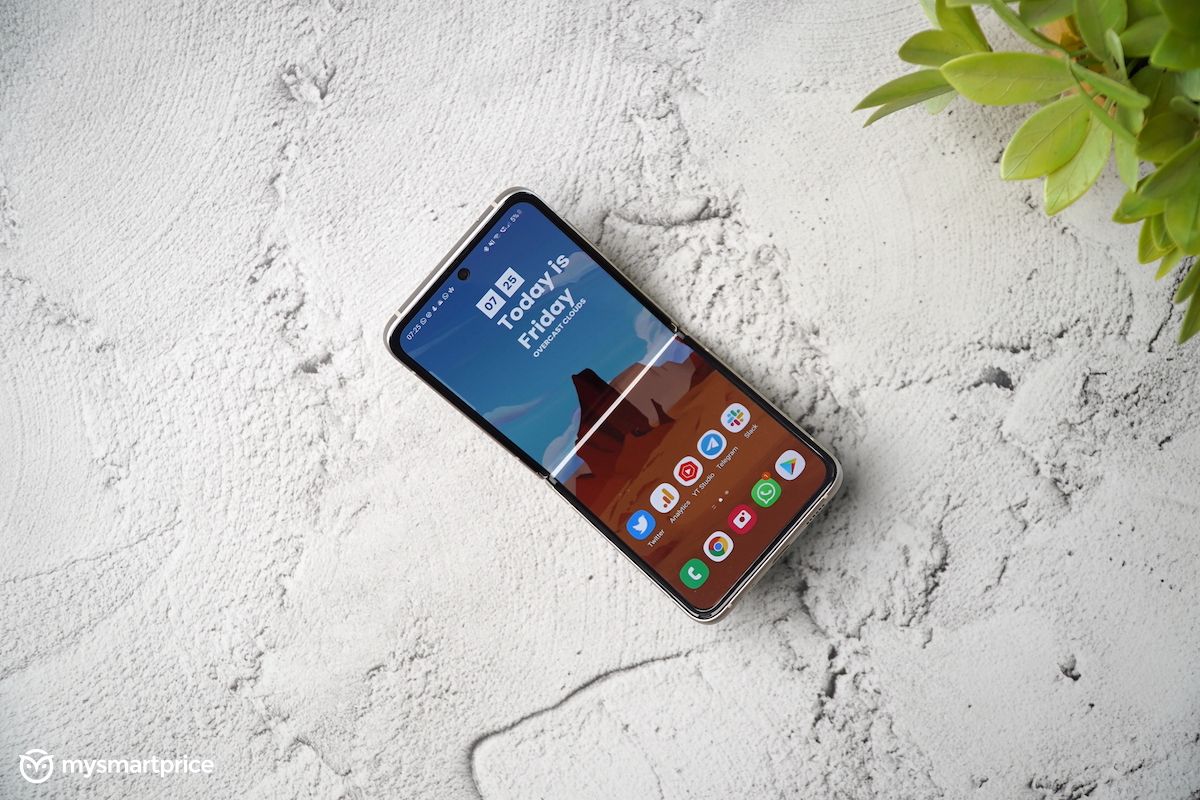 The Galaxy Z Flip 3 has a top-of-the-line Qualcomm Snapdragon 888 SoC. But, when you add that to the 120Hz refresh rate panel, and a tiny 3300mAh split battery, you should not expect good battery life. My initial impressions of the battery performance are not great. Let's see if I can find some tweaks to increase the Screen on Time (SoT) before I do the full review.
But, I would've lived with the heavily truncated battery life provided Samsung had at least given 25W fast charging support, if not higher. Because it does take a long time to charge the battery. Anyway, for what it is worth, you get support for wireless and reverse wireless charging as well.
I was just thinking out loud. Would you rather have Samsung use a Snapdragon 870 SoC and offer slightly better cameras instead? Let me know in the comments below.
Closing Thoughts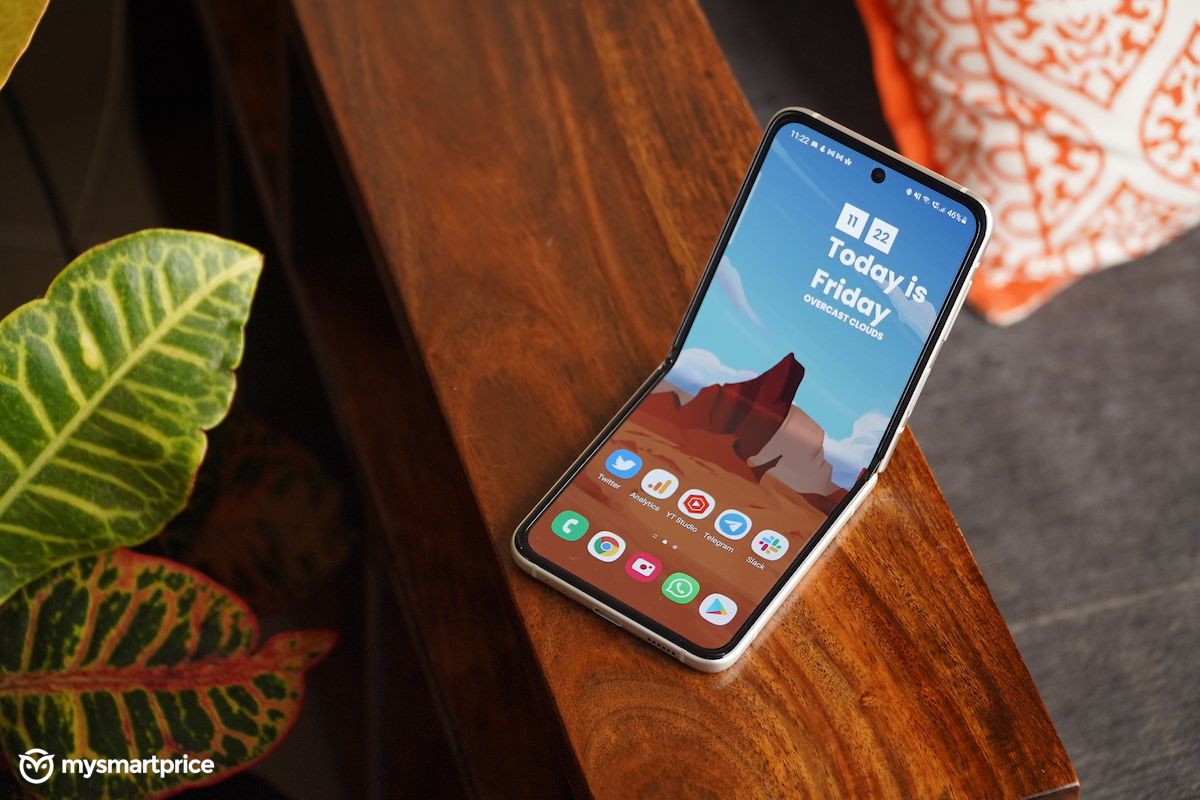 The Galaxy Z Flip 3's biggest trump card is its pricing. I am sure that a lot of folks considering premium Android phones or even an iPhone 12 might now be tempted to pick up the Z Flip 3 with a foldable display instead. And, with the Korean pre-order numbers for the foldable phones looking very strong, I won't be surprised to see more of these phones in the wild. Even in India.
Evidently my initial impressions are positive and I reiterate- the fun quotient of using the Z Flip 3 is just too high. It is higher than the first generation Z Flip because now you can have unbridled fun without having to worry about the structural integrity of this folding design with the added IPX8 rating.
But, you know what? I will come back with comparisons and some added thoughts on how the compromises of this design affects long term use in my full review because that's when I will know if I can live with the shortcomings. So, stay tuned for that.