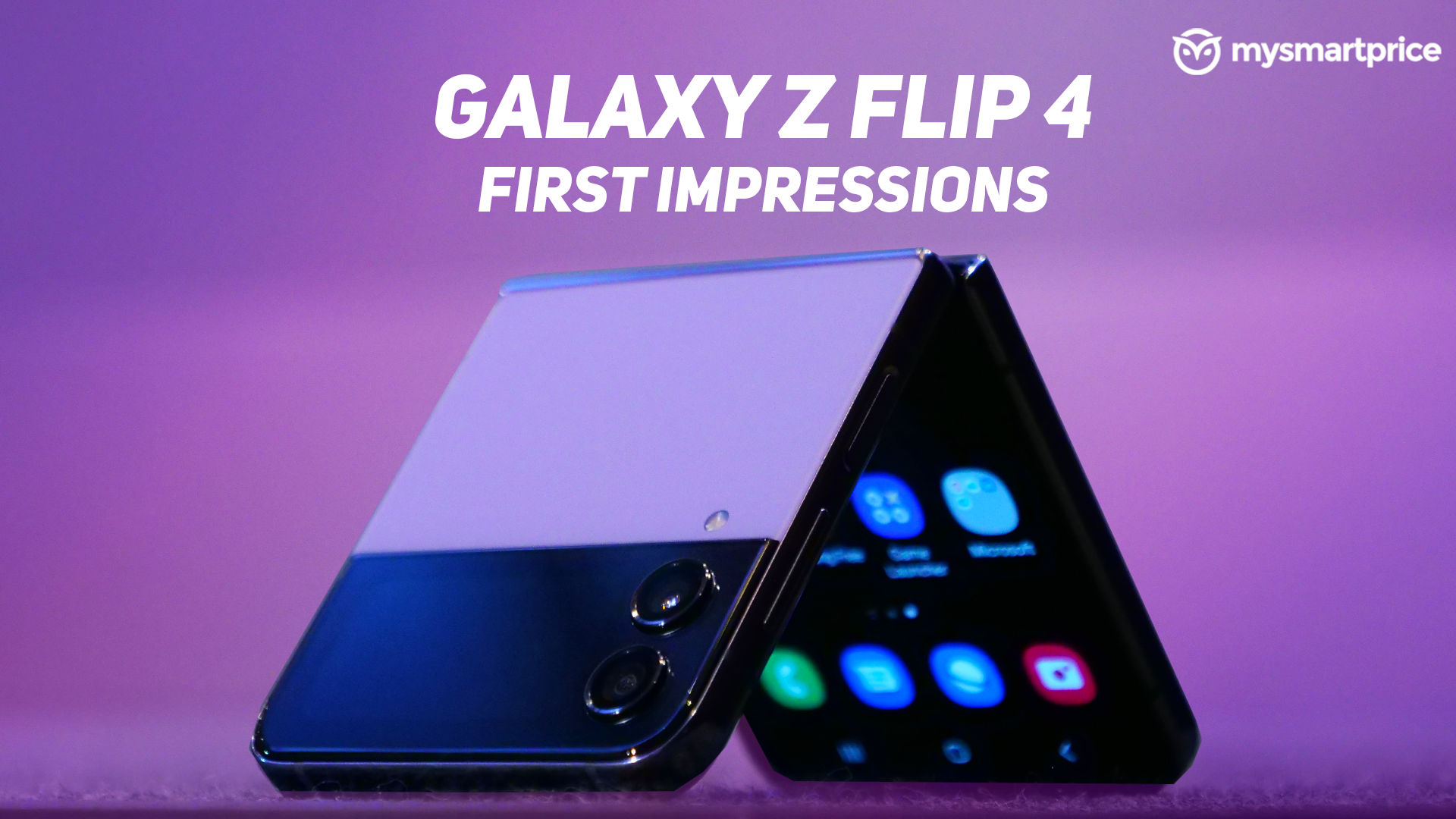 "Flex is greater than flat" – that's how Samsung wants to sell its new chic foldable, the Galaxy Z Flip 4. It hasn't received a massive update cosmetically, but some incremental improvements make it an even more polished product. It was launched alongside the Galaxy Z Fold 4 and shares many of its internal specifications and UI features with its bigger sibling. After spending a night with the Galaxy Z Flip 4, here are our first impressions.
Samsung Galaxy Z Flip 4: The lowdown
The key selling points of the Z Flip 4 are some tweaks in the UI, Nightography camera and the refreshed processor. Powering the Z Flip 4 is the new Qualcomm Snapdragon 8+ Gen 1 processor paired in three storage configurations, 128GB, 256GB and 512GB. The RAM remains constant across the variants. So far, the device has been pretty snappy, even while installing a barrage of apps, staying up for an hour.
Running this hardware is Android 12-based Samsung One UI 4.1. It has a bunch of neat tricks like Flex Mode in the camera, which brings the UI of the app to the lower half of the phone when it is in the semi-folded state. Samsung has also made the notification system on the secondary display a bit more efficient with the Quick Response AI. It essentially helps suggest some quick responses when you receive an email, SMS or instant message. The front display can click photos too.
The camera, although identical in hardware to the previous generation with dual optically stabilised 12-megapixel cameras at the rear and a 10-megapixel selfie shooter, the sensor size at the rear has increased (Samsung hasn't revealed by how much exactly), and it's capable of Nightography, just like S22-series.
There's also a new Haze Glass Finish on the rear, which is a slightly toned-down frosted glass. Design-wise, we couldn't really see much of a difference between this year's and last year's Flips. The outer and inner displays are the same in size, spanning 1.9-inches and 6.7-inch respectively. The change here is a bump in peak brightness, now at 900 nits, and the ability to refresh between 1 and 120 Hz.
The Z Flip 4 gets a bump in battery, and now it has a capacity of 3,700mAh. It still charges with 25W charging, though, and the charger isn't in the box. While we don't mind the latter much, the charging speeds are something we think could have been better at this price, although we haven't put it to the test yet.
There wasn't a major emphasis on durability like the previous generations of the Flips, but Samsung did mention a Bureau Veritas certification for 200,000 folds and unfolds.
Samsung Galaxy Z Flip 4: Initial thoughts
The Galaxy Z Flip 4 seems like a well-rounded, powerful and fashionable smartphone. It's truly one of its kind, and now with even more refined UI, refreshed hardware and better camera chops, we think it will be a great choice for trendy, image-conscious audiences. Sure, there aren't any major cosmetic changes, but we feel it wasn't required because it's already unique. We will soon be testing every single aspect of it in our full review.