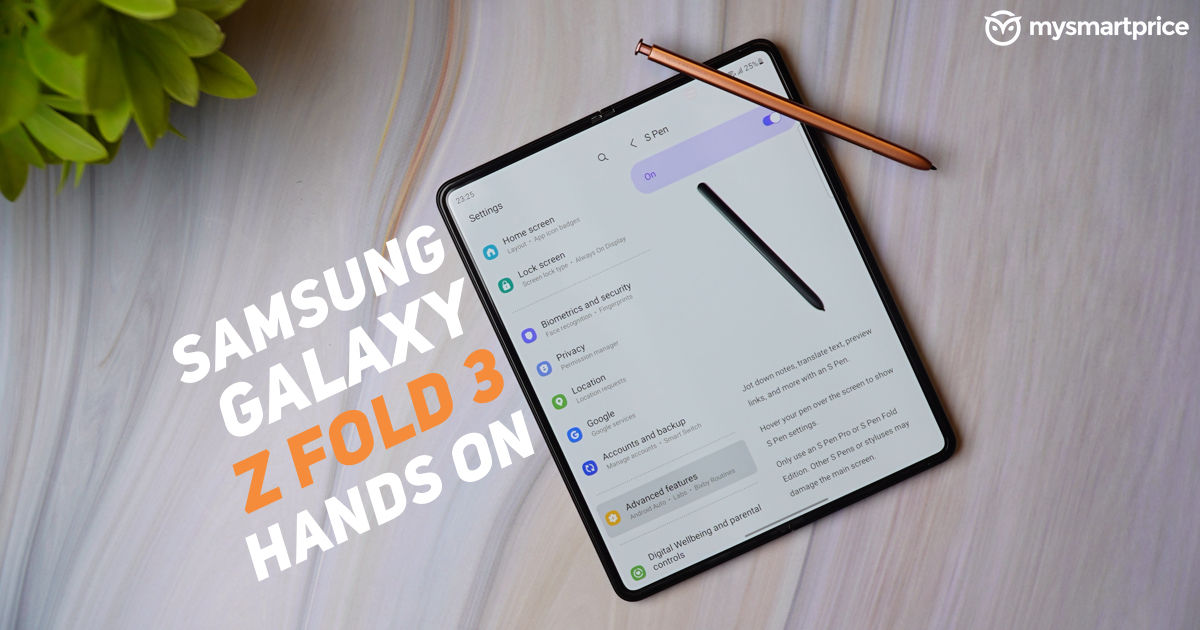 As much as I hate thinking about the fact that we won't get a Galaxy Note series phone this year, it does allow Samsung to have a razor sharp focus on foldables. Their game plan in 2021 is to make foldables more affordable and accessible. The Galaxy Z Flip 3's price is definitely a testament to that fact.
Although, in India, the new Galaxy Z Fold 3 has been launched at the same price as the Galaxy Z Fold 2 last year. But, it comes with a lot of improvements that make it seem more value-for-money compared to the previous generation Fold.
Harder, Better, Stronger, Faster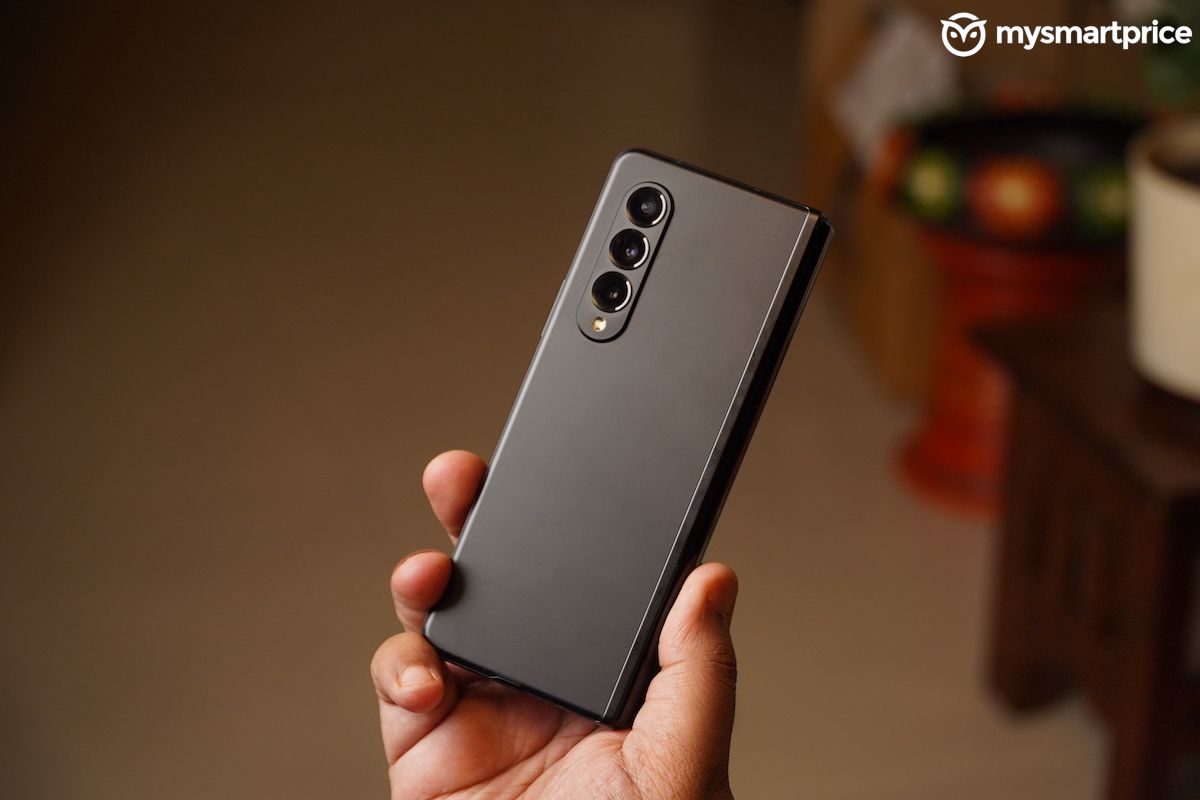 In what seems like a perfect ode to one of my favourite Daft Punk songs, the Galaxy Z Fold 3 is Harder, Better, Stronger, Faster this year. Let me break it down for you.
It is slimmer and lighter than the previous generation Z Fold 2. And, it did indeed feel like the Z Fold 3 had shed a few pounds when I held it in my hand. And, to top it off, you get rounded edges that make it more comfortable to hold and use as well.
Also, Samsung has done the unthinkable. It has managed to get an IPX8 rating for a foldable phone. Trust me, it must've been a huge challenge to engineer for that. This means that the Z Fold 3 can survive a depth of 1.5m under water for up to 30 mins. But yes, you still don't get dust protection and dust can still easily enter through the slit between the fold and Samsung still trusts its micro brush bristles to take care of it.
The frame is now made of Armor aluminium making it 10% more stronger as per Samsung.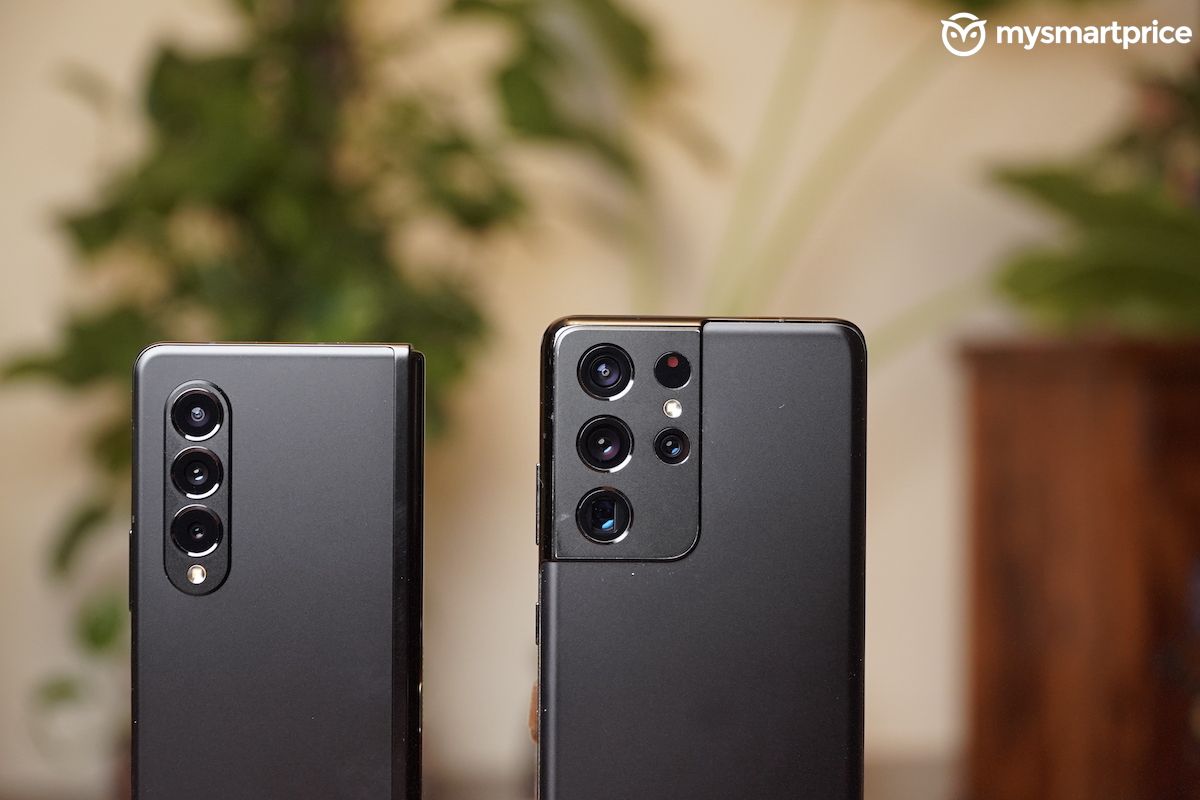 I must say, I do like this Phantom Black colour ever since it was introduced with the Samsung Galaxy S21 Ultra. It looks super stealthy. Plus, the camera module is now vertically-aligned. By the way, the folding and unfolding mechanism, and the sound of the two folding halves clapping against each other still feels, "Oh, so satisfying!"
Refreshingly Fast, Inside and Out
You now get a slightly larger 6.23-inch cover display with an upgraded 120Hz refresh rate, which is the same as the 7.6-inch inner display now. Furthermore, the inner display is now 29% brighter, apparently. But, the most important upgrade is that you get a screen that is 80% more durable than the previous gen fold. Plus, you get Gorilla Glass Victus protection on the front cover display and the rear glass.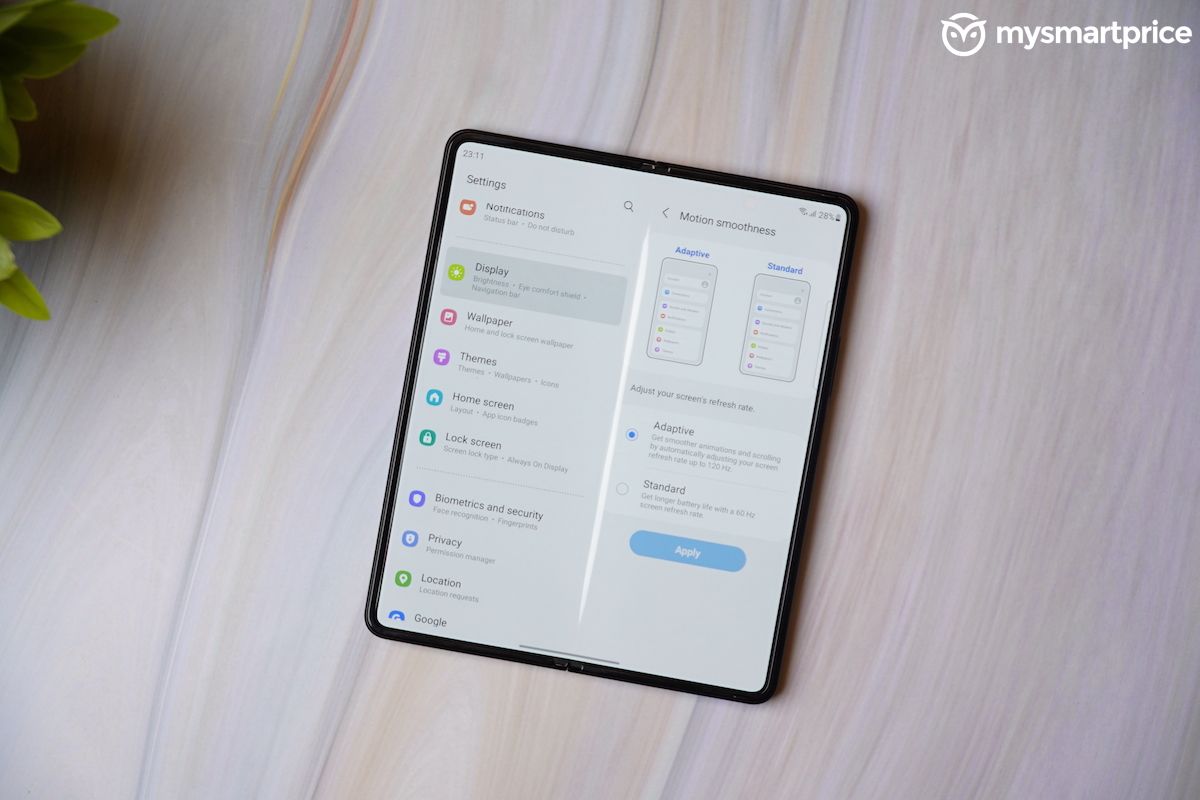 Although, I must mention that the crease is still visible. But, to be entirely honest, you will really not bother about the crease after a couple of days of using the phone.
Look Ma, There is a Camera Under the Display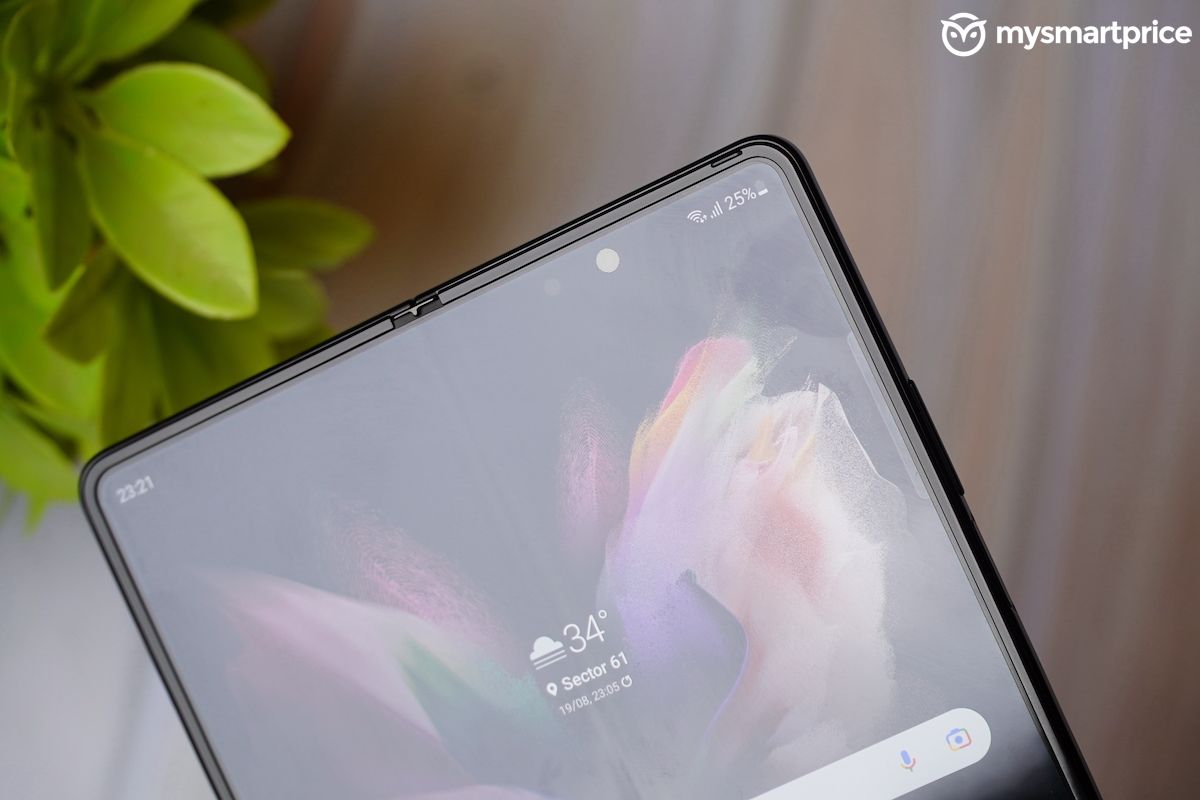 But, Samsung did another really cool thing. It went ahead and integrated a 4MP Under Display Camera or UDC in the inner display. Yes, it is very low resolution but Samsung says that most Fold users only use it for video calls and this much resolution is sufficient. Now, if you are wondering – yes the UDC is visible very clearly on a completely Black and a completely White screen. Does it bother you? It doesn't bother me at all. I don't find it a big deal. Once you start using it, it'll get hidden away in your peripheral vision. Trust me.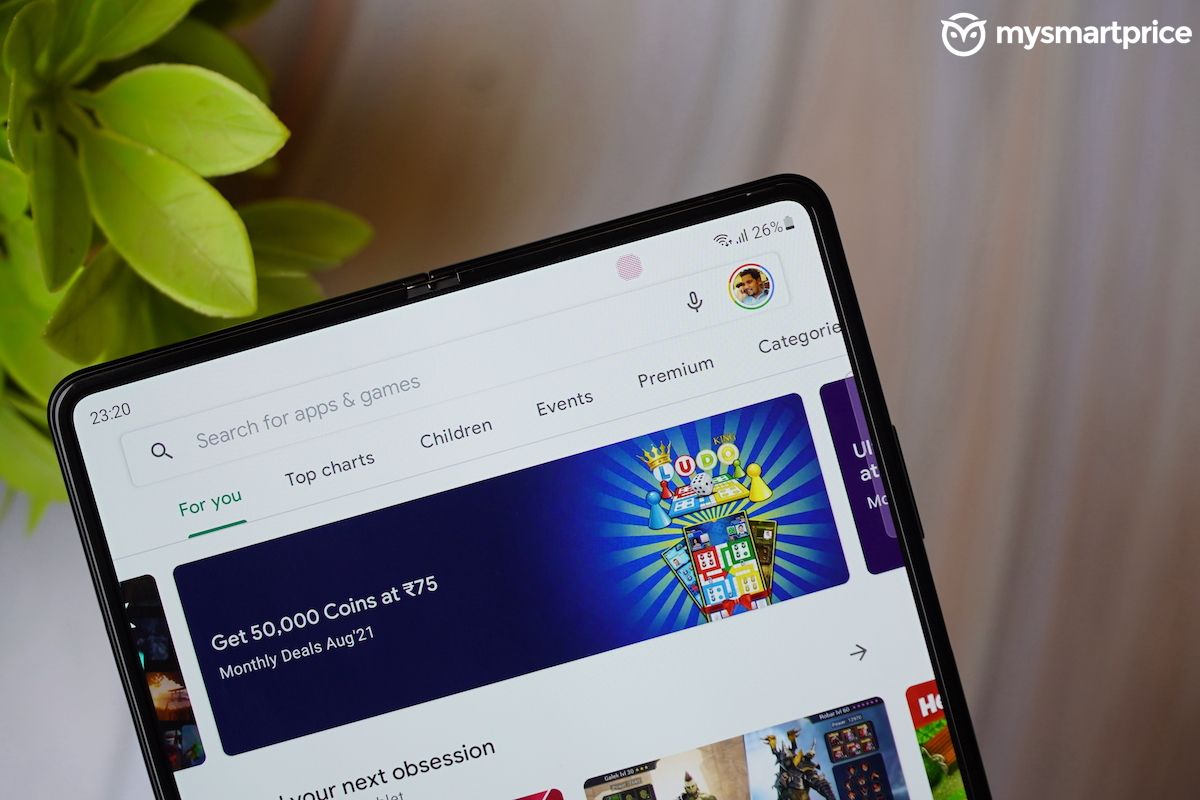 Anyway, I took one selfie each with the UDC, the cover display's selfie camera, and the rear camera; now that you can use the cover display as a viewfinder. You can take a look at the comparison pictures for yourself and see that the quality is not very good.
Anyway, the rest of the camera setup is the same as the Galaxy Z Fold 2. There's no change at all. I don't know if Samsung has made any improvements to the algorithms to take better pictures, but here are a few quick samples for you to see.
Galaxy Z Fold 3 Camera Samples
A Note-worthy Inclusion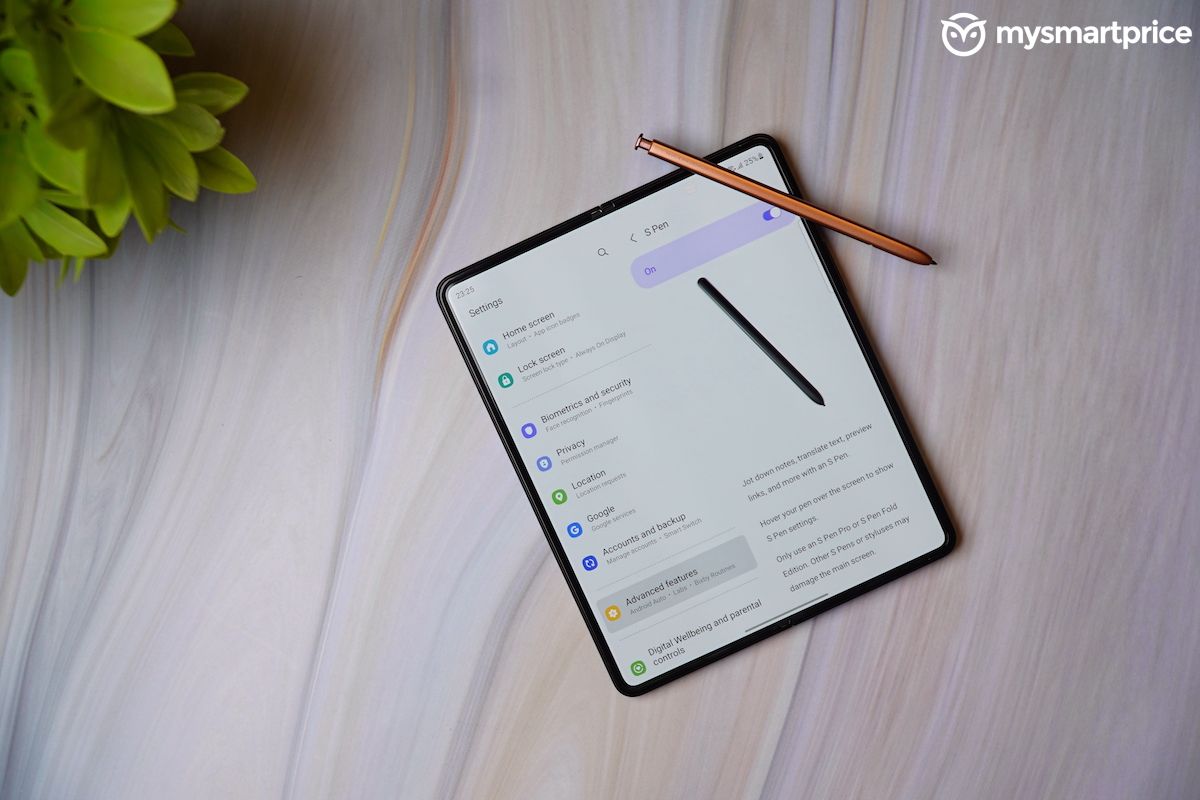 While the Note series is not making a return this year, it has passed on the mantle of being the note taker in the Galaxy family to the Fold 3, this year. Yes, you get S-Pen support on the Z Fold 3 this year but you will have to buy the special S-Pen for the Fold or the S-Pen Pro for it to work. The software gives you a clear warning that using any other S-Pen, for example, the Note 20 Ultra's, will damage the Fold 3's display.
Finally, Software Tweaks Tailor Made for the Foldable Form Factor
Now that I have outlined all the hardware changes, I must say that the software tweaks are what make the Fold 3 particularly exciting this year. I noticed a few interesting new tweaks immediately.
You can now Pin the Edge Panel to the inner display and it stays stuck to every screen, just like Windows' Taskbar. I think I am going to be using the Fold 2 like this for the rest of my review period.
Samsung has worked with a few third-party apps to optimise for the Fold 3. For example, you now get a Flex mode on both YouTube and Chrome. Plus, Chrome offers Desktop like Tabs now. It is so convenient. Basically, the Z Fold 3 is running the tablet version of many apps since Samsung has now upped the DPI to 673.
I really like using the camera app for capturing pictures now because you can immediately see a split screen window for a preview. Pretty handy.
You can also force Multi Window mode for all apps from the Labs page even if they don't have a native option.
There are more such tweaks, which I shall reveal in the full review of the phone. You want one right? Maybe a long term one – 1 month later?
The Rest of the Innards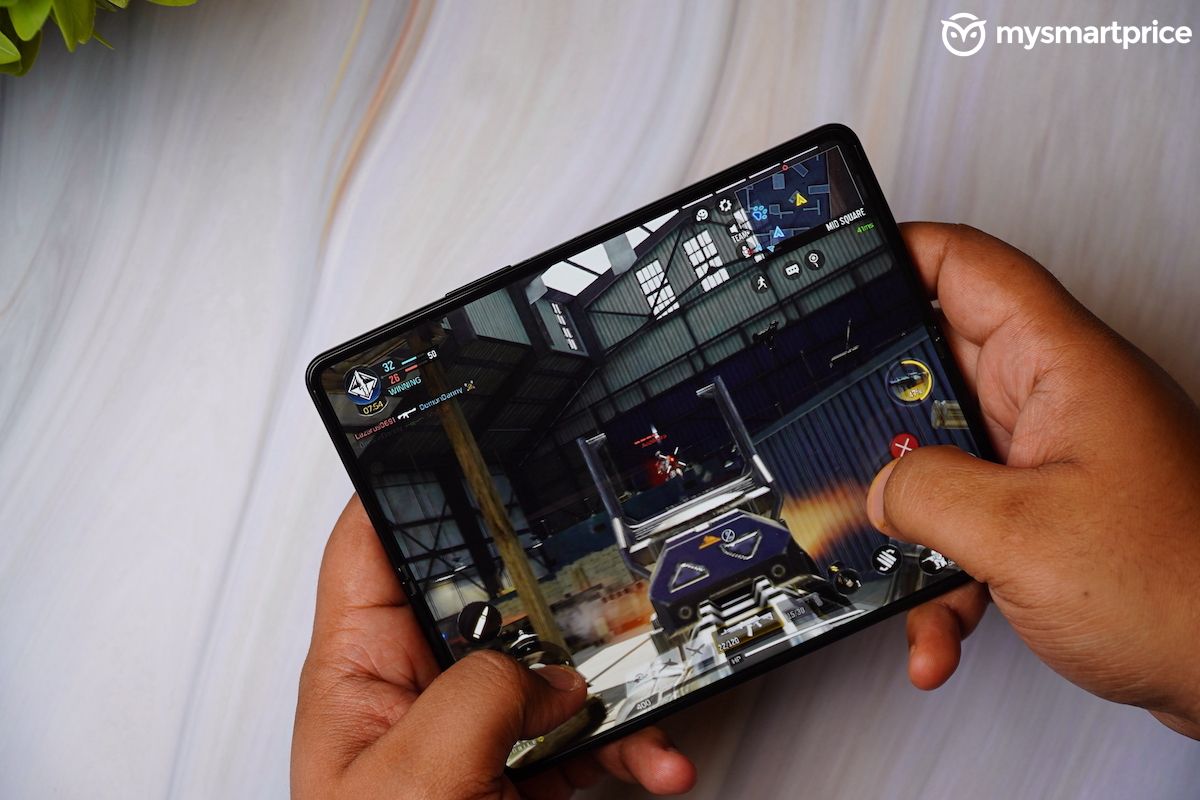 As for what powers the Z Fold 3, you get a Snapdragon 888 SoC with 12GB of RAM and an option to pick between 256GB/512GB of internal storage. I played a couple of games of COD and boy it was so much fun! Unfortunately though, Samsung has reduced the size of the internal battery slightly from 4400mAh from the 4500mAh inside the Galaxy Z Fold 2. I doubt if it will make a huge dent in the battery life but we shall see.
You get support for 25W fast charging, and wireless charging and reverse wireless charging support as well.
Closing Thoughts on the Galaxy Z Fold 3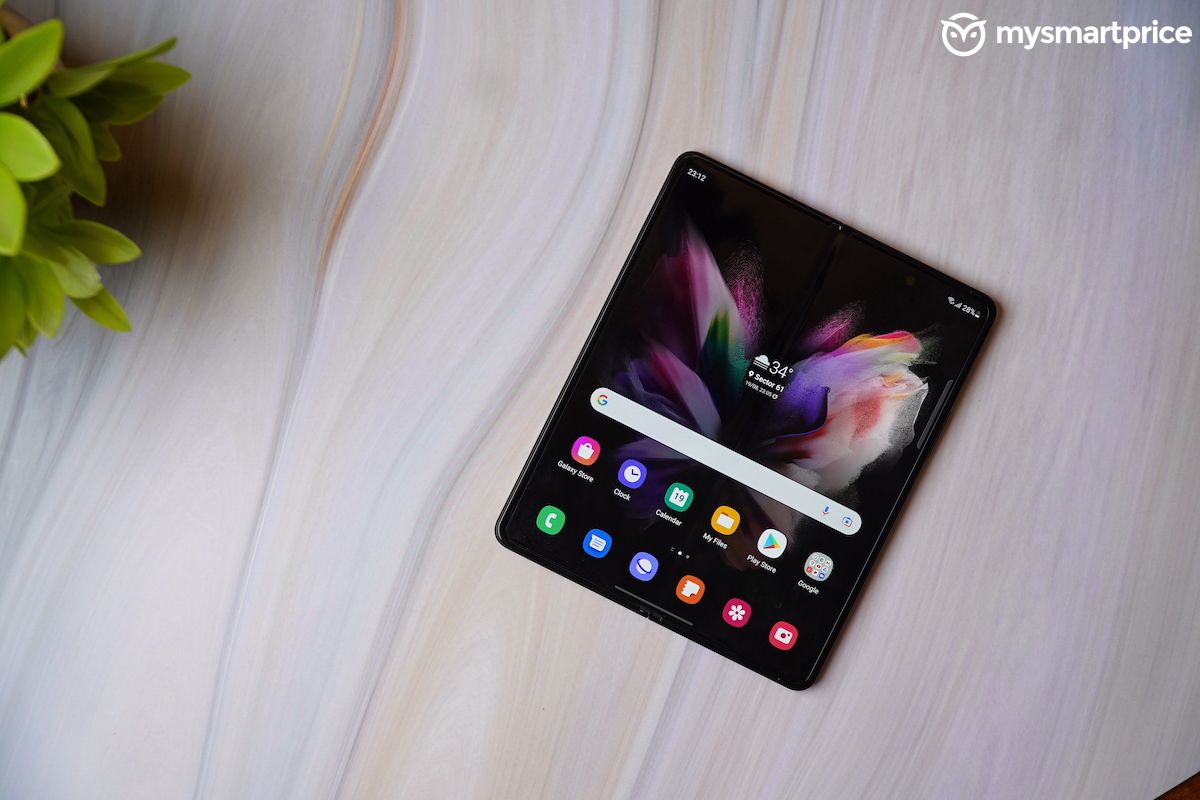 With the Galaxy Z Fold 3, Samsung is going for the jugular. Yes, these refinements might not seem substantial at first but the IPX8 rating and the S-Pen support are huge improvements.
Truth be told, Samsung is legitimately the king of this segment and is building a near-almost unassailable lead every year. I really wish the brand would start working on a rollable device like the excellent OPPO X rollable that I tested earlier this year. In the meantime, I am going back to using the Fold 3 to do an in-depth review for you folks. Share your questions in the comments section below. I will definitely try to get them answered.
Also Read: OPPO X 2021 Rollable Phone Hands-on Review – Feels More Seamless and Intuitive Than a Foldable