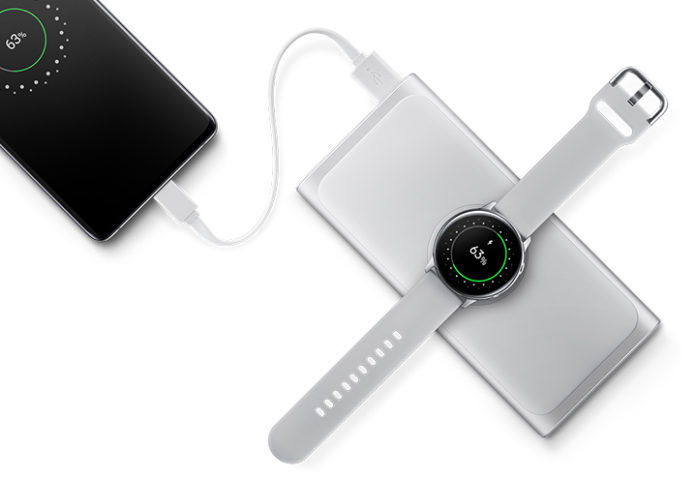 Ahead of CES 2020 and MWC 2020, Samsung's new wireless power bank has hit the FCC certification. The new power bank could be launched alongside the Galaxy S10 Lite and the Galaxy Note 10 Lite in the next few weeks.
FCC certification documents reveal the power bank's model number (EB-U3300). According to the certification and included diagrams of the product, the power bank supports up to 25W power input and up to 25W power output. The power bank also features wireless charging so you can charge a compatible smartphone, smartwatch, or wireless earphones.
The Samsung EB-U3300 supports wireless charging in three modes: 2.5W, 5W, and 7.5W. Curiously, the company hasn't added support for 15W fast wireless charging, which is supported by all Galaxy Note 10 series of smartphones. Going by the numbers printed on the wireless charging power bank, it seems to feature only 5000mAh (5Ah or 38.5Whr @ 7.7V) battery capacity, which is too less for 2019 standards.
Samsung 25W Power Bank With Wireless Charging (EB-U3300) Gets SafetyKorea Certification
The upcoming power bank has been certified by SafetyKorea as well, and the certification agency has also uploaded an image of the power bank. As you can see in the image, it has two USB Type-C ports, a power button, and status LED lights. The colour of the power bank seems to be dark grey.
This power bank will be compatible with all Samsung smartphones in the Galaxy S and the Galaxy Note series released after 2014. It might also be compatible with the Galaxy Buds, Galaxy Buds+ (which will be released in the next few months), Galaxy Watch, Galaxy Watch Active, Galaxy Watch Active 2, Gear S2, and the Gear S3.
Samsung is expected to announce the Galaxy S11e, Galaxy S11, Galaxy S11 Plus, and the Galaxy Fold 2 during its pre-MWC 2020 Galaxy UNPACKED event in New York. The upcoming power bank would be compatible with those smartphones as well.