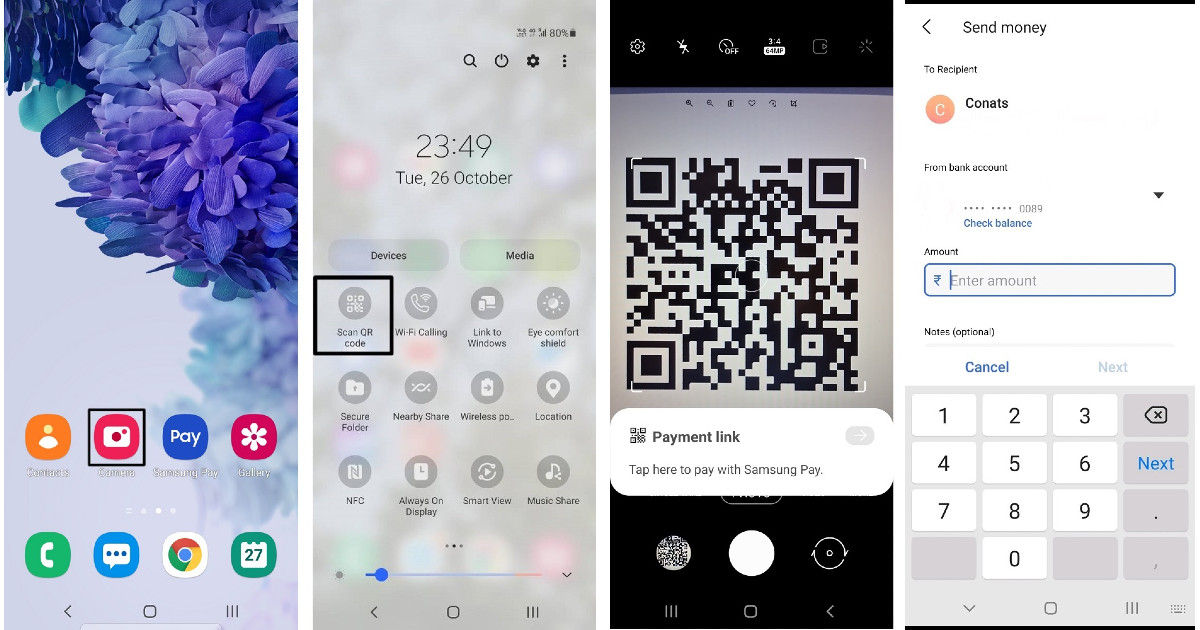 Samsung India has announced the introduction of a new, Scan QR feature, which will reside in the drop down quick actions panel from the notifications centre. Using this feature, users can make payments for their purchases at offline stores by using their cards and accounts linked to Samsung Pay. The move is likely aimed at increasing adoption of Samsung Pay in India, where UPI payment apps presently rule the roost in terms of the digital payments industry of India.
How to make payments via Samsung Scan QR feature
To make payments via the new Scan QR feature, users with eligible Samsung phones will need to wait for a corresponding software update on their phones. Once the update is rolled out, the 'Scan QR' feature should appear on their phones. The feature should be present by default in the quick actions drop-down menu, which can be accessed by sliding down from the notifications menu.
To make payments, tap on the Scan QR button, and point towards a corresponding, valid QR code.
The camera will then recognise the payment link, and ask users to make a payment by using Samsung Pay.
If Samsung Pay isn't set up already, users will be redirected to the app with onscreen instructions.
Once your account is registered, simply fill your card's verification details, or enter your UPI PIN and make a payment.
List of eligible devices for Scan QR
Thankfully, Samsung has included most of its smartphones in the list of eligible devices to get the feature. The list covers smartphones from the foldable Galaxy Z series, the flagship S series, the Note series, as well as Galaxy M, A and F series. The full list of phones are as below:
Galaxy A22
Galaxy A30s
Galaxy A31
Galaxy A32
Galaxy A50
Galaxy A51
Galaxy A52
Galaxy A52s 5G
Galaxy A70
Galaxy A72
Galaxy F22
Galaxy F41
Galaxy F62
Galaxy Z Fold2 5G
Galaxy Z Fold3 5G
Galaxy M21
Galaxy M21 2021
Galaxy M30s
Galaxy M31
Galaxy M32
Galaxy M42 5G
Galaxy M52 5G
Galaxy Note 10
Galaxy Note 10 Lite
Galaxy Note 10+
Galaxy Note 20
Galaxy Note 20 Ultra 5G
Galaxy S10
Galaxy S10+
Galaxy S10e
Galaxy S20
Galaxy S20 FE
Galaxy S20 Ultra 5G
Galaxy S20+
Galaxy S20FE 5G
Galaxy S21+ 5G
Galaxy Z Flip
Galaxy Z Flip 3