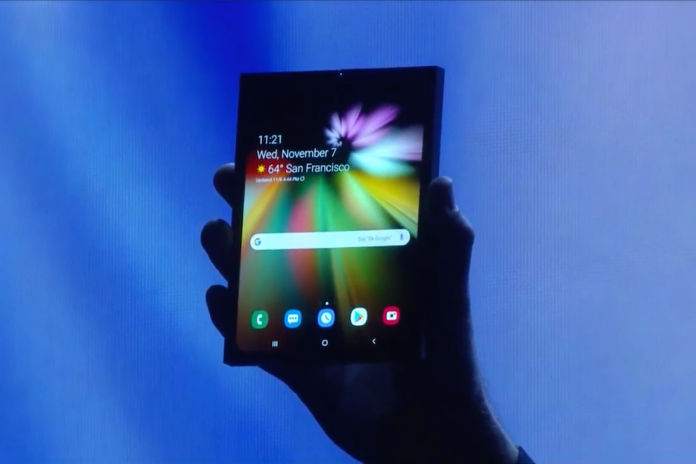 After months of speculation, Samsung has finally offered a glimpse at what the world has been waiting for. During its SDC 2018 keynote, which has just wrapped up, Samsung revealed its foldable display the company is calling Infinity Flex Display.
Samsung didn't show off an actual device using the display, much to many people's surprise who were expecting the company to use the developer conference to launch the Galaxy X. Instead, it showed just the panel that will form the core of a foldable smartphone. The Infinity Flex Display was shown as part of an engineering prototype given the developer-centric theme of the conference as opposed to a product release.
Samsung Infinity Flex Display
In fact, Samsung was so conscious that the thick-looking prototype would be mistaken for an actual product that Justin Denison, Samsung's SVP of Mobile Product Marketing, iterated to attendees at the conference that what he was showing off isn't the foldable smartphone. The design of the actual product has been obscured because Samsung isn't ready or perhaps doesn't want to reveal its foldable smartphone at this point.
Regardless if this is a prototype or not, what matters is that Samsung has finally unveiled and showcased what the company has been talking about for so long. It has shown the world that a foldable display is not only possible but is at the center of its development focus and will form the basis of a foldable smartphone in the future. To create this new display, Samsung is using a flexible OLED panel which has a 45% thinner polarizer.  The approach is consistent with various leaks and renders that have circulated the internet in recent months with an external display on the rear of the device that will enable it to be used as a regular smartphone when folded and an internal display that doubles as a tablet.
Not just a foldable device
Samsung is targetting being able to utilize all three displays at once to provide a continuous experience between smartphone and tablet mode. Using a feature called multi-active window, Samsung will enable users to run three apps simultaneously. Samsung is calling the technology that enables the flexible display Infinity Flex, but this is not what the final foldable smartphone will be called. The display will offer an experience that enables a user to use the smartphone as it would a standard candy-bar with a yet-to-be-announced sized screen. If a user wants something a little bigger then they can go ahead and flip open the smartphone to reveal the Infinity Flex Display and a larger screen for a tablet-like experience.
While the company showcased the product and Denison stated the Infinity Flex Display will enter mass production in a "matter of months", there was no suggestion as to when we can expect to see the technology make it onto an actual device. It could be that we'll need to wait until the next Unpacked event before we see any sign of a foldable device from Samsung. You can be sure that when a device with a foldable display does eventually make it to market that it will be very expensive given the new technology and three displays.