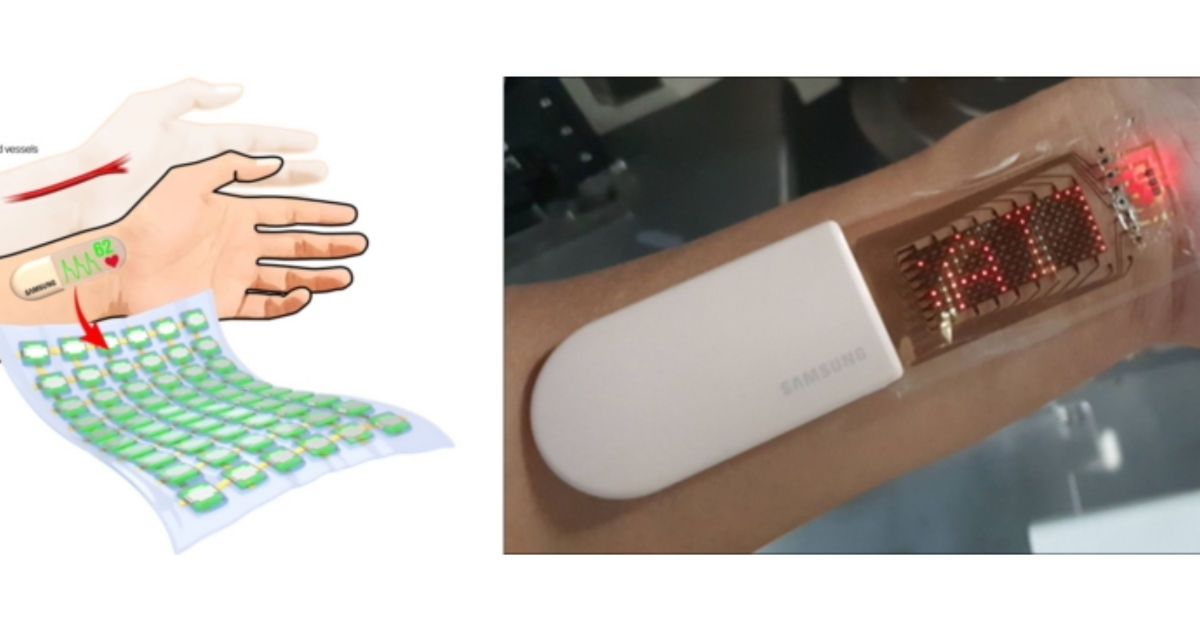 The demand for smartwatches and fitness bands has been on the rise in India and other parts of the world. A reason for the demand, other than the fitness tracking, could be having access to important alerts and notifications on your wrist. However, there can be times when these wearables feel clunky or heavy when strapped around the wrist. Samsung wants to change this. The company has announced its breakthrough flexible display technology called stretchable electronic skin. Researchers at the Samsung Advanced Institute of Technology (SAIT) have developed a stretchable OLED display that can be attached to the wrist. It is capable to display fitness tracking information to users. Let's take a look at more details on the Samsung Stretchable OLED Skin Patch.
Samsung teases the future of wearable fitness tracking devices
Samsung has announced a stretchable OLED skin patch that works as a fitness tracker. The patch, according to the company, feels like a part of the skin. Samsung's SAIT R&D team was able to integrate a stretchable organic LED (OLED) display and a photoplethysmography (PPG) sensor in a single device. It can measure and display the user's heart rate in real-time, thus creating the 'stretchable electronic skin' form factor.
The company claims that its new OLED Skin Display can stretch by up to 30 per cent. It modified the composition and structure of elastomer, a polymer compound with high elasticity and resilience, and used existing semiconductor manufacturing processes to apply it to the substrates of stretchable OLED displays and optical blood-flow sensors. 
The SAIT team attached it to the inner wrist near the radial artery to test its durability. It resulted in confirming that the wrist movement did not cause any deterioration. The company further claims that this industry-first tech can work even after 1,000 stretches.
Samsung plans to make this technology commercially available in the future. "Our research is still in the early stages, but our goal is to realise and commercialise stretchable devices by increasing system resolution, stretchability, and measurement accuracy to a level that makes mass production possible," principal researcher Jong Won Chung, co-first author of the paper, said. 
Thanks for reading till the end of this article. For more such informative and exclusive tech content, head over to our Facebook page and hit the Like button.