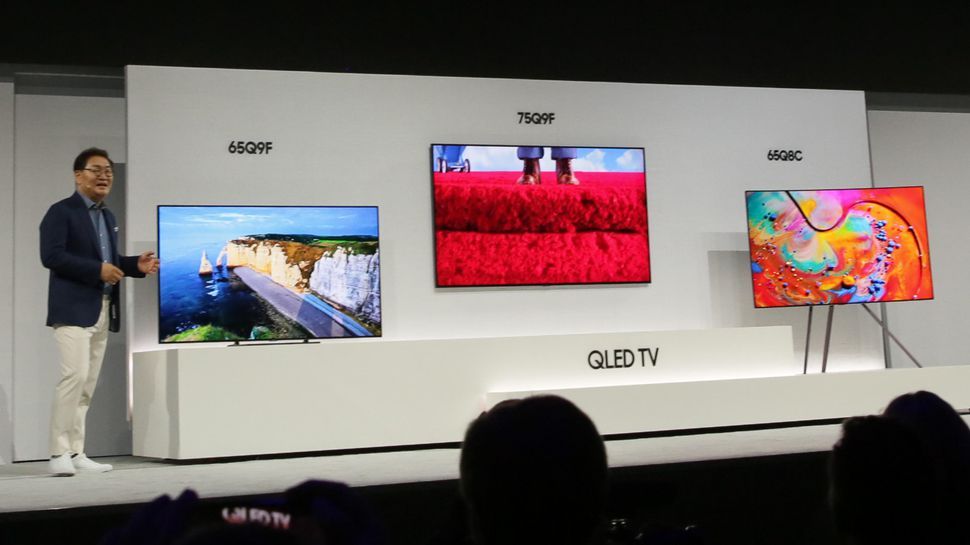 Samsung is reportedly offering an interesting feature in its upcoming premium, high-end Smart LED TVs. The televisions, expected to debut at CES 2019, could remotely access and control apps installed on PCs, laptops, and smartphones. In other words, the latest Samsung TVs can effectively transform into a working computer by simply attaching a keyboard and mouse.
Samsung, along with several other companies, is readying some amazing products and technologies to showcase at the upcoming CES 2019. The mega trade-show will take place in Las Vegas starting on January 8, 2019. Samsung could easily have one of the largest booths at the event with multiple sections. However, among the several new products across a diverse set of categories, Samsung smartphones and Samsung TVs would surely be the most popular categories. We at MSP Gear have been closely following up on the rumors and reports about the upcoming Samsung premium TVs. Also, we had recently reported about the company planning to open up access to Google Assistant to work along with its own Bixby.
Samsung Smart TVs Models For 2019 To Come With 'Remote Access' Feature
Starting next year, Samsung Smart TVs will come with the power to control and display compatible apps installed on the users' PC, laptop or smartphone. They will ship pre-loaded with a new feature called "Remote Access". Needless to add, the feature will allow users to remotely access their other devices through a wireless connection.
The Remote Access feature on Samsung Smart TVs will have broadly three connection bridges. The laptops and smartphones will be able to connect through wireless networking or WiFi network. Desktops and workstations could connect through a dedicated IP network. Remotely located PCs or desktops could connect with a Samsung Smart TV through VMWare or through a simple cloud network.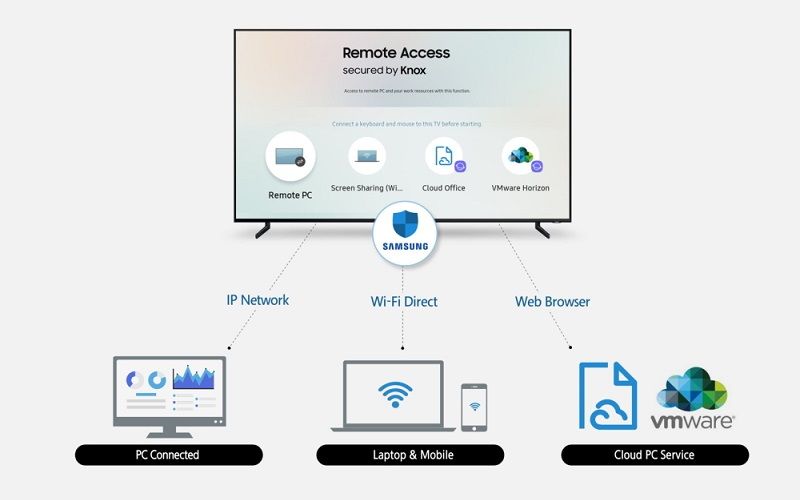 Once the TV establishes a secure connection, users would simply need to hook up a keyboard and a mouse to the Samsung Smart TV. This would effectively transform the Samsung TV into a remote terminal. In other words, the television set would be able to perform like a full-fledged PC. Some user case scenarios include playing games on the bigger Samsung Smart TV, accessing work related files directly on the TV without needing to touch the PC or the laptop, etc.
Speaking about the exciting new feature on the Samsung Smart TVs starting from 2019, Hyogun Lee, Samsung Electronics' Executive Vice President of Visual Display Business, said. "Samsung is committed to creating an intuitive and convenient user experience for consumers. With Remote Access, consumers will be able to easily access various programs, apps and cloud services installed on multiple connected devices directly through their TV screen. We will continue to collaborate with our partners to expand the compatibility of Remote Access and provide more services to our users."
How To Connect Samsung Smart TV To A PC, Laptop or Smartphone With Remote Access?
It is important to note that not all smartphone apps, and applications installed on PC or laptop, would support the Samsung's Remote Access feature. Hence, it is important to see how well app developers adopt the feature. It is quite likely Samsung could develop and release a few apps and applications that fully support the feature.
Still, any app or service that relies on a remote cloud network or can be accessed through a simple web-browser, would surely work with the upcoming Samsung Smart TVs. Moreover, the Remote Access feature will be available anywhere in the world. In other words, Samsung is not restricting the feature to a select few markets.