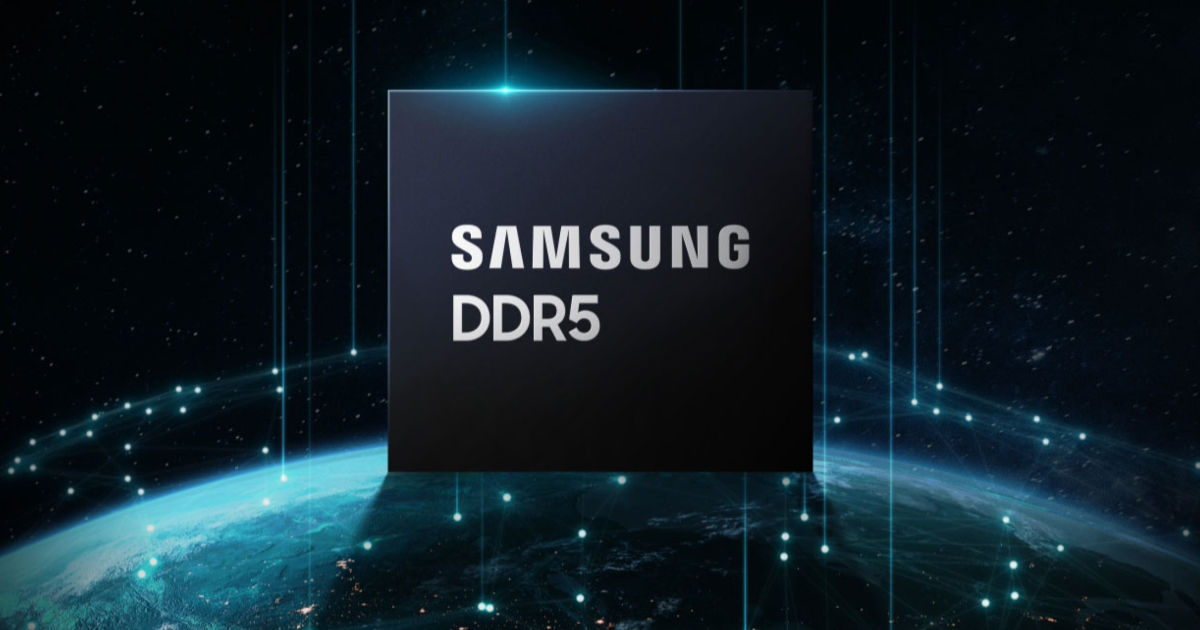 Samsung, at the Hot Chips semiconductor conference, has unveiled a 512GB DDR5 memory module. The newly unveiled Samsung memory module runs at DDR5-7200 memory and is designed for server, enterprise use. The 512GB DDR5 module is double what is currently available in the market and offers transfer speeds of up to 7.2Gbps. Samsung claims that the new DDR5 memory module offers 40 per cent faster performance while operating at 1.1V. This is possible due to the efficient power management IC (PMIC) and a voltage regulator. Samsung said that the PMIC reduces the noise in the process while contributing to a lower voltage process. The module also uses a High-K Metal gate process which is a first for Electronic Data Processing (EDP) DRAM.
The South Korean tech giant further stated that it built the module with eight-stacked DDR5 dies that are interconnected with TSV (through-silicon-via) technology. In comparison, the previous DDR4 had four dies. Despite double the dies, the new DDR5 module measures 1mm in comparison to DDR's 1.2mm.
The new memory module is claimed to offer an improved bit rate, courtesy of the on-die error-correction code. This results in more reliable and secure data processing. It also comes with a new Decision Feedback Equaliser (DFE), which is aimed at providing better signal reliability.
As mentioned above, the new DDR5 module is aimed at data centres and server markets. Samsung's consumer DDR5 memory is likely to be limited to 64GB. The 512GB DDR5-7200 module is expected to hit mass production by the end of 2021. Samsung also expects that DDR5's shift to the mainstream market is unlikely to happen before 2023. That being said, Intel's 12th-generation Alder Lake chips, which support DDR5, is likely to launch later this year.
What are your thoughts on the new Samsung DDR5 512GB memory module? Do let us know in the comments below.