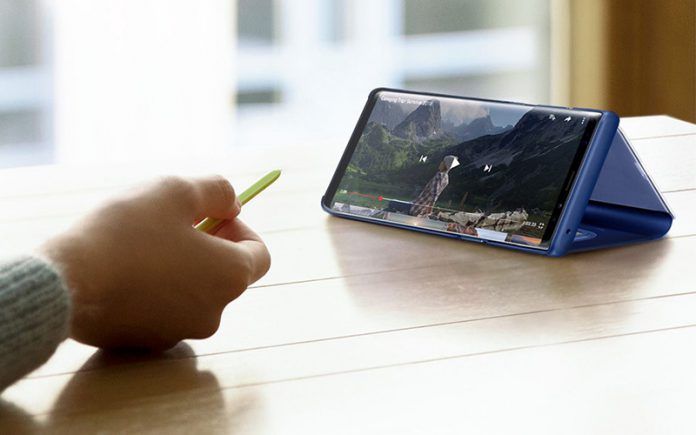 There have been occasions where celebrities were caught promoting other smartphones on social media while using an iPhone as part of their advertisement responsibilities. This time, Samsung was caught over the weekend when it attempted to promote the beautiful and crisp Galaxy Note 9 (Review) Super AMOLED screen, by tweeting this feature from an iPhone.
It can be argued that even companies as big as Samsung are not impervious when it comes to making mistakes, but when you are promoting your flagship smartphone using a device manufactured by your biggest rival Apple, it will introduce a lot of bad press for the company. This event has undoubtedly made Samsung the center of a comedic incident, and we're going to talk more about it here.
Samsung Has Since Deleted the Tweet That Promoted the Galaxy Note 9
Samsung Nigeria Twitter account shared the tweet, which talked about the Galaxy Note 9 display. Thanks to the eagle eyes of popular YouTube tech reviewer MKBHD, Samsung's mistake was quickly highlighted and shared for nearly everyone to see. People responsible for handling Samsung's social media platforms not only deleted the tweet afterward but the entire Samsung Nigeria Twitter account.
This move wasn't enough because thanks to the popularity of MKBHD, lots of followers caught wind of what Samsung was up to, putting the company in a bad light. This isn't the first time that the South Korean giant's social media team has made this mistake. The Samsung Saudi Arabia account shared a similar tweet earlier this month, and that was also sent from Twitter for iPhone. It appears that Samsung's marketing team prefers iPhones over the company's own devices.
MKBHD had earlier gone on Twitter to call out Wonder Woman star Gal Gadot for apparently using the iPhone's Twitter app to promote Huawei's Mate 10 Pro as the company's US brand ambassador. Gadot denied this in a statement, and she also theorized that her publicity team might have mistakenly used an iPhone to post that video on her behalf.
Accidents can and will happen, but if you're going to directly or indirectly take a jab at a company like Apple, make sure to keep your hands off their iPhones when using that Twitter app.
Galaxy Note 9 Has an Inferior Display Compared to iPhone XS Max
It has been noted for quite some time by both media publications and display experts that Samsung makes the best screens for smartphones. When the Galaxy Note 9 officially launched, it was given the 'best display on a smartphone' award, that is after the iPhone XS Max was unveiled and usurped that position.
In case you didn't know, Samsung has been manufacturing OLED screens for Apple's iPhones since 2017, thanks to several years of experience and countless resources at its disposal. Apple requires both quality and quantity, and Samsung is able to deliver. However, to break the Korean manufacturer's monopoly, Apple has introduced LG Display to make these OLED screens, with other partners expected to get on board shortly.
After you're finished reading about the latest news, you can check out our video review of the Galaxy Note 9. With minute improvements made towards the battery life and significant upgrades made to the S-Pen, this is by far the best Galaxy Note flagship Samsung has ever made. If you don't want to wait for the upcoming Galaxy S10 lineup, you'll definitely enjoy using this phablet.