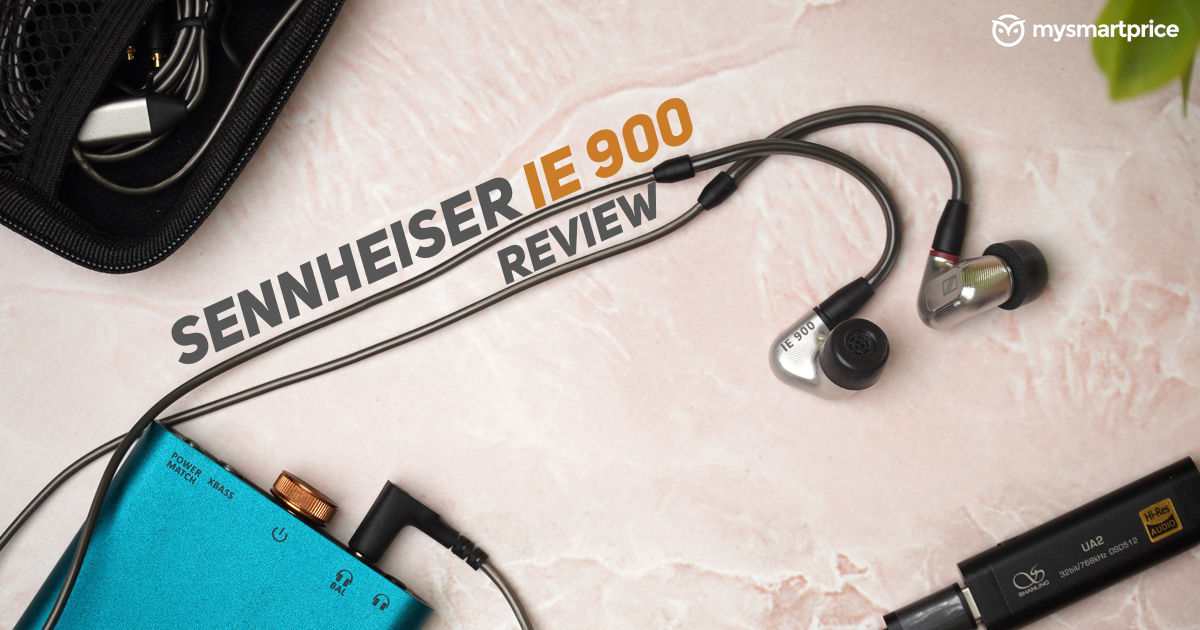 The Sennheiser IE 900 — the legacy German Audio brand's latest top-of-the-line (TOTL) IEMs — made me question my capabilities as a reviewer of audio products because *spoiler alert* these would definitely make the top 5 list in a 'World's Best IEMs' list. I am sure hardened audiophiles who've got more experience with auditioning expensive IEMs must be scoffing at me right now for that statement but I don't care.
Reviewing audio is a very personal experience and the Rs 1,29,990 IE 900 made me legitimately shed tears after listening to the haunting ambient orchestral brilliance of my favourite Icelandic Atmospheric Rock Band, Sigur Rós. When a product can do that, I stop worrying about the price.
Yes, these are expensive, but think about it this way – would you question someone who buys an Audi for being a spendthrift, or would it actually be your dream to own one too? Well, the IE 900 is a meticulously handcrafted luxury product that deserves to be raised to a similar pedestal and judged accordingly. Let me explain why.
Exquisite, Premium Build to Last for Generations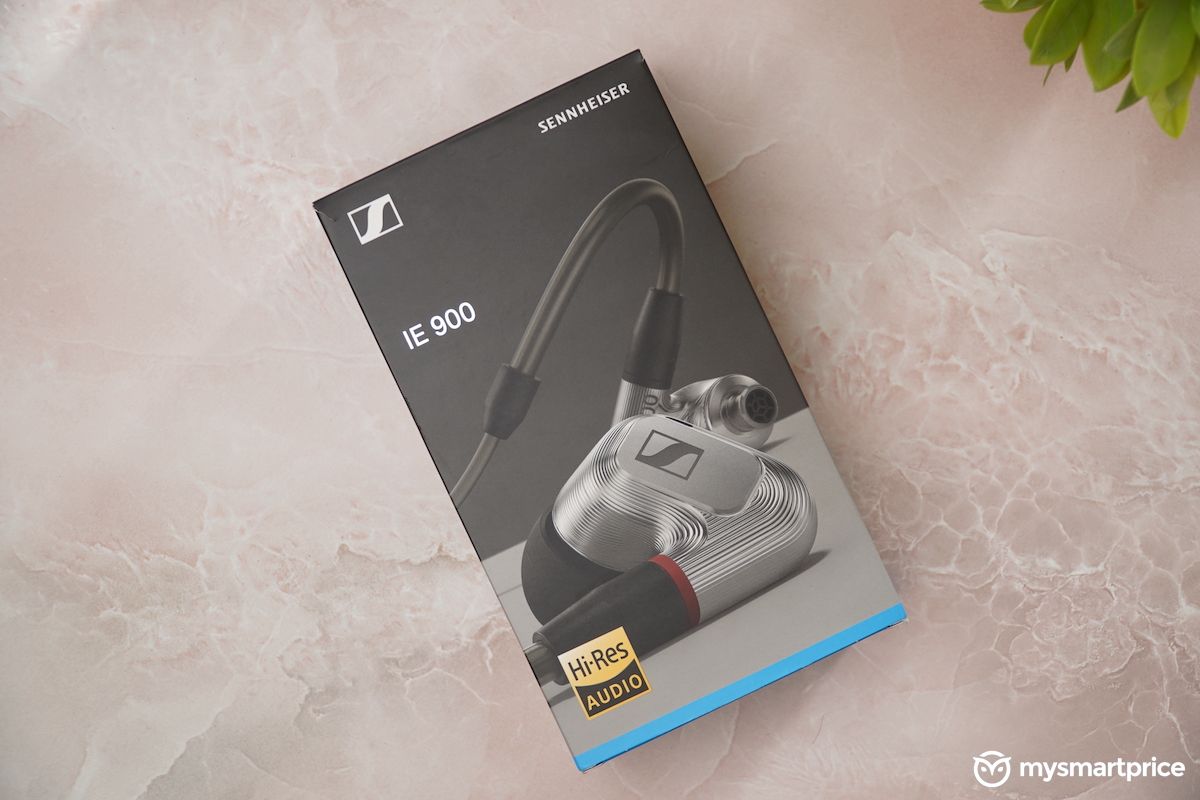 Everything starts with the unboxing experience. Slide out the top cover and you are greeted with a custom Certificate of Ownership and a unique serial number. Keep that aside and there is a foam mat with two cavities where the earphone housings welcome you. Underneath is a plethora of accessories, which is standard for earphones in this price range. You get silicon tips and foam tips in three different sizes each (small, medium, and large).
Plus three cables: one with a 2.5mm balanced termination pole, an unbalanced 3.5mm jack, and the final one with a balanced 4.4mm jack. There's also cleaning cloth and a cleaning tool. Finally, you get this extremely premium carry case with a metal plate that has your unique serial number etched in it. That's some personal touch that you only find in high-end luxury IEMs. Although, I wish the case was slightly larger to fit in all the accessories including the cables. I know, there's rarely ever a need for all the cables, but you can never go wrong with being prepared on a trip.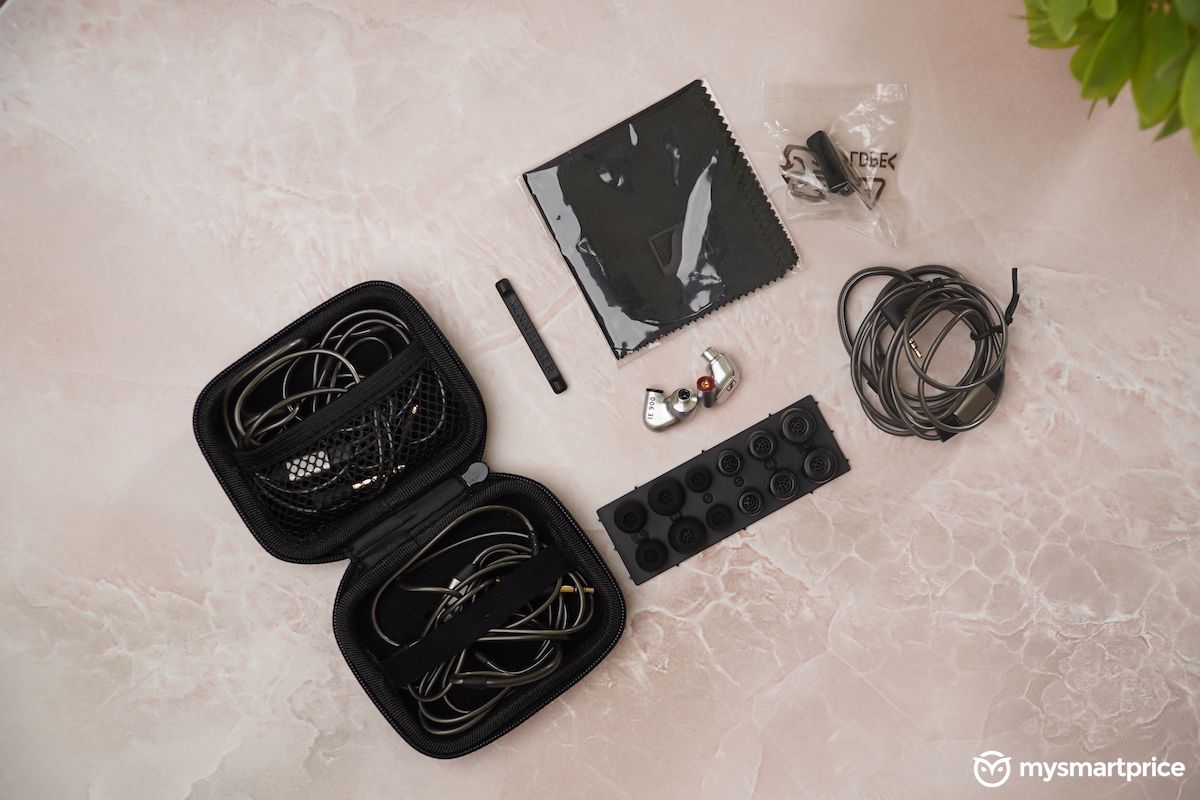 What I find particularly fantastic about the design of the housings is that they are extremely small. Sennheiser is possibly the only high-end audio equipment manufacturer that still persists with a single dynamic driver design, in a day and age where multiple drivers per earphone are commonplace. I will talk about the sonic benefits of this arrangement when I talk about the sound but what this also achieves is a much tinier design that doesn't look very daunting.
The housings are precision-milled from a single block of anodized Aluminium and they look gorgeous. And, it goes without saying that they are absolutely built like a tank and should last you decades if not generations. But yes, I am only slightly disappointed that the design is nearly identical to the plastic-bodied cheaper sibling the IE300. I am okay with sharing the same ID but some distinction would've been nice. This is just me nitpicking, though.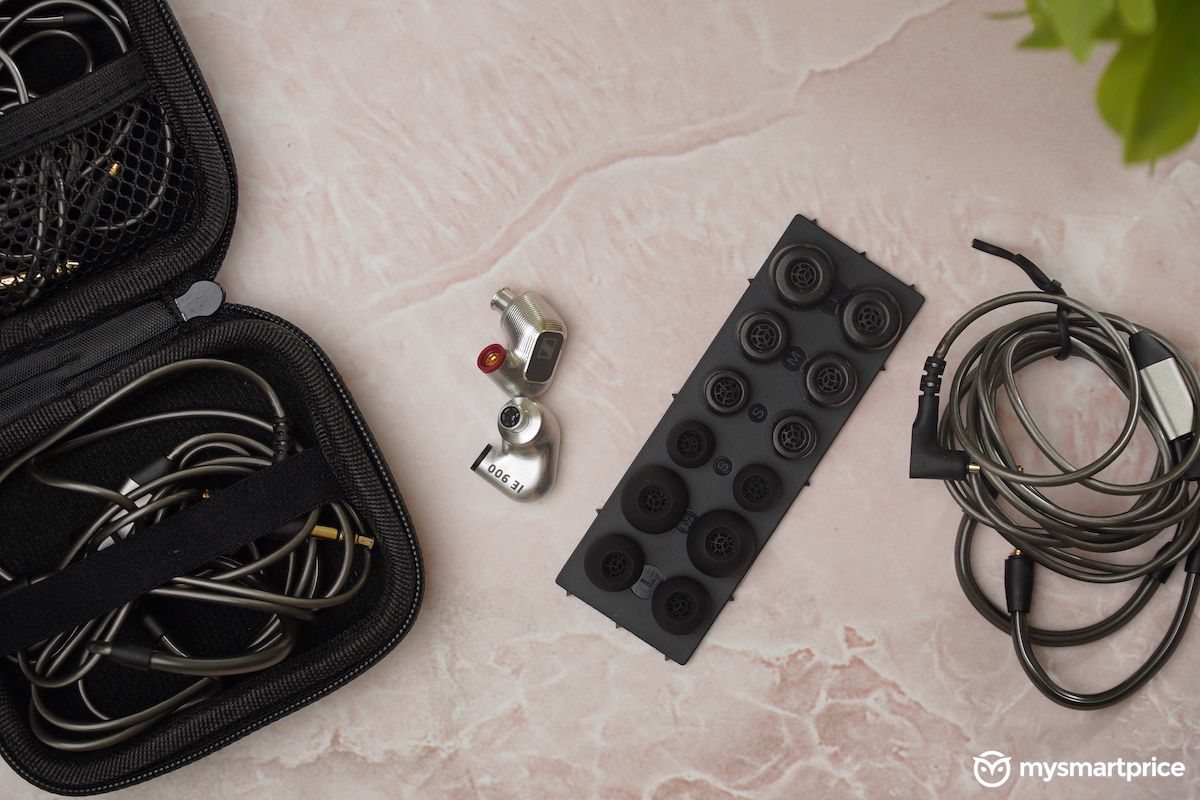 Now, these housings use your standard MMCX connector to connect to the cables and it is a secure fit that won't yank off easily. Plus, the cables themselves are extremely well built with absolutely no microphonics or electronic noise creeping in. And, they don't tangle at all, even if you try with all your might. Coming to the comfort, the IE 900s are one of the most non-fatiguing pairs of high-end monitors and they don't jut out of your ears either. By the way, even the ear loops are soft and comfortable. So, if you, like me, like listening to music while sleeping on your sides, these buds will definitely not disappoint.
Although, note this: you have to find the right sized tips for your ears to churn out the maximum grunt from the low end. I picked the largest foam tip for the best seal to ensure that I trap all the bass in.
Expert Sound Tuning Through and Through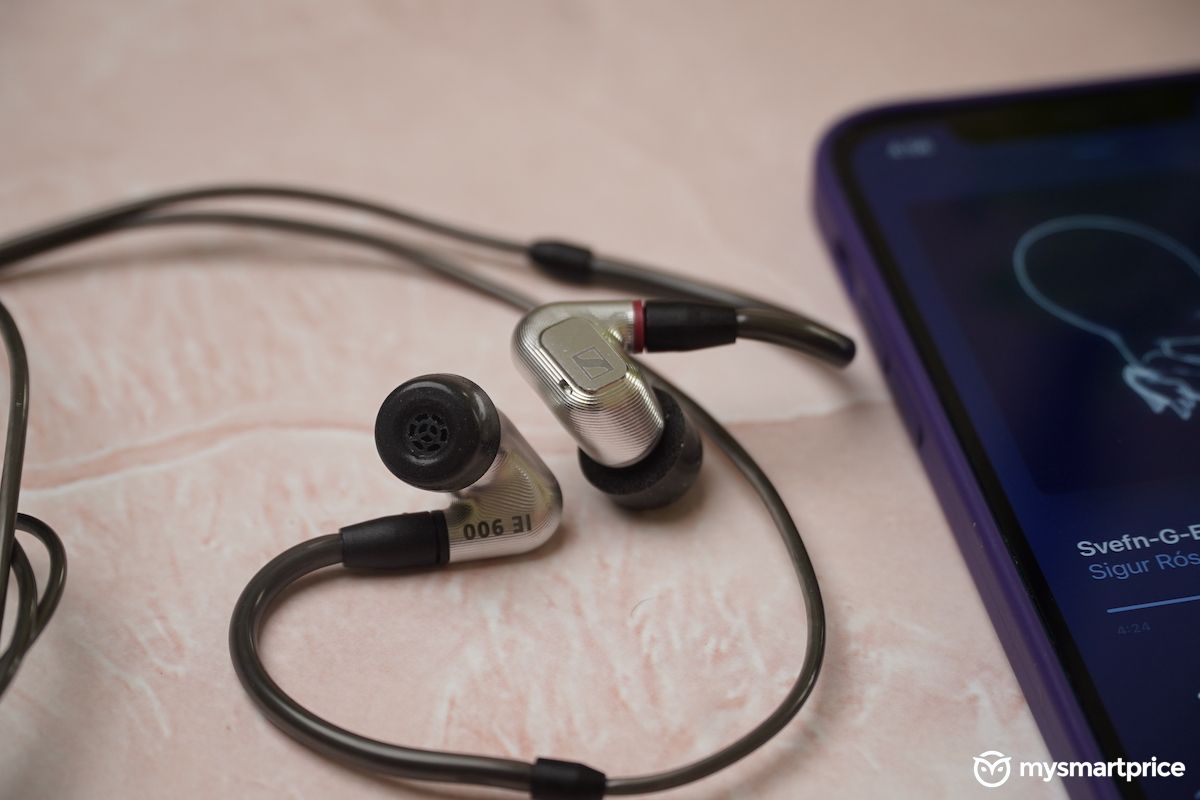 There are two tiny 7mm dynamic drivers inside the IE 900. That's it. But, Sennheiser also adds something called the X3R technology. Here's what the marketing verbiage about the X3R tech says: TrueResponse transducer combined with three Helmholtz resonator chambers and acoustic vortex. Pretty daunting right? I will let you go through it in detail on the website. And, you know why Sennheiser still persists with the tiny 7mm driver design? Because, as a company, it wants to cut out any crossover aberrations caused by multi-driver setup. Instead, Sennheiser improves resonance by introducing this transducer.
Anyway, the IE 900 is very easy to drive thanks to its very low impedance of 18 ohms. If you wish, you could even run it through Apple's lightning-to-3.5mm connector or a Type-C dongle on your Android phone. Having said that, the IE 900 obviously shines when it is offered a better source. Otherwise, you are not pushing it to its full potential. And, it goes without saying, the IE 900 is also Hi Res certified. It operates in a very wide frequency range of 5 Hz to 48000 Hz.
By the way, I used these with a couple of DACs – the iFi Hip DAC and the Shanling UA2 for testing. With the 4.4mm balanced input on the Hip DAC, I immediately noticed the best bass rumble and soundstaging. The Shanling UA2 did sound a tad bit more closed off but more neutral, far more neutral, than the iFi Hip DAC's slightly warm tuning.
So, what is the first thing I noticed while testing the IE 900? It has absolutely no resonance and has a low noise floor. What this means is that you get an extremely silent IEM that wants to engulf you in its exquisite sound signature. Think of it this way, once you wear the IE 900 in your ears, it feels like you are inside a soundproof recording studio. It's just you, your music, and solace. This is further accentuated by the fact that the passive noise isolation is totally aces. Who needs ANC when passive noise cancellation can be this good?
You know another aspect the IE 900 aces? The sound signature. Here's the thing, it is not a neutral, flat sound that is used for analytical/critical listening. The IE 900's sound is balanced with a lot more rumble in the sub-bass region and fantastic extension in the highs. Listening to Reconnaissance by Mitch Murder, the thumping, energetic bass slam took me by complete surprise.
Plus, there's so much detail and texture in that bass. Which brings me to the tonality. The IE 900 nails the tonality. Instruments sound absolutely true-to-life. If you've ever heard Madrasa Sutthi Paakka from May Madham, you will know there is an underlying Ghatam track forming the baseline sound in the song. I have never heard it with such good precision and quality before. The texture of the IE 900's sound signature.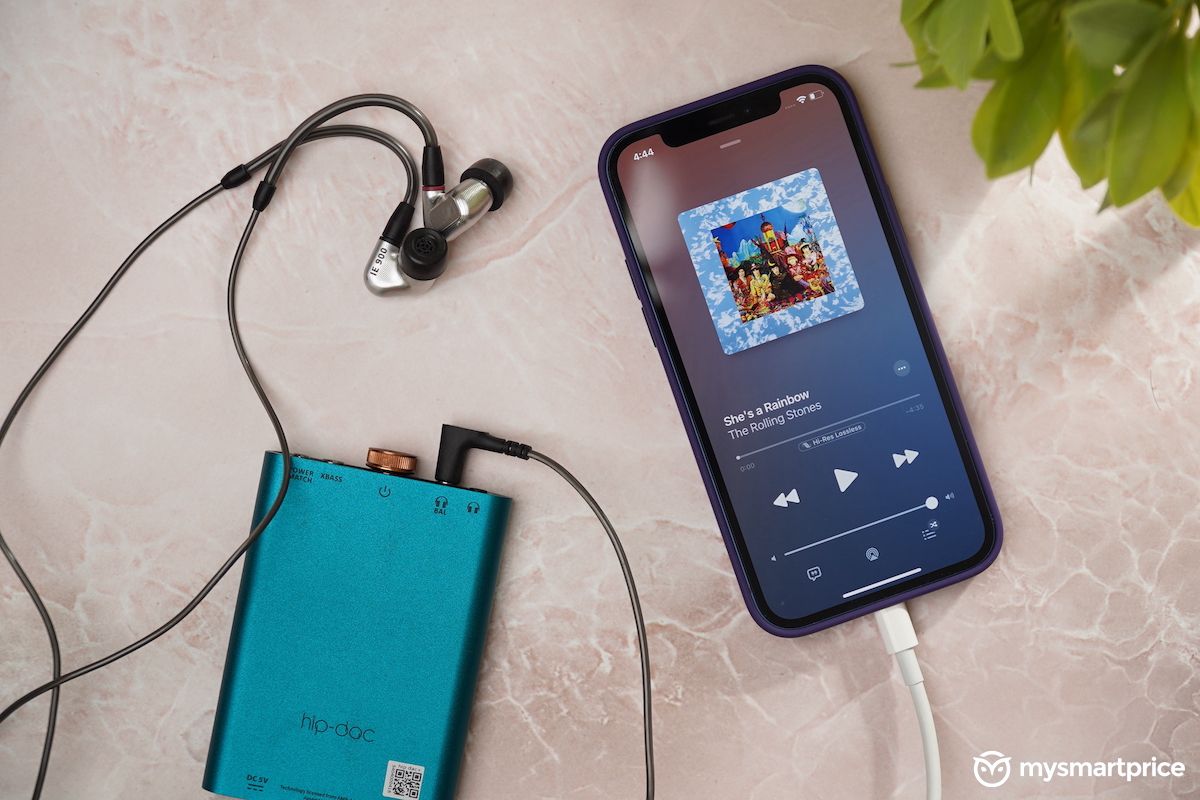 That apart, what you will immediately notice and appreciate is the soundstaging. And, this is the part where I bring back reference to listening to Sigur Ros. I was immediately yanked from my house and transported to the band's recording arena. It was transcendental thanks to the absolutely masterful layering that the IE 900 can achieve. The imaging is gorgeous too. But, that is something you should assume by default. Not once did I hear any instrument bleed into the other, especially in the penultimate section of The National Anthem by Radiohead, where a bunch of instruments kick in at the same time. On most consumer-grade gear, the AirPods Max included, it sounds like a cacophony and less pleasing.
If you are wondering, the mids must be recessed, then you are wrong. The IE 900 comfortably manages to reproduce Demi Lovato's magnificent highs in Anyone, and does a fabulous job with recreating the unique texture in Benjamin Clementine's voice as well. The mids reproduction is really, really good as well. And, there's none of that upper mid-range spike that makes many IEMs sound unnecessarily shouty sometimes. It is refined, clean, and precise. As for the treble, there's fantastic extension and texture. Not once did I find it shrill or sibilant. Don't listen to anyone who tells you otherwise.
The detailed, high precision tuning of the Sennheiser IE900 is just pure indulgence. It is something that requires
Sennheiser IE 900 – the Most Fun, Detailed, Engaging Sound Money Can Buy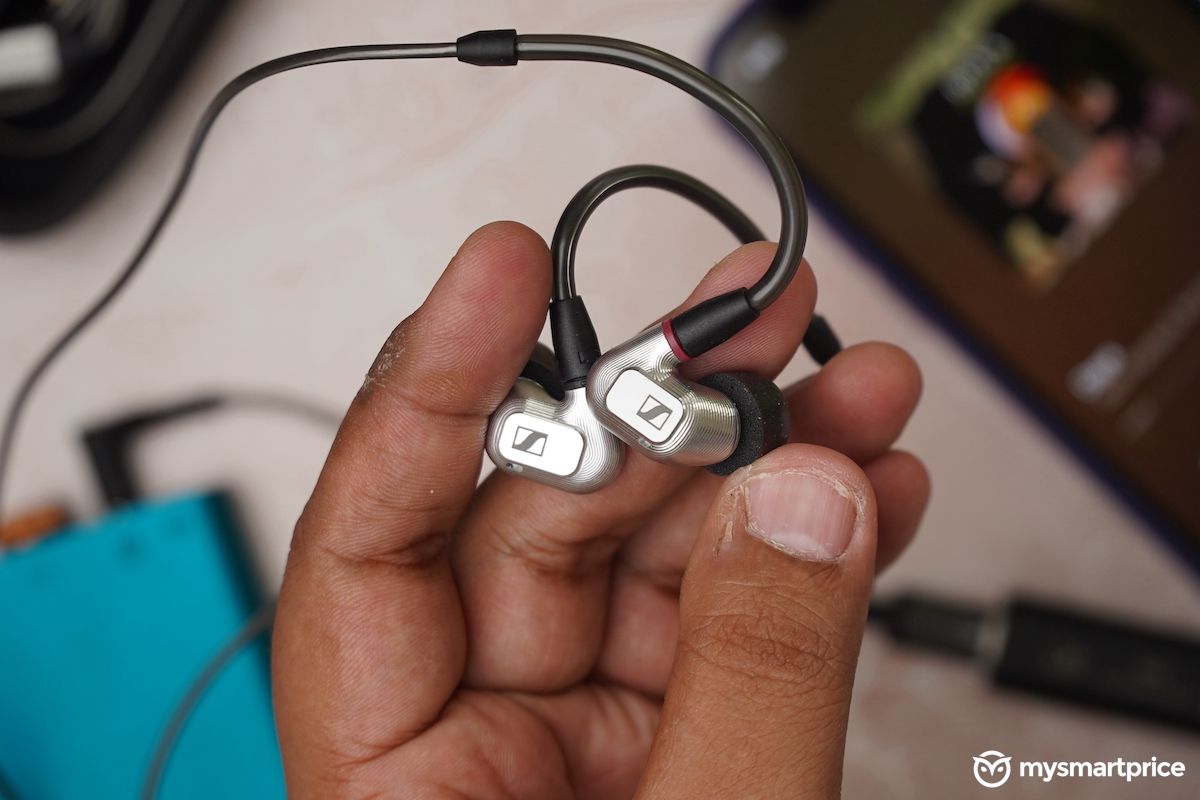 I am cognisant of the fact that almost 99% of the folks reading the review can't afford the IE 900, or even if they can, they'd have different priorities. I am definitely in the "can't afford" category and it is on days like these I profusely thank my job for at least letting me experience tech like this if not own them. Because, trust me when I say this, the IE 900 is a luxury product worth craving for.
Yes, there are fantastic alternatives from the likes of Campfire Audio, Astell & Kern, Vision Ears, Audeze, and the likes, but there's something inherently more luxurious about the sound of the IE 900. They don't try to impress you with a flat, analytical sound but they rather go for a musical signature with details and presentation to blow everyone's collective minds away. It is the kind of sound that even a general consumer of music, a non-audiophile if you must, will find exquisite and appreciate.
I am definitely looking forward to reviewing Sennheiser's next TOTL IEMs. I really do like the direction they took with these.