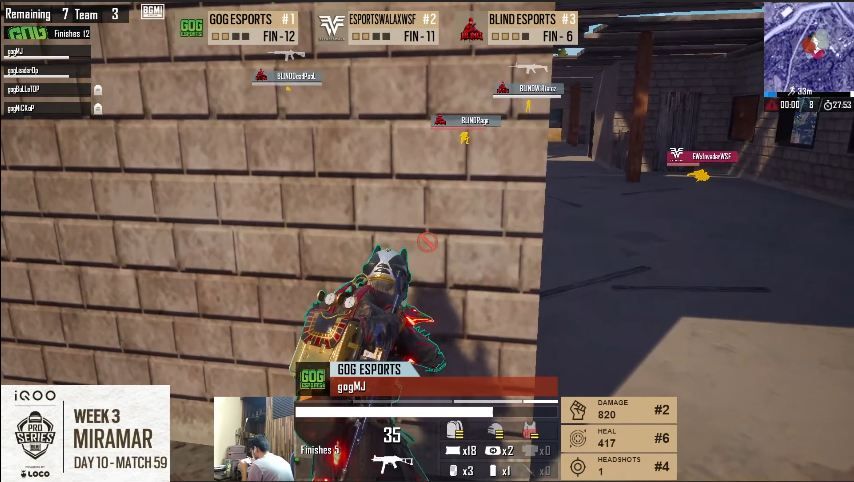 BMPS Season 1 Day 10 has concluded successfully which now lefts only two matchdays to finish the league stage. Day 10 ends with OR Esports still leading the points table even after having a bad day. The team has garnered around 505 points with 246 finishes.
Team Soul has not put up a good show but still maintains their second spot with 424 points while Team XO secures the third spot with 421 points. Nigma Galaxy, Hydra, Global Esports, 7 Sea, and Hyderabad Hydras are in fourth, fifth, sixth, seventh, and eighth positions respectively. Day 10 has become fruitful for underdog teams and Team Kinetic enters the top 16 as the tenth day gets concluded.
Blind Esports is seen at the fifteenth spot, while Big Brothers are at the eleventh spot with their safe gameplay. RTR steps down into the danger zone. Teams ranked from the 9th spot should defend their spot, because if they fail, the other teams will fill up their spot.
BMPS Season 1 League Stage Day 10 Overall Standings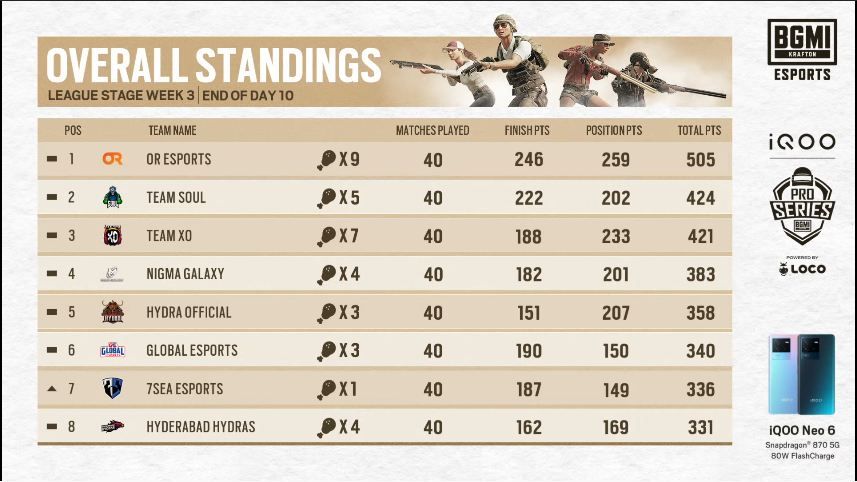 Team ACBC Esports had claimed the victory in the first match of the day that was played on Erangel with 8 finishes. Autobotz were eliminated at the second position with 11 kills whereas RTR and Initiative Academy ended up with 11 and 9 finishes respectively but got out from the match in the 7th circle.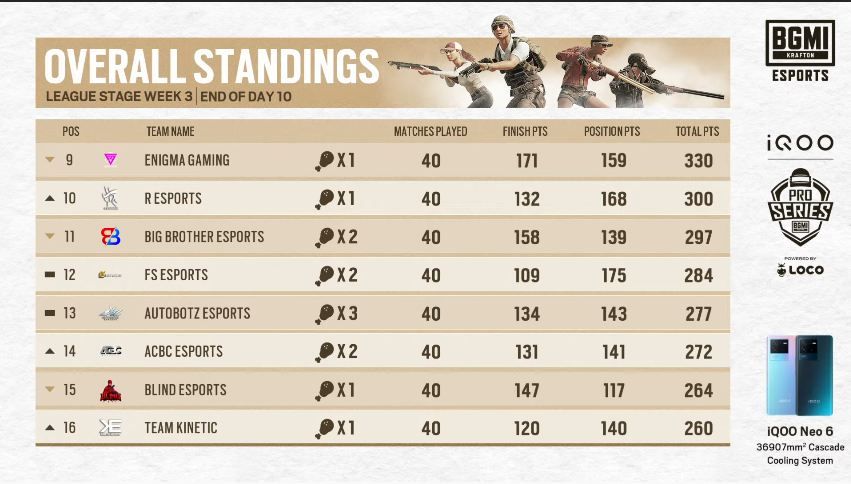 The second match of the day was won by Hyderabad Hydras and the way the team had won has given fans nail-biting moment. Three players of Hyderabad Hydras were stuck in the playzone where aceblack took one on one with Nigma Galaxy's Max which led to their win in the match.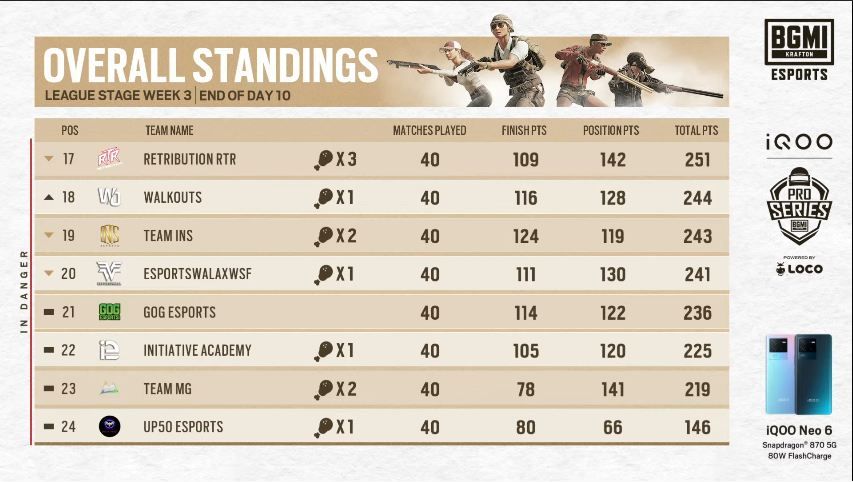 Retribution RTR has secured their win in the third match of the day with 9 finishes which is played on Vikendi. They eliminated XO at the second position with 2 finishes whereas Global esports was eliminated at the fourth spot with 8 finishes.
@oresportsofficial tops the standings with a 100 points lead over the rest!

Here are the standings at the end of League Stage Week 3 – Day 9 of iQOO BMPS.#NEXTSTOPTHETOP #BATTLEGROUNDSMOBILEINDIA #INDIAKABATTLEGROUNDS #INDIAKAGAME #PLAYNOW #BMPS #BGMI #iQOO pic.twitter.com/ZVv5au5Zg3

— iQOO eSports (@iqooesports) June 3, 2022
7Sea esports went berserk in the fourth match of the day and finished the match by securing a total of 21 kills. Team Soul has secured 8 kills but was eliminated early in the game.
It was Team Blind Esports who clenched the chicken dinner in the fifth match of the day with 10 kills. Esportswala X WSF had secured the second position with 11 finishes while GOG Esports took 12 finishes.
The last match of the day was won by ACBC Esports with 12 finishes while Kinetic Esports finished at second spot with 6 kills. 7Sea Esports and Nigma Galaxy finished in third and fourth spots with 8 kills each.