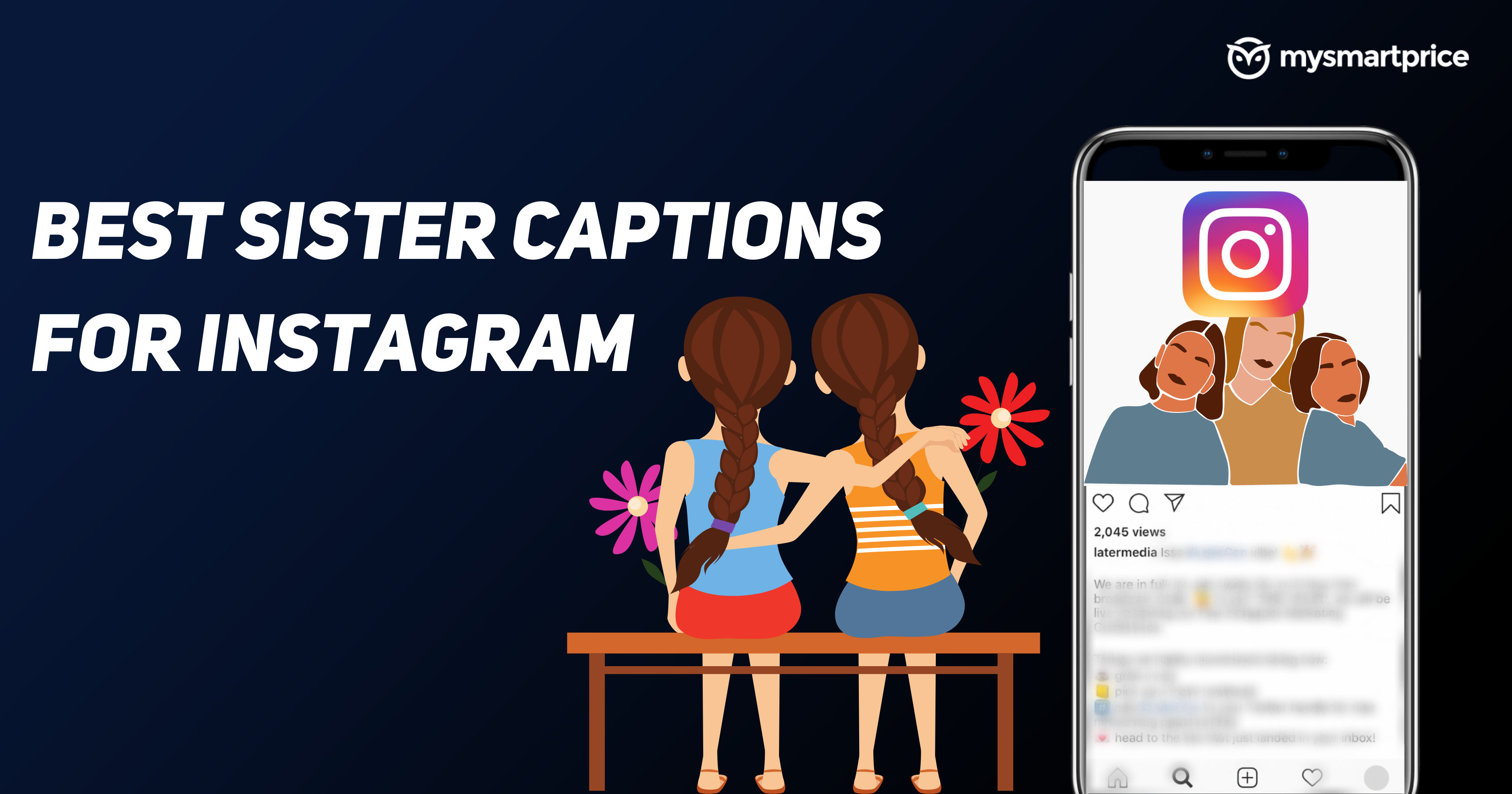 Sisters are lifelong companions and confidants. The bond with sisters is truly exceptional and one-of-a-kind, as one can share secrets, stories, and experiences that are incomprehensible to others. Through thick and thin, sisters are always there for each other, whether laughing or crying, fighting or supporting. Our collection of over 200 sister captions and quotes is sure to assist in expressing your love and appreciation for her, whether you're posting a photo of your sister on Instagram or just want to celebrate her.
Our captions range from adorable and humorous to emotional and heartfelt, encapsulating the various facets of the sisterly bond. We recognize that no two sisters are alike, so our captions are intended to appeal to sisters of all ages and personalities. Therefore, whether you wish to post a nostalgic photo of you and your sister as children, share a humorous moment from your most recent adventure together, or simply express your gratitude for having such an exceptional sister in your life, our collection of sister captions for Instagram 2023 has got you covered. Let the world know how much your sister means to you with the ideal caption or quote, and show her how much you appreciate and adore her.
Instagram Captions for Sister Love
Thank you for being with me; I always enjoy being your little sister.
My sister is my best friend and I know I can always count on her.
We are sisters because of God's design. Friendship was forged in the depths of our hearts.
My sister is a mirror image of me and the complete opposite of me.
We start our sentences with "remember when" and end our days with a chat on the phone. As children, we fought and argued over everything, but as adults, we are best friends. You are the one person I have always been able to count on, and I love you more with each year that passes; my first and dearest friend.
It doesn't matter where you go in the world if you have a sister.
Only you can make me smile after having a bad day.
If all I have in my life is a sister who loves me, I consider myself rich. Life would be so barren without a loving sister to share many precious moments with.
I love my sister because she is all I'm not, and she brings out the things I am that she isn't. I bring out the best in her, and she brings out the best in me. It is one of the few lifelong relationships that completes who I am.
Divided by chocolates but united by love.
Fairies are real…they are called sisters.
I wear this smile daily because I have a sister who loves and cares for me.
Little bit of childhood that can never be lost.
Looking out for yours truly ever since I was born; I love you, sis!
The most valuable gift that our parents could ever give us was one another.
Our bond remains forever strong.
Sister, no matter how difficult it gets or how much we fight, I'm your forever friend.
Going through a rough time has one great advantage; it teaches you how much your sister has your back.
Sister, I've seen your strength all my life, and I will never stop believing you can slay dragons if you wish to.
Sister, no matter how old we get, being with you is like being a little girl again.
Yeah, my sister scares me a little bit, but that's part of what I love about her.
Sister, you were the person I would always tell on. You're now the person I always count on.
Also Read: Instagram Brother Captions 2023: 200+ Best Funny, Love and Inspiring Brother Quotes/Captions Ideas for Instagram
Short sister captions/quotes for Instagram
Sisters before misters.
Our bond is unbreakable.
You know me like no one else.
Best friends? Nah, she's my sister.
The Tom to my Jerry.
BTBFF: Born together, best friends forever.
Fashions fade, sisterhood is eternal.
My sister is my backup.
She is my support system.
Sisters are all about fun.
Sibling sandwich!
Sisters are pure souls.
Happiness is being with my sister.
Sisters are love.
Best friend, aka sister.
Cloth stealer.
Sister is my happy place.
Best friend, aka sister.
Isn't she lovely?
Instagram Captions for Sister's Bonding
The sister bond is strong. Your love is the glue that keeps us together, always.
Sister bonding is a beautiful thing.
A bond between brothers and sisters is so strong that no matter how much you argue with each other, in the end, you will care for them deeply.
The uglier the selfie with your sister, the closer the bond is.
Sister bonds that last a lifetime.
Our paths may change as life goes along but our bond as sisters will remain ever-strong.
A sister is a gift to the heart, a friend to the spirit, a golden thread to the meaning of life.
I am blessed with the best sister in the world.
Siblings are the people we practice on, the people who teach us about fairness and cooperation and kindness and caring… The purpose of life is to create strong bonds of love with other human beings.
A sister is someone who understands me even when I have half a word to say.
We fight, we cry, we argue, we love, but we are inseparable at the end of the day.
Having a sister is like having a best friend you can't get rid of. You know whatever you do, they'll still be there.
An elder sister is a second mother.
Sisters by blood, best friends by choice.
Sisters are connected throughout their lives by a special bond – whether they try to ignore it or not. For better or for worse, sisters remain sisters, until death do them part.
While romantic love is lovely, nothing beats the bond of sisterhood.
Cute and Funny Sister Captions for Instagram
My sister has the best sister in the world.
We always fight about who's got the better sister.
Do you think I'm annoying? Meet my sister!
I'm not just a sister; I'm a big cup of wonderful…!
The only person who is allowed to get on my nerves and get away with it.
Hey sister, people can use us as examples of both friends and enemies.
When life gives you an elder sister, consider her your mom.
I can give you my kidney, but not a TV remote.
Sisters are the therapist to have a nuisance with.
Sisters are like fat thighs… they stick together.
Having a sister with the same insanity is priceless.
What do you mean by no pets allowed? This is my sister.
The most annoying yet the most beautiful sister ever.
You can shut up the world, but not my sister.
Sisters – All for one, one for all.
Sister, you are not old. You are vintage.
Having a sister is like having a double.
You can fool the world, sister, but not me. Never me.
Don't mess with my sister 'cause you'll have to face me.
We shared a room, you stole my toys and then my clothes. I wouldn't have it any other way.
Little sister captions for Instagram
Having a little sister is accepting that your clothes will go missing.
Don't worry; I won't tell mom and dad.
You're my little sister but I'm the favorite overall.
There are just little sisters who are bigger than big sisters. Please do not fix me up with them.
Having a little sister is just like having a friend at all times.
You can fool everyone, but never your big sis.
Sisters by chance, friends by choice.
What do you mean no pets allowed? This is my sister.
Little princesses are destined to be great.
A little sister time is good for the soul.
Never forget that your secret is always safe with me.
Little sisters are God's greatest masterpiece.
Thank you for being with me, I always enjoy being your big sister.
Every little princess deserves a crown, so let's give her one in this beautiful photo!
Little sister, you are the light of my life.
She's the princess of our hearts.
Emotional Sister Captions/Quotes
Sisters are like stars. You don't always see them but you know that they are always there.
Good sisters share their dreams, ignore their faults, keep each other's secrets, ease their worries, and raise their spirits. They hold a place in their hearts no one else can fill.
We may fight and argue, but we also create the best memories
The meaning of love is you, sis
My sister is the only person who sees me as I am.
Sister, I love you for always being my best friend and a blessing to me.
The meaning of love is the unfathomable kindness of a sister. You are a paragon of love with many sides of beauty.
Sometimes memories sneak out of my eyes and roll down my cheeks. I love you sister.
There are so many reasons to be happy in life. You showed me how to be happy, and I miss you so much.
Instagram Captions/Quotes for Sister's Birthday Pics
You are adorable, caring and loving. Happy Birthday, Sister!
It is a true blessing to have such a fun, smart and caring sister like you. Have a joyful and unforgettable day, full of everything that you love most!
My crazy, loving, caring, and fun sister, life without you would have been a nasty twister. Happy birthday.
Thank you for all the years of friendship, sis. You are my best friend, and your loyalty is always appreciated. May your birthday be filled with wonderful surprises and amazing gifts.
I can't imagine how my life would have been without you. You have brought so much love and joy into my life. Happy birthday to my adorable sister.
Sister, we shared so many laughs and thoughts and also boosted each other up when we were down. I believe still there are plenty of sweet memories to come. Have a wonderful birthday.
Wishing Happy Birthday to my amazing sister. I hope all your dreams will come true!
Little sis, you have always been by my side whether it was sharing our pizzas or that blue jacket as little kids. I always want you to be there with me in thick and thin. Wishing a very happy birthday to the world's best sister!
I'm so thankful to have a sister like you to share life's ups and downs with. Thanks for always being there for me and making each day so much fun! I hope you have a very happy birthday!
Wishing the happiest birthday to the world's coolest sister. Thanks for always letting me tag along and being there when I need you.
I can't imagine being on this journey through life without a sister as cool as you. Thank you for everything. Happy birthday!
People say that it is possible to choose your own friends from many, but it is obvious that you can't choose you're the members of your family. I'd without a doubt be the luckiest. Happy Birthday.
Cheers to my dear sister on your birthday! I'll be raising a glass in your honour… or maybe three or four! I really wish we could be together to celebrate! Miss you!
I have warm and happy feelings about my childhood because we have spent so many years together. Thank you for being an amazing sister. Happy birthday.
Sisters are like diamonds—sparkly, priceless, and a woman's best friend. Wish you an incredible year, sis. Happy birthday.
My wonderful sister, I wish you all the best and success in life. I could never ask for a better sibling.
Also Read: Birthday Wishes for Sister: 200+ Heartfelt Birthday Wishes for Sister to Celebrate Her Special Day
Twin Sisters Instagram Captions for Stories & Posts
When I look at you, I feel like I am looking at myself in the mirror. When I look at myself in the mirror, I see you.
If sister is standing side by side, who is against us?
If ever you feel stupid, remember that one time, my twin sister forgot my birthday.
My strength and my weakness are twins in the same womb.
All we do is twin twin twin
No one will ever be as entertained by us as us.
She can't get rid of me no matter how much she tries.
Twins. Twice the love, half the sleep!
Welcome to the twinner's circle
Seriously, what would you do without me?
Twins! Two for the price of one? No. Two for the price of freaking two! The only things they've shared so far are my uterus and their birthday!
There are two things in life for which we are never truly prepared: twins.
Life is so much better when you have a twin to share the ride.
A sister is both your mirror and your equivalent.
I'm the good twin, so you know what makes the other one
My better half.
I swear we didn't plan this.
Cause two is better than one.
Sisters are forever, twins are even better.
I will share my happiness with my twin and the world!
That awkward moment when you see twins fighting and of them calls the other ugly.
If you think I'm the evil twin you should meet my sister.
Two little blessings, sent from above. Twice the smiles, twice the love.
One-word Sister Captions/Quotes for Instagram
Second mother
Legend
Everything
Always
Forever
Different
Family
Buddies
BFF4Ever
Glowing
Inseparable
Vibes
Weirdos
Life Assistant
Chillin
Inseparable
Queen
Toast
Us
Bold
Curls
Blessed
Sister Wedding Captions for Instagram
I know you'll be the most amazing wife because you're already the greatest sister.
All I need for true happiness is to have you by my side.
It seems like we were playing 'house' in the backyard just yesterday, and now you get to do it in real life.
Today, my family just got bigger, and I could not be more excited.
My dearest sister. Congratulations on marrying the man you love so much. You two look perfect and madly in love with each other.
Who would have thought that my sister would get married to such a wonderful guy? I hope that both of you will be very happy together. Congratulations.
Cheers to your happily ever after.
Today, you will get married, and I will eat cake. It's a win-win for sure.
These two were mermaid for each other.
Marriage is a journey of many joys and sorrows. Now you will be sharing them with your new husband. You are wonderful people, and I know you can build a happy life together. Many blessings for now and for the future. Congratulations, dear sister.
Wishing love, laughter, and happily ever after for my sister.
Today, I not only get to watch my sister marry, but I also gain another family member. It's a win-win for me.
Congratulations on your wedding, dear sister. I hope your new life is everything you could have ever hoped for. I am happy to be getting a new brother-in-law in the bargain. Many blessings for today and in the years to come.
There is no better friend than a sister, and there is no better sister than you. Congrats on your wedding.
No longer a miss, but always my sis.
Also Read: Wedding Captions for Instagram: 160+ Best Captions to Make Your Wedding Posts Shine
Instagram Captions/Quotes for Brother and Sister Pictures
Growing up together, you're always there for me. Now it's my turn to be here for you.
To my best friend, you are amazing, and I love you very much. It's been such a fun summer experiencing it together. Your friend always and forever, your sister.
Our brothers and sisters are there with us from the dawn of our personal stories to the inevitable dusk.
Sibling love knows no bounds, especially when it's between an older brother, tall enough to reach the cereal shelf, and a little sister.
Brothers and sisters are each other's superheroes with super-healing powers.
Sisters remember things you would rather forget, in graphic detail… with proof.
Sisters are like psychiatrists. They have no choice but to listen to your whining, then turn around and rob you blind.
To my lovely sister, we may be far apart, but I am always thinking about you; I miss you dearly.
I can't promise to solve all your problems, but I promise you won't have to face them alone.
The Sister and brother relationship is meant to be written in the stars and drawn into our destiny.
Not always to eye, but always to heart.
It's OK to lean on your siblings in times of need; they have both the strongest and the softest shoulders to cry on.
I smile because you're my sister. I laugh because there's nothing you can do about it.
What brothers say to tease their sisters has nothing to do with what they really think of them.
Best sister captions for Instagram
We shared a room, you stole my toys and then my clothes, but we became best friends.
Living by a compass with my True North, my star, my sister.
She's not just my sister; she's my sis-star!
We strive, grumble, and cry, but we are inseparable at the end of the day.
Annoying you is my favourite time pass, sister.
In the cookies of life, sisters are the chocolate chips.
I have an amazing sister, but she has even a more amazing one.
Sisters are the perfect best friend.
The only person allowed to get on my nerves and get away with it.
How do some people make it through life without a sister?
She's my sister, my best friend, my soul mate and the best part of me.
There is no better friend than a sister. And there is no better sister than you.
Out of anyone who could have been my sister, I'm so glad it was you.
Sisters do share the same family but seem to come from different planets.
Instagram Quotes on Cousin Sisters
Cousin. Someone who is connected by blood, a friend by heart, time and distance can't keep us apart.
Cousins are friends who will love you forever.
Time passes and we may be apart, but cousins always stay close at heart.
Hey cousin, let's never stop making memories together.
Nobody will understand the craziness of your family better than your cousins.
Grandparents' house is where cousins become best friends.
A cousin is a little bit of childhood that can never be lost.
God made us cousins because He knew our mothers could not handle us as siblings.
Cousins are usually the first friends we have as children. They are the best of both worlds because they are family and friends at the same time.
You will be jealous as I have the best cousin.
Cousins are the barometers of how fun a family get-together will be.
Cousins, because parents couldn't handle us as sisters.
Best Sister Squad IG Captions & Quotes
My sisters are my everything.
Sisters who do all the right things.
Sisters are two different flowers in the same garden.
Sisters are more important than anything!
Sisters who slay together, stay together
Sisters are different flowers from the same garden.
Cool Sister Captions/Quotes for Instagram
A serving angel should be my sister. Nobody is fighting like your sister.
None of you knows the most dangerous parts and will target them as useless.
You can fool the world sister, but not me, never me
Sisters – All for one, one for all.
Happy Sisters + Good Times = Crazy Friends
Hey sister! People should use us an example of being frenemies!
A sister is both your mirror and your opposite.
Our childhood always reminds me of fighting like dogs and cats.
Causing trouble since day 1.
Friends or family? I got both in my sister.
We have so much fun together, even when we're fighting.