Highlights
Skesports Champions Series (SCS) Returns in 2023 with BGMI featuring a huge prize pool of Rs 25 lakhs.
A total of 36 teams are invited to participate in the tournament (18 in Quarter Finals and 18 in Semi-Finals).
Teams like Oragutan Gaming, who have played several major tournaments are unhappy as they have been invited to Quarter Finals instead of Semis.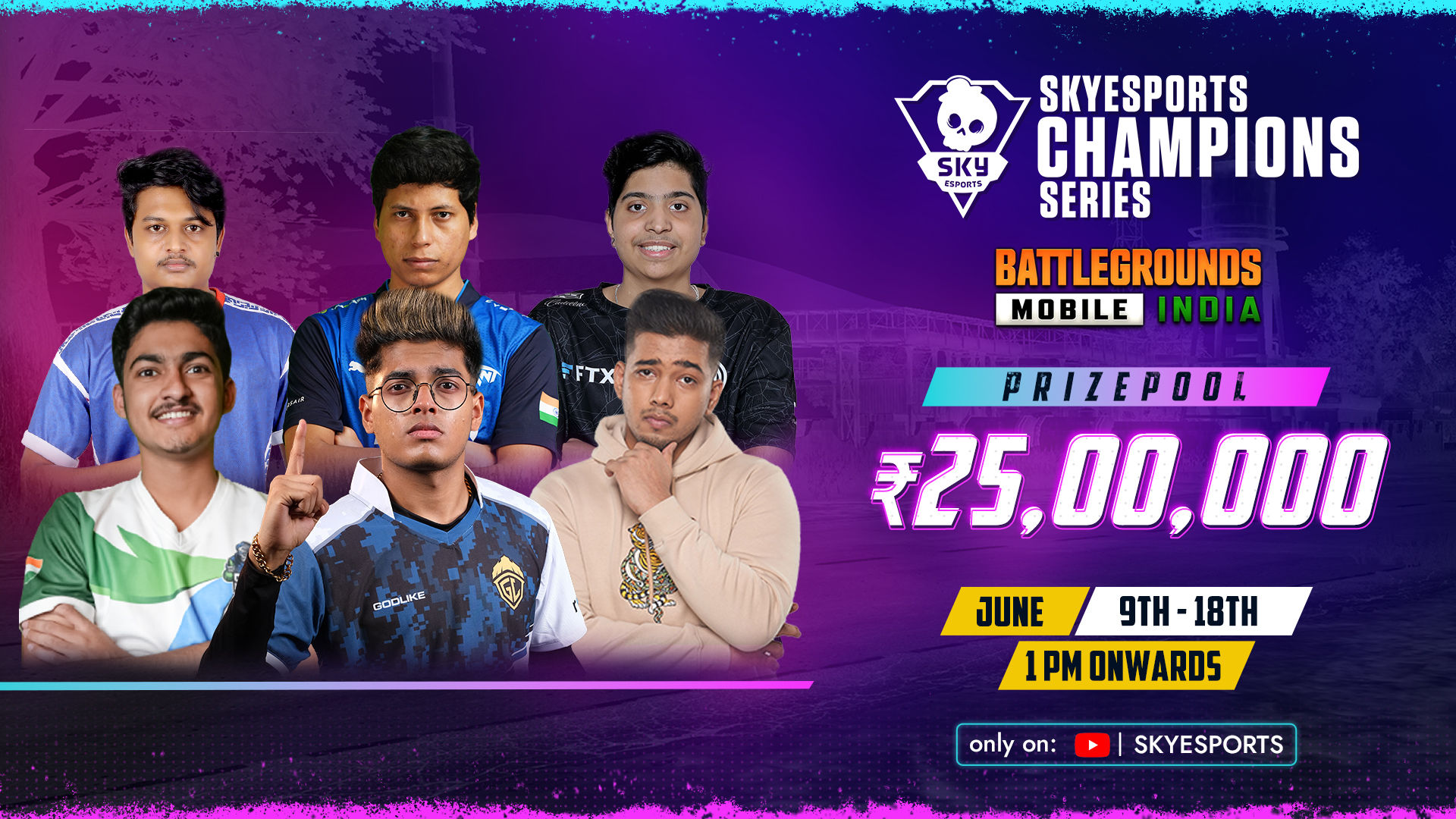 Jet Skyesports, one of the leading esports tournament organisers in South Asia has announced a brand-new BGMI tournament with a massive prize pool. The fourth edition of Skyesports Champion Series (SCS) returns with BGMI in 2023, a few days after the game's relaunch in India. The tournament has been announced with a humongous Rs 25 lakhs prize pool.
The Indian Gaming community have been rejoicing as the Indian Government lifted the ban on India's most-loved BR game, Battlegrounds Mobile India. Skyesports Champions Series (SCS) BGMI will be the first major tournament since the game's relaunch considering the prize pool. This tournament invites 36 of India's best teams to compete in this event which takes place for two weeks.
Let us know more about the tournament's format, schedule and more.
Skyesports Champions Series (SCS) Returns with BGMI in 2023 with a Huge Prize Pool
🔥 Prepare for the battleground as we unveil the 19 teams ready to conquer the Quarterfinals of the Skyesports Champions Series – BGMI! 💪🎮

🏆 The top 6 teams will qualify for the semifinals, fighting for their spot with the best of the best 🥇💥

🗓️ Mark your calendars for the… pic.twitter.com/Hgnt4ETlcL

— Skyesports (@skyesportsindia) June 5, 2023
Skyesports Champions Series (SCS) – BGMI is an online tournament and invited teams are able to play. As mentioned earlier, the tournament takes place for two weeks and is divided into three stages, namely, Quarter Finals, Semi-Finals and Grand Finals. The Quarter Finals will take place with 18 invited teams and are set to take place from 7 June to 8 June with the top six teams fighting for a spot in the Semi-finals
Following that, the top six qualified teams from the initial stage will be joining eighteen invited teams in the Semi-finals which are scheduled to run from 9 June to 13 June. A total of 24 teams will compete in this main stage and the top 16 teams from the overall standings will advance to the Grand Finals. The Grand Finals of SCS are set to take place from 14 June to 18 June.
The organizers have not disclosed the names of all 36 invited teams but they mentioned a few names that are going to participate in this event. Here is the list of teams that have been invited to the Quarter Finals:
Orangutan Gaming

Velocity Gaming

Hydra Official

FS Esports

Team Veterans

R Esports

Obey Esports

Team Celtz

Hyderabad Hydras

Big Brother Esports

Team Psyche

TWOB

Revenge Esports

Team Genesis

Verity esports

Autobotz Esports

Insane Esports

Team GT
Here are the teams that have got a direct invite to the Semi-Finals of the event (2 teams are yet to be announced)
Godlike Esports

Blind Esports

Team Tamilas

OR Esports

Gods Reign

Team Enigma Forever

X Spark

Reckoning Esports

Global Esports

Medal Esports

Revenant Esports

Team INS

7 Sea Esports

Gladiators Esports

VST

Misfits
The event champions and runners-up will also earn a spot in the Skyesports Championship 5.0 Finale. The event champions and runners-up will also earn a spot in the Skyesports Championship 5.0 Finale.
Skyesports' YouTube channel will stream the full tournament live every day at 1 PM IST. Each day, six matches will be played there. However, the map timetable has yet to be revealed.
Skyesports' SCS BGMI will be the first of several online and offline esports championships for the country's mobile battle royale scene. Skyesports, like all other games, strives to provide a defined path for BGMI esports.
Also Read: BGMI Rising Grand Finals: Team Rebel Emerged as Champions, Jonathan and Owais are Runner-Ups