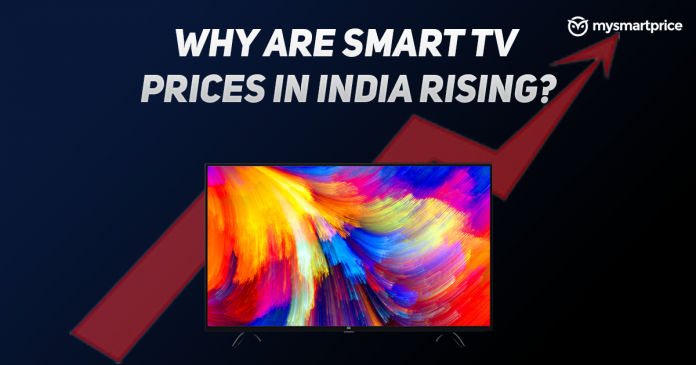 Television prices in India have been rising exponentially over the past quarter and we finally have an explanation for why this is happening. At the launch of the Redmi TV from Xiaomi recently, Eshwar Nilakantan, Category Lead, Smart TV at Xiaomi, explained why the television prices have been going up in India. The phenomenon has actually affected TVs all over the world, but of course, India has a much bigger market for affordable televisions than most other markets. Nilakantan explains that the price rise has to do with rise in input costs for companies and other problems with the supply chain.
1/n

During the #RedmiSmartTV launch, I had discussed about how the increase in panel prices are leading to increase in TV prices. A short 🧵as to why this is happening and what are the implications for the customers,

Disclaimer: Views are Personal!

— Eshwar (@eshwar_nc) March 18, 2021
Two big reasons for rising TV prices in India
According to Nilakantan, the price rise is chiefly due to two reasons — an increase in prices of television display panels, and rise in freight prices for companies. He said, on Twitter, that panel prices account for 65-70% of the total cost of a TV, and cost of panels have doubled over the past eight months. That, of course, means that companies are struggling to keep the prices of their TVs in check in India. He said that the price of panels are likely going up because of increased demand after the lockdowns, which has fueled global demand that suppliers are unable to match. 
On the other hand, freight prices are going up because of an increase in crude oil prices, which are at a five year peak right now. According to a report by Mint from January, ocean freight prices for shipping things between China and India have increased by three to four times over the past quarter. Nilakantan added that there's a global shortage of shipping containers as well, which is affecting companies' ability to ship products in time.
TV prices in India to keep rising in the short term
That said, Nilakantan said the panel prices are expected to keep rising in the short term, which might lead to TV prices increasing even more. Nilakantan said the prices will continue to rise for at least two more quarters. In short, that means you should buy a TV right now before prices go up even more. Companies will try to keep prices in check at first, but prices have already increased by Rs. 1000 to Rs. 5000 depending on the size, and may increase even more.
Thanks for reading till the end of this article. For more such informative and exclusive tech content, like our Facebook page