Xiaomi launched the Redmi Note 10 smartphone in India earlier this year. The device was introduced for Rs 11,999 in the Indian market. However, we recently saw the Chinese smartphone maker increasing the price of this new series quietly. The device is now priced at around Rs 12,499 for the base 4GB + 64GB model, while the 6GB + 128GB variant has also received the price hike of Rs 500. But Xiaomi doesn't seem to be the only brand that will be increasing the price of its smartphone for now. Market research firm Canalys speculates that smartphone prices will increase more in Q2, citing reasons of supply crunch on key imported components and a weaker Rupee which will no doubt allow the OEMs to maintain margins at current price levels.
Smartphone Prices Will Increase in 2021
"Looking further into 2021, unfavorable macroeconomic factors will lead to a rising smartphone ASP," said Varun Kannan, Canalys Analyst. He further added that "A combination of the ongoing supply crunch on key imported components and a weaker Rupee will make it increasingly difficult for vendors to maintain margins at current price levels. Consumers will bear the brunt of this cost, which will hit particularly hard in the sub-US$200 smartphone segment, which accounted for 81% of the market last year."
With these ongoing issues, this does mean that additional costs will be taken from customers, as the price of the devices will be hiked. The price hike will be effective for a $200 (Rs 15,000) smartphone segment particularly. The $200 segment had accounted for 81% of the market last year, says Varun Kannan, Canalys Analyst.
Smartphone Sales Will dip in Q2 2021
Including the price hike occurring in 2021, Canalys also expect that smartphone sale will see a drop in this ongoing quarter. Considering the rise of the second wave of COVID-19 in India chances of a nationwide lockdown is unlikely. However, the state-wise lockdown has hit hard for the e-commerce portal to ship only essential products to the customers. This does mean in one way that electronics products including smartphones are not shipping in some states at the moment.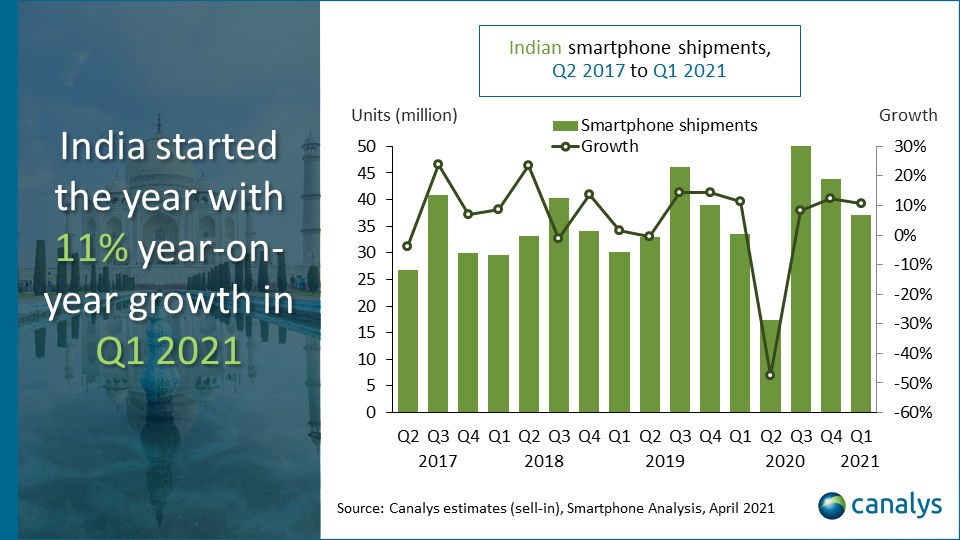 As the COVID-19 appeared to subside in Q1, the Indian market saw a wide range of device offerings and a revived offline channel that catalyzed demand, as per Canalys. We saw multiple new devices launching in February and March this year. The new smartphone launches were slowed down in April, and we expect May to follow the same suit. Given, the current situation of the COVID second wave in India, we may not see smartphone makers launching new devices soon, as we saw OEMs launching a range of new products in Q1 2021.
Thanks for reading till the end of this article. For more such informative and exclusive tech content, like our Facebook page