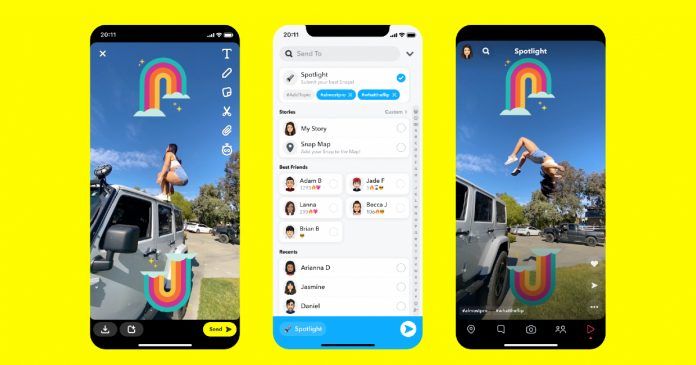 Snap has announced the launch of a new service called Spotlight, a Snapchat feature that is similar to TikTok and Instagram Reels. Spotlight will show user videos in a vertical format. With Spotlight, Snap will pay creators up to $ 1 million for the most-viewed daily posts until the end of 2020. It is the first time that the app has decided to pay its users and creators for creating content on its platform. Anyone with the age of 18 and above is eligible to earn up to a million dollars by creating content on Spotlight. Here is everything you know to know about Spotlight on Snapchat.
Snap announces Spotlight on Snapchat; a feature similar to Instagram Reels and TikTok
Snapchat was rumoured to launch a TikTok-like feature for a really long time. Spotlight is the company's effort to lure in more users, adding to its 243 million worldwide user base.
Spotlight will have its own dedicated tab on Snapchat. The feature will be rolling out first in 11 countries, namely the US, UK, France, Germany, Australia, Canada, New Zealand, Ireland, Sweden, Norway, and Denmark.
The company has announced a prize pool of up to 1 million dollars, which will be rewarded to creators until the end of 2020. A share of the total prize money will be given to users on a daily basis whose video goes viral on the platform. To win, users need to be 16 years old or above. Moreover, there is no criteria for having a minimum number of followers/ subscribers to win the prize. The winners will primarily be decided based on unique views compared to other snaps for that day. Snapchatters will earn each day, and the ones who create the top Snaps within that group will earn the most for their creativity. 
Users will be seeing personalised content based on Snap's algorithm. The ranking algorithm looks at factors that show people are interested in a particular Snap, like the amount of time spent watching it, if it is favourited, and if it's shared with friends. It also considers negative factors, including if the viewer skipped watching the Snap quickly. Snaps that appear in Spotlight can be from Snapchatters with private, personal accounts, or from Snap Stars with public profiles and millions of Subscribers.
The content is moderated and doesn't allow for public comments. Ads won't be shown on the new TikTok-like feature as of now but the company is considering it as an additional source of revenue in the future.
There is no word on the launch of Spotlight in India.
What are your thoughts on Spotlight. Do let us know in the comments below.
Thanks for reading till the end of this article. For more such informative and exclusive tech content, head over to our Facebook page